HOGS draw improved Auburn aces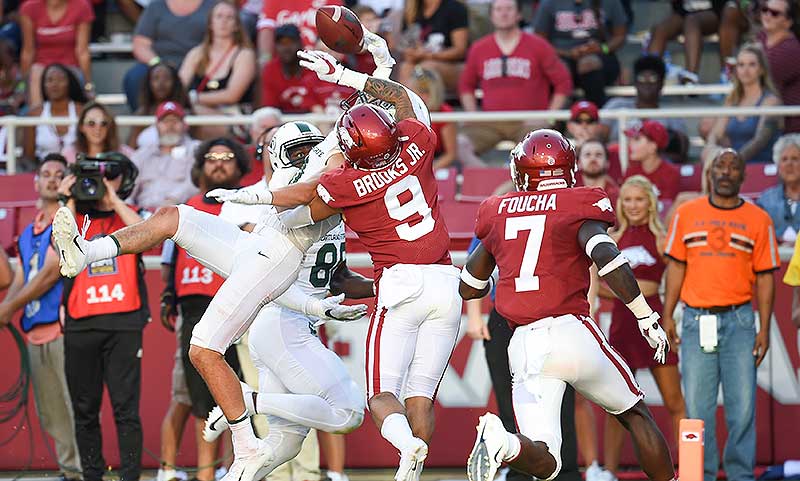 FAYETTEVILLE - Gus Malzahn, the former Arkansas offensive coordinator and state champion high school coach via Springdale, no longer head coaches Auburn.
Chad Morris, the former Arkansas head coach, no longer coordinates Auburn's offense.
But Auburn's skilled components, quarterback Bo Nix and running back Tank Bigsby and All-America place-kicker Anders Carlson, return Saturday to Arkansas.
First-year Auburn coach Bryan Harsin's Tigers (4-2, 1-1 in the SEC) battle Arkansas (4-2, 1-2) at 11 Saturday morning on CBS at Reynolds Razorback Stadium.
"The offense hasn't changed much," Arkansas junior nickel back Greg Brooks said Tuesday after practice. "They're good players all around."
USUAL SUSPECTS
Nix passed for one touchdown and rushed for another while accounting for 217 yards total offense, while Bigsby netted 146 rushing yards and a TD in Auburn's controversial 30-28 victory last year over visiting Arkansas.
"We just have to read our keys and play our brand of football - fast and physical," Brooks said. "We can't let Bo Nix get out of the pocket. He's a good player when that happens. When it comes to the running back, we just have to wrap up and make tackles."
Arkansas senior preseason All-America linebacker Grant Morgan put it bluntly.
"We've got to be able to stop the run," Morgan said. "And it starts with Bo and Bigsby. The offensive line returns four guys. They are real big, and real physical. They like to run downhill."
HOG DEFENSE
Arkansas' defense, solid in a 4-0 start, wasn't fast or physical enough last week in Arkansas' 52-51 loss at Ole Miss.
Ole Miss pass-run QB Matt Corral orchestrated 611 yards of total offense, including 324 yards rushing mostly divvied among running backs Henry Parrish, Snoop Conner and quarterback Corral.
"We're just not playing our brand of football," Brooks said, vowing that will change.
Morgan said defensive coordinator Barry Odom and his position coach, linebackers coach Michael Scherer and fellow defensive assistants, can only do so much in scheming the defense back to prominence.
"I know our goal is to stop the run, but at the end of the day it isn't based on Barry Odom stopping the run," Morgan said. "It isn't based on Michael Scherer stopping the run. It's based on our players being able to do what we've been taught to stop the run."
GET OVER IT
The Hogs can only hope Saturday they are just up against Auburn and not incompetent officiating.
Last year what should have been an Arkansas recovered fumble, when Nix attempted to stop the clock, bounced backward and was ruled incomplete. It allowed Carlson to kick a game-winning field goal with seven seconds left.
Arkansas coach Sam Pittman prefers the Hogs use the present rather than the past "bad call" for motivation.
"It went on our record as a loss," Morgan said. "We don't make excuses saying it could have been. If fans want to use it as motivation saying they stole a game from us, then go for it. Use it as motivation. We're here trying to win every game we can this year."
MAKE NOISE
Pittman has begged Arkansas fans to arrive abundantly loud for the 11 a.m kickoff, noting the impetus the Reynolds Razorback Stadium soldout crowd gave Arkansas in its 40-21 thrashing of then No. 15 Texas on Sept. 9 and what a 93,000 soldout crowd did  for Georgia two weeks ago in a 37-0 rout of Arkansas.
"The Texas game was probably the loudest that stadium has been since I've been here," Arkansas fifth-year senior offensive lineman Ty Clary of Fayetteville said Tuesday. "It definitely affected the game. They were loud enough to impact their (Texas) offense a little bit. We definitely got energy off it. We were loving playing out in that crowd."
Brooks remarked, "I feel like the crowd's a big factor. It's definitely going to get us pumped up since we have an 11 a.m. game."
HOGS TOUT KJ
Arkansas' offense, 676 yards offense against Ole Miss, comes pumped after sophomore QB KJ Jefferson completed 25 of 35 passes for 326 yards and three TDs. He rushed 20 times for 85 yards and three more TDs.
ESPN, telecasting the Arkansas vs. Ole Miss game, gushed  over Corral's Heisman Trophy candidacy contrasted with fainter praise for Jefferson's performance.
"He (Jefferson) gets my Heisman vote," Morgan said. "I don't care what anyone else thinks. When you're neck and neck with one of the favorites in the Heisman voting, and you're not ever mentioned even in the top 20 of Heisman voting, then I don't understand what it is. I think if we were a Top 5 team right now and KJ had the same stats, he'd be a Heisman candidate."