HOGS: Pulaski Academy reunion in Provo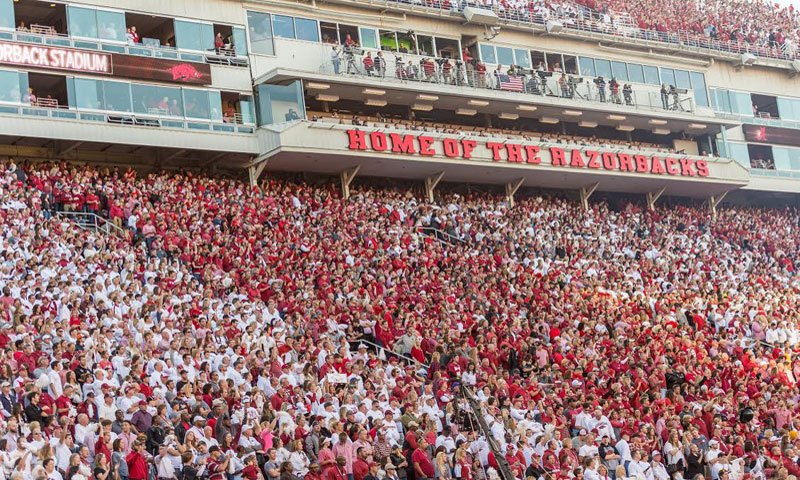 FAYETTEVILLE — Saturday's nonconference matchup between the Arkansas Razorbacks and the BYU Cougars will mark the first meeting between the two schools on the football field.
A few players, however, will need no introduction.
BYU defensive tackle Caden Haws and Arkansas offensive tackle Luke Jones were teammates on Pulaski Academy's 2014-2015 state championship teams. Haws (6-3, 320) was two years ahead of Jones, who signed with Notre Dame out of high school before transferring to Arkansas in 2018.
"When I saw them on the schedule, I was way excited," Haws said of the opportunity to go against the Razorbacks.
Jones was a sophomore on Coach Kevin Kelley's 2015 championship team.
"He was two years above me. So when I was a sophomore, he was a senior and when I was a freshman he was a junior, so we've had two years together," Jones said. "He used to play offensive line with me at Pulaski and he's a great guy. I was just texting him earlier this week about the game and I'm excited to see him."
Haws, listed as a redshirt sophomore after serving a two-year mission (2016-2018) for The Church of Jesus Christ of Latter-day Saints in St. Georgia, Utah, and redshirting in 2019, has 22 tackles (including 1 sack) this season for the 4-2 Cougars.
Haws had made 68 tackles overall, including 4.5 sacks, during his time at BYU.
Jones has started every game this season for the Razorbacks (3-3) after appearing in 13 games last year. Hogs' redshirt junior tight end Hudson Henry was just beginning his time at PA when Haws graduated in 2015.
"It will be cool to see them, and it will be a cool opportunity to have them come to Provo," Caws said.
PREPARING FOR HALL
Arkansas' defense has faced Alabama QB Bryce Young, the 2021 Heisman Trophy winner, and current SEC passing leader Will Rogers (2,110 passing yards, 22 TDs) in consecutive weeks, and it gets another challenge Saturday in Provo.
BYU's Jaren Hall (1,558 yards, 14 TDs, 2 interceptions in 6 games) passed for a season-high 337 yards and 4 TDs in a 38-24 win over Wyoming three weeks ago.
"We've seen that he is pretty accurate with the deep ball and with his intermediate and short routes," Arkansas defensive back Hudson Clark said. "We have been working on scramble drills for when he gets out of the pocket, staying with our receivers because he can extend the play that way."
The Razorbacks lead the SEC in total sacks with 21, but defensive lineman Jordan Domineck said he knows the defensive line will have their work cut out for them as they face an offensive line that has allowed 8 sacks so far this season.
 "They have a SEC-sized line," Domineck said. "That got 6-7s and 6-8s across the board, so it's going to be a very physical game for us, especially trying to contain their quarterback [Hall]."
MOVING AROUND IN SECONDARY
Clark, who started the season's first four games at cornerback for Arkansas, lined up at safety in last week's 40-17 loss to Mississippi State. Clark (8 tackles, 3 PBUs) played in place of starting safety Myles Slusher, who has missed significant time with injuries this season.
"At first it was a different view since you're in the middle of the field," Clark said of playing safety. "Coach (Barry) Odom and coach (Dominique) Bowman have really helped me get in the film room and see the play first there. So, whenever we get to practice, we get those repetitions, and it helps build instinct."
Slusher's status for the BYU game is unclear. If he doesn't play, Clark will once again start against BYU.
While Clark has changed positions, freshman wide receivers Sam Mbake (6-3, 202; Kennesaw, Ga.) and Quincy McAdoo (6-2, 192; Clarendon) have transitioned from offense to defense to help with the secondary's depth.
Neither Mbake nor McAdoo have played, but wide receiver/punt returner Bryce Stephens said their contributions have been noticed.
"They're excited to help the team in any way possible," Stephens said. "They are going to do whatever they need to do to make the team better. With Quincy [McAdoo], he can play both sides like he did back in high school so he can do it here." 
Arkansas' secondary is allowing 307.2 passing yards per game so far this season.