RECRUITING: With Dax, it's all about the facts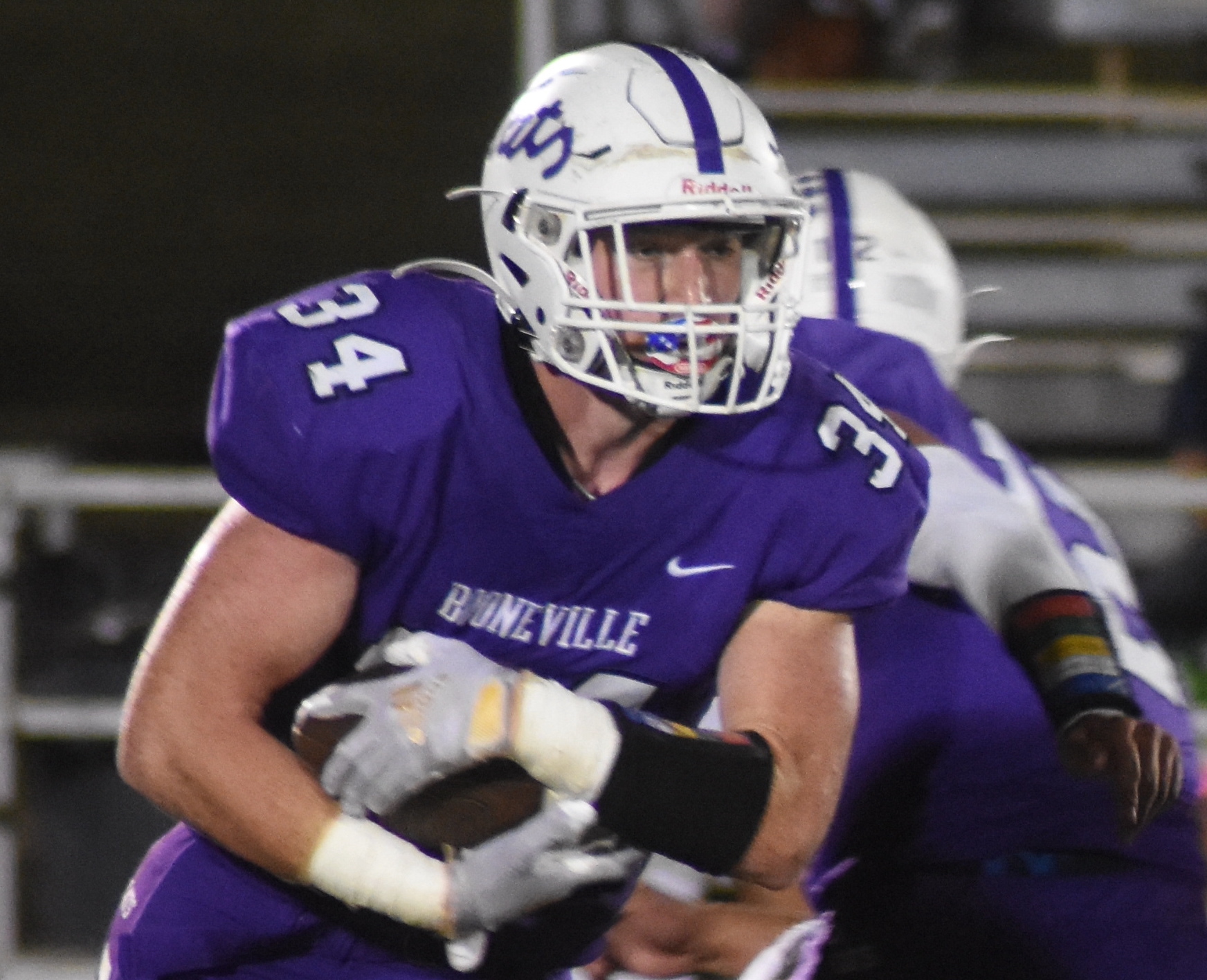 Booneville's rich football history includes 4 state championships since 1986, and the Bearcats have won 5 consecutive conference titles.
The Bearcats program has been built on developing players and work ethic rather than utilizing a steady supply of future college players. In fact, no Booneville player has signed a Division I football scholarship since Joe O'Bar (Arkansas State) in 1996.
But that could change.
Junior running back/linebacker Dax Goff (6-1, 215) plans to visit Kansas State Oct. 29 when the Wildcats host Oklahoma State, a matchup that could decide the Big 12 championship. Goff also has the attention of every DII program in the region.
Goff (4.66 speed, 300-pound bench press) has 66 carries this fall for 1,104 yards and 15 touchdowns. In Week 5, Goff ran for a school-record 307 yards on 16 carries against West Fork. In last week's 55-21 victory over Greenland, Goff carried 7 times for 203 yards and 4 TDs. Goff has 2,051 yards in 22 varsity games.
Goff doesn't rest when Booneville doesn't have the ball. He has 56 tackles this season from the inside linebacker position, including 9.5 TFL, 1 sack and 1 forced fumble. He averages almost 36 yards per punt return.
It's that type of all-around ability that carries over to other sports. Goff excels as an all-state pitcher/catcher in baseball and as an all-state high-jumper and triple-jumper in track.
"If there is a Division I athlete around here, it's Dax Goff," Booneville Coach Doc Crowley says. "He has all the qualities of a college football player."
Goff's numbers are more impressive considering junior fullback Rylen Ray (6-0, 230) was injured in the second quarter of Booneville's 36-6 season-opening win at Dollarway. Ray, a projected college prospect, underwent knee surgery two weeks ago but should return next fall.
Senior running back Trace Hall (5-10, 155) gets DII recruiting attention after emerging this fall. Hall, who was projected to start at receiver before injuries forced him to the backfield full-time, has 52 carries for 699 yards and 13 TDs. He rushed for 222 yards and 5 TDs in a 75-46 shootout victory over Hackett in Week 4.
Senior two-way lineman Johnny Barnes (6-0, 245) should also get an opportunity to play in college, Crowley says. Barnes (330-pound bench press, 300-pound power clean) has started every game for three seasons at guard or tackle. "He's so versatile and dominant," the coach says.
Booneville (5-1, 3-0) is favored this week over Mansfield (4-2, 1-2), which should set up 1-3A conference showdowns with Charleston (5-1, 3-0) in Week 8 and Lavaca (6-0, 3-0) in Week 9 for the league title.
"We've put ourselves in a good position," Crowley says. "You always want to play big games late in the regular season. But around here, we are always focused on the playoffs and winning championships."