HOGS fight back; receivers emerge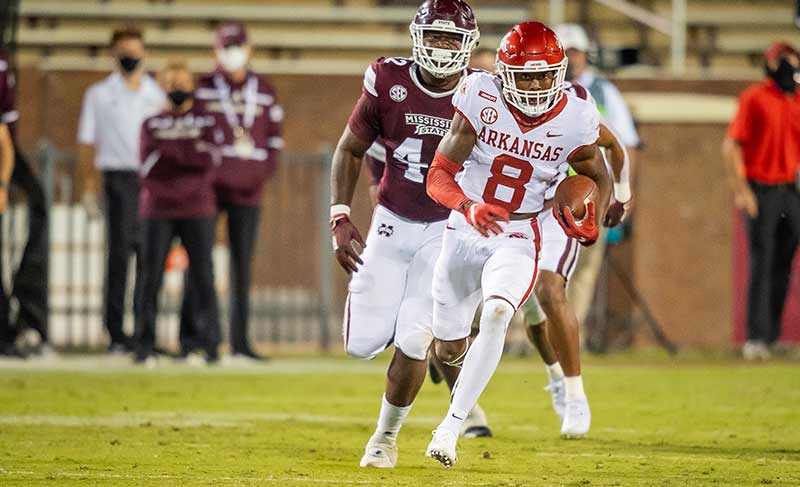 FAYETTEVILLE - Seems it begins at home for De'Vion Warren and Mike Woods, Arkansas' leading receivers after injured starter Treylon Burks missed Saturday's 30-28 controversial loss at Auburn.
Burks (eight catches for 112 yards vs. Georgia) was injured two weeks ago after catching a 10-yard pass during the 21-14 victory over Mississippi State. Burks now ranks third after Warren (10 catches for 223 yards and three TDs) and Woods (12 catches for 150 yards and a TD) picked up the slack against Auburn.
"Oh that's my roommate," said Woods of Warren.
Woods is a a junior for first-year Arkansas coach Sam Pittman after being one of former coach Chad Morris' first 2018 recruits, while Warren, a senior from Monroe, La., was a 2017 Razorbacks freshman under Bret Bielema.
"We have a good chemistry and bond," Woods said. "We hold each other accountable and the rest of the group accountable. He's a hard worker and good leader."
Ditto for Woods to him, Warren asserts.
"Yeah, me and Mike are roommates," Warren said. "That's my boy. He's like my brother. We challenged ourselves to be the best on the field. Those contested catches, we think of it as our ball all the time. And when you hold yourself to that type of standard, it makes you more confident." 
EXCELLING VS. AUBURN
Woods (six catches for 81 yards and a TD) and Warren (five catches for 95 yards and two TDs) never so complemented each other as on Arkansas' final scoring drive at Auburn.
Woods caught a crucial 11-yard pass on fourth-and-5 for the first down immediately preceding the 30-yard TD pass to Warren that put Arkansas up 28-27 with 5:29 to play.
What should have been a 28-27 victory was lost by botched officiating. Officials incorrectly awarded an incomplete pass to Auburn on what should have been considered a loose ball lateral that Arkansas safety Joe Foucha recovered. So, 13th-ranked Auburn retained possession for place-kicker Anders Carlson's 39-yard game-winning field goal with seven seconds left.
ON TO OLE MISS
How hard is it to forget that injustice with the Ole Miss Rebels looming for Saturday's 2:30 p.m. ESPN2 televised at Reynolds Razorback Stadium?
"We put it to bed on Monday," Woods said. "We pretty much got straight to Ole Miss. It (Auburn) is out of our control. It is what it is. We lost. So we put it to bed and on to Ole Miss."
Warren said what the Hogs must remember is a 17-0 slow start that ultimately put Auburn in position to win late.
"We can't put our defense in a bad predicament like that," Warren said. "We have to come out fast to be able to help our defense. As Coach Pittman said, we've got to come out hard and hit the first punch."
FIGHTING BACK
One big difference. The 4-8, 2-10, 2-10 Razorbacks of 2017-2019 would have wilted from that poor start and not fought back on the road as these Pittman-coached Hogs did two weeks ago to snap a 20-game SEC losing streak at 16th-ranked Mississippi State.
"We know that all our coaches are going to have our backs no matter what," Warren said. "So when you know that and understand that, you go out there and fight no matter what. Coach Pitt came in and told us he wants us here. He wants us to be able to play for him and play for everybody in that room. And so that brotherhood, everybody to my left and right, that's who I go out there and play for. So you go out there and play your hardest no matter what the score is."
Warren plays receiver as he's never played it at Arkansas.
"He's confident this year," Woods said. "He had a great camp, and he's playing fast off the ball. When he plays fast off the ball, ain't too many people who can hang with him."
FRANKLY CONFIDENT
Finally having an established starting quarterback with Florida graduate transfer Feleipe Franks, boosts the confidence of all Arkansas receivers.
"We're just out there playing backyard football," Woods said of adjusting when Franks is forced out of the pocket. "We see Feleipe Franks back there, we just keep getting open because we know he can extend the play with the best of them."
BOYD IS BACK
While Pittman has stayed guarded about the availability of recently injured Razorbacks, preseason All-SEC running back Rakeem Boyd practiced Tuesday.
Boyd did not travel because of injury to Auburn, Ala. as Trelon Smith, the transfer running back via Arizona State redshirted last year, led Arkansas' running game with 81 tough yards on 21 carries.
"He's definitely  doing what he's supposed to do with Rakeem being out," Woods said. "He shouldered a big load for us last week and gave us a good game."