HOGS must tackle a Tank; Notes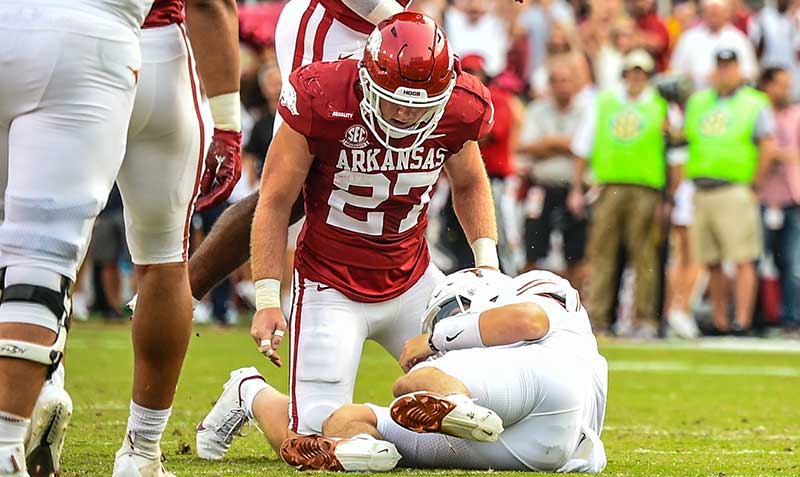 FAYETTEVILLE - Gashed in Saturday's 52-51 loss for a combined 221 rushing yards yards by Ole Miss running backs Henry Parrish and Snoop Conner, Arkansas' defense tries Saturday to stop a Tank.
Tank Bigsby (6-0, 208), Auburn's compact 'back, ran for 146 yards last year on the Razorbacks.
No. 17 Arkansas (4-2, 1-2 in the SEC) plays host to Auburn (4-2, 1-1) at 11 Saturday morning at Reynolds Razorback Stadium. CBS plans to televise the  SEC West game.
"Tank Bigsby is as good as any running back in the nation," Pittman said Wednesday.
TACKLE A TANK
Pittman delved into why, noting Bigsby's contributions last fall to Auburn's 30-28 victory over Arkansas at Jordan-Hare Stadium and against others.
"We have to tackle him," Pittman said. "It's going to be very crucial.  When you watch the tape, there's a lot of people who had trouble with him, too. I can just remember from re-watching the game from last year, we just couldn't get him on the ground. He has those big, strong, powerful legs.  We're going to have to get a lot of guys around him, gang tackle him, help each other get him on the ground because he is that special of a player."
MOBILE QBs
As the Razorbacks learned trying also to contain run-pass Ole Miss QB Matt Corral, mobile QBs greatly enhance their running backs. Corral ran for 94 yards and two TDs and passed foe 287 yards and two TDs against Arkansas. Arkansas QB KJ Jefferson rushed for 85 yards and two TDs and passed for 326 yards and three TDs on Ole Miss. 
With Ole Miss so bedeviled by Jefferson running and passing, UA freshman running back Raheim "Rocket" Sanders netted a game-leading 139 rushing yards. Arkansas junior running back Trelon Smith netted 85 yards and a TDn on 11 carries, while freshman running backs Dominque Johnson and AJ Green combined for 35 yards on seven carries.
BO CAN GO
Auburn junior QB Bo Nix epitomizes the run-pass threat, especially on his improvised scrambles.
"Bo extends plays with his legs very well," Arkansas senior linebacker Grant Morgan said. "And when he does it, he doesn't just put his eyes down. He looks up always. He always finds that next receiver that's open when he goes into scramble."
ROCKET MAN
Both Pittman and first-year Auburn coach Bryan Harsin, the former Arkansas State and Boise State coach, were repeatedly asked about Sanders, the true freshman originally recruited as a receiver out of Rockledge, Fla.
"We're all recruiting gurus I guess," Pittman confessed self-deprecating for recruiting the 6-2, 225 pounder at a position he hasn't played since spring drills.
"We recruited him to play slot," Pittman said. "Then we felt like we needed some help at running back and moved him to running back. I think you can see it as well as everybody else how much more comfortable he is each week and hitting holes faster and learning how to make different moves and things. I've been really pleased with him. He's exceptional."
Not only exceptionally talented but a quick study.
"He's never late to study tables," Pittman said. "He's never late to meetings. This guy is a wonderful representative of everything that he does. Academics staff talks about him. The training room talks about him. Anybody he comes in contact with is really impressed by him as a young man."
BACK TO KJ
Harsin is impressed with Sanders but notes it all begins with Jefferson.
"A really good young player," Harsin said of Sanders. "But you have other issues at the positions we have to cover and be ready for. The quarterback pulls it down to run. That's just one of many things the defense has to prepare for with this offense and the players they have."
BURKS HONORED
Especially Arkansas junior receiver Treylon Burks, seven catches for 136 yards against Ole Miss, was just named to ESPN's midseason All-America team.
AUBURN'S DEFENSE
Arkansas' offense faces an always solid Auburn defense.
"Their D-linemen are playing like Auburn," Pittman said. "Their D-linemen are playing very well. Their linebackers run to the ball. (Safety) Smoke Monday is a special player."
Auburn ranks No. 22 nationally (third in SEC) in rushing defense, allowing 104.7 yards per game. The Tigers rank No. 26 (fifth in SEC) in scoring defense, giving up 19.2 points per game. 
Arkansas' defense played at a national level, leading the Razorbacks' 4-0 start but was run over by No. 1 Georgia 37-0 and blown away by Ole Miss' 52 points and 611 yards total offense. The Hogs have plummeted to No. 100 nationally (11th in the SEC) in rushing defense and No. 66 (ninth in SEC) in scoring defense.
ARKANSAS DEFENSE
Asked if he needs more from his defensive line, Pittman replied, 
"Oh, absolutely," he said. "We need to get more out of our safeties in run support. We need to get more out of our nickels off the edge. We need to get more out of our entire defense. But certainly it always starts up front on both sides of the ball. That's how you win or lose games in this league."