RECRUITING: Class 5A No. 6 Greenbrier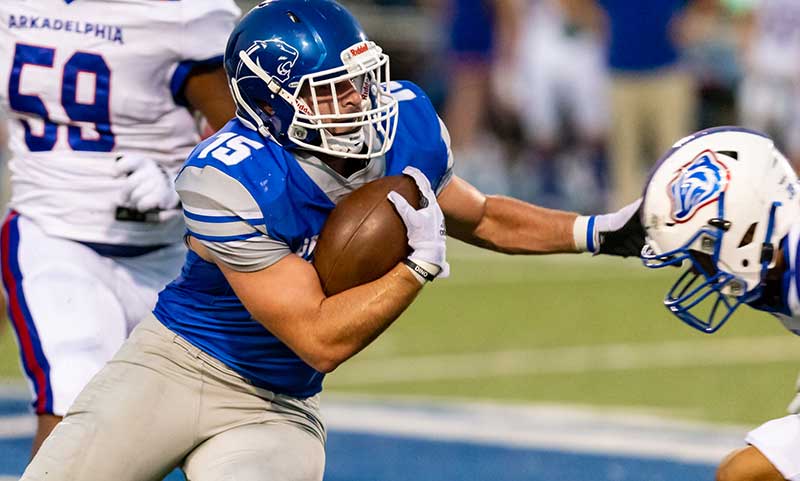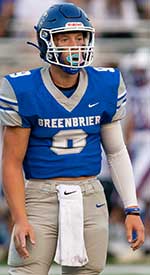 Sr QB Cooper Wilcox
By BARRY GROOMES
Greenbrier's football tradition was almost non-existent before Randy Tribble took over as coach in 2008.
Tribble's Panthers erupted from one win (in 2008) to nine wins in 2009 and a berth in the semifinals for the first time since 1980.  
In 2012, Greenbrier went 10-0 in the regular season and won its first outright title in 40 years. It also won conference titles in 2016 and 2017.
But last week's 45-21 victory at Harrison likely rates as the most impressive in 14 years under Tribble. The (Class 5A No. 6) Panthers (6-0), who jumped to a 45-0 lead in the second quarter, ended Harrison's four-year stranglehold on the 5A West.
"We thought we could win, but it would be close," Tribble says. "Our offense executed extremely well."
Senior quarterback Cooper Wilcox (6-0, 190) completed eight of 11 passes for 227 yards and four touchdowns in the first half at Harrison, and he ran seven times for 76 yards and a TD. Wilcox has completed 50 of 83 passes (60.2 percent) this fall for 982 yards and 13 TDs. He has carried 53 times for 506 yards and 12 TDs. "He puts so much pressure on defenses because he is so good in the run game," Tribble says.
The dual-threat QB owns an offer from Hendrix, and most in-state Division II schools are evaluating him. Wilcox (in Tommy Land photo) also has received interest from national D2 powers Northwest Missouri State and Pittsburg (Kan.) State.
Greenbrier's explosive receivers complement Wilcox. "They make things easier for all of us, from Cooper to the coaches calling plays," Tribble says. "Any of them can make a big play at any time."
Senior slot receiver Thatcher Strack (5-9, 170) and junior Carter McElhaney (5-8, 150) "aren't big, but they are so good in space and with the ball," the coach says. Strack has caught 13 passes this year for 297 yards and four TDs, while McElhaney has 13 receptions for 306 yards and four TDs.
Against Harrison, Strack hauled in three balls for 88 yards and a TD, while McElhaney took his only catch 63 yards for a TD. McElhaney clocked 10.89 in the 100 meters last season, ran 4.41 at the University of Arkansas Prospect Camp in the summer and "is the fastest player I've coached," Tribble says. Tribble expects both players to get D2 offers.
Senior inside receiver/inside linebacker Jacob Mathis (5-11, 190) "is an awesome blocker," the coach says. "He's the point man for our run game." Mathis has caught 10 passes this year for 182 yards and four TDs. At linebacker, he has logged 35 tackles. Hendrix has evaluated Mathis.
Senior left tackle Josh Robinson (6-5, 265), Greenbrier's recruiting centerpiece, owns offers from Toledo and Pittsburg (Kan.) State. Memphis, Louisiana Tech and UCA have evaluated Robinson. "He's dominating," Tribble says. "He's an athlete who happens to be a lineman." Robinson plays on Greenbrier's basketball team.
Senior right tackle/center Dustin Hall (6-1, 297) has played well this fall and "should get a lot of Division Two looks," Tribble says. "He's a big, strong (500-pound squat), team leader."
Senior Nick Huett (5-11, 210), Greenbrier's leading tackler at inside linebacker (39 stops) and second-leading rusher (439 yards, five TDs), "is an excellent high school player," the coach says. "No doubt he could play in college, but I don't think that's the direction he wants to go." Huett (#15 in Tommy Land photo TOP), who scored 33 on the ACT, maintains a 4.1 GPA and "will be a superstar academically in college." 
With Tribble trying to squelch conference title talk, the Panthers play host to Pea Ridge (4-1) this week and Farmington (5-1) the next. A potential league championship showdown looms Week 10 with Faulkner County rival Vilonia. 
"Our goals are to win the next game," Tribble says. "We mentioned being 6-0 after the Harrison game, but by the time we hit the locker room we, at least the coaches, were already thinking about our next game."