Class 2A Week 7 Rankings, Notes & Picks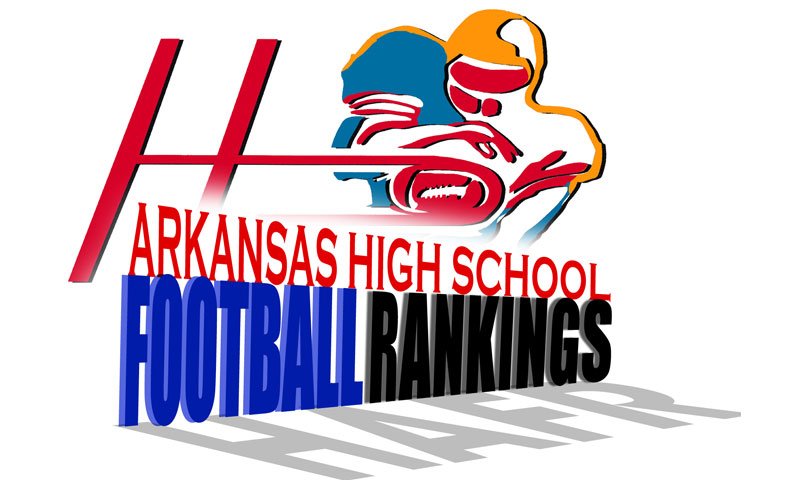 hootens.com Rankings
Class 2A, Week 7, 2019
Copyright Hooten Publishing, Inc.

1. Junction City (5-1)
2. Fordyce (6-0)
3. Foreman (6-0)
4. Earle (4-1)
5. McCrory (5-1)
6. Des Arc (4-2)
7. Magnet Cove (5-1)
8. E. Poinsett County (5-1)
9. Gurdon (4-2)
10. Hazen (4-1)
11. Parkers Chapel (5-1)
12. Salem (4-1)
13. Magazine (4-1)
14. Poyen (5-1)
15. Carlisle (4-3)
16. Mountainburg (4-2)
17. Dierks (3-3)
18. Clarendon (2-3)
19. Hackett (4-2)
20. Cutter M Star (3-3)
21. Hampton (2-4)
22. Hector (2-3)
23. England (3-3)
24. Murfreesboro (2-3)
25. Rector (3-3)
26. Quitman (4-2)
27. Mineral Springs (2-3)
28. Mountain Pine (3-3)
29. Marked Tree (1-5)
30. Conway Christian (1-5)
31. Bearden (1-5)
32. Lavaca (1-4)
33. Marvell (2-3)
34. Mount Ida (1-5)
35. Bigelow (0-6)
36. Cross County (0-5)
37. Marianna (0-6)
38. JC Westside (1-6)
39. Strong (0-6)
40. Lafayette County (1-5)
41. Spring Hill (0-6)
42. Midland (0-6)

GAME OF THE WEEK
No. 8 East Poinsett County at No. 5 McCrory
The winner stays atop the 3-2A standings with Salem. EPC destroyed rival neighbor Marked Tree 72-8 in the first half last week when the MT administration decided to forfeit the second half after fighting and ejections late in the second quarter. EPC sophomore fullback Candon Argo and senior running back Rayshon Gates delivered long TD runs early with Argo ending up with a season-high 179 yards and two TDs. EPC junior Preston Rains is a dual-threat quarterback who has completed 58 percent of his passes for more than 1,000 yards. Rains recovered a fumble in the fourth quarter vs. Rector, then completed two TD passes to senior Levantae Taylor to rally the Warriors to a 30-26 victory.  McCrory defeated No. 6 Des Arc 28-21 Week 2 and whipped Marked Tree 56-20 two weeks ago. In a typical outing, McCrory sophomore QB Cason Campbell completed eight of 10 passes last week for 214 yards in a 48-20 win over Cross County. Senior Daquan Hall rushed for 181 yards vs. Des Arc, 146 yards vs. Marked Tree and 115 yards vs. Clarendon. A healthy McCrory expects to field its original starters for the first time since Week 0.

LAST WEEK
Hootens.com correctly picked 21 of 22 (95 percent) games involving Class 2A teams. Hootens.com has picked 138 of 166 (83 percent) this season.

WEEK 7 PREDICTIONS (favored team in CAPS followed by point spread)
3-2A
E. Poinsett County at MCCRORY (2): See Game of the Week.
Marked Tree at SALEM (2): Marked Tree forfeits this game with just 12 players available after four starters were ejected late in the second quarter last week and EPC leading MT 72-8. Salem mauled Midland (56-6), which dressed 13 players with one injured and three dismissed from the team. Salem junior QB Gavin Guiltner completed six of eight passes in the first half for 116 yards and two TDs.
RECTOR (15) at Cross County: Rector senior FB Max Ford ran for 152 yards and four TDs last week when the Cougars rushed for 365 yards as a team in a 46-7 blowout of Class 3A Yellville-Summitt. Senior Jacob Carter rushed for 132 yards and a TD, while senior Parker Bucy intercepted three passes. Cross County trailed McCrory 48-6 in the second quarter and lost 48-20.  
MIDLAND is open.

4-2A
Lavaca at MAGAZINE (25): Magazine stayed atop the league standings with Mountainburg last week by manhandling Hector 48-19 (highlights HERE), rushing for 375 of its 424 total yards. Magazine junior Kobe Faughn proved a terror on both sides of the ball by rushing eight times for 120 yards and recording seven tackles. Lavaca, which was open last week, leans on backfield mates, senior Kaw-Liga Brewer and sophomore RB Cazen Winters. Lavaca allows 38 PPG.
Hackett at HECTOR (6): Hector was missing three linemen last week in a 48-19 loss to league-leading Magazine (highlights HERE), and they are doubtful for this week. Hector managed just more than 200 yards, while Magazine amassed 424 yards with six different Rattlers scoring TDs. Hackett rocked Class 3A Rose Bud 44-8 with junior Weston Winters (12 tackles and a forced fumble), junior Fischer Shipman (10 tackles and a fumble recovery) and sophomore Jesse Esparza (sack and forced fumble) spearheading the defense.
STRONG (2) at J.C. Westside: Strong navigates the 8.5-hour round trip this fall that JC Westside made a year ago for a non-conference matchup. While Strong has struggled to score this season (10.3) ppg., Westside allows 50 ppg. Strong won this game 44-6 in 2018. 
MOUNTAINBURG is open.

5-2A
POYEN (21) at Bigelow: Poyen went to double OT last week to get past surging Cutter Morning Star 35-29 with junior QB Jaxson Carter and RB Brandon Sanchez (14 yards per carry) evenly combining for 267 rushing yards. Bigelow exploded for a season-high 42 points, but it allowed 443 yards in a 60-42 loss to Mountain Pine.
ENGLAND (1) at Cutter M Star: CMS scored 15 points in the fourth quarter last week to push Poyen to two overtimes before losing 35-29. CMS slashing QB Sam Moore ran 15 times for 116 yards and two TDs, and the junior completed 10 of 16 passes for 127 yards and a TD. Classmate Kaden Prather caught three of those balls for 53 yards and a TD. England conquered Conway Christian 44-20 behind senior Tamarous Dodson's 132 rushing and 61 receiving yards. Junior ATH Darren McClinton rushed for 121 yards and returned a kickoff 99 yards for a TD.
Mountain Pine at MAGNET COVE (6): Battle for first place in the 5-2A. Magnet Cove with injuries up front and shuffling linemen. MC trailed Quitman 13-7 at halftime last week but rallied for a 27-20 win. MC defense delivered when sophomore Davis Dickinson returned an interception for a TD and intercepted another pass to set up a TD. Senior Alex Ordonez intercepted a pass late to seal the win. MP counters with all-state QB Collin Smith (1,213 rushing yards), who accounted for 368 of MP's 443 yards last week in a 60-42 win over Bigelow. All-conference DE Chance Godwin recorded three sacks and two TFL. MP topped MC 33-24 a year ago.
QUITMAN (10) at Conway Christian: Quitman jumped Magnet Cove 13-7 in the first half last week, running 50 plays to MC's 14, but three interceptions (for the second week in a row) led to a 27-20 loss. Quitman missing two starting receivers with knee (ACL) injuries.  Conway Christian averages 15 ppg. Its two-year run of league titles ends this winter, and the Eagles likely miss the playoffs for the first time in 12 years of varsity football (started 2008).

6-2A
CARLISLE (44) at Marianna: Carlisle led Marvell 48-8 at half time last week and cruised to a 64-16 victory. Marianna's 48 points scored this fall rank ahead of only Spring Hill (24 points) in Class 2A. 
HAZEN (2) at Clarendon: Season on the brink for No. 10 Hazen after a tumultuous week that included the dismissal of a senior and ended with a 38-8 loss at Prairie County rival Des Arc. Senior DT Blayne Toll led Hazen in the loss with nine tackles, including three for losses. Hazen managed 171 total yards, while Des Arc rushed for 353 yards. No. 18 Clarendon looking for its first quality win of 2019. It pushed visiting and No. 5 McCrory a month ago before giving up a TD pass with 20 seconds left in a 20-16 loss. It lost to visiting England 42-34 the Friday before that. One week ago, Clarendon held Marianna to 106 total yards in a 52-14 win. CHS senior Tyrus Thomas rushed for 92 yards, while junior Timothy Hampton carried 10 times for 145 yards and three TDs.   
EARLE (45) at Marvell: Earle was idle last week after taking down Clarendon 35-6 Week 5 with a 28-point third quarter. Earle sophomore safety Rholly Davis intercepted two passes. Earle senior running backs Carim Washington and Jaylon Coopwood routinely rush for 100 yards apiece. Marvell lost at Carlisle last week 64-14. Earle travels Week 8 to Hazen and plays host to Des Arc Week 9 to determine the 6-2A pecking order.
DES ARC is open.

7-2A
Lafayette County at DIERKS (39): Dierks held athletic Mineral Springs to 153 yards and forced three turnovers last week in a 42-14 win, and the Outlaws take another step toward the playoffs this week. LC registered minus-25 yards against Foreman's first-team defense in a 50-0 loss.   
FOREMAN (36) at Mount Ida: Mount Ida ended a six-game losing skid last week by blowing out Spring Hill 60-6. MI senior workhorse fullback Hunter Davis averages 5 yards per carry. Foreman rushed 33 times for 312 yards and four TDs last week, while its first-team defense held Lafayette County to minus-25 yards in a 50-0 win. Foreman senior ATH Robbie Smith posted four rushes for 73 yards and a TD, two receptions for 60 yards and two TDs, three tackles and one interception. 
Spring Hill at GURDON (37): Visiting Gurdon raced to a 35-0 lead last week and dropped Murfreesboro 35-12. The Go-Devils mixed Spread with its patented Flexbone en route to 332 rushing yards, but they converted one of seven third downs, committed 13 penalties for 108 yards and lost two fumbles. However, healthy junior RB Jameson Threadgill carried 19 times for 216 yards (11.4 YPC) and two TDs. Junior QB D.J. Anna completed six of eight passes for 50 yards and a TD.
MURFREESBORO (18) at Mineral Springs: MS head coach David Bennett faces Murfreesboro, where he served as an assistant coach before returning to his alma mater Dierks in 2000 as head coach. MS junior QB Terrell Fricks completed five of 13 passes last week for 145 yards and two TDs with an interception in a 42-14 loss to Dierks. MS managed just 8 net yards on 23 rushing attempts, and Fricks lost three fumbles. Murfreesboro is much improved this year with five different receivers routinely catching passes from freshman QB Sloan Perrin. Senior WR/SS Jakob Allmon led the Rattlers last week with five receptions and 14 tackles.  

8-2A
RISON (30) at Hampton: Class 3A No. 2 Rison dispatched of Class 2A Strong 41-0 but lost to Class 2A No. 2 Fordyce 14-8. Rison has not allowed a point since the Fordyce loss, winning four straight games by a combined 160-0. Hampton ran over Strong 38-22 last week with junior Jamarion Strong rushing for 243 yards and five TDs on just 15 attempts. Senior Tristan Peebles recorded 12 tackles, including two sacks, while senior LB Bryce Nutt collected a team-high 15 tackles and forced a fumble.
JUNCTION CITY (49) at Bearden: This marks the 59th meeting in the series with JC leading 34-22-2, per JC historian Wayne Pumphrey. Bearden produced 175 yards and exited in the third quarter of its 38-6 loss last week at Parkers Chapel. Junction City completed a 2-0 sweep of Louisiana teams, beating Haynesville 41-0 Week 2 and Farmersville D'Arbonne 68-12 last Friday. Junction City rushed for 480 yards on D'Arbonne with senior Jakiron Cook covering 145 yards and scoring two TDs on three carries.
Parkers Chapel at FORDYCE (22): No. 2 Fordyce has not been challenged since its 14-8 triumph Week 1 over rival and Class 3A No. 2 Rison. Fordyce junior QB Jaheim Brown has completed 65 percent of his 71 pass attempts for 853 yards and 11 TDs with two interceptions. Junior WR Ja'quez Cross has caught a team-high 25 passes for 395 and six TDs. Parkers Chapel counters with QB Caleb Jacobs, who completed 15 of 18 passes last week for 244 yards and two TDs in a 38-6 win over Bearden, and the senior ran for two more TDs. Junior WR Trace Shoup topped 100 receiving yards for the second week in a row.
STRONG (2) at J.C. Westside: Strong navigates the 8.5-hour round trip this fall that JC Westside made a year ago for a non-conference matchup. While Strong has struggled to score this season (10.3) ppg., Westside allows 50 ppg. Strong won this game 44-6 in 2018.