Class 3A Week 7 Rankings, Notes & Picks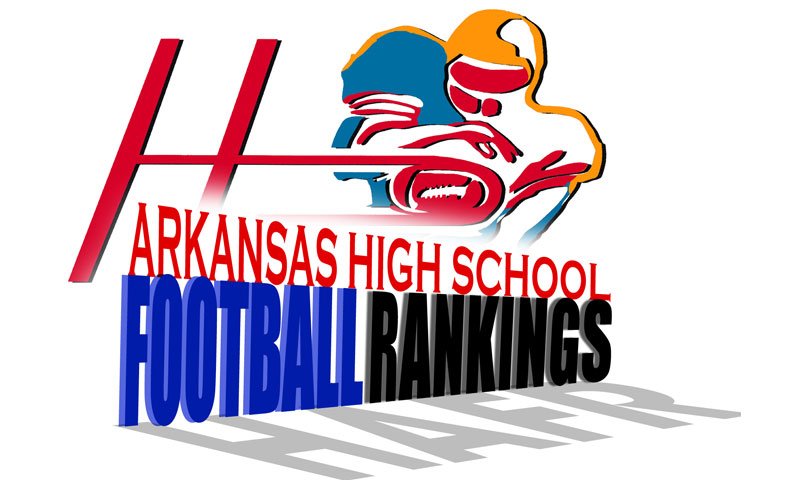 Hootens.com Rankings
Class 3A, Week 7, 2019
Copyright Hooten Publishing, Inc.

1. C. Harmony Grove (5-1)
2. Rison (5-1)
3. Prescott (4-2)
4. Osceola (5-1)
5. Harding Academy (6-0)
6. Booneville (4-2)
7. Newport (5-1)
8.Centerpoint (6-0)
9. Clinton (5-1) 
10. Harrisburg (5-1)
11. McGehee (5-1)
12. Atkins (5-1)
13. Glen Rose (4-2)
14. Hoxie (4-2)
15. Jessieville (5-1)
16. Mansfield (5-1)
17. Smackover (2-4)
18. Melbourne (5-1)
19. Cedarville (5-1)
20. Lamar (5-1)
21. Walnut Ridge (4-2)
22. Danville (4-2)
23. Charleston (2-4)
24. Drew Central (4-2)
25. Dollarway (2-4)
26. Perryville (3-3)
27. Greenland (3-3)
28. Fouke (3-3)
29. Mountain View (3-3)
30. Bismarck (2-4)
31. Barton (3-3)
32. Lake Village (2-4)
33. Genoa Central (3-3)
34. Corning (2-4)
35. Mayflower (2-4)
36. Piggott (1-5)
37. Baptist Prep (0-6)
38. Paris (2-4)
39. Marshall (2-3)
40. Manila (2-4)
41. Two Rivers (1-5)
42. Yellville-Summit (0-6)
43. Palestine-Wheatley (0-5)
44. West Fork (0-6)
45. Rose Bud (1-5)
46. Cedar Ridge (1-5)
47. Horatio (0-6)

HOOTENS.COM GAME OF THE WEEK
No. 1 Camden Harmony Grove at No. 8 Centerpoint
Winner remains unbeaten in league play. Harmony Grove earned league titles in 2017 and 2011. The Centerpoint consolidated school district has never won a league title and the last conference championship for that program came in 1978, when Glenwood won the 2A-North title. Harmony Grove downed Centerpoint 50-15 a year ago.
Unbeaten Centerpoint has won three games by three points or less this season, including 43-42 two weeks ago at Smackover, arguably the Knights' biggest win since a 2016 second-round playoff conquest at Bald Knob. The Knights have just 24 players on their roster, and start only four men on offense and defense. Centerpoint last week downed Genoa Central 28-13 by forcing five turnovers. Centerpoint QB Josh Lawson completes timely throws to C.J. Fox and Gabe Doster. Landon Way makes plays at running back and in the secondary. The Centerpoint defense allows just 20 points per game. 
Harmony Grove has steamrolled its competition so far in league play, winning by an average of 61-14 weekly against teams that are a combined 5-13. Harmony Grove's Single Wing attack gets the ball to playmakers Jeremie Edwards, Xaylon Falls and Mecca Arnold, while senior QB Zach Smith has a soft touch in the passing game. Senior all-league receiver Damion Daniel makes big plays on the perimeter. Senior noseguard Daniel Hicks is one of the top defenders in the state, pacing the stingy defense (19 points per game) with 50 tackles and 21 behind the line of scrimmage. Senior Dade Turner has recorded 45 stops.

LAST WEEK
Hootens.com correctly predicted 22 of 24 (92 percent) games involving Class 3A schools a week ago. For the season, Hootens.com has correctly predicted 160 of 201 (80 percent) of games involving Class 3A schools.

WEEK 7 PREDICTIONS (favored team in CAPS followed by point spread)
1-3A
BOONEVILLE (18) at Mansfield: Booneville mauled Mansfield 55-6 last season. Mansfield rallied to beat Charleston 28-24 last week when senior Layton Howard intercepted a pass and returned it 100 yards for a TD late in the fourth quarter. Four Booneville running backs eclipsed 70 yards in last week's 41-6 win over Greenland. 
CEDARVILLE (33) at West Fork: West Fork's Garrett Bradley ran the ball well last week and made plays on special teams in a 35-6 loss to Lamar. Cedarville junior all-conference running back Kelin Mitchell paces the Pirate rushing attack with 949 yards with nine TDs, while sophomore 'back Darryl Kattich has run for 876 yards and a team-high 13 scores. 
CHARLESTON (21) at Paris: Paris likely needs to win three of its remaining four games to qualify for the playoffs. Paris trailed Cedarville just 20-15 in the first half last week when Blaize Woods returned a fumble 50 yards for a TD, but lost 55-27. Charleston must recover after a 28-24 loss last week to Mansfield when the Tigers earned leads of 21-7 and 24-21. 
LAMAR (7) at Greenland: Lamar slipped Greenland 33-27 last season. Greenland junior QB Gabe Wilson passed for 170 yards, including a 71-yard scoring pass to Carter Gobel, in last week's 41-6 loss at Booneville. Lamar bolted to a 35-0 halftime lead in last week's 35-6 win over West Fork. The Warriors forced three turnovers. 

2-3A
Cedar Ridge at ROSE BUD (2): Winner moves out of the 2-3A basement and remains in contention for a playoff berth. Cedar Ridge scores just 7.3 points per game this year. Jesse Massey scored a TD in last week's 49-6 loss to Clinton. Rose Bud logged 177 yards in last week's 44-8 loss at Class 2A Hackett. 
CLINTON (35) at Yellville-Summit: Yellville shifts back to the Spread after opening the season in the Flexbone. Clinton rolled up 324 yards last week on just 18 plays (18 yards per play) in a 49-6 win at Cedar Ridge and senior Kadence Sowell returned an interception 80 yards for a TD. 
HARDING ACADEMY (14) at Melbourne: Likely the last obstacle for Harding Academy en route to a 10-0 regular season record and an outright 2-3A title. Melbourne moves into a first-place tie with a win and the Bearkatz have never won a conference championship. Melbourne senior QB Gabe Lawrence and senior receiver Alex Bray anchor an offense that scores 41 PPG. Harding led Mountain View 42-6 at halftime a week ago, when it won 48-6. Junior QB Caden Sipe passed for 280 yards and six TDs in the win. 
MOUNTAIN VIEW (21) at Marshall: Winner takes a big step towards making the playoffs and remains in the hunt for a first-round home game. Marshall's two wins are against teams with a combined 2-10 record. Mountain View lost 48-6 last week at Harding Academy, but senior QB Tim Curran connected with J'air Jackson for an 80-yard TD pass. 

3-3A
WALNUT RIDGE (20) at Corning: Two of four teams tied at 1-2 in league play. Corning first-year coach Larry Treadway coached Walnut Ridge from 2005-2018. Walnut Ridge senior QB Andrew Brewer racked up 265 tandem yards and three TDs in last week's 43-28 win at Piggott. 
Harrisburg at OSCEOLA (17): Harrisburg likely needs a win to remain in contention for the league title. Harrisburg allowed a season-high 39 points to Newport in a 39-23 defeat. Osceola senior M.J. Vance (more than 1,100 tandem yards with 17 TDs) and sophomore Don Littleton split snaps at QB. Littleton and Vance pace an Osceola defense that allows 18 PPG and just 8 PPG against league opponents. 
Piggott at HOXIE (14): Two of four teams tied at 1-2 in league play. Piggott scored 22 fourth-quarter points in last week's 43-28 loss to Walnut Ridge. Piggott mixes in more Spread concepts this fall after toiling in the Diamond T most of the past five seasons. Hoxie ripped Corning 54-6 last week, when brothers Daylon, Davie and Shunderrick Powell each scored TDs for the Mustangs. 
NEWPORT (35) at Manila: Manila allows 44 PPG in league play and has been mercy ruled the past two weeks. Newport sophomore Jakeyvin Davis logged 16 solo tackles in last week's 39-23 win at Harrisburg. Senior all-league linebacker Clemmie Alcorn has 46 stops this season.

4-3A
Danville at ATKINS (6): Danville trailed Glen Rose last week 17-14 in the third quarter of a 24-14 defeat. Sophomore fullback Julian Becerra scored a TD against Glen Rose. Sophomore QB Lawson Wilkins has more than 1,200 yards this season. Atkins last week knocked off previously unbeaten Jessieville 42-29 behind senior QB Eli Roberson's 391 yards passing and five TDs.
BAPTIST PREP (7) at Mayflower: Mayflower is tied with Perryville for the last playoff spot in the 4-3A. Senior linebacker Tayshaun Mattison paces the Eagle defense. Baptist Prep lost to Perryville 39-22 last week. Baptist led 8-0 early and 15-14 midway through the second quarter but Perryville scored just before halftime and returned the second half kick for a 27-15 lead. Baptist receiver Mitchell Leavitt caught six passes for 112 yards, including a 61-yard TD.
Jessieville at GLEN ROSE (10): Jessieville rolled up 449 yards, but committed two turnovers, in last week's 42-29 loss to Atkins. Glen Rose big-played Danville in last week's 24-14 victory, scoring on a long pass play and returning a kickoff for a TD. Glen Rose senior playmaker Matthew Clark paces the Beavers in receptions and receiving yards. 
Two Rivers at PERRYVILLE (21): Two Rivers scores just 13 points per game in conference action. Perryville notched a crucial league win, 39-22 last week at Baptist Prep, behind senior QB Reid Standridge's 292 tandem yards and three TDs. Senior Cole Griffin snagged six passes for 145 yards at Baptist Prep. 

5-3A
C. HARMONY GROVE (7) at Centerpoint: See Hootens.com Game of the Week.
BISMARCK (14) at Horatio: Horatio scores 8.6 PPG in league play. The Lions start seven sophomores  this fall. Bismarck led Fouke 21-14 entering the fourth quarter last week, but lost 28-21. Bismarck likely plays this game without two-way starting lineman Kadin Walker, who's been injured since Zero Week.
SMACKOVER (20) at Fouke: Fouke picked up a crucial 28-21 road win last week at Bismarck and now seems like it will extend its school record playoff streak to seven seasons. Junior Kanon Garrett hauled in a 50-yard TD pass at Bismarck. Smackover trailed No. 3 Prescott 23-14 entering the fourth quarter last week of a 37-20 loss. Smackover surrendered five sacks and committed two turnovers in the loss. 
PRESCOTT (28) at Genoa Central: Genoa likely needs to win two of its last four games to qualify for the playoffs for the first time in school history. Genoa last week pushed unbeaten Centerpoint in a 28-13 defeat. The Dragons logged 298 yards, but committed six turnovers. 

6-3A
Barton at MCGEHEE (17): McGehee battered Barton 28-6 in 2018. Barton ran for 236 yards (5.8 YPC) in last week's 64-8 loss at Class 2A power Fordyce. Junior Davin Martin bolted for 144 yards to lead the Bears. McGehee outlasted Dollarway last week in an 18-12 lead. The Owls got two TDs from Joseph Easter and one score from Elijah White. 
Drew Central at DOLLARWAY (10): Dollarway downed Drew Central 20-0 last October, and the winner stays in the hunt for the league title. Dollarway battled McGehee in an 18-12 road loss a week ago, getting a TD from Cherondric Broyles. Drew Central ran for 404 yards (9.4 YPC) in a 26-22 win last week over Lake Village. Senior Davian Mayo went for 222 yards and two TDs on the ground. 
LAKE VILLAGE (14) at Palestine-Wheatley: Lake Village pounded Palestine-Wheatley 19-6 last season. PW did not record a first down and logged just 8 yards in last week's 51-0 defeat to Rison. Lake Village forced two turnovers last week in a 26-22 loss to Drew Central. 
RISON (30) at Hampton: Rison led Palestine-Wheatley 48-0 at halftime last week in a 51-0 victory. The Wildcats rushed for 329 yards and senior QB Jaylon Henry completed four of eight passes for 70 yards and a TD. Rison has won four straight games by a combined 160-0.