Class 5A Week 7 Rankings, Notes & Picks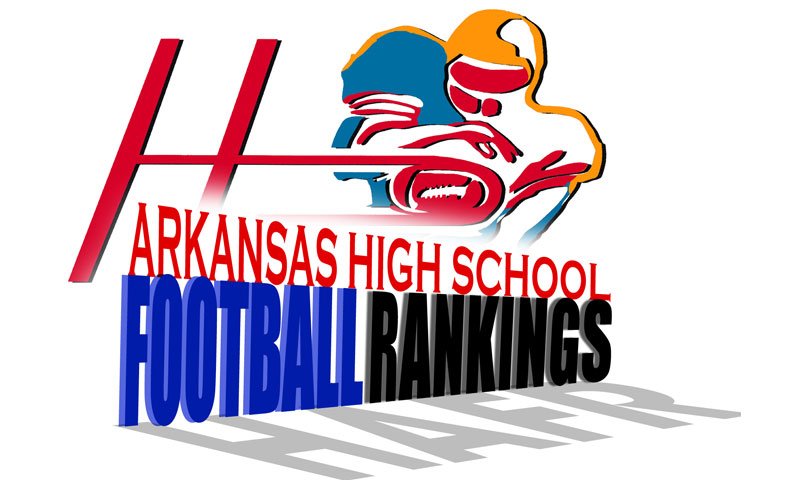 Hootens.com Rankings
Class 5A, Week 7, 2019
Copyright Hooten Publishing, Inc. 

1. LR Christian (6-0)
2. Harrison (6-0)
3. Pulaski Academy (4-2)
4. Valley View (6-0)
5. Wynne (4-2)
6. Maumelle (5-1)
7. Hot Springs (4-2)
8. Morrilton (3-3)
9. Greenbrier (4-2)
10. Watson Chapel (4-2)
11. HS Lakeside (4-2)
12. LR Parkview (3-3)
13. Texarkana (3-2)
14. White Hall (4-2)
15. Vilonia (3-3)
16. LR McClellan (4-2)
17. Farmington (5-1)
18. Camden Fairview (2-4)
19. Blytheville (2-4)
20. Batesville (2-4)
21. Nettleton (4-2)
22. Clarksville (4-2)
23. Forrest City (4-2)
24. Magnolia (3-3)
25. Alma (1-5)
26. Beebe (1-5)
27. Greene County Tech (1-5)
28. Hope (1-5)
29. Paragould (0-6)
30. Huntsville (1-5)
31. De Queen (0-6)
32. LR Fair (0-6)

HOOTENS.COM GAME OF THE WEEK
No. 9 Greenbrier at No. 2 Harrison
This could be Harrison's final major hurdle in its attempt to win three straight conference titles. The Goblins mash opponents (run for 266 yards weekly) and give up 12 points a game. The Goblins held Vilonia to a season-low 15 points last week (won 17-15). Senior Ben Johnson and junior Cole Keylon split snaps at quarterback, while Gabe Huskey spearheads a strong rushing attack. Johnson has passed for 347 yards and six touchdowns this fall, while rushing for 359 yards and four TDs. He had 13 carries for 114 yards and a TD at Vilonia. Huskey has 72 carries for 780 yards and 14 TDs this fall, including a 20-carry, 173-yard effort a week ago.
Greenbrier led Farmington 24-7 at halftime last week, hanging on for a 24-17 win by making a fourth-quarter goal line stand. Senior Peyton Long has almost 600 yards and nine TDs this year. Senior linebacker Ryan Barnard paces the D with 49 tackles and two sacks. He's intercepted three passes and forced four fumbles.

LAST WEEK
Hootens.com correctly predicted 12 of 16 games (75 percent) last week. Hootens.com has picked 109 of 134 games (81 percent) this season.

WEEK 7 PREDICTIONS (favored team in ALL CAPS)
5A CENTRAL
Beebe at PULASKI ACADEMY (30): Beebe hasn't beaten PA in more than 20 years. Beebe ran for 197 yards and had more first downs (18-14) than White Hall last week but lost 63-17. PA averages almost 600 yards weekly. Senior QB Braden Bratcher has passed for 2,435 yards and 22 TDs with three interceptions, while Mason Kolb has 39 catches for 630 yards and six TDs.
White Hall at WATSON CHAPEL (2): This Jefferson County rivalry has playoff implications. Watson Chapel knocked down a pass in the end zone with one second left last week to preserve a 44-40 win at LR Parkview. Senior QB Devin Curry ran for 119 yards and four TDs and passed for 150 yards. White Hall has won consecutive league games by a combined 105-17. White Hall must cut down on penalties (eight for 77 yards) in last week's 63-17 win over Beebe.
LR Fair at MAUMELLE (45): Maumelle cruising to late season showdowns with LR Christian and Watson Chapel. Hornet junior QB Jonathan Reyes has thrown for 1,515 yards and 20 TDs this season, while seniors Demetress Williams (34 catches, 841 yards and 14 TDs) and Zyon Slade (28 catches, 458 yards, seven TDs) are the top targets. Senior RB Brian Worsham has rushed for 583 yards and five TDs.
LR CHRISTIAN (17) at LR Parkview: Injuries starting to mount for LR Parkview, which has dropped consecutive conference games to Maumelle and Watson Chapel by a combined 11 points. The Patriots surrendered 530 yards and 44 points in last week's four-point loss to Watson Chapel. LR Christian led LR Fair 28-0 in the first quarter last week before winning 56-8.

5A EAST
WYNNE (3) at Batesville: These traditional 5A kingpins have won or shared 14 of the past 17 conference titles. Batesville has won nine of the past 13 in the series. Wynne fullback Materius Ross (6-2, 210) missed the second half of last week's 28-23 loss to Valley View with an injury. Batesville ran for 360 of its 439 yards in last week's one-point loss to Forrest City. 
FORREST CITY (10) at Paragould: Forrest City has won 10 of the past 11 meetings over Paragould since joining the conference in 2008, including last year by 11 points. Forrest City thinking playoffs after last week's 42-41 victory over Batesville when the balanced Mustangs ran for 196 yards and passed for 225. Paragould plays hard and pushes most teams before running out of depth. The Rams ran for 385 yards in last week's 20-point loss to Nettleton.
Greene County Tech at NETTLETON (10): Nettleton has won seven of the past 11 over GCT. The Raiders led Paragould 48-12 in the fourth quarter a week ago before easing to a 20-point win. Senior QB Cade Carter threw four TDs and ran for two more at Paragould. Two of GCT's three conference losses this year were by 10 points, including last week's 20-10 decision at Blytheville. 
Blytheville at VALLEY VIEW (8): Blytheville senior Jermel Woods ran for 166 yards and three TDs in last week's 10-point win over GCT. The Chickasaws likely make the playoffs with two more wins this year. Valley View gets big plays from senior Connor Watson, who ran 10 times for 35 yards and caught four passes for 72 yards and a TD in last week's five-point victory at Wynne. The Blazer D has given up a TD or less in four games.

5A SOUTH
Hope at HS LAKESIDE (24): HS Lakeside has won 11 of the past 19 over Hope, including five straight by an average of 18 points. Ram senior Isaac Echols ran for the winning TD with three minutes left in last week's 21-20 win at Texarkana. Echols has 70 carries this year for 381 yards and five TDs, and has eight catches for 43 yards and a TD. Hope hangs tough but usually runs out of depth in the second half. The Bobcats have been outscored after intermission the past two weeks by a combined 42-0.
HOT SPRINGS (3) at Magnolia: Magnolia lost five fumbles, including two inside the 5-yard line, Week 4 in an eight-point loss to Texarkana. The Panthers scored on a fourth-and-10 play in the final seconds of the first half last week to beat Camden Fairview 7-6. Hot Springs has given up a TD or less in four games this year. The Trojans led De Queen last week 35-0 at halftime. 
Texarkana at LR MCCLELLAN (1): A crucial game for playoff seeding. LR McClellan has won at Hope and De Queen the past two weeks by a combined 112-17. Senior Jeremiah Aikens is at full speed after missing two games (LR Fair and Hot Springs) with a leg injury. Kenneth McCardell broke his jaw in the opener against Dollarway. He returned Week 4 and sprinted 72 yards for a TD on the first play against Hot Springs, but "was gassed and never caught his breath," Coach Maurice Moody says. The Lions have one fumble in the past two games, and the D is improving after moving linebackers Jordan Harris and Aikens from linebacker to safety. Texarkana junior QB Brandon Bishop could give LR McClellan fits with his arm and ability to scramble. 
CAMDEN FAIRVIEW (21) at De Queen: Both teams are reeling now. Winless De Queen has been outscored this year by a combined 263-70. The Leopards beat Camden Fairview last year by three points. Camden Fairview usually runs well against opponents, but struggles trying to hit to many big pass plays. The Cardinals have dropped consecutive one-point decisions to Texarkana and Magnolia. They've forced 17 turnovers this year.

5A WEST
Greenbrier at HARRISON (8): Hootens.com Class 5A Game of the Week.
Huntsville at MORRILTON (30): Huntsville has lost its three league games by a combined 157-22. Morrilton must regroup after last week's one-point loss at Alma, when the Airedales scored 17 points in the fourth-quarter. Senior QB Jacolby Criswell completed 12 of 19 passes last week for 136 yards and a TD and ran for 113 yards and two TDs.
ALMA (1) at Clarksville: Alma can't allow last week's one-point win over Morrilton effect it this week. The Airedales face Harrison and Greenbrier (combined 10-2 record) in the next two games. Airedale senior Josh Davis ran for 126 yards and two TDs in last week's one-point win over Morrilton, and Olaf Ollson kicked the winning 38-yard field goal with 18 seconds left. Senior QB Landon Blair has thrown seven TD passes and ran in four TDs this season. Clarksville led Huntsville at halftime last week 48-0 at halftime and won 62-13. DL Michael Powell had two tackles and a sack in the first quarter at Huntsville, while Garrett Waddill returned two interceptions for TDs.
VILONIA (4) at Farmington: This may be for a playoff spot. Vilonia lost to Harrison last week 17-15, after falling behind 10-0 in the second quarter. Senior Draven Smith ran for 101 yards and both TDs against Harrison, while sophomore QB Austin Meyers kept the Goblin D off balance by passing for 150 yards. Farmington held Greenbrier scoreless in the second half a week ago, but lost 24-17. Farmington failed on a fourth-and-goal from the 1-yard line in the third quarter and turned the ball over on downs in the final minute.