HOGS: Pittman, Kiffin laud each other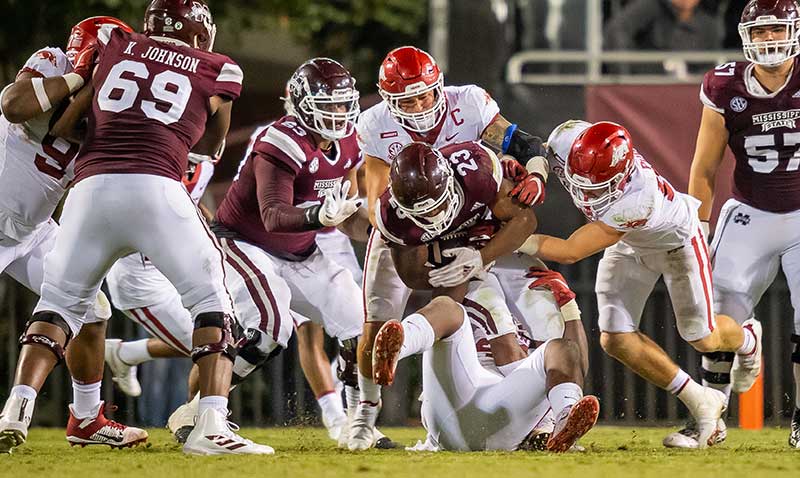 FAYETTEVILLE - Covid-19 related postponements of Florida vs. LSU and Missouri vs. Vanderbilt this weekend have altered TV times and outlets of other SEC games, including Ole Miss at Arkansas.
First-year coach Sam Pittman's Razorbacks (1-2) still play host to Ole Miss (1-2) at 2:30 p.m. Saturday but will do so on the SEC Network instead of ESPN2 as originally scheduled ... maybe.
First-year Ole Miss coach Lane Kiffin sweats rising covid-19 quarantined numbers on his Rebels.
"We are dealing with our first covid issues of the season," Kiffin said Wednesday. "We had it in (preseason) camp but have been great the first two or three games. That's been a big challenge this week."
Does Kiffin fear, with the Rebels and Razorbacks awaiting covid-19 tests Thursday, that Saturday's game could be postponed?
"I hope not," Kiffin replied. "If we were to play today, we could play, so hopefully it stays that way."
Kiffin said even minus the covid absences, "we are already banged up after a very physical, highly competitive game against a great team in 'Bama. So, this is going to be very challenging."
The Rebels and No. 2 Alabama played a wild one that was tied 42-42 during the fourth quarter before visiting Alabama prevailed, 63-48.
HOGS SHOULD'VE WON
Meanwhile, Arkansas led No. 13 Auburn 28-27 with 30 seconds left in the fourth quarter but lost 30-28 on an Auburn field goal with seven seconds left after an apparent Auburn spike of the ball bounced backwards as a lateral that Arkansas safety Joe Foucha recovered. The officials whistled the play dead as an intentionally grounded incomplete pass.
"I'm sure Auburn is counting their blessings," Kiffin said. "The ball is backwards. Knox (Lane's 10-year-old son) knew that when he saw it. It's really a shame for Arkansas to play that well and should have won the game."
Kiffin coached Florida Atlantic last year when the Razorbacks under the Chad Morris regime suffered it second of two 2-10 seasons, including consecutive 0-8 records in the SEC.
"You know I kind of wished they were like last year," Kiffin said.  "But he (Pittman) has done an awesome job. Completely different on defense. They go run to the ball, play as hard as can be and give people problems. Offensively very explosive with the tempo. So we are going to have our hands full. They have a really good team."
Quarterbacked by national total offense leader Matt Corral, Ole Miss totals 125 points for its three games, losing 51-35 to No. 5 Florida, edging Kentucky 42-41 in overtime and losing the wild 63-48 game at home to Alabama.
"Coach Kiffin, he's an offensive genius," Pittman said. "I mean he really is. Those guys are playing unbelievable!"
ALL IN THE FAMILY
Saturday's game is a family affair for Arkansas offensive coordinator Kendal Briles and Ole Miss offensive coordinator Jeff Lebby. Not only did they coach together at Baylor under Art Briles, Kendal's father, but they are brothers-in-law.
"They should be close," Pittman said. "I think Coach Lebby married Kendal's sister. So unless there's a family feud, they should be good friends."
Kiffin knows both well. Briles was the 2017 offensive coordinator for Kiffin at Florida Atlantic.
"They are not just brothers in law, they are best friends," Kiffin said. "They grew up best friends, and he ended up marrying Kendal's sister. So I joke with him that he was just trying to get a job with Art. They are very close."
STROMBERG HONORED
Arkansas sophomore center Ricky Stromberg has been added to the Rimington Award Watch List, it was announced Wednesday. The Rimington Award honors the nation's outstanding center.