Class 3A Week 8 Rankings, Notes & Picks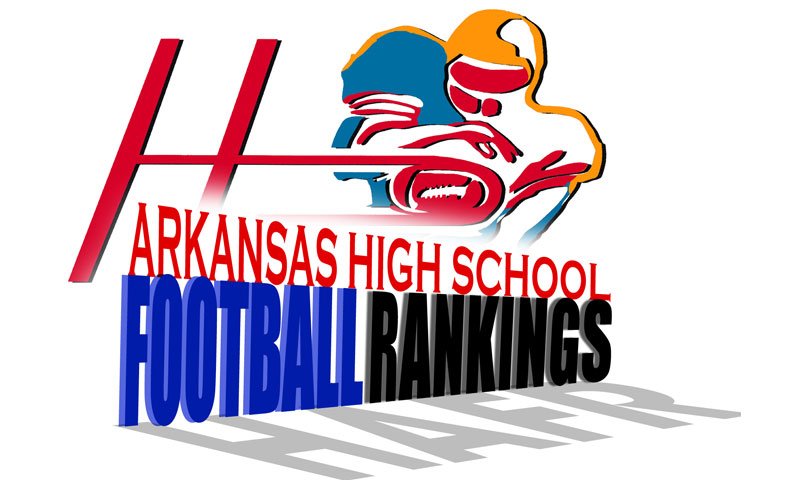 Hootens.com Rankings
Class 3A, Week 8, 2018
Copyright Hooten Publishing, Inc.
1. Booneville (7-0)
2. Smackover (6-1)
3. Clinton (7-0)
4. Newport (6-1)
5. Prescott (6-1)
6. Glen Rose (6-1)
7. Osceola (5-2)
8. Mayflower (6-1)
9. Rison (7-0)
10. C. Harmony Grove (6-1)
11. Harding Academy (5-2)
12. Atkins (6-1)
13. Lamar (7-0)
14. Danville (4-3) 
15. Walnut Ridge (5-2)
16. Mansfield (6-1)
17. McGehee (4-3)
18. Charleston (4-3)
19. Piggott (5-2)
20. Hoxie (3-4)
21. Melbourne (4-3)
22. Barton (3-3)
23. Centerpoint (4-3)
24. Greenland (3-4)
25. Harrisburg (3-4)
26. Baptist Prep (3-3-1)
27. Jessieville (3-4)
28. Fouke (2-5)
29. Dollarway (2-5)
30. Cedarville (3-4)
31. Palestine-Wheatley (3-3) 
32. Lake Village (4-3) 
33. Mountain View (2-4)
34. Perryville (2-5)
35. Horatio (2-5)
36. Manila (2-5) 
37. Yellville-Summit (1-6)
38. Bismarck (1-6)
39. Marshall (1-6)
40. Drew Central (0-6)
41. West Fork (0-7)
42. Genoa Central (1-6)
43. Corning (0-7)
44. Paris (0-7)
45. Two Rivers (0-7)
46. Cedar Ridge (1-4)
47. Rose Bud (0-3)

HOOTENS.COM GAME OF THE WEEK
No. 8 Mayflower at No. 12 Atkins
Winner likely earns No. 2 playoff spot and retains an outside shot at a share of the league title. Mayflower won last year's 2-3A championship outright, but Atkins has not claimed a league crown since 2004. Teams split two meetings as 2-3A members in 2014 and 2015. 
Atkins absorbed its first loss last week, 26-7 at Danville. Atkins tied the game at 7 in the first quarter when QB Eli Roberson tossed a 27-yard TD pass to Keenan Martin but the Little Johns responded with 19 unanswered points. Roberson (1,035 passing yards with 10 TDs and one interception) is the third Atkins starting QB in three years. The previous two QBs, Seth Haney and Zack Harris, were all-state and all-league honorees. Seniors Gage Rehm (341 yards rushing and five TDs) and Trey Davis (25 receptions for 400 yards and two scores) are two of the top playmakers in Class 3A. All-state noseguard Matt Roberson (60 tackles, 10 for loss) wreaks havoc up front. 
Mayflower bounced Baptist Prep 37-0 last week, its second straight shutout. Senior playmaker Deon Simmons, who has been slowed by injury much of this year, scored four TDs at Baptist Prep. Mayflower's defense continues to improve behind stalwarts Dylan Burnett (four tackles for loss and two sacks at Baptist Prep) and lineman Drake Wilkerson. Senior QB Dalton Muse completed 13 of 16 passes for 195 yards and a score at Baptist Prep.

TV LAND
Hooten's Arkansas Football airs 10:30 a.m. Saturdays on KATV (ABC Little Rock) Channel 7, previewing the Razorbacks and their opponent.

MISSING IN ACTION
6-3A member Episcopal plays 8-man club football this fall, while 2-3A schools Cedar Ridge and Rose Bud finish 2018 playing junior varsity schedules.

LAST WEEK
Hootens.com correctly predicted 21 of 23 winners (91 percent) of games involving Class 3A schools. Hootens.com has correctly picked 178 of 207 winners (86 percent) of games involving Class 3A schools for the season.

WEEK 8 PREDICTIONS (favored team in CAPS followed by point spread)
1-3A
Charleston at BOONEVILLE (14): A big rivalry game that is important for playoff positioning. Charleston likely needs to win out to earn a first-round home playoff game with remaining games against at unbeaten Booneville, against winless West Fork and at undefeated Lamar. Charleston junior Brayden Ross has started the past three weeks at QB and completed 44-of-70 passes for 452 yards and three TDs. Booneville's postseason fate will be decided this week and next Friday when it travels to Lamar. Charleston pounded Paris 50-0 last week, holding the Eagles to 101 yards. Booneville's offense continues to gain confidence weekly since losing senior all-state QB Brandon Ulmer (knee) Week 0, scoring 62 and 55 points the past two weeks.
Cedarville at GREENLAND (6): Loser likely misses the playoffs. Cedarville rushed for 515 yards in last week's 56-0 win against West Fork. It was Cedarville's second shutout this year. This is the Greenland's first home game since Week 4. Greenland (1-3 in league play) finishes the regular-season favored over Cedarville, at Paris (0-7) and at home against rival West Fork (0-7). Greenland forced two turnovers in last week's 33-27 loss at undefeated Lamar.
Lamar at MANSFIELD (1): Winner likely earns No. 2 playoff seed and contends for a share of the league title. Lamar (7-0) owns quality wins over Danville, Cedarville and Greenland. Lamar outlasted Greenland last week 33-27, rushing for 341 yards (5.2 yards per carry) and three TDs. Mansfield absorbed its first loss at Booneville, 55-6. It was the most Mansfield has surrendered since Week 8 last year.
Paris at WEST FORK (3): Best chance for either team to avoid a winless season. Paris rides a nine game losing streak. Its closest contest this year was an eight-point loss Week 0 to Perryville. West Fork totes a 23-game losing skid. It lost by 14 points Week 1 to Berryville and by one point Week 3 at Green Forest. 

2-3A
CLINTON (40) vs. Strong (at LR Christian): A non-conference game scheduled when Rose Bud and Woodlawn cancelled their seasons. Six Clinton Yellow Jackets scored TDs last week in a 43-6 conquest over Yellville-Summit, including rushing and receiving scores from senior Sky Davidson.
HARDING ACADEMY (32) at Marshall: Marshall likely needs one more league win to secure its first playoff appearance since 2010. The Bobcats travel to Clinton next week and finish their season against Yellville-Summit. Harding notched a 42-14 win last week at Melbourne to likely earn the No. 2 seed from the 2-3A. Harding senior QB Davis Morgan passed for 298 yards and three TDs against Melbourne. Junior Stone Sheffield rushed for 93 yards and senior Jimmy Citty caught seven Morgan passes for 107 yards and a score.
Mountain View at MELBOURNE (22): Winner likely earns the No. 3 playoff seed. Mountain View has won two of three, including 48-12 last week against Marshall. Melbourne surrendered more than 400 yards in last week's 28-point loss at Harding Academy, but the Bearkatz have enough weapons to win this week.
YELLVILLE-SUMMIT is open.

3-3A
NEWPORT (40) at Corning: Corning likely misses the playoffs for the fourth straight year. Corning must finish the regular season at No. 7 Osceola and at No. 19 Piggott. Newport and Osceola likely collide Week 10 for the league championship. Newport junior Monquell Cox (130 rushing yards and TD) and sophomore Tharon Davis (173 yards and three scores) sparked a 385-yard rushing outburst in last week's 56-6 win over Manila.
WALNUT RIDGE (14) at Harrisburg: 3-3A title favorites Newport and Osceola outscored Harrisburg 117-28 the past two weeks. The Hornets likely need to win two of their final three games to qualify for the playoffs. Walnut Ridge rushed for 222 yards (7.9 YPC) last week against Corning and forced three turnovers. The Bobcat defense is led by senior playmakers Charles Mabry (62 tackles) and Cade Burris (60 stops).
Manila at HOXIE (27): Loser likely misses the playoffs. Manila lost by 50 points last week at Newport, but dual-threat senior QB Layne Sims totaled 161 yards and classmate Brett Carter ran 7 yards for a TD. Senior Michael Parker caught four passes for 80 yards.
Piggott at OSCEOLA (10): Piggott slipped Hoxie 42-35 last week, rushing for 384 yards (6.7 YPC) and four TDs. Seniors Trey Gossett (169 yards and a TD) and Gunner Shaw (154 yards and two scores) paced the Piggott attack. Osceola routed Harrisburg 54-0, its first shutout since Week 8 last season (34-0 against Manila). Piggott's clock-eating Diamond T attack keeps it in games, but Osceola won last year at Piggott 26-0.

4-3A
MAYFLOWER (7) at Atkins: See Hootens.com Game of the Week.
DANVILLE (20) at Baptist Prep: Winner likely earns No. 4 playoff seed. Baptist Prep needs one more win to clinch its first playoff berth since 2015. BP travels next Friday to winless Two Rivers. BP senior QB Gage Hall passed for 108 yards in last week's 37-point loss to Mayflower. Classmate Robert Lewis snagged four Hall passes for 47 yards. Danville orchestrated "one of the best executed defensive game plans I have seen" in last week's 19-point win over Atkins, Danville coach D.J. Crane says. Atkins entered the game averaging 36.3 points per week, but Danville allowed just seven points. Danville held Atkins to just 48 yards rushing on 25 carries (1.9 YPC).
GLEN ROSE (34) at Perryville: Perryville snapped a five-game losing skid with last week's 43-0 win at Two Rivers. It was the Mustangs' first shutout since Week 3 2017 and Perryville recorded a season-best 339 yards. Glen Rose closes in on its sixth league title of the modern playoff era (since 1969). The Beavers have lost just one fumble this year. GR senior running back Jay'Shawn Cox sparked last week's 38-0 win at Jessieville with 194 rushing yards and two TDs, highlighted by an 88-yard scoring sprint.
Two Rivers at JESSIEVILLE (17): Two Rivers has not scored since Week 2, a 48-6 loss at Johnson County Westside. Perryville tackled Two Rivers for loss 10 times in last week's 43-0 loss. Jessieville allowed four sacks and committed three turnovers in last week's 38-point loss to Glen Rose. 

5-3A
Bismarck at CENTERPOINT (10): Bismarck likely needs to win out to qualify for the playoffs for the first time since 2014, which is also the school's last conference win. Bismarck rolled up 282 yards in last week's 18-13 loss to Horatio, its second-best output this year. Centerpoint moved the ball effectively at Camden Harmony Grove (247 yards and 14 first downs), but it allowed Harmony Grove to convert four-of-six third downs in a 50-15 loss.
C. HARMONY GROVE (21) at Fouke: Fouke probably needs two wins in its final three games to advance to the playoffs for the sixth straight season. The Panthers finish at Genoa Central and Horatio. Fouke absorbed its third shutout this year last week in a 49-point loss at Smackover. Harmony Grove has not lost since Week 0, a two-point defeat at Junction City. The Hornets finish against Prescott and at Smackover. Harmony Grove junior playmaker Xaylon Falls returned a kickoff 75 yards for a score in last week's 50-15 win against Centerpoint.
SMACKOVER (27) at Genoa Central: Junior Zion Van Deuson intercepted a Prescott pass in last week's 42-point loss. Senior kicker Aaron Barwick booted a field goal to avoid the shutout. Smackover flogged Fouke 49-0 last week to remain unbeaten in league play. Smackover surrendered just 88 yards to Fouke and forced two turnovers. Senior running back Greg Turner carried seven times for 100 yards and three TDs against Fouke. Dexter Crockett zipped for 87 yards and two scores.
PRESCOTT (33) at Horatio: Horatio battered Bismarck for 239 rushing yards (4.6 YPC) in last week's 18-13 win. Horatio also intercepted three passes. Prescott allowed just 138 yards to Genoa Central in a 45-3 win. Senior QB Ryan Johnson accounted for three TDs, and senior wideout Cameron Cox scored on passes of 35 and 63 yards. Prescott's diverse offense and stingy defense set up a crucial Week 9 game at Camden Harmony Grove. 

6-3A
BARTON (14) at Drew Central: Drew Central likely needs to win out to qualify for the playoffs. The Pirates have not won a conference game since 2015 (23 straight league losses). The Bears probably need a win to remain in contention for the league title. Barton trailed McGehee 21-6 last week at halftime in a 28-6 defeat. Barton's penetrating defensive line could be the difference.
Lake Village at RISON (24): Rison lashed Lake Village by a combined 98-28 the past two years. Lake Village won its second straight league game last week, 19-6 over Palestine-Wheatley. Rison has not played since Monday, October 8, when it mauled McClellan JV 33-0. Rison sophomore Branden Barnett darted for 114 yards on 20 carries. The game against McClellan JV was scheduled when Episcopal elected to play 8-man football this fall. Rison continues its march toward a league title and a 10-0 regular season.
MCGEHEE (22) at Palestine-Wheatley: Palestine needs to win at least two of its final three games for a shot at the playoffs. P-W closes its season by hosting Dollarway and going to Drew Central. McGehee wore down Barton last week in a 22-point win. McGehee remains alive for a share of the league title and clinches the No. 2 playoff seed with a win.
Parkers Chapel at DOLLARWAY (6): PC has struggled with consistency all season, but senior receiver Amari Bell has eight TD receptions from junior QB Caleb Jacobs. Junior DE Clayton Ballance, junior LB Tyler Killingsworth and senior LB Ryan Simpson pace the PC defense. Dollarway has won two of its past three games, including a 20-point win last week at Drew Central. It was Dollarway's first shutout since 2014 (47-0 over Gentry).