Class 6A Week 8 Rankings, Notes & Picks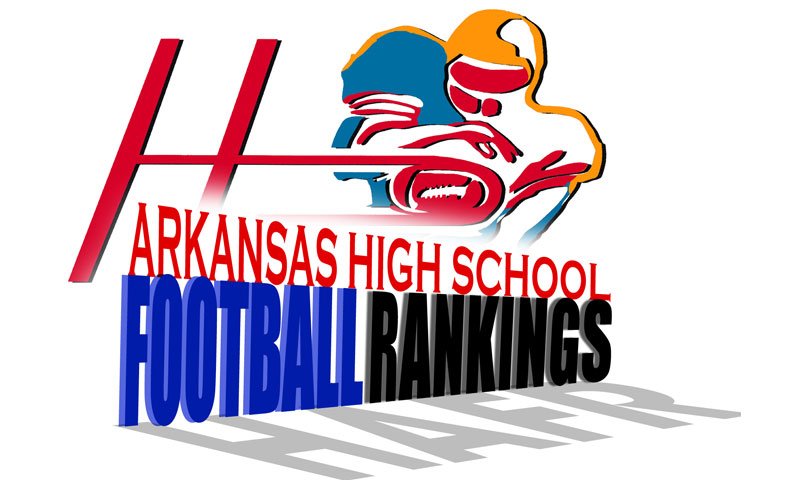 Hootens.com Rankings
Class 6A, Week 8, 2018
Copyright Hooten Publishing, Inc.
1. Greenwood (6-1)
2. Benton (6-1)
3. West Memphis (7-0)
4. Searcy (6-1)
5. Jonesboro (4-3)
6. El Dorado (3-4) 
7. Pine Bluff (2-4-1)
8. Russellville (4-3)
9. Marion (5-2)
10. Siloam Springs (4-3)
11. Lake Hamilton (4-3)
12. Sheridan (2-5)
13. Sylvan Hills (2-5)
14. Jacksonville (3-4)
15. LR Hall (1-6)
16. Mountain Home (0-7)

HOOTENS.COM GAME OF THE WEEK
No. 2 Benton at No. 1 Greenwood 
Winner likely earns the 6A West title, No. 1 playoff seed and home-field advantage through the playoffs. Each team has won six straight following season-opening losses. Greenwood has beaten Benton the past two seasons and last year's 33-17 win at Benton was the Bulldogs' closest outcome. Greenwood has won 11 conference championships in 14 years under Coach Rick Jones, including the last three 6A West titles. Benton last won a conference title in 2014, when it was state runner-up.
Benton, which outscores opponents 105-7 this year in the first quarter, is the top scoring team in Class 6A (45.4 points per game), but it likely starts sophomore quarterback Garrett Brown this week. Brown has started the previous two weeks and last week completed 14 of 21 passes for 218 yards and three touchdowns in a 62-35 win over El Dorado. Benton's bellcow on offense is senior running back Zak Wallace, who has rushed for 3,124 yards in his career. Wallace ran 20 times for 271 yards and two scores against El Dorado. "He hurts you because he's tough to tackle in the first place and if you don't get him down then he can run away from you," Jones says. Benton junior Gavin Wells ran for a TD and passed for one last week. UCA commit Joshua George and senior left tackle Jenson White anchor a big, powerful offensive line.
Greenwood is 6-1 despite replacing Division 1 players from last year's Class 6A state champion at QB (Connor Noland, Arkansas) and running back (Kenny Wood, Central Arkansas). Greenwood moved its top receiver, senior Peyton Holt, to QB in the preseason. Holt earned all-state honors last year when he caught 101 passes for 1,354 yards and 17 TDs. Greenwood's second-leading returning receiver (Josh Barlow), tore an ACL in August. "We had no other choice than to progress," Jones says. "We were looking for some other guys to step up, and luckily they have." Senior Luke Leonard (47 catches for 55 yards and four TDs) and junior Treyton Dawson (39 receptions for 572 yards and four scores) have emerged at inside and outside receivers, respectively. Another standout who's emerged for Greenwood is junior Logan Workman, who leads the team in tackles (56). Senior linebacker Travis Cox has pinned ball-carriers 52 times. Seniors Austin Archer and Morgan Hanna have made 49 tackles apiece.
This could be the first of two games between these teams, but Greenwood has won 24 straight home games and that's the difference here.

TV LAND
Hooten's Arkansas Football airs 10:30 a.m. Saturdays on KATV (ABC Little Rock) Channel 7, covering the Razorbacks, high school teams and players to watch.

LAST WEEK
Hootens.com correctly predicted six of eight winners (75 percent) of games involving Class 6A schools. Hootens.com has correctly picked 62 of 75 winners (83 percent) of games involving Class 6A schools for the season.

WEEK 8 PREDICTIONS (favored teams in CAPS followed by point spread)
6A East
WEST MEMPHIS (21) at Jacksonville: Jacksonville likely needs to win two of its final three games to make the playoffs. The Titans led Sylvan Hills 8-7 until the game's final minute of a 10-8 loss. West Memphis clinches at least a share of its first league title since 2011 with wins in two of its final three games and could finish 10-0 for the first time since 2009. West Memphis whipped Jonesboro last week 35-14 when junior QB Owens McConnell completed 13 of 23 passes for 312 yards and four TDs to three receivers. 
Searcy at JONESBORO (3): Winner likely earns No. 2 playoff seed and remains in the hunt for a share of the conference title should West Memphis stumble. Searcy snapped a five-game losing skid to Pine Bluff with last week's 30-24 victory. Searcy senior Tony Young racked up 193 total yards and two TDs against Pine Bluff. Jonesboro limited West Memphis to just 92 rushing yards in last week's 21-point loss. The Golden Gang ran for 214 yards (5.5 yards per carry) against the vaunted West Memphis defense but two turnovers did them in. 
Marion at PINE BLUFF (1): 2-2 teams meet with a chance to earn No. 2 playoff seed, but more likely a No. 3 or 4 seed and a first-round home playoff game. Marion's five wins ties its total from the past three seasons. If the Patriots should win once more this year it would be their most since winning eight times in 2011. Marion rolled up 404 yards last week in a 42-7 homecoming win over Mountain Home and the Patriots converted five of six third downs. Senior Joyrion Chase snagged six passes for 230 yards and two TDs. Pine Bluff limited Searcy to 289 yards in last week's six-point loss and intercepted two passes. Pine Bluff is 2-0 all time against Marion, including 41-12 a year ago. 
SYLVAN HILLS (7) at Mountain Home: Mountain Home's best chance remaining for a win as the Bombers finish at Searcy and home for West Memphis. Mountain Home has won one game or less six times since 2010. Mountain Home ran for 221 yards last week in a 35-point loss at Marion, but the Bombers committed two turnovers and did not complete a pass. Sylvan Hills senior kicker Tito Mendoza booted the game-winning field goal last week with less than a minute in regulation for a two-point win against Jacksonville. 

6A West
Benton at GREENWOOD (10): See Hootens.com Game of the Week. 
EL DORADO (2) at Siloam Springs: Crucial game between 2-2 teams for playoff positioning. Siloam Springs knocked off Lake Hamilton 21-14 last week behind Kaiden Thrailkill's 140 rushing yards and two TDs. Receiver Primo Agbehi caught three passes for 113 yards and a score. A Siloam win would give it tiebreakers over El Dorado and Lake Hamilton and the Panthers finish at LR Hall and home for Russellville. El Dorado has alternated losses and wins this year, having lost last week at Benton by 27 points. The Wildcats racked up 351 yards but committed turnovers and permitted Benton 649 yards (10.5 yards per play). 
Sheridan at LAKE HAMILTON (3): Loser likely misses playoffs. Sheridan has not made the postseason since 2015 and has not won a playoff game since a 15-10 victory at Jacksonville in 2011.  Sheridan's defense limited LR Hall to 1.1 yards per play in last week's 48-8 win. The 40-point victory was Sheridan's largest since a 35-0 win over Class 2A McCrory in the 2016 Arkansas Blue Cross and Blue Shield Kickoff Classic. Lake Hamilton must regroup after a stunning 21-14 loss to Siloam Springs last week in which the Wolves rushed for 100 yards fewer than its season average. 
LR Hall at RUSSELLVILLE (21): Hall must win out to qualify for the playoffs for the first time since 2013. Russellville scores just 14 per week in league play, but the Cyclones have already played Benton and Greenwood. Senior Jaidon Palmer caught a TD pass last week from classmate Rhett Atkins in Russellville's 51-7 loss at Greenwood. Russellville remains alive for the No. 3 playoff seed and first-round home playoff game.