Class 2A Week 8 Rankings, Notes & Picks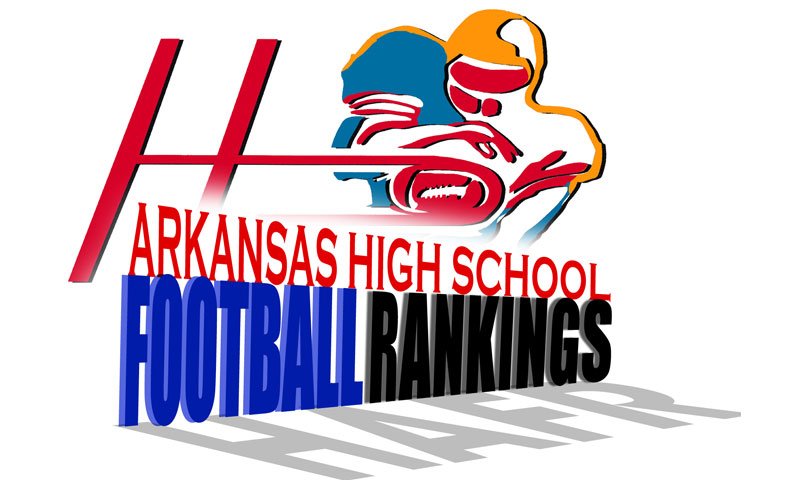 Hootens.com Rankings
Class 2A, Week 8, 2017
Copyright Hooten Publishing, Inc.

1. Mount Ida (7-0)
2. Rison (7-0)
3. C. Harmony Grove (4-3)
4. McCrory (6-1)
5. Hampton (5-2)
6. Earle (6-1)
7. Conway Christian (6-1)
8. Foreman (5-1)
9. Danville (6-1)
10. Hector (5-2)
11. Bearden (4-3)
12. Hazen (4-2)
13. Des Arc (4-2)
14. Parkers Chapel (4-3)
15. Mountainburg (6-1)
16. Magnet Cove (4-3)
17. Mountain Pine (6-1)
18. Strong (3-3)
19. Hackett (4-2)
20. Marked Tree (4-2)
21. Palestine-Wheatley (5-1)
22. E. Poinsett County (5-2)
23. Cross County (4-3)
24. England (3-4)
25. Poyen (2-5)
26. Salem (3-4)
27. Mineral Springs (2-5)
28. Lavaca (3-4)
29. Quitman (2-5)
30. Carlisle (1-5)
31. Magazine (3-4)
32. Cutter M. Star (2-5)
33. Spring Hill (2-5)
34. J.C. Westside (3-3)
35. Lafayette County (2-5)
36. Clarendon (1-5)
37. Bigelow (1-6)
38. Murfreesboro (0-7)
39. Dierks (0-7)
40. Marvell (0-6)
41. Woodlawn (1-6)
42. W. Yell County (1-5)
43. Midland (1-6)
44. Brinkley (0-6)
45. Rector (0-5)
46. Decatur (0-6)
47. Hermitage (0-9)

GAME OF THE WEEK
No. 2 Rison at No. 3 Camden Harmony Grove
This game likely determines the 8-2A title and top playoff seed, which plays at home throughout the postseason. Both teams bump to Class 3A in 2018. After losses to Class 3A Smackover, Prescott and Glen Rose, third-ranked C. Harmony Grove has won four straight league games by outscoring opponents 221-67. Harmony Grove rushed for 398 yards last week in a 56-20 win over Bearden with senior running back Jace Garcia rushing for 160 yards and classmate Jordan Hicks covering 112 yards. Junior QB Gannon Bearden throws an assortment of bubbles and tunnels to Garcia, Hicks, sophomore slot Xaylon Falls and the deep ball to junior wideout Kentrell Hill (6-2, 190). That could prove troublesome for a Rison defense that gave up 241 passing yards and three TDs in the first half last week to Parkers Chapel. But Rison also rushed for 540 yards and controlled the football the entire second half in a 38-point win over PC. Rison buried Bearden 54-14 Week 4, rushing for 297 yards. Rison held Bearden to 144 yards; Harmony Grove held Bearden to 200 yards. The front seven for both teams are salty. Rison ranks second in Class 2A in scoring defense, allowing 8.6 points per game. Rison has won eight straight in the series, including a heated 34-26 overtime triumph last year when Harmony Grove's OT possession started at the 40-yard line after two penalties for unsportsmanlike conduct.

TV SHOW
Hooten's Arkansas Football airs at 10:30 Saturday mornings on KATV (ABC Little Rock) Ch. 7, covering the Razorbacks, high school teams and players to watch, including the Air Guard Scholar Athlete of the Week.

LAST WEEK
Hootens.com correctly picked 19 of 20 games (95 percent) involving Class 2A teams. For the year, hootens.com is 162-33 (83 percent).

WEEK 8 (favored team in CAPS followed by point spread)
3-2A
EARLE (21) at Cross County: This matchup again likely decides the 3-2A title. Earle and Cross County have shared the past three league titles. Earle's team speed fuels a defense that ranks third in Class 2A behind Mount Ida and Rison, giving up just 8.6 ppg. Cross County has won four straight this fall over teams with a combined record of 5-20. This marks its stiffest test since Week 3 when the Thunderbirds lost 41-6 to Southside Batesville, currently undefeated and No. 10 in Class 4A. Senior LBs Trevor Vanhouten (10 tackles per game), and Kaylob Boykin (eight solos per game) pace the CC defense. Cross County defeated Earle the past two seasons.
E. POINSETT COUNTY (18) at Rector: No. 22 EPC secured a needed (26-20) win last week over Salem to stay in solid playoff contention. EPC freshmen QB Preston Rains completed six of 12 passes for 126 yards with senior Andrew Harston taking four of those passes for 124 yards and the game-winning TD.
MARKED TREE (16) at Salem: No. 20 Marked Tree had two weeks to prepare for Salem, which traded blows with EPC last week but lost by a TD. Salem senior QB Braden Love completed eight of 21 passes, but three of those connections went for TDs. With a loss, Salem would play host to rested Midland Week 9 with the league's final playoff berth likely at stake. 
MIDLAND is open.

4-2A
Magazine at JC WESTSIDE (2): The league's fifth and final playoff berth could be on the line. Magazine did not score last week after its first drive in a 19-point loss to Lavaca. J.C. Westside almost doubled its scoring production for the entire year with a 50-6 win over Decatur.
Decatur at WESTERN YELL COUNTY (8): The loser resides alone in the 4-2A basement.
Hackett at MOUNTAINBURG (1): Mountainburg won this matchup 33-30 Week 2 when it counted as conference game. Hackett not at full strength after the injuries sustained last week against No. 8 Danville and junior RB Quentin Tolbert (33 rushes for 175 yards). 
PALESTINE-WHEATLEY (6) at Lavaca: Lavaca won the matchup 39-12 a year ago, and the the Golden Arrows have improved weekly with senior Ryan Dockery shredding Magazine a week ago for 160 tandem yards and three TDs with an interception.
DANVILLE is open.

5-2A
MAGNET COVE (15) at Bigelow: No. 16 Magnet Cove contending for a conference crown for the first time since 2014. It last won the 5-2A in 2013. A week ago, MC managed just 177 rushing yards (4.7 ypc) but held the football the entire second half while limiting Hector to two possessions. MC sophomore Alex Ordonez booted a 36-yard field goal late in the fourth quarter for the 10-8 upset.
Cutter M Star at CONWAY CHRISTIAN (38): CC junior QB Jacob Woods carrying the offensive load with senior RB Luke Gates (ankle) still limited. Woods completed 14 of 16 passes last week for 185 yards and three TDs without an interception. He ran for a team-high 78 yards and TDs.
England at HECTOR (8): After losing by two points last week at Magnet Cove, Hector can still capture a share of its fourth league title in the past five years by winning out and getting some help from Conway Christian. CC plays host to 5-2A leader Magnet Cove next week. England senior RB Darrius Clarkson has rushed for more than 100 yards six times this fall. Clarkson has averaged 10 yards per carry en route to 1,316 yards and 15 TDs,
POYEN (2) at Quitman: Quitman passed for 246 yards last week at Conway Christian but suffered two interceptions and lost a fumble. Poyen senior DT Blake Shepherd (knee) returned to full speed and junior Colton Smith intercepted a pass in the end zone to preserve a 32-27 win over Bigelow. Five Poyen receivers caught 17 passes for 314 yards and three TDs, including senior Max Nannemann (six receptions for 101 yards). 

6-2A
HAZEN (2) at Des Arc: League-leading Hazen was improving weekly before last week's open date. The Hornets ran over league favorite McCrory Week 4 when sophomore Tarrell Penn carried for 150 yards and caught four passes for 42 yards. McCrory topped Des Arc 37-18 Week 2. Both defenses will be tested. Des Arc sophomore MLB Will Kearby and senior corner Hunter Hill lead the Eagles with 68 and 62 tackles, respectively. Junior DE Kade Perry (82 tackles), senior DT Haden Weems and LB Luke VanHouten (25 tackles past two games) pace the Hazen defense. Des Arc has won the past two games in the series by a combined 84-22.
CLARENDON (32) at Marvell: Clarendon moved junior Montea'l Williams (6-1, 180) to QB last week and ran the zone read with modest success in a 56-18 loss to McCrory. Clarendon enjoys more success this week.
Brinkley at CARLISLE (8): Carlisle stays in playoff contention while keeping Brinkley winless.
MCCRORY is open.

7-2A
MOUNT IDA (35) at Dierks: No. 1 Mount Ida asserted its dominance over the 7-2A last week with a 35-7 win over previously unbeaten Foreman. While MI's line cleared the way for 394 rushing yards, the Lions held Foreman to 130 rushing yards below its average. MI junior DE Champ Saylors (eight tackles, two FF, one punt block), senior CB  Bridger Farmer (14 tackles, two FF) and senior LB Cade Helms (10 tackles) paced the defense. Dierks topped Mount Ida 42-21 last year in one of the bigger upsets of the 2017 regular season.
Mineral Springs at FOREMAN (17): Foreman cannot afford a hangover after losing by 28 points last week at top-ranked Mount Ida. Mineral Springs erupted for 28 first-quarter points last week en route to a 47-0 shutout of Murfreesboro. Mineral Springs averaged 16 yards per carry, while junior QB Peyton Hadden completed seven of nine passes for 155 yards and two TDs without an INT.
MOUNTAIN PINE (9) at Lafayette County: Mountain Pine dropped Spring Hill by 41 points last week. Spring Hill shocked Lafayette County  36-25 at midseason. With a win this week at LC, Mountain Pine would  play for the league title Week 9 at Mount Ida. MP last captured a conference crown in 2009.
Murfreesboro at SPRING HILL (1): Spring Hill could still reach the playoffs. Winless Murfreesboro managed 103 total yards last week in a 47-0 loss at Mineral Springs.

8-2A
Rison at C. HARMONY GROVE (2): See Game of the Week.
Bearden at HAMPTON (5): Bearden played well for a half last week vs. Camden Harmony Grove, trailing 20-14 at halftime with C. Harmony Grove getting a defensive TD on a fumble return. However, Bearden failed to pick up a first down after the first quarter in the 36-point loss. Hampton also hung with Harmony Grove for almost a half Week 5, but four turnovers led to four TDs and a 39-point loss. H. Grove held Hampton to 150 yards and Bearden to 200 yards.
Woodlawn at STRONG (22): Strong (open last week) has had two weeks to forget the five turnovers that doomed it vs. Hampton in a 33-16 loss. Strong's all-league RB Desmond Newton nearing 1,000 yards rushing this fall. 
PARKERS CHAPEL is open.