Class 3A Week 8 Rankings, Notes & Picks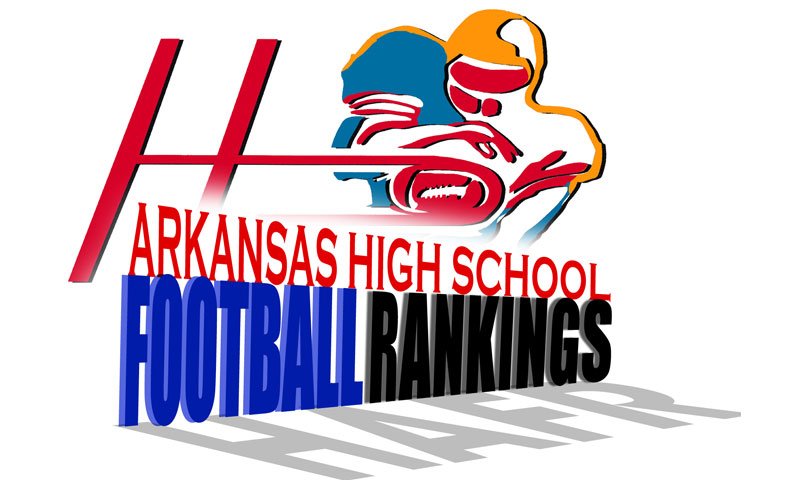 Hootens.com Rankings
Class 3A, Week 8, 2017
Copyright Hooten Publishing, Inc.

1. Junction City (7-0)
2. Charleston (7-0)
3. Prescott (6-1)
4. Glen Rose (6-1)
5. Clinton (7-0)
6. Rivercrest (6-1)
7. Mayflower (7-0)
8. Smackover (5-2)
9. Osceola (6-1)
10. Barton (6-1)
11. McGehee (5-2)
12. Melbourne (6-1)
13. Atkins (6-1)
14. Perryville (6-1)
15. H. Grove Haskell (5-2)
16. Hoxie (3-4)
17. Fordyce (4-3)
18. Piggott (5-2)
19. Elkins (5-2)
20. Newport (5-2)
21. Bald Knob (3-4)
22. Harding Academy (3-4)
23. Jessieville (4-3)
24. Fouke (3-4)
25. Centerpoint (4-3)
26. Cedar Ridge (4-3)
27. Lamar (2-5)
28. Horatio (4-3)
29. Paris (2-5)
30. Walnut Ridge (2-5)
31. Mansfield (2-5)
32. Gurdon (3-4)
33. Greenland (4-3)
34. Rose Bud (4-3)
35. Manila (2-5)
36. Cedarville (3-4)
37. Lake Village (2-5)
38. Mountain View (2-5)
39. Episcopal (1-6)
40. Yellville-Summit (2-5)
41. Drew Central (2-5)
42. Marshall (0-7)
43. Genoa Central (2-5)
44. Green Forest (2-5)
45. Bismarck (2-5)
46. Marianna (1-6)
47. Corning (0-7)
48. Two Rivers (0-7)

HOOTENS.COM GAME OF THE WEEK
No. 8 Smackover at No. 1 Junction City
Teams are 4-0 in league play and the winner likely claims conference title. Smackover expects to play without three two-way starters. Junction City has been without starting tight end/defensive lineman DaQuann Ford the past two weeks, and senior quarterback Shuvasicaye Frazier will be a game-time decision. Junction City is the highest-scoring (50.2 ppg) and top scoring defense (17 ppg) team in the 6-3A. Dragon running back Hishmma Taylor has rushed for 1,476 yards and 15 touchdowns this year. Look for Junction City's hurry-up, no-huddle to wear down a Smackover defense with little depth.

LAST WEEK
Hootens.com correctly picked 20 of 24 games (83 percent) involving Class 3A teams. For the season, hootens.com has correctly predicted 178 of 226 games (79 percent).

TV LAND
Hooten's Arkansas Football airs 10:30 a.m. Saturdays on KATV (ABC Little Rock) Ch. 7, covering the Razorbacks, high school teams and players to watch.

WEEK 8 PREDICTIONS (favored team in CAPS followed by point spread)
1-3A
Marshall at CLINTON (24): Clinton (4-0 in league) allows 10 points per game, while Marshall scores just 17 weekly. Clinton's final three games are against teams that are a combined 4-17. Clinton has won five straight against Marshall, including 42-12 in 2016. Marshall has lost 15 straight games, 13 in conference.
ELKINS (3) at Melbourne: The two highest-scoring teams in the league meet with 3-1 conference records. Common opponent Clinton beat Elkins (37 ppg) 49-28 and Melbourne (39 ppg) 39-12. Winner likely earns a first-round home playoff game. Melbourne has won six straight home games. Elkins mauled Melbourne 31-0 last year, and the Elks' balanced offense makes the difference this year.
Yellville-Summit at MOUNTAIN VIEW (4): Teams are 2-2 in the 1-3A. Yellville-Summit owns big-play ability but struggled last week in a loss at Melbourne. Mountain View started 0-5 behind 21 new starters but has won its last two games. "It's been a matter of guys getting more playing time," Mountain View coach Michael Gray says. Two-way linemen Mason Thomas, Stephen Curran, Kaid Goodwin, and Samuel Treat open holes for junior 'back Derek Burns (66 carries for 573 yards and seven TDs the past two weeks). Mountain View wins if it takes care of the ball and limits big plays.
Green Forest at GREENLAND (3): Loser likely misses playoffs. During a 3-0 start, Greenland averaged 286 rushing yards but it has managed 121 yards per game the past month. Green Forest rushed for a season-best 303 yards two weeks ago against Yellville-Summit. Greenland won last year's game 42-21.

2-3A
HARDING ACADEMY (21) at Rose Bud: Loser likely misses playoffs. Harding is 1-3 in the league but finishes with games at Rose Bud, at Marianna and against Episcopal (combined record 6-15). Harding limited Mayflower last week to a season-low 6.6 yards per carry (325 yards and four TDs), but the Eagles completed all 10 passes they attempted for 110 yards and two TDs. Against Cedar Ridge last week, Rose Bud rushed for a season-high 430 yards. This game was not played last year due to a Rose Bud forfeit.
BALD KNOB (24) at Marianna: Marianna snapped a nine-game losing streak last week in a 42-35 win over Episcopal. It was Marianna's first road victory since October 2015. Bald Knob likely needs to win out to finish third in the 2-3A following a homecoming loss to Barton. Bald Knob is better on both lines, which pushes it past Marianna.
Cedar Ridge at MAYFLOWER (24): Cedar Ridge needs a win to remain in contention for a league title against the conference's last unbeaten team. Cedar Ridge closes with games at Mayflower, at Barton and home for Bald Knob. Mayflower is the top scoring team (52 ppg) and top scoring defense (15 ppg) in the 2-3A. Cedar Ridge rolled up a season-best 611 yards last week against Rose Bud.
Episcopal at BARTON (31): Opposing teams have outscored Episcopal 285-169 during a six-game losing streak. Devin Olloway, Wanya Wilkins and Bradley Smith scored TDs last week for Barton in its 42-34 win at Bald Knob. Barton's speed in the backfield dizzies Episcopal.

3-3A
RIVERCREST (10) at Newport: These teams shared the 2016 3-3A title. Newport recorded its first shutout of the year last week at Corning 62-0. Rivercrest has won nine straight conference games, including a 24-20 win over Newport last year. Rivercrest owns the top scoring defense (14 ppg) in the league, and it neutralizes Newport.
Walnut Ridge at PIGGOTT (7): Loser likely misses playoffs. Walnut Ridge surrendered 278 rushing yards last week (7.9 yards per carry) in a 49-7 loss. Piggott averages 310 rushing yards per week, and the Mohawks have tackled better the past two weeks. Look for Piggott to have more success on the ground this week.
Manila at OSCEOLA (21): Piggott handed Manila its first shutout (46-0) since 2014 last week. Osceola downed Hoxie 44-27 while recording 510 yards of offense. Osceola senior QB D.J. Flie completed 12 of 16 passes for 286 yards and three TDs against Hoxie. Osceola's evolving passing offense creates problems for Manila.
Corning at HOXIE (21): Corning allowed a 463 yards rushing (21.7 YPC), a season high for Newport, in a 64-0 defeat last week. Hoxie lost at Osceola 44-27 but scored three TDs in less than eight minutes to get back into the game. Senior back Diamani Davis ran for 122 yards, the first 100-yard rusher allowed by Osceola this year. Look for Davis and the Mustangs to find more success on the ground.

4-3A
Atkins at CHARLESTON (10): Teams are 4-0 in conference. Atkins has won six straight since a season-opening loss at Class 4A Dover. The Red Devils pass for 194 yards per game and run for 180. Charleston junior QB Brayden Caudle connected on 20 of 30 passes for 256 yards and five TDs in a 42-7 win last week at Lamar. If Caudle continues to take care of the ball (22 TDs and two interceptions), Charleston slips Atkins.
Two Rivers at PARIS (20): Senior QB Lance Johnson completed Two Rivers' first TD pass of the year last week in a 44-6 loss to Mansfield. Paris competed well with 6-1 Perryville in a 42-34 setback. Paris skill players Kris Graham and Dakovan Wise present tough matchups for Two Rivers.
LAMAR (3) at Cedarville: Loser likely misses playoffs. Cedarville forced four Atkins turnovers and trailed 19-16 in the fourth quarter last week before losing 35-16. Lamar ran for 265 yards in a 42-7 defeat at Charleston. Lamar's big offensive line is the difference this week.
PERRYVILLE (16) at Mansfield: Mansfield needs a win to remain in playoff contention. Mansfield won its first league game 43-7 last week at Two Rivers and rushed for a season-high 191 yards and four TDs. It was the Tigers' first game without a turnover. Perryville's lone loss to undefeated Mayflower and four Mustangs have rushed for 193 yards or more. Perryville's stable of running backs wears down Mansfield.

5-3A
PRESCOTT (17) at H. Grove Haskell: H. Grove Haskell is 3-1 in conference after downing Jessieville and Centerpoint the past two weeks by a combined 11 points. Senior QB Hunter Hilson now starting at safety for Haskell. Last week Hilson produced season-highs in completions (21) and yardage (302) in a 40-36 win at Centerpoint. Prescott's 21-game winning streak ended last week at Glen Rose when the Curley Wolves committed five turnovers and had a late go-ahead TD called back for holding. Prescott should find more success against Haskell's secondary.
Centerpoint at GLEN ROSE (14): Centerpoint surrendered 539 yards last week to H. Grove Haskell, including 302 yards passing. Glen Rose racked up a season-high 402 yards in a 37-27 win over Prescott. Landers Auto Group Super Teamer Jarred Rogers completed seven of 12 passes for 129 yards and the game-winning TD to Adam Day, rushed for 103 yards and a TD and intercepted two passes against Prescott. Glen Rose must avoid a hangover following the Prescott win to beat Centerpoint.
GURDON (10) at Bismarck: Loser likely misses playoffs. Bismarck surrendered a season-high 55 points last week in a 48-point loss at Horatio. Sophomore QB James Kegley connected with senior Dillon Hunt for the Lions' TD. Gurdon playmaker B.J. Brewer has caught 13 passes for 367 yards and three TDs and rushed for 117 yards this year.
Horatio at JESSIEVILLE (14): Loser likely misses playoffs. Horatio's 55 points last week against Bismarck was its most since dropping 69 on Centerpoint in 2012. Jessieville produced 247 balanced yards (125 rushing, 122 passing) in last week's 30-8 victory over Gurdon. Jessieville's stingy defense (allows 14.8 ppg) stuffs Horatio.

6-3A
Smackover at JUNCTION CITY (14): See hootens.com Game of the Week.
Drew Central at FORDYCE (17): Drew Central has lost four straight, and reaching the playoffs seems unlikely. Drew Central surrendered 453 yards rushing and seven TDs (both season-highs) last week in a 56-14 loss at Genoa Central. Fordyce committed three turnovers and managed 239 yards in a 27-6 loss at Smackover. If Fordyce limits turnovers, it wins this week.
Lake Village at MCGEHEE (7): Lake Village chases a second straight playoff berth but finishes with games at McGehee, against Genoa Central and at Fouke. Lake Village played within 12 points of Junction City (36-24), which boasts a 31.4-point margin of victory per week. McGehee downed Fouke for the first time in three years in a 48-12 road win. McGehee's overall team speed proves the difference in this one.
FOUKE (7) at Genoa Central: Loser likely misses playoffs. Genoa Central rushed for 453 yards (9.6 ypc) and seven TDs (season-best) last week in a 56-14 romp over Drew Central. Fouke has lost four straight league games since a 3-0 start. Look for Fouke's running game to return at Genoa.