Class 4A Week 8 Rankings, Notes & Picks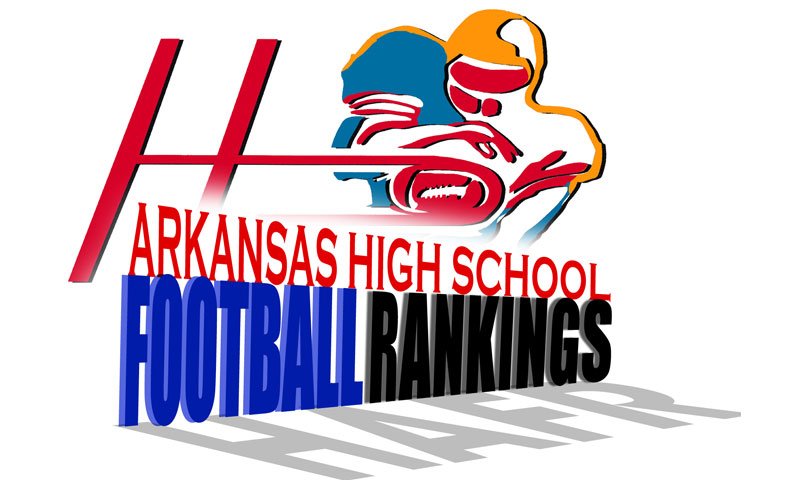 Hootens.com Rankings
Class 4A, Week 8, 2017
Copyright Hooten Publishing, Inc.

1. Warren (6-1)
2. Pea Ridge (7-0)
3. Joe T. Robinson (7-0)
4. Arkadelphia (6-1)
5. Prairie Grove (6-1)
6. Dardanelle (6-1)
7. Booneville (6-1)
8. Ashdown (6-1)
9. Shiloh Christian (5-2)
10. Southside Batesville (7-0)
11. Gosnell (4-3)
12. Stuttgart (4-3)
13. Ozark (5-2)
14. Nashville (4-3)
15. Trumann (6-1)
16. Pottsville (4-3)
17. Hamburg (4-3)
18. Heber Springs (4-3)
19. Helena (6-1)
20. Bauxite (4-3)
21. Riverview (5-2)
22. Monticello (4-3)
23. Star City (2-5)
24. Gravette (3-4)
25. Dumas (4-3)
26. Fountain Lake (3-4)
27. Pocahontas (4-3)
28. Malvern (2-5)
29. Mena (3-4)
30. Jonesboro Westside (5-2)
31. Dover (4-3)
32. Waldron (3-4)
33. Gentry (4-3)
34. Highland (2-5)
35. Crossett (1-6)
36. Lonoke (2-5)
37. Lincoln (3-4)
38. Harrisburg (3-4)
39. DeWitt (2-5)
40. Brookland (3-4)
41. Huntsville (1-6)
42. CAC (0-7)
43. Dollarway (0-6)
44. Berryville (1-6)
45. Subiaco Academy (2-5)
46. Cave City (0-7)
47. West Fork (0-7)
48. Baptist Prep (0-7)

HOOTENS.COM GAME OF THE WEEK
No. 6 Dardanelle at No. 7 Booneville
The winner likely gets the league title, and one of these have claimed the past five conference championships (Dardanelle with three straight and Booneville with consecutive titles in 2012-2013). Dardanelle has won three straight in the series, but Booneville leads the all-time series 37-17.  Dardanelle, winners of 41 games since 2014, has rattled off six straight victories in 2017, slaying Subiaco Academy and West Fork the past two weeks by a combined 103-0. The Sand Lizards give up 11.7 points weekly, holding four opponents to a touchdown or less. Senior linebacker Tate Vestal paces Dardanelle with 81 tackles. Senior Nathan Smith racked up six tackles, two tackles for loss and one sack in last week's 59-0 shellacking of Subiaco Academy. Senior quarterback Elyas Carter has passed for more than 600 yards and eight TDs this fall. Sophomore Blake Chambers (15 carries, 154 yards and three TDs) and junior D.J. Brown (two carries, 61 yards and one TD) ran the ball well against Subiaco Academy. Senior kicker Temo Martinez has placed all but one kickoff into the end zone this fall for a touchback.  Booneville (700 wins in program history) whipped Waldron 35-0 last week, leading by that margin at halftime without junior standout QB Brandon Ulmer (MCL injury). Ulmer will be a game-time decision this week. "We don't want to jeopardize his future for one game," Coach Scott Hyatt says. The Bearcats ran for 378 yards against Waldron, with junior fullback Carson Ray bulling for 86 yards. Sophomore QB Evan Schlinker completed four passes, two of them for TDs. Junior Ethan Dobbs has 12 catches this year for 274 yards and two TDs. Junior center Sammy Haynes (5-10, 240) and guard Mark Phonlasouk anchor the line. Junior noseguard Noah Reyes (6-2, 225) and linemen Grant Rodatz (5-10, 210) and Marcus Nichols (5-10, 210) anchor the defensive front. Reyes has 7.5 tackles for loss this season. Booneville starts seniors at six positions.

TV SHOW
Hooten's Arkansas Football airs 10:30 a.m. Saturday's on KATV (ABC Little Rock) Channel 7, scoring the Razorbacks, high school teams and players to watch.

LAST WEEK
Hootens.com correctly predicted 20 of 24 games (83 percent). Hootens.com has correctly predicted 194 of 219 games (89 percent) for the season.

WEEK 8 PREDICTIONS (favored team in CAPS followed by point spread)
1-4A
Gentry at PRAIRIE GROVE (21): Prairie Grove must bounce back from its first conference setback since 2014. The Tigers turned the ball over three times, including one in the final minutes, in last week's five-point loss at Pea Ridge. Gentry moved the ball well on its opening two possessions in last week's 32-point loss to Shiloh Christian, but missed a field goal and turned the ball over on downs at the 23-yard line.
PEA RIDGE (32) at Berryville: Undefeated Pea Ridge has beaten Berryville seven of the past 13 seasons. Senior running back Drew Winn ran for 181 yards and three TDs in last week's five-point win over previously unbeaten Prairie Grove. Berryville averages 12.5 ppg.
Lincoln at SHILOH CHRISTIAN (33): Shiloh Christian's first-team defense held Gentry scoreless last week (Gentry's only points came with 34 seconds left). Senior Jaret Russ ran for 112 yards and two TDs against Gentry. Lincoln hosts Gentry next week with a playoff spot on the line.
GRAVETTE (14) at Huntsville: Gravette senior Austin O'Brien ran for five TDs in last week's 30-point win over Berryville. O'Brien has 148 carries for 1,347 yards (9.1 ypc) and 15 TDs this fall. Huntsville senior Zack Elsey has  33 catches for 612 yards (18.5 yards per catch) and 10 TDs this fall.

2-4A
STUTTGART (13) at Helena: This game decides at least a home playoff spot. Stuttgart continues improving after changing some schemes a month ago, taking more snaps under center. Junior QB Tim Johnson passed for 264 yards and two TDs, and the Ricebirds had zero turnovers in last week's 30-point win over Riverview, while the Ricebird D forced three turnovers. Helena has won two of the past three over Stuttgart, and the Cougars always play tough against the Ricebirds. Helena senior Terrance Calhoun blasted 7 yard for the winning TD a week ago against Lonoke.
SOUTHSIDE BATESVILLE (14) at Heber Springs: Southside Batesville's four-point win last season snapped a 10-game losing streak to the Panthers. The undefeated Southerners led winless CAC 28-0 last week at halftime, and won by 42 points. Junior QB Koby Rich passed for 192 yards and three TDs against the Mustangs. Heber Springs led Baptist Prep 21-0 at halftime last week, easing to a 29-point triumph.
CAC at LONOKE (8): Lonoke held Helena to one TD last week, but lost because the offense never gained traction. CAC continues using the Wing T and breaking into the Spread at other times. The Mustangs completed some short slants and screen passes last week against Southside Batesville, but converted on just one fourth down attempt in the first half.  The Mustangs average 10 ppg and have been shutout twice.
Baptist Prep at RIVERVIEW (28): Riverview's 7-0 win last season was its first in three attempts against Baptist Prep. Riverview senior Deondre Spears draws rave reviews from opposing coaches for his hard runs. Spears averages 5.4 yards per carry and 13.6 yards per reception. The Raiders scored 70- and 87-yard TDs in last week's 30-point loss to Stuttgart.

3-4A
Pocahontas at GOSNELL (8): Gosnell has won seven of its past 10 over the Redskins, including last year by six points. Junior Cadarius Young ran in four TDs, a two-point conversion and intercepted one pass in last week's 20-point win over Highland, when the Pirates led 26-0 at halftime. Pocahontas, which won/shared the league title in 2014 and 2015, allows 35 ppg.
Brookland at TRUMANN (14): Trumann probably finishes as the No. 2 seed with two more wins. The Wildcats shutout rival Harrisburg 55-0 a week ago. Senior Cade Gartman and junior Jay Taylor Morgan each ran for a pair of TDs against Harrisburg. Improved Brookland has lost three straight by a total of 15 points, including last week's three-point decision to Jonesboro Westside.
Cave City at HIGHLAND (21): Highland likely gets in the playoffs with one more victory. Senior lineman Kahner Seat has 55 tackles this fall, including nine tackles for loss. Senior linebacker Bryce Ingram (66 tackles) and end Ben Paul (56 stops) solidify an improving D. Cave City  sophomore QB Hunter Wojcik passed for 128 yards and two TDs and ran for a score in last week's 31-point loss to Pocahontas.
JONESBORO WESTSIDE (4) at Harrisburg: Harrisburg must win at least two of its next three games and maybe get some help to make the playoffs for the first time since 2011. The Hornets average 320 yards and 27 ppg this season, after not scoring a point in the final four games of 2016. Jonesboro Westside senior Tristan Escue nailed a 37-yard field goal in the second half of last week's 11-8 win at Brookland. The Warriors averaged 6.5 yards per carry against Brookland.

4-4A
Dardanelle at BOONEVILLE (1): Hootens.com Class 4A Game of the Week.
OZARK (10) at Pottsville: This is for playoff seeding, and Ozark could still at least tie for the conference title with some help. The balanced Hillbillies average 372 yards weekly (191 rushing, 181 passing). Junior QB Dawson Dietz completes 60 percent of his passes for 1,265 yards and 12 TDs, and averages 5.5 yards per carry. Sophomore receiver/tight end Bryant Burns has 19 catches for 579 yards and eight TDs. Pottsville rushes for 307 yards weekly. Pottsville sophomore Emiliano Torres caught a 40-yard TD pass on fourth-and-12 in last week's two-point win at Dover.
WALDRON (35) at Subiaco Academy: Subiaco Academy lost four fumbles in last week's 59-point setback at Dardanelle. Waldron likely plays Dover next week for a playoff spot. The Bulldogs rush for 258 yards weekly, with five players gaining at least 200 yards. Senior QB Trey Williams paces them with 89 carries for 775 yards and 10 TDs. He had ran for at least 100 yards in every game until last week against Booneville, when he gained 1 yard from nine carries.
DOVER (38) at West Fork: Dover sophomore QB Justin Loveless threw a TD pass and ran for another in last week's 22-20 loss to Pottsville. The Pirates average 27 ppg. Winless West Fork has scored 54 points this season.

7-4A
Mena at NASHVILLE (21): Nashville rallied past Ashdown 35-28 last week with a pair of late TDs. Senior QB Tyler Hanson snuck in from 1-yard out for the winning score with 1:07 left. Hanson threw a 35-yard TD pass and a crucial two-point conversion early in the contest. Mena started the season 3-0 but likely misses the playoffs after four straight losses.
Ashdown at ARKADELPHIA (6): This could be a defensive battle. Ashdown surrenders 11 ppg, while Arkadelphia gives up eight points weekly. Ashdown must quickly move past last week's disappointing seven-point loss to Nashville. The Panthers led Nashville by 15 points at halftime and maintained the margin until late in the third quarter. Sophomore QB Brett Bond threw three TD passes, including a 98-yarder. Arkadelphia junior Zion Hatley missed the Badgers' only loss of 2017 with a concussion. He's rushed for 909 yards and 18 TDs in six games this fall.
Bauxite at JOE T. ROBINSON (25): Joe T. Robinson surrenders 11 ppg, giving up just 10 points each of the past two weeks to high-powered Nashville and Malvern. Hard-to-tackle senior Ceazar Warren has rushed for 753 yards and 10 TDs this fall on just 68 carries (11.1 yards per carry). Bauxite led Fountain Lake by 14 points in the first half last week, before losing by one point.
MALVERN (1) at Fountain Lake: This important battle of one-win conference teams helps decide the No. 5 playoff seed. Malvern's first-team offense generated less than 100 yards last week against Joe T. Robinson's first-team defense. But senior QB Demias Jimerson has more than 2,000 yards this fall. Fountain Lake gave up 70 points Week 6 at Arkadelphia and 21 points in the first half last week against Bauxite. But the Cobra's limited Bauxite to six points in the second half. QB Stephen Turner threw a TD pass and ran for another in the come-from-behind victory.

8-4A
Monticello at WARREN (13): The winner of the Saline River Shootout gets bragging rights, a 146-pound trophy and control of the 8-4A. Warren allows just 11 points per conference game, with most of it coming against the second-unit. Junior QB J'Malachi Kinnard threw four first-half TDs in last week's 43-point win over DeWitt. Monticello has given up just eight points the past two weeks.
DUMAS (16) at DeWitt: Dumas has won 10 of the past 11 in the series, including last year by 30 points. Dumas disposed of Star City 28-14 a week ago, jumping to a 15-point advantage in the first half. Dumas senior Jarquis Fisher (1,109 yards, 12 TDs) and sophomore Kylin James (517 yards, five TDs) pace a unit that rushes for 287 yards weekly. DeWitt coach Mark Courtney compiled a record of 49-51-1 in nine years at Dumas (2006-2014).
HAMBURG (2) at Crossett: Throw out the records, this rivalry is for the Ashley County Bowl Trophy and bragging rights. Hamburg has seven straight wins over Crossett, including last year's six-point overtime thriller. Hamburg senior Shannon Brennon ran for a TD, threw a TD and returned a blocked punt for another score in last week's 27-point win over Dollarway.
STAR CITY (20) at Dollarway: Star City needs to win its final three games to qualify for the playoffs. Star City led Dumas 7-0 in the second quarter last week, but trailed by 15 points at halftime. Winless Dollarway surrenders 34 points weekly.