Class 7A Week 8 Rankings, Notes & Picks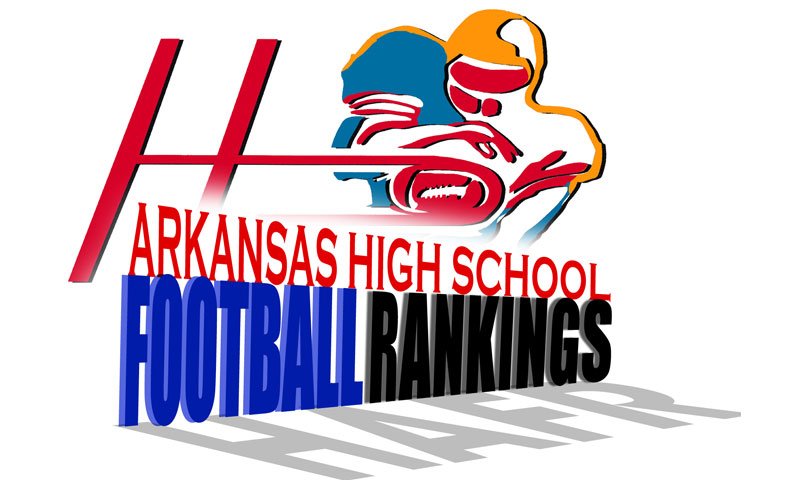 Hootens.com Rankings
Class 7A, Week 8, 2017
Copyright Hooten Publishing, Inc.

1. Bryant (7-0)
2. North Little Rock (7-0)
3. Bentonville (5-2)
4. Bentonville West (7-0)
5. Springdale Har-Ber (5-2)
6. Conway (5-2)
7. Fayetteville (3-4)
8. Springdale (4-3)
9. Cabot (4-3)
10. Little Rock Catholic (3-4)
11. Rogers (5-2)
12. Fort Smith Northside (2-4)
13. Fort Smith Southside (1-6)
14. Little Rock Central (2-5)
15. Rogers Heritage (1-6)
16. Van Buren (0-7)

GAME OF THE WEEK
No. 1 Bryant at No. 9 Cabot
Cabot fading fast with a mercy-rule collapse at Conway followed by last Friday's two-point loss at LR Central (2-5). Bryant beat FS Southside 30-19 despite stumbling late last week when the Hornets failed to cover an onside kick and gave up an 87-yard kick return for a TD. Bryant junior QB Ren Hefley (broken collarbone) could return for the playoffs, but senior DL Johnny Wallace remains a disruptive playmaker.

TV SHOW
Hooten's Arkansas Football airs 10:30 a.m. Saturdays on KATV (ABC Little Rock) Ch. 7, covering the Razorbacks, high school teams and players to watch.

LAST WEEK
Hootens.com correctly predicted six of eight winners (75 percent) in games involving Class 7A teams. For the season, hootens.com is 55-17 (77 percent) in Class 7A.

WEEK 8 PREDICTIONS (favored team in CAPS followed by point spread)
7A CENTRAL
BRYANT (13) at Cabot: Game of the Week.
FS Northside at NORTH LR (21): With Bryant's QB out at least until the playoffs, NLR might now be the teams to beat in 7A Central. The Charging Wildcats likely earn a No. 1 playoff seed with a win next week at Bryant and would be favored to make back-to-back state final game appearances. FS Northside totaled almost 400 yards offense in last week's 20-point loss to Conway.
LR Central at CONWAY (7): LR Central allowed 38 points per game in five consecutive losses before stifling Cabot 16-14 last Friday. Conway has won back-to-back weeks and plays host to Bryant Week 10, with a first-round playoff bye likely on the line. Conway intercepted an early FS Northside threat with a 96-yard interception return and never trailed.
LR CATHOLIC (3) at FS Southside: Despite its 1-3 start in league play, Catholic likely secures a playoff spot with a win this week. Tradition-rich FS Southside missed the playoffs for the first time in a decade last year and is 0-4 in conference play this fall.

7A WEST
BENTONVILLE (9) at Rogers: Bentonville celebrated homecoming last week, totaling 350 yards offense (300 passing) in the first half and applied the 35-point sportsmanship rule midway through the third quarter against Springdale. The Tigers likely play Bentonville West Week 10 for the 7A West title and No. 1 playoff seed. Barring major upsets, Rogers has secured at least a No. 6 playoff seed and likely plays at North LR, Bryant or Conway in the first round. Rogers sophomore QB Hunter Loyd passed for 300 yards in last week's 24-17 win at Van Buren.
HAR-BER (3) at Fayetteville: Preseason No. 1 Har-Ber has lost back-to-back games, including a 37-19 home loss last week to second-year program Bentonville West. Har-Ber totaled eight turnovers the past two weeks and junior QB Grant Allen was sacked nine times last Friday. Fayetteville disposed of Rogers and Rogers Heritage the past two weeks after losing four in a row.
Van Buren at SPRINGDALE (7): Springdale managed just 130 first-half yards in last week's mercy-rule loss at Bentonville. Springdale likely headed to the playoffs with a possible first-round game at Conway, which the Bulldogs beat 19-17 in the season opener.
Rogers Heritage at BENTONVILLE WEST (28): Bentonvillle West stopped preseason-favorite Springdale Har-Ber on downs four times, forced four turnovers and tallied nine QB sacks in last week's 39-19 win at Springdale. West RB Tyreese Smallwood was huge in the upset, rushing for 171 yards and two TDs.