HOGS vs. Ole Miss in-depth preview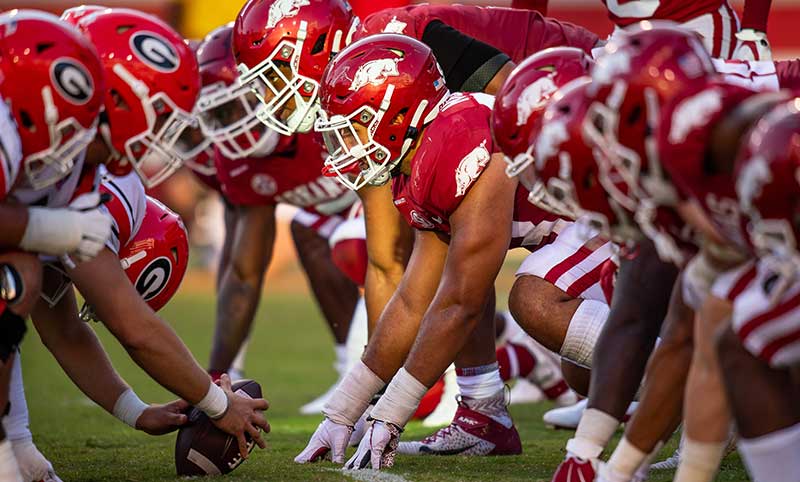 FAYETTEVILLE - Last week's most celebrated losers in college football try to beat each other Saturday at Reynolds Razorback Stadium.
At 2:30 p.m on the SEC Network, the 1-2 Arkansas Razorbacks and 1-2 Ole Miss Rebels collide, following a Saturday belying their records or that they both lost.
First-year Ole Miss coach Lane Kiffin's Rebels were tied 42-42 in the fourth quarter in Oxford against No. 2 and national power Alabama. 
Eventually Ole Miss lost, 63-48. But its 48 points and 647 yards total offense had national pundits proclaiming that Kiffin out-coached the great Nick Saban, even as Alabama scored 63 points and amassed 723 yards.
As for Arkansas, football fans nationwide know the visiting Razorbacks were deprived by officiating incompetence a monumental 28-27 upset victory over the then 13th-ranked Auburn.
An Auburn attempt off a fumbled snap to spike the ball resulted in a  backwards pass, a lateral, recovered by Arkansas with Auburn out of timeouts and the Hogs a knee-down away from triumph. But it was incorrectly declared an intentionally grounded incomplete pass. So Auburn kept the ball and with seven seconds left kicked the game-winning field goal, 30-28.
Arkansas and Ole Miss have gotten lots of pats on the back this week for gallant efforts in vain, but both must correct why they lost or lose again Saturday.
For Ole Miss, defense is the obvious flaw. The Rebels allow 51.7 ppg, No. 76 (last) in the FBS. If not for Kentucky leaving 10 points on the field, Ole Miss has an 0-3 record instead of 1-2, per hootens.com contributor Dennis Smithson.
Ole Miss sophomore quarterback Matt Corral, the national total offense leader, triggers a balanced attack that ranks 11th nationally in scoring (41.7 ppg) and No. 2 in total offense (573 yards per game).
Kiffin says the Ole Miss offense isn't flawless. He reminded Mississippi media of a fumbled snap when Ole Miss had an open receiver against Alabama. And he asserts the Rebels defense can and will play better than it has looked.
"Confidence is very fragile when you're in a run like this, where we're struggling in that phase of the game," Kiffin said. "It's hard. We're playing against some great players. A lot of first-round picks we're trying to cover there. It usually takes a game or a part of a game to play well and get that back. Hopefully that happens this week. That's why people think games are going to be one way, and they're completely different. I look for us to play much better this week on defense."
Inheriting one of the worst defenses in the country off its performance under head coach Chad Morris and defensive coordinator John Chavis in 2019, Arkansas defensive coordinator Barry Odom has drawn raves with his defense keeping Arkansas ahead of No. 3 Georgia 10-5 in the third quarter before losing 37-10. At Starkville, the Hogs dropped eight in a zone defense to stifle Mississippi State coach Mike Leach's Air Raid offense that set a SEC record 623 yards passing in a 44-34 upset of LSU.
But Auburn did rush for 259 yards last week on the Hogs. Pittman said they must tackle better.  Particularly against an Ole Miss offense he calls "incredible." The Rebels have accumulated their most points (41) this season in fourth quarters against tired defenders.
Pittman says his offense not only plays against Ole Miss' defense but the Rebels' offense, too.
"Our offense better come to play, because their offense is unbelievably good," Pittman said. "So does it add extra pressure? Yeah it does."
Arkansas ranks No. 66 (out of 76) nationally in total offense, putting up 331 yards per game and No. 68 in scoring offense (19.7 ppg).
Proud as he is that his first Arkansas team is competitive after enduring countless blowouts in 20 losses the past two seasons, Pittman cited all that needs to improve, including game-costing mistakes on special teams that included Auburn blocking a punt for a TD and leading 17-0 early.
"We've got a lot of work to do," Pittman said. "We didn't tackle well. We didn't play special teams well. We didn't start the game well on offense. Those things, we have to get those things fixed to win an SEC football game."
At least, they've won two weeks ago over Mississippi State to snap a 20-game SEC losing streak dating to 2017 when the 1-7 SEC Hogs won at Ole Miss.
The Razorbacks have lost 12 consecutive SEC home games since flogging Florida 31-10 on Nov. 5, 2016.
"We want to break that curse," Arkansas fifth-year senior defensive tackle and defensive co-captain Jonathan Marshall said. "Everybody here is working hard to break that."