HOGS fall to Auburn 38-23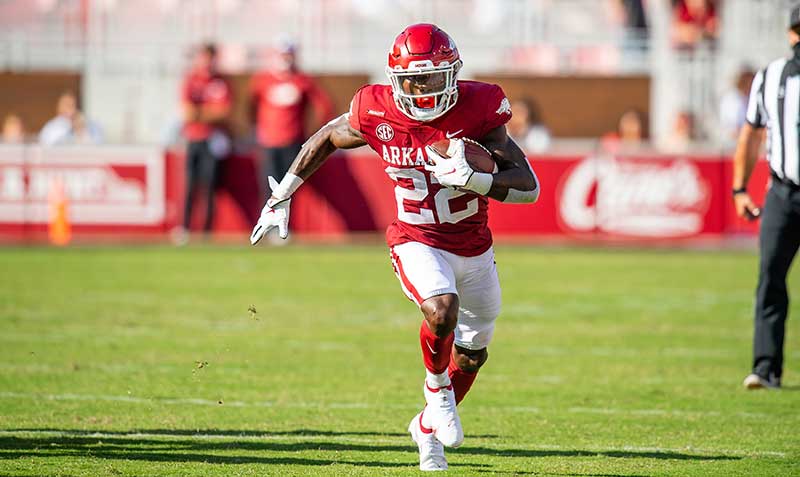 FAYETTEVILLE - With what seems to be annual SEC officiating assistance, Auburn sacked Arkansas 38-23 Saturday to spoil homecoming in front of 73,370 fans at Reynolds Razorback Stadium.
Arkansas' third consecutive loss drops the 17th-ranked Razorbacks to 4-3 overall/1-3 in the SEC heading into next Saturday's 11 a.m, non-conference game in Little Rock against UAPB (the University of Arkansas-Pine Bluff).
Auburn (5-2, 2-2) is open next week.
While nothing so egregious as last year's non-fumble call that led to a game-winning field goal for Auburn, the Razorbacks and Coach Sam Pittman had cause Saturday to take umbrage with a couple of eyebrow-raising calls.
Arkansas defensive end Jashaud Stewart, while tackling Auburn running back Jarqez Hunter, dislodged the ball and Arkansas recovered at the Auburn 16, but it was ruled not a fumble and upheld as such upon review.
The call was not based on whistled dead as initially believed but because of how Stewart tackled Hunter.
"It was said that they had picked the ball carrier up and that meant that the ball now couldn't be a fumble," Pittman said. "So, I don't know. Last week I thought Rocket (running back Raheim "Rocket" Sanders' fumble as he fought for extra yardage in the 52-51 loss at Ole Miss) was stopped whenever they pulled the ball out of there. But maybe not. I don't know."
Instead of losing the ball at its 16, Auburn, then leading 7-3, was able to punt and keep Arkansas from scoring when Cam Little's 53-yard field goal attempt fell short.
Arkansas cornerback Hudson Clark, starting in place of injured cornerback LaDarrius Bishop, was called for pass interference despite the pass appearing uncatchable.
That penalty kept an Auburn drive alive for Anders Carlson's 29-yard field goal to put Auburn up for an insurmountable 31-23 lead with 10:35 left in the game.
Auburn iced it, 38-23 by consuming 6:11 before Bo Nix's QB draw netted a 23-yard TD with just 2:30 left.
Nix completed 21 or 26 passing for 292 yards with two TDs with an by Arkansas cornerback Montaric Brown. Nix carried fives times for 42 yards, including a 23-yard rushing TD.
Both teams played their seventh game in seven weeks without key personnel because of injuries. 
Arkansas particularly suffered defensively. All-SEC safety and defensive co-captain Jalen Catalon watched from the sidelines, He's  set for season-ending shoulder surgery Monday, Pittman said.
Starting defensive tackle Markell Utsey and Bishop were sidelined from injuries last week.
Others played banged it up and it showed, Pittman said.
"I think we all feel like crap," Pittman replied to the Hogs' physical state multiplied by three consecutive defeats. "I think we all do. I think we've got a beat-up team, and this bye week can't get here fast enough. They're trying, but if you see the plays we were making earlier in the year, we're not making them now. Sometimes we are, but most of the time we're not. I just think we've got a beat-up football team. We need to get ready and play Pine Bluff next weekend then take that week off. We need it."
But as Pittman said, Auburn, under first-year Coach Bryan Harsin, was also playing its seventh game in seven weeks and "outplayed" Arkansas.
"I want to give a lot of credit to Auburn," Pittman said. "Coach had their team ready. They have a fine football team. They out-physicalled us on both size of the ball. They outplayed us. 
"He out-coached me. And he had his team ready, and I didn't have ours (ready)."
Arkansas fell despite outrushing Auburn 232-135.
Arkansas defensive coordinator Barry Odom switched Arkansas from a three-man front to a four-man front to slow the Tigers' running game. Running back Tank Bigsby, netting 146 yards rushing last year on the Hogs, netted 68 on 18 carries Saturday.
However, the Hogs were vulnerable to Nix's short passes, which opened up deep ones, including a 71-yard TD to receiver Demetris Robertson after one of Arkansas' two failures to convert on fourth down.
Also undoing the Hogs, normally decisively sure-handed punt returner Nathan Parodi lost a punt in the sun that rolled 57 yards. Auburn downed it at the Arkansas 11.
Two lost-yardage plays later, Arkansas QB KJ Jefferson was sacked by Auburn efensive end Derick Hall for what appeared to be safety. However, the ball popped out as Jefferson was tackled. It was recovered by defensive tackle Chris Harris for a TD and 21-17 lead.
"Parodi said he lost the ball," Pittman said. "The sun was in his eye and he lost the ball. Parodi's not going to lie. He lost the ball. At that point, I believe we were up three. We had just stopped them, and that was kind of the final straw. Not really, but kind of, giving up those seven points. Because our defense was playing pretty well to that point in the second half, and even late in the second quarter. Then to give that, it kind of took the wind out of our sails."
Senior left offensive tackle and offensive co-captain Myron Cunningham took the sack hard.
"He just beat me," Cunningham said of Hall's sack. "He just had my number that play. Just a frustrating day overall. Just tough when you can't get those situations."
Arkansas had rallied to lead 17-14 on Jefferson's second TD pass to receiver Treylon Burks. Burks, nine catches for 109 yards, caught 11-yard and 30-yard TD passes. Jefferson completed 21 of 35 passes for 225 yards.
Nix had tallied a 39-yard TD pass to receiver Ja'Varrius Johnson's on the game's first series at 12:16, which was partially answered by Little's 44-yard field goal at 7:37 of the first quarter.
Once they extricated themselves from Auburn's early leads, the Hogs thought with seizing the 17-14 lead at home they would prevail, but Auburn denied them.
"We went out there and couldn't execute when we had to, and that turned the momentum," Cunningham said.
Cornerback Montaric Brown, Arkansas' Crip Hall Award winner as outstanding senior in the Homecoming game with his interception and eight tackles, and senior linebacker Bumper Pool said the Hogs were "out-executed."
"I'm very frustrated, just because I thought we had a great week of preparation," Pool said. "Hats off to Auburn. They played well and we didn't. We just left too many plays out there. Feeling very frustrated."