HOGS outscore Cougars in Provo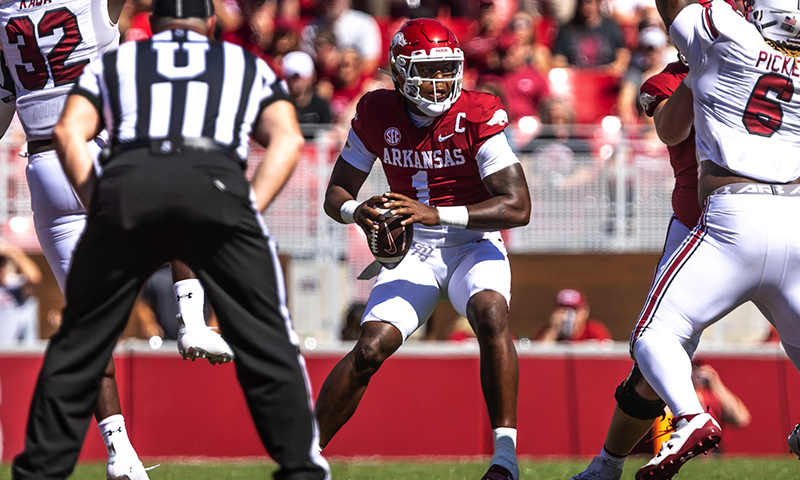 PROVO, Utah — The Arkansas football team ended a three-game losing streak with a 52-35 victory over BYU Saturday afternoon at Lavell Edwards Stadium, and it put the Razorbacks in a familiar spot.
"We're exactly where we were last year at 4 and 3, but we got a big stretch of games ahead of us," Arkansas Coach Sam Pittman said. "We need the time off to get back healthy and we're going to use it that way."
It wasn't always easy in front of  63,740 fans. The Hogs trailed on three occasions in the first half — 7-0, 13-7, 21-14 and 21-17 — before an offense that totaled 644 yards took control.
Arkansas (4-3, 0-3 SEC) lost a fumble on its first possession and punted on its second series, but those would be the only two drives the Razorbacks would not score on in the first half. Before it was over, Arkansas piled up 373 offensive yards to build a 31-21 halftime advantage.
BYU (4-3) scored touchdowns on three of its first four possessions and led 21-17 late in the first half when the Cougars faced a 4th-and-1 situation at its 34.
Quarterback Jaren Hall (26-41 passing, 356 yards, 3 TDs, 1 interception) fumbled the snap and Arkansas recovered.
Arkansas scored twice in the final four minutes of the half — on a 4-yard pass from KJ Jefferson to Matt Landers at 3:39 before halftime and on a 15-yard pass from Jefferson to freshman Rashod Dubinion with 40 seconds to play in the half.
An interception by Hudson Clark set the Hogs up for their final score in the second quarter.
 "The execution is on the coaches, but there's also some responsibility on the players," BYU Coach Kalani Sitake said. "About the fumble on fourth down, we were just trying to draw them offside. There wasn't even a play call in place but the ball was snapped, which is why Jaren [Hall] was surprised by it."
Jefferson was sharp in his return to action after sitting out last week's loss to Mississippi State. Jefferson completed 29 of 40 passes for 367 yards, a career high , along with a career-high 5 TDs passes while rushing for 32 yards on 10 carries.
Six different Razorbacks receivers totaled at least 40 receiving yards, led by Toledo transfer Landers (8-99 receiving, 2 TDs).
"The thing with Matt is getting him in a rhythm early and get his confidence raised up," Jefferson said. "We know what type of player he is, what type of character and physicality he brings to the game knowing he can stretch the ball vertically.
"So, it's just being able to get the ball to him as quick as possible and go let him build his confidence up."
Tight end Trey Knox (4 catches, 66 yards, 1 TD), Jadon Haselwood (4 catches, 42 yards), Dubinion (4 catches, 40 yards, 1 TD), and Ketron Jackson Jr. (3 catches, 55 yards) all contributed to the pass game.
The Razorbacks rushed for 277 yards, led by Rocket Sanders (15-175 rushing, 2 TDs), who bounced back after losing a fumble on the Hogs' first possession.
 "I know there's one thing I know and that Rocket's mistakes are few and far in between," offensive lineman Dalton Wagner said. "When he does make a mistake, he takes it very personally and you could tell he didn't want to let that happen again. So, we put it on his back whenever he had the chance to get open or run the ball and he really played his butt off for that."
Arkansas' defense yielded 471 yards — including 356 passing yards —  but the Razorbacks came up with three turnovers (2 fumble recoveries and an interception by Hudson Clark).
"I saw the shift go from the coaches to us players on holding each other accountable and we saw that today when adversity hit," Clark said. "They had some big plays, but we just bonded together, locked arms, and went out there and made plays."
Clark led Arkansas with 11 tackles. Defensive backs Trent Gordon (7 tackles, 1 TFL) and Latavious Brini (6 tackles) along with linebacker Bumper Pool (6 tackles) were the top tacklers.
The Razorbacks enter a much-needed bye week before traveling to take on Auburn Tigers (3-4, 1-3) on Oct. 29.
"We're beat up, but we won't be when we come back to play Auburn," Pittman said. "I've got an idea of what we're going to do next week but a big part of it is that we're going to get as healthy as we can get. Then we're going to go try and make a run just like we did last year."