HOGS vs. Malzahn's No. 11 Auburn Tigers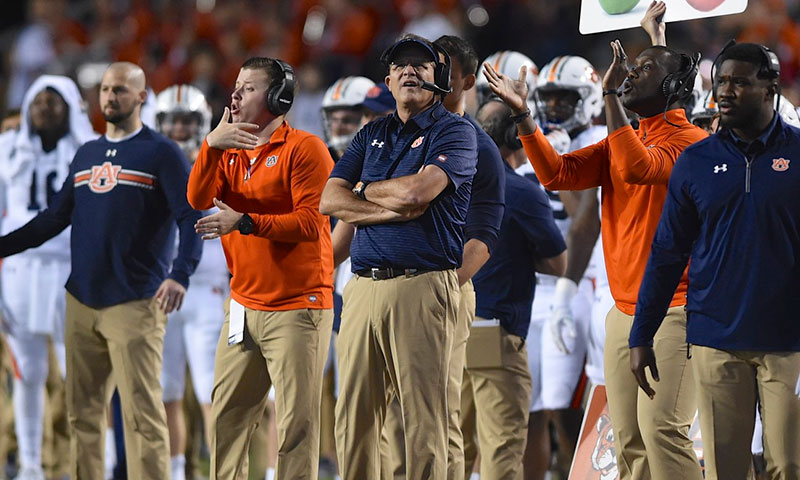 FAYETTEVILLE - With Arkansas' football plagued by hard times, Saturday's game will recall the exploits of some of the greatest Razorbacks of all time.
Darren McFadden, the two-time Doak Walker Award winner college football's best running back and two-time Heisman Trophy runner-up during his 2005-2007 career, will be jointly honored by the National Football Foundation Hall of Fame and the University of Arkansas for his upcoming induction into the College Football Hall of Fame.
Arkansas takes on Auburn at 11 a.m Saturday at Reynolds Razorback Stadium. The SEC Network will televise the game.
McFadden becomes the ninth Razorback player inducted into the College Football Hall of Fame joining Lance Alworth, Ronnie Caveness, Chuck Dicus, Wayne Harris and Loyd Phillips, all players for Coach Frank Broyles, Billy Ray Smith Jr., who played for Lou Holtz, Clyde Scott, who played for John Barnhill and Wear Schoonover who played for Francis Schmidt.
Coaches Broyles, Holtz, Schmidt, Danny Ford, Bowden Wyatt and Hugo Bezdek coached at Arkansas en route to College Football Hall of Fame inductions.
This weekend of celebration starts with banquets honoring the 1969 Razorbacks in the "Shootout" against Texas and a banquet honoring the 1988 and 1989 Southwest Conference championship teams coached by Ken Hatfield.
On Sunday, attention turns to basketball honoring former Arkansas national championship coach Nolan Richardson with the naming of the court at Walton Arena as Nolan Richardson Court before new coach Eric Musselman's Razorbacks play a 3 p.m. exhibition game against the University of Arkansas-Little Rock, coached by former Razorbacks great Darrell Walker of the Eddie Sutton era.
Meanwhile, Arkansas coach Chad Morris' Razorbacks (2-4, 0-3 in the SEC) are heavy underdogs against Coach Gus Malzahn's No. 11 Auburn Tigers (5-1, 2-1), coming off an open date. Arkansas comes off a 24-20 loss at previously SEC-winless Kentucky.
Morris said a big key is the offense staying on the field and the defense getting the Auburn offense off the field, after Kentucky possessed the ball over 37 minutes last week in Lexington.
"We've got to pick up first downs," Morris said. "That's the big thing. We've got to eliminate three-and-outs. We've got to keep our defense off the field as much as possible. They (Auburn) are  extremely talented. They've got speed to burn. They've got depth. There's not too many deficiencies when you watch their defense. We've got to do a good job mixing up the run and the pass. Be consistent and just execute our run game."
Auburn ranks No. 18 in the nation and fifth in the SEC in scoring defense (18.3 ppg), No. 20 nationally (third in SEC) in rushing defense (101 yards per game) and No.  23 (first in SEC) in tackles for loss with 7.5 per game. Malzahn's run-first offense averages 230 rushing yards per game, which ranks 20th nationally and third in the SEC.
While struggling, Arkansas has come close its past two games, 31-27 and 24-20 SEC losses to Texas A&M and Kentucky.
"There's no question about that," Morris said. "As I've said before, we're putting ourselves in positions to win games. It's coming. These guys are continuing to put forth the work and the effort. That's all I can ask right now."
The Razorbacks held a closed practice Thursday.
Morris maintains not revealing the starting quarterback. So far in the three SEC games, the starting quarterback hasn't finished.  
Nick Starkel relieved starter Ben Hicks in the Sept. 7 31-17 SEC loss at Ole Miss.
Against Texas A&M on Sept. 28, Starkel started with Hicks relieving and finishing both games. Starkel and Hicks have alternated on the first and second units throughout this week, Morris said.