Class 3A Week 8 Rankings, Notes & Picks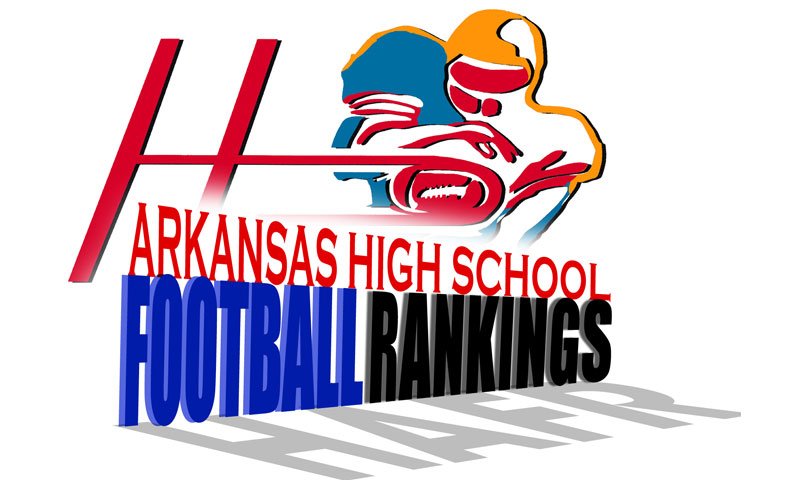 Hootens.com Rankings
Class 3A, Week 8, 2021
Copyright Hooten Publishing, Inc.
1. Prescott (7-0)
2. McGehee (7-0)
3. Booneville (7-1)
4. Harding Academy (5-2)
5. Osceola (5-1)
6. Charleston (7-0)
7. Paris (7-0)
8. Hoxie (7-0)
9. Centerpoint (5-2)
10. C. Harmony Grove (4-3)
11. Glen Rose (5-1)
12. Mountain View (5-2)
13. Newport (4-3)
14. Jessieville (4-2)
15. Melbourne (4-2)
16. Rison (5-2)
17. Hackett (5-2)
18. Perryville (6-1)
19. Riverview (4-4)
20. Cedarville (5-2)
21. Bismarck (5-2)
22. Atkins (4-3)
23. Baptist Prep (4-3)
24. Manila (6-1)
25. Salem (4-3)
26. Walnut Ridge (4-3)
27. Genoa Central (2-5)
28. West Fork (2-5)
29. Harrisburg (2-5)
30. Lavaca (4-3)
31. Dollarway (3-3)
32. Smackover (3-4)
33. Lincoln (2-5)
34. Greenland (2-4)
35. Fouke (2-5)
36. Mansfield (2-4)
37. Horatio (3-4)
38. Barton (1-5)
39. Lake Village (2-4)
40. Piggott (0-7)
41. Corning (1-6)
42. Mayflower (0-6)
43. Danville (1-6)
44. Drew Central (0-7)
45. Palestine-Wheatley (0-6)
46. Two Rivers (0-7)
GAME OF THE WEEK
No. 11 Glen Rose at No. 9 Centerpoint
Glen Rose sophomore running back Heath Balance exploded for 178 yards and five TDs last week in GR's 48-7 win over Fouke. Senior QB Conner Taylor contributed 143 yards and a TD. Glen Rose is unbeaten since losing its season opener to Class 4A Malvern.  Centerpoint allowed four scoring drives of 80 yards or longer in a 28-27 upset loss at Jessieville. Centerpoint has struggled the past two weeks because of key injuries. Senior QB Josh Lawson played with a special brace on his left knee last week. Senior LB Dathan Vaught and senior lineman Garrett Alexander went out in the first quarter at Jessieville and did not return. Centerpoint missed an extra point and two short field goals. Another conference loss will likely send  Centerpoint to the fourth playoff seed. Only two weeks ago Centerpoint was battling Prescott for first place. Glen Rose has won 12 of 15 encounters with Centerpoint, including two clashes last season. Watch extended highlights of Centerpoint's 50-41 loss to Prescott earlier this year.

LAST WEEK
Hootens.com correctly picked 18 of 22 games (82 percent) involving Class 3A teams. It is 174 of 218 for the season (80 percent).
WEEK 8 PREDICTIONS (favored team in CAPS followed by point spread)
1-3A
Lincoln at CHARLESTON (35): Lincoln is in middle of playoff hunt with 2-2 record in 1-3A after losing last week to Mansfield 28-23. Sophomore QB Drew Moore completed 20 of 39 passes for 228 yards and two TDs. He also threw three interceptions. Charleston routed Hackett 58-22, improving to 7-0 overall and 4-0 in conference. Charleston junior DT Brady Clayton collected five tackles and blocked a punt. Sophomore LB Hunter Little led the Tigers with eight tackles. Junior RB Brevyn Ketter rushed for 78 yards and three TDs. Junior WR/OLB Bryton Ketter rushed for 34 yards and a TD, caught three passes for 52 yards and a TD, and hit all six PAT kicks.
Greenland at CEDARVILLE (17): Greenland is seventh in 1-3A after losing last week to Lavaca 39-14, but incredibly just one game out of second place with five teams tied behind Charleston. Junior WR Kade Gobel and senior G/DE J.J. Hollingsworth have been solid for Greenland. Cedarville defense played well in 30-14 win over West Fork. Sen or RB Darryl Kattich carried for 176 yards and two TDs. Senior FB Hayden Partain rushed for 120 yards and a TD on 21 carries. Greenland has won six of the past nine encounters with Cedarville. Watch extended highlights of Cedarville's 42-14 win over Mansfield earlier this year.
Mansfield at LAVACA (8): Mansfield QB Fisher Willsey completed six of 12 passes last week for 82 yards, and the junior ran for 176 yards and three TDs on 19 carries in Mansfield's 28-23 win over Lincoln. The Mansfield defense delivered three early interceptions. Lavaca senior NG Tristan Brown led an outstanding defensive effort in a 39-14 win over Greenland. Junior QB Maddox Noel passed for 173 yards and two TDs and rushed for 182 yards and two TDs. Lavaca piled up 660 yards. Mansfield leads this overall series 7-6. Watch extended highlights of Mansfield's 42-14 loss to Cedarville earlier this year.
West Fork at HACKETT (6): West Fork enters final three weeks of regular season tied for second place after losing to Cedarville last week 30-14. Hackett is also 2-2 after falling to Charleston 58-22. Hackett senior WR/LB Peyton Hester caught six passes for 170 yards and two TDs. Hester has hauled in 40 balls this season for 828 yards and 12 TDs. He leads the defense with 88 total tackles.
2-3A
Melbourne at HARDING ACADEMY (14): Melbourne is 5-2 overall and 2-1 in 2-3A after shutting out Riverview 35-0 last week. Junior QB Trey Wren paced the Melbourne offense with 100 yards passing, 121 yards rushing and two TDs. Junior safety Carter Bray led defense with six tackles, one TFL. Harding is also 5-2, but 4-0 in conference after taking a week off. Watch extended highlights of Harding Academy 42-27 loss to Briarcrest Christian (Tennessee) earlier this year.
MOUNTAIN VIEW (7) at Salem: Mountain View was open last week, while Salem lost to Newport 47-14. Senior DE Lukas Foster led Salem's defense with five tackles and a fumble recovery. Sophomore LB Elijah Romine contributed nine tackles, and senior TE/DE Tyler Siddons caught two passes for 50 yards and a TD, while contributing four tackles. Siddons has logged 11 TFL, nine sacks and 47 total tackles this season. Salem has won six of the past 10 meetings vs.  Mountain View.
Class 4A LAMAR (17) at Riverview: Lamar improved to 7-1 last week by routing winless Dover 42-6. Senior QB Landon Harrison leads Lamar's running attack with 477 yards and eight TDs. He has passed for 401 yards and five TDs. Riverview senior LB Will Wilson, junior DE Anthony Donnell and junior LB Koby Teeter played well in Riverview's 35-0 loss to Melbourne. Riverview was missing several starters because of injuries.
NEWPORT is open.
3-3A
HARRISBURG (1) at Piggott: Harrisburg needs to win out to secure the fourth seed after losing last week to Osceola 53-0. Harrisburg is 10-4 all-time against Piggott. Piggott fell to 0-7 after losing to Hoxie 46-0. Piggott could still reach the postseason by winning its final three games. Junior DE Will Vancil played well against Hoxie with five tackles, two TFL. Piggott coach Don Simmons says his team is still battling covid, and key starters have not played this season.
OSCEOLA (21) at Walnut Ridge: Osceola is unchallenged so far in conference after routing Harrisburg 53-0 last week. Osceola plays Hoxie in two weeks. WR junior QB Kai Watson and QB/RB Walker Ward ran roughshod over Corning in a 42-7 win. Ward leads Walnut Ridge with 612 rushing yards this year, but Watson is close behind at 609, while throwing for 418 yards.
HOXIE (14) at Manila: For Hoxie, last week's 46-0 win over Piggott and a victory this week will set up a Week 9 showdown with Osceola for the 3-3A title. Senior LB Jace Benesch led Hoxie last week with six tackles, two TFL, one sack, one forced fumble and recovery, one interception and two TDs. Junior DE Mario Armstrong tallied two TFL and six total. Manila, picked to finish last in the 3-3A by league coaches, can earn a shot at the crown with a win. Senior DE Jackson Roddy tackled ball carriers three times behind the line of scrimmage in Manila's 42-0 cakewalk over Palestine-Wheatley. Senior MLB Peyton McQueen leads Manila this season with 76 tackles. Fourteen different Lions have scored TDs this season. Watch extended highlights of Hoxie's win over Piggott last week here. Watch extended highlights of Hoxie's 46-28 win over Cave City earlier this year. CORNING (12) at Palestine-Wheatley: Corning trailed Walnut Ridge 14-7 at halftime last week before losing 42-7. Senior RB Rhett Eddington led Corning's offense with 55 yards on 22 carries. Junior LB Jackson Davis paced the defense with five tackles. Palestine-Wheatley lost to Manila 42-0. The winner escapes the 3-3A cellar.

4-3A
BOONEVILLE (28) at Atkins: Booneville senior QB Randon Ray rushed for 122 yards and three TDs last week in 61-21 win over Baptist Prep. Ray also led his team with six tackles. Seven 'backs combined for 478 rushing yards. Ray leads Boonville this season with 807 yards. Atkins struggled offensively in last week's 42-6 setback to Paris. Senior LBs Reese Bixler and Wyatt Coffman have combined for 145 tackles this fall. Senior QB Zach Berkemeyer has passed for 1,672 yards and 18 TDs. Watch extended highlights of Booneville's 49-14 win over Mayflower earlier this year.
Perryville at PARIS (14): Junior LB Easton Walker and senior LB Brandon Hoyt led Perryville with 10 tackles each in last week's 58-14 romp over Mayflower. Perryville played without two starting offensive linemen because of injury, but junior QB Tyler Givens still completed 25 of 31 passes for 300 yards and five TDs. Givens is completing 65 percent of his passes this season with 16 TDs and one interception. Paris senior LB Nate Henderson contributed 10 tackles in a 42-6 victory over Atkins. Senior TB Duke Walker leads Paris offense with 635 yards and eight TDs on the ground. Senior QB Chase Watts has completed 65 of 87 passes for 1,069 yards and 14 TDs with one interception. Paris is 5-4 all-time against Perryville.
Two Rivers at MAYFLOWER (1): Two Rivers senior QB Riley Dunman threw for more than 200 yards and a TD in last Friday's 39-6 loss to Danville. Sophomore WR Matthew McKibbon caught three passes for 78 yards. Mayflower junior QB Noah Gailey completed 14 of 24 passes for 199 yards and two TDs in a 58-14 loss to Perryville. Junior WR Jaden Robinson caught six passes for 152 yards. Mayflower lost starting junior LB Jayden Duncan to injury, and senior CB Khalil Bryant missed last week's game with a back injury. Watch extended highlights of Mayflower's 49-14 loss to Booneville earlier this year.
Danville at BAPTIST PREP (7): Senior LB Ayden Hilton led Danville's defense with eight tackles, three sacks and two interceptions in last week's 39-6 win over Two Rivers. Senior QB Lawson Wilkins passed for 231 yards and a TD, while running for 190 and two TDs. Wilkins leads Danville with 750 rushing yards and nine TDs, while passing for 1,000 yards and nine TDs. Baptist Prep is playoff bound despite its 61-21 loss to Booneville. BP senior kick returner Jackson Mullen returned a kickoff 90 yards for a TD. Senior WRs Caden Jennings and Jeff Brown caught TD passes. Senior MLB Cooper O'Briant led BP defense with 14 tackles while playing for injured senior Owen Throneberry. Watch extended highlights of Baptist Prep's 31-24 OT win over McCrory earlier this year.

5-3A
GLEN ROSE (2) at Centerpoint: See Game of the Week.
Bismarck at PRESCOTT (28): Bismarck looking at a possible fourth or fifth seed in the playoffs. Bismarck junior QB Ian Smith has passed for 1,311 yards this season. His favorite target is sophomore WR Tony Weeks. Prescott junior QB Carston Poole completed 22 of 26 passes last week for 383 yards and four TDs in 52-13 win over Genoa Central. Prescott also rushed for 246 yards, giving it 629 total yards. Junior RB Jaylen Hopson rushed for 146 yards and three TDs on six carries. Junior LB Jason Patrick Jr. piled up 20 tackles. Watch extended highlights of Prescott's 56-6 win over Newport earlier this year. Watch extended highlights of Prescott's 50-41 win over Centerpoint earlier this year.
JESSIEVILLE (31) at Fouke: Jessieville fighting for a high seed, and possibly the 5-3A title after upsetting ninth-ranked Centerpoint 28-27 last week on the road. Jessieville senior QB Carson Hair and TB Matthew Huff proved too strong for Centerpoint, combining for 343 yards. Hair also passed for 73 yards and two TDs to junior WR Brentenn Johnson. Fouke's run defense was shredded by Glen Rose in a 48-7 loss. Fouke is 1-3 in conference play.
GENOA CENTRAL (12) at Horatio: Genoa Central's record (2-5, 0-4) does not reflect the improvement under new head coach David Barker. The same could be said about Horatio, which started the season with three consecutive wins but has lost all four conference games. Horatio senior RB Tony Ramirez rushed for 37 yards with 57 receiving yards last week in a 32-0 loss to Bismarck.
6-3A
MCGEHEE (35) at Barton: McGehee senior QB Sam Polite has completed 16 passes this fall for 485 yards and nine TDs after destroying Rison 57-14. Polite also averages 7 yards per rushing attempt. Senior RB Jody Easter paces McGehee with 691 yards and 10 TDs on 46 carries. McGehee has six 'backs with more than 100 yards rushing. Barton sophomore  S DeQuincy Wilson and WR NeTaveus Johnson posted big numbers last week in a 22-14 loss to Smackover. Wilson logged 15 tackles, while Johnson caught four passes for 103 yards and a TD. Watch extended highlights of McGehee's 47-22 win over Dewitt earlier this year. Watch extended highlights of McGehee's 36-12 win over Camden Harmony Grove earlier this year. Lake Village at RISON (6): Junior RB Cameran Weston rushed for 80 yards and a TD in Lake Village's 43-13 loss to Camden Harmony Grove. Senior RB Ederian Sykes added 75 yards rushing. Coach Chris Williams goal is to win out for the third seed in 6-3A. Sophomore QB Owen Morrison threw two TD passes and ran for two extra points in Rison's 57-14 loss to McGehee. Junior defender Chris Jackson broke his foot in practice last week. Rison's setback last week was its first conference loss since week nine of 2017. Watch extended highlights of Rison's 20-16 loss to Fordyce earlier this year. Watch extended highlights of Rison's 42-3 win over Hamburg earlier this year. Smackover at DOLLARWAY (8): Junior WR Daylon Curley caught a 54-yard TD pass last week from senior QB Brandon Lockhard with 17 seconds left as Smackover beat Barton 22-14. Junior RB Jarius Burgie rushed for 114 yards on 22 carries. Senior DB Jakessio Welch intercepted two passes for Smackover, while junior linemen Juan Ellingson and Reagan Barton played well. Dollarway coach Martese Henry praised all his linemen after a 28-14 win over Drew Central. Henry said his team is 90 percent healthy.
Drew Central at C. HARMONY GROVE (21): Drew Central stands 0-7 after losing last week to Dollarway 28-14. Drew Central senior LB Parker Cruce accumulated 16 tackles against Dollarway, with junior LB Elijah Daniels contributing 12 stops. Daniels also rushed for 104 yards on 10 carries. C. Harmony Grove defeated Lake Village 43-13 and is tied for second place with Rison in the 6-3A standings at 3-1. CHG senior safety Jailen Thrower made a team-high 12 tackles, while classmate Jermain Edwards contributed eight tackles, two TFL. Senior RB Daniel Hill scored three TDs. Watch extended highlights of Camden Harmony Grove's 22-20 loss to Fordyce earlier this year. Watch extended highlights of Camden Harmony Grove's 36-12 loss to McGehee earlier this year.