HOGS test depth in secondary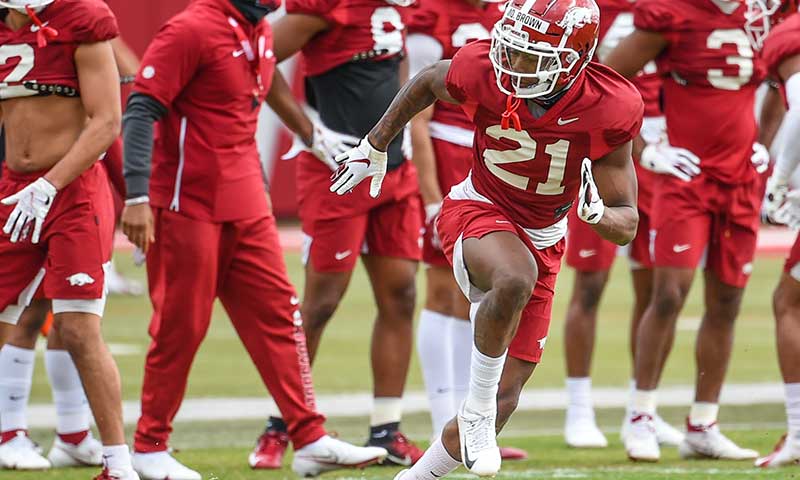 FAYETTEVILLE - Arkansas preseason All-America safety Jalen Catalon was already up and about Monday afternoon from his season-ending shoulder surgery performed Monday morning, Arkansas coach Sam Pittman said at his noon press conference.
"He had some slight tears in his labrum in the front and the back," Pittman said. "Surgery went well. He's already been in the facility and went to Wal-Mart to get his meds. So he's doing well."
As a third-year player, Catalon will have the option of declaring for the 2022 NFL spring draft or returning to the UA for his 2022 junior football season.
"I think you'd have to talk to him," Pittman replied. "But in my thought process he'll come back, but I think you'd have to talk to him about it. He'll know the answer a little bit better than me."
Pittman said Saturday he expects Catalon's shoulder to be healed in time for spring practice.
SLUSHER TO START
Sophomore Myles Slusher, who started one game last year as a dime back in a six-man secondary, started Saturday against Auburn and made seven tackles and broke up a pass. Slusher presumably will start for the 4-3 Razorbacks against 1-5 UAPB (University of Arkansas-Pine Bluff) in Saturday's 11 a.m. non-conference game at War Memorial Stadium in Little Rock. The SEC Network plans to televise the game.
"I thought Slusher played well," Pittman said. "He got beat early on a long pass last week, but I thought he actually played better than even I thought he would. Because he hasn't played much ball. He's been hurt the whole time, really since he's been here.
I think he can take that position and do well there."
BLAIR AND CHAVIS
Fourth-year junior Simeon Blair of Pine Bluff High, who has started some in six-man secondaries, and sophomore Malik Chavis of Rison could figure among the safeties that could start with senior Joe Foucha.
"Blair's been a guy back there as well," Pittman said. "I think we're going to look at Chavis a little bit more than what we have."
Injuries had set Chavis back in the past, but he's ready now.
"He can run and he's finally getting comfortable in there," Pittman said. "We just need to give him a little more opportunity, and with our situation right now, he's going to get it because he has to. I'm looking forward to seeing him play."
Arkansas' secondary also played against Auburn minus injured starting cornerback LaDarrius Bishop of Ashdown.
Hudson Clark started for Bishop against Auburn. Arkansas also was without injured starting defensive tackle Markell Utsey.
TAPERING PRACTICE
Pittman said the Razorbacks are easing this week's practice workload, trying to get the injured and hurting ready for Saturday.
"We're just too beat up right now, and we've got to get some players back," Pittman said. "I don't want them back for Mississippi State (Arkansas' next SEC opponent Nov. 6 in Fayetteville). I want them back for Pine Bluff. I know we won't practice quite as physically as we had because we just don't have enough depth to do that right now. We would do it (lighter practices) whether we were playing Auburn or playing Arkansas Pine Bluff. We don't really have a choice."
FIRST SINCE WW II
Until this season's UA vs. UAPB game, the Razorbacks have exercised their choice not playing an in-state school since closing the 1944 season by defeating Arkansas-Monticello 41-0 in Fayetteville.
"Even as old as I am, I wasn't born at that point," Pittman said. "So, I think it's a big deal. We're playing Arkansas State in 2025 (in Little Rock). At that point in time, if we haven't turned our program around enough to do well in these type games then it'll probably be a new guy talking about it. I  do think it (the Razorbacks playing in-state schools) is exciting for the state. I really do. I'm excited to get over to Little Rock, and I'm sure there'll be a lot of fans over there."
With last year's covid revamped entirely SEC schedule, the Razorbacks did not play a Little Rock game.
"I think last year was the first time since 1931 that we didn't have a game in Little Rock," Pittman said. "I think it's what makes Arkansas, Arkansas, that we've been willing to take the team to the central part of the state."