Class 4A Week 8 Rankings, Notes & Picks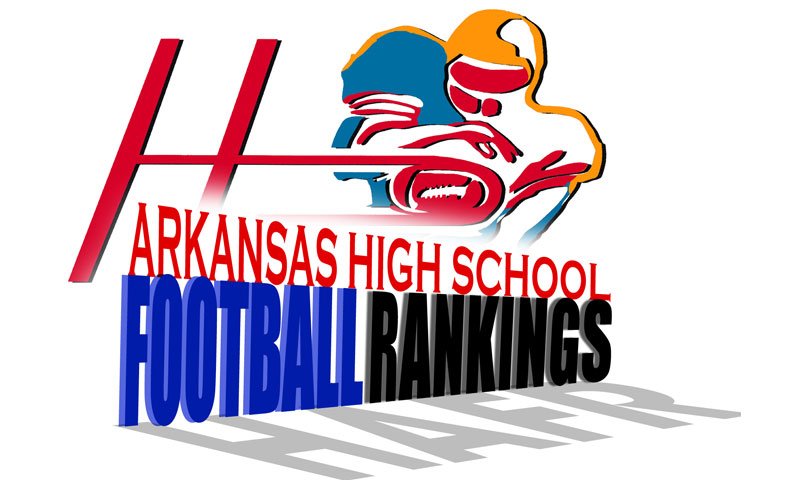 Hootens.com Rankings
Class 4A, Week 8, 2020
Copyright Hooten Publishing, Inc. 

1. Shiloh Christian (6-1)
2. Joe T. Robinson (4-3)
3. Stuttgart (6-0)
4. Nashville (4-2)
5. Rivercrest (7-0)
6. Arkadelphia (4-0)
7. Warren (3-3)
8. Pocahontas (6-1)
9. Prairie Grove (6-1)
10. CAC (7-0)
11. Lonoke (6-1)
12. Mena (4-3)
13. Ozark (4-3)
14. Dardanelle (3-2)
15. Malvern (4-3)
16. Hamburg (4-3)
17. Elkins (6-0)
18. Ashdown (6-1)
19. Crossett (2-1)
20. Blytheville (3-2)
21. Monticello (4-3)
22. Gosnell (2-3)
23. Lamar (4-2)
24. Pottsville (3-5)
25. Dumas (4-3)
26. Bald Knob (4-3)
27. Waldron (3-3)
28. Bauxite (3-4)
29. Fountain Lake (2-3)
30. Gentry (4-3)
31. Trumann (3-4)
32. Cave City (2-4)
33. Star City (2-3)
34. Jonesboro Westside (2-4)
35. Southside Batesville (3-3)
36. Huntsville (3-4)
37. DeWitt (2-3)
38. Mills (2-5)
39. Gravette (1-5)
40. Clinton (0-7)
41. Heber Springs (1-6)
42. Highland (1-4)
43. H. Grove Haskell (0-7)
44. Helena (0-6)
45. Berryville (0-5)
46. Green Forest (0-7)
47. Dover (0-5)

HOOTENS.COM GAME OF THE WEEK
No. 1 Shiloh Christian vs. No. 17 Elkins
Shiloh Christian hasn't lost to Elkins since 1993. The Saints beat Elkins in non conference games in 2016-2017 by a combined 85-40.
Undefeated Elkins led Green Forest 34-0 in the first quarter last week, and cruised to a 63-8 decision. The Tigers didn't score until the final play. Senior quarterback Kain Johnson completed 9 of 11 for 204 yards and four touchdowns in the first half , while freshman Gunner Casebolt ran six times for 84 yards and a pair of TDs. The Elks allow just 12 points per game. "They are big and physical on offense," Shiloh Christian coach Jeff Conaway says, "Defensively, they are athletic."
Shiloh Christian's only loss this fall was at Oklahoma Class 6A Sand Springs 27-26 in September. The Saints rolled their four league opponents this year by an average of 58-16. Ben Baker returned the opening kickoff for a TD in last week's 58-21 victory over Gentry. The Saints led 58-7 at halftime. Sophomore QB Eli Wisdom has completed 61 of 103 passes this year for 971 yards and nine TDs, and has 60 carries for 663 yards and nine TDs. Senior Cam Weidemann paces the ground attack with 65 carries for 558 yards and 15 TDs. 

LAST WEEK
Hootens.com correctly predicted 14 of 19 games (74 percent) last week. For the season, hootens.com has correctly predicted 172 of 208 games (83 percent).

WEEK 8 PREDICTIONS (favored team in ALL CAPS)
1-4A
SHILOH CHRISTIAN (8) at Elkins: Hootens.com Class 4A Game of the Week.
Berryville at HUNTSVILLE (7): Berryville returns to the field for the first time since losing to Gentry 48-35 Week 5, although they were able to practice some late last week. Senior wingback Dominic Henry ran 11 times for 112 yards and a pair of TDs against Gentry. Huntsville surrenders 32 points weekly, and two weeks ago, held Gravette to just 100 yards rushing to spark a 28-26 victory. The Eagles trailed Prairie Grove 21-0 in the first quarter last week.
PRAIRIE GROVE (16) at Gentry: Gentry upended the Tigers 28-21 last season, its first win in the series since 2010. The Pioneers trailed Shiloh Christian 58-7 at halftime last week before losing by 38 points. Prairie Grove senior QB Knox Laird threw a TD pass last week (41-point win over Huntsville) to Landon Semrod, while senior Cade Grant ran for a pair of scores.
Green Forest at GRAVETTE (21): Green Forest scored on the final play in last week's 63-8 setback to Elkins. Gravette didn't play last week (Berryville canceled) and lost to Huntsville 28-26 two weeks ago. Senior QB Cy Hilger has passed for 312 yards and three TDs and rushed for 161 yards and four TDs this fall.

2-4A
Clinton at BALD KNOB (7): Bald Knob held Heber Springs to 185 yards and forced five turnovers in last week's 21-point triumph. Junior QB Leason Pierce threw three TD passes. Winless Clinton relies on a host of underclassmen, and opposing coaches say the program should return to prominence next season. The Yellow Jackets surrender 36 ppg.
Lonoke at CAC (4): CAC has won nine of the past 12 in the series, including last fall 28-21 in overtime. The undefeated Mustangs move into the Top 10 for the first time this fall, beating seven opponents by an average of 14 points. Senior QB Palmer Gilbrech ran for three TDs and passed for 298 yards in last week's 21-14 come-from-behind win at Southside Batesville. Senior linebacker Cole Shoemaker has 61 tackles this season, reaching double digit stops three times. Senior Ty Bahnks recorded a team-best 15 stops at Southside, and has 60 tackles in 2020. Lonoke has won its four conference games by an average of 35-19. Senior Ja'coree Womack ran for a pair of TDs in last week's 11-point win over Mills. The Jackrabbits jumped to a 21-0 advantage in the first half.
Heber Springs at SOUTHSIDE BATESVILLE (2): Heber Springs has won 12 of its 14 meetings with Southside Batesville. But Panthers have lost four straight games this season by an average of 40-17. Heber Springs threw four interceptions in last week's 20-point setback to Bald Knob. Southside Batesville led CAC 14-0 in the second quarter last week and 14-7 in the fourth quarter before losing 21-14. The Southerners tallied 303 yards against CAC, running for 235. 
Mills at STUTTGART (24): Stuttgart has applied the 35-point sportsmanship rule in its four conference games. Junior QB Pate Kleinbeck threw four first-half TDs, including three to junior Arlie Lee, in last week's 35-7 win at Clinton. Mills usually plays close (every conference game has been decided by 11 points or less). The Comets trailed Lonoke 21-0 early last week, but trimmed it to 21-18 in the fourth quarter before losing 29-18.

3-4A
CAVE CITY (6) at Highland: Cave City has two wins this fall (only one the previous three seasons). Cave City's offensive line recorded 14 pancake blocks in last week's 22-19 win over Jonesboro Westside. Junior Eli Taylor caught a pair of fourth down passes on TDs, including the game-winner with 1:30. Junior Maddox Moreland ran six times for 85 yards and recorded 15 tackles on defense. Highland hasn't played since losing at Trumann 34-8 in Week 5.
RIVERCREST (9) at Gosnell: Gosnell has won this rivalry game 10 of the past 19 years (tied once), including last season by seven points as a double-digit underdog. Blytheville canceled its game with Gosnell last week at 3:30 Friday afternoon. Gosnell senior QB Cooper Pieri played his best game of 2020 two weeks ago against Trumann, passing for 223 yards and a pair of TDs, while junior Travelle Anderson ran for 148 yards and a TD. Playing in just three quarters last week, Rivercrest senior QB Kam Turner set a school record by passing for 449 yards and five TDs. He also ran 14 times for 73 yards and two TDs and led the Colts with 10 tackles. Senior Keshawn Scott caught 17 balls for 323 yards and four TDs (all school records), averaged 22 yards per kickoff return and logged eight tackles.
POCAHONTAS (12) at Jonesboro Westside: Pocahontas has won 16 of the past 19 over the Warriors. Pocahontas sophomore Connor Baker ran for a pair of TDs in last week's 32-14 win over Trumann. Jonesboro Westside must regroup after losing a week ago to Cave City 22-19, when the Warriors allowed 279 yards rushing, and gave up the winning 20-yard TD pass in the 90 seconds. Senior Tyler Ray ran for 115 yards and a TD at Cave City, while senior QB River Engle blasted for a pair of TDs.
BLYTHEVILLE (7) at Trumann: Blytheville expects to play this week after being forced to cancel last week's game with Gosnell late Friday afternoon. The Chickasaws have played only one conference game this fall (beat Jonesboro Westside 50-21 in Week 5). Junior QB Jeremiah Northern has passed for 1,014 yards and nine TDs this season, while senior Kylen Wells has 22 receptions for 462 yards and four TDs. Senior linebacker Maki Rainer (62  tackles) and sophomore Jontavion Bruin (61 tackles) pace the D. Trumann has lost consecutive games to Gosnell and Pocahontas by a combined 62-34. Trumann junior Rian King logged 22 carries for 113 yards, while Milton Lewis ran for 94 yards in last week's 32-14 setback at Pocahontas.

4-4A
Dardanelle at MENA (6): Mena has three league wins this fall, two of them in the final minutes (beat Ozark 23-20 last week, and Waldron 28-21 Week 4 with a Hail Mary pass on the last play). Senior Jake Wiles ran 11 times for 41 yards, and scored a crucial TD in the second quarter to tie Ozark 13-13. Senior fullback Cauy House has five carries this fall, all for TDs. Dardanelle lost to Ozark 48-13 two weeks ago, giving up 326 yards rushing.
Dover at WALDRON (25): Waldron has lost three straight games to Mena, Lamar and Pottsville. Mena threw the winning pass on the final play Week 4, and last week Pottsville 50-42. The Bulldogs led Pottsville 20-12 in the third quarter, but surrendered almost 400 yards rushing. Winless Dover canceled its past two games due to players in quarantine and hasn't played since losing to Ozark 56-20 Week 5.
Pottsville at OZARK (10): Ozark must regroup after last week's 23-20 setback at Mena, when the Hillbillies allowed 10 unanswered points in the fourth quarter. Senior QB Harper Faulkenberry ran for 126 yards and two TDs and passed for 128 yards at Mena. Senior linebacker Keystan Durning tallied eight tackles at Mena, and paces the Hillbillies with 64 stops. He also has two interceptions, two fumble recoveries and blocked a field goal. Pottsville played its best game of 2020 last week, rallying past Waldron by eight points. The Apaches ran for 385 yards. Elijah Bradley ran 42 times for 312 yards and six TDs and caught a 42-yard TD pass.
Riverview at LAMAR (28): This non conference game serves as Lamar's tuneup before playing Ozark and Mena the next two weeks. Lamar senior RB Brady James ran for 230 yards and four TDs two weeks ago in a 19-point win at Waldron. Winless Riverview gets outscored 37-9 weekly.

7-4A
ARKADELPHIA (2) Ashdown: Arkadelphia, playing for the first time in five weeks, hammered outmanned H.G. Haskell last week 54-19. Senior QB Braden Thomas passed for 231 yards and two TDs, and ran for a pair of scores. Ashdown scored 14 unanswered points in the fourth quarter a week ago to down previous No. 1 Nashville 26-24. Senior noseguard Vincent Jones stymied Nashville's attack with 14 tackles, 3 tackles for loss and two sacks. On Nashville's final drive, Jones recorded a sack on first down, made a tackle on second down and pressured the QB into an incomplete pass on third down.
JOE T. ROBINSON (21) at Bauxite: Bauxite usually plays tough against the Senators. Bauxite beat Joe T. Robinson 41-35 two years ago, and was tied 14-14 in the fourth quarter last season before losing 35-14. Bauxite is hitting stride this fall after beating H.G. Haskell and Fountain Lake the past two weeks. Devin Jones ran 7 yards for the winning TD in last week's 23-21 decision over Fountain Lake. Junior Braden Arnold snagged a pair of TD passes. Joe T. Robinson snapped a two-game losing skid with last week's 22-point victory over Malvern. Senior James Jordan caught a 22-yard TD pass, returned two punts for 63 yards and intercepted a pass on defense. Senior Hunter Smith ran for a TD and caught a TD pass.
Fountain Lake at MALVERN (10): Malvern's J.D. Plumlee coached Fountain Lake from 2017-2018. With 15 players in quarantine, including four starting offensive linemen, the Leopards ran out of gas last week at Joe T. Robinson (trailed 7-6 at halftime, lost 35-13). The scrappy Leopards get big plays from QB Ced Simmons, who has passed for 1,359 yards and 12 TDs this fall, and ran for 441 yards and four TDs. Fountain Lake was tied with Bauxite 0-0 in the third quarter a week ago before losing by two points. The Cobras run for 212 yards weekly. Junior Steven Dearmon logged 20 carries against Bauxite for 109 yards and a pair of TDs.
NASHVILLE (28) at H.G. Haskell: In a monsoon two years ago, Harmony Grove Haskell upset Nashville 26-21. The Scrappers may be driven by that loss this week, or the Scrappers could find drive after losing in the final seconds last week at Ashdown. Nashville led 15-12 in the fourth quarter and put up 408 yards and 24 points. Senior QB Ty Gordon passed for 195 yards and a TD, while senior Keyshawn Stewart ran for 81 yards and a score.

8-4A
DeWitt at DUMAS (7): Dumas has won 12 of the past 14 in the series, but DeWitt notched a 22-14 decision a year ago. DeWitt coach Mark Courtney coached Dumas for nine years, going 49-51-1. DeWitt junior QB Luke Smith completed 13 passes for 135 yards in last week's 42-point loss against Warren, including two passes for 33 yards to junior H-Back Dax Courtney and two for 59 yards to receiver Owen Luebke. Dumas senior Kylin James ran 12 times for 155 yards and a pair of TDs, including the winning 1-yard plunge with seven minutes left, last week against Star City. Johntarrius Washington also ran for a pair of TDs.
Helena at STAR CITY (26): Star City surrendered 294 yards rushing in last week's 35-29 setback at Dumas. Senior QB Noah Noble threw a pair of TD passes at Dumas. Winless Helena has lost its four conference games by a combined 166-38.
WARREN (8) at Monticello: The Saline River Shootout means a 146-pound trophy and this fall it takes on playoff seeding implications. Warren coach Bo Hembree has a record of 18-1-1 against Monticello. Warren has won three straight games behind a stout ground game. Senior Tre'Lon Marshall ran eight times for 74 yards and a TD in last week's mercy-rule win over DeWitt, while sophomore QB Maddox Lassiter completed nine of 15 passes for 195 yards and a pair of TDs. Junior Jakari Lee ran twice for 56 yards and returned a kickoff 73 yards for a TD. Monticello junior QB Stran Smith has passed for almost 1,000 yards this fall. The improved Billies lost last week to Class 5A Greenbrier 37-36.
Crossett at Hamburg: Canceled.