Class 5A Week 8 Rankings, Notes & Picks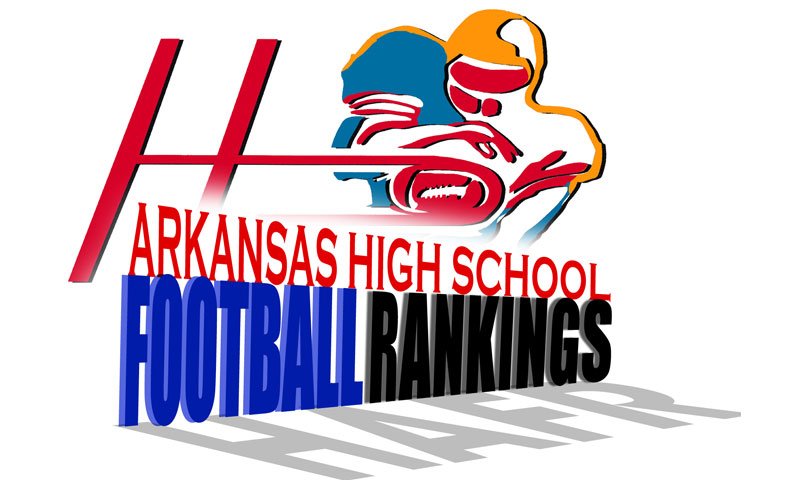 Hootens.com Rankings
Class 5A, Week 8, 2020
Copyright Hooten Publishing, Inc. 
1. Pulaski Academy (7-0)
2. LR Christian (5-1)
3. Texarkana (4-0)
4. Wynne (7-0)
5. Maumelle (2-2)
6. Harrison (6-1)
7. Morrilton (4-2)
8. White Hall (4-3)
9. Magnolia (4-2)
10. Watson Chapel (4-2)
11. HS Lakeside (4-3)
12. Camden Fairview (4-4)
13. Vilonia (4-2)
14. Greene County Tech (5-2)
15. Batesville (4-3)
16. Greenbrier (3-4)
17. Valley View (4-3)
18. Farmington (3-3)
19. Hot Springs (3-3)
20. Nettleton (3-4)
21. Brookland (2-5)
22. Clarksville (2-4)
23. Beebe (2-3)
24. Jacksonville (2-5)
25. Pea Ridge (1-4)
26. Paragould (1-6)
27. Alma (1-5)
28. Forrest City (1-5)
29. LR Hall (1-6)
30. Hope (1-5)
31. De Queen (0-6)

HOOTENS.COM GAME OF THE WEEK
No. 1 Pulaski Academy at No. 2 LR Christian
Like the past two seasons, this decides the league title and could preview the state title game. But don't expect to walk up and purchase a ticket, no general admission tickets will be sold.
Pulaski Academy pounded Little Rock Christian 56-14 Week 5, 2018, but LR Christian won 53-38 in the state title game, by forcing five turnovers (PA's first loss to an in-state team since 2013). The Bruins led LR Christian by two touchdowns in the fourth quarter in Week 5 2019, but lost 63-61. The Bruins gained revenge with a mercy-rule 63-21 decision in the state title game.
LR Christian junior Jayvean Dyer-Jones ran eight times for 97 yards and a TD in the first half of last week's 59-27 win over Little Rock Hall. Senior Corey Platt, Jr., has 32 carries this year for 259 yards and three TDs this season, and 21 catches for 340 yards and seven TDs. At linebacker, Platt has 44 tackles, two interceptions and three fumble recoveries. "They always have a plan and execute it," Pulaski Academy coach Kevin Kelley says. "Platt is the guy who jumps out at you on film. He can do so much."
Undefeated Pulaski Academy doubled up Tyler (Texas) Legacy last week 50-25. Junior QB Charlie Fiser completed 33 of 52 passes for 432 yards and five TDs. Senior receiver Cooper White was slowed by an injury, allowing seniors Dylan Allison and Jaylen Witcher to step up with 16 catches for 258 yards and four TDs. Junior Joe Himon caught 18 passes for 177 yards and a TD and ran for 86 yards. The Bruin defense, paced by senior linebacker Futa Shinkawa and safety Josiah Johnson, forced six turnovers. "We are playing harder than any team I've coached," Kelley says.
LAST WEEK
Hootens.com correctly predicted 11 of 14 games (79 percent) last week. For the season, Hootens.com has predicted 114 of 134 games (85 percent). 
WEEK 8 PREDICTIONS (favored team in ALL CAPS)
5A CENTRAL
PULASKI ACADEMY (7) at LR Christian: Hootens.com Class 5A Game of the Week.
JACKSONVILLE (5) at LR Hall: Jacksonville lost at Beebe 20-14 a week ago. The Titans trailed 13-0 in the middle of the first quarter. QB Deorious Cobbs ran for a pair of TDs. Watch extended highlights of Jacksonville's 46-39 win at Hamburg two weeks ago HERE. LR Hall has played inspired football this season, despite losing six straight games.
Beebe at WATSON CHAPEL (9): Beebe has won consecutive conference games for the first time in two years (beat Maumelle and LR Fair Weeks 8-9, 2018). Junior QB Gannon Roberts ran for a TD and threw a TD pass in last week's 20-14 triumph over Jacksonville. Watson Chapel led White Hall 16-14 at halftime last week before losing 29-16. Sophomore QB Jabrae Shaw has more than 1,100 yards this fall.
WHITE HALL (2) at Maumelle: Maumelle hasn't played since lost to LR Christian by 10 points Week 4. Senior Dashaire Ford-Burton paces the Hornets with 28 catches for 271 yards. White Hall junior QB Matthew Martinez ran for a TD and converted a crucial two-point play last week against Watson Chapel, when the Bulldogs rallied in the second half for a 16-point triumph. Watch extended highlights of White Hall against Sheridan HERE, Warren HERE and LR Parkview HERE.
5A EAST
Brookland at BATESVILLE (8): Upstart Brookland won its first 5A East game last week, taking down two-time defending league champ Valley View 12-7. The Bearcat D intercepted three passes. Sophomore Joseph Wright ran 23 yards for the clinching TD in the fourth quarter, and Ronaldo Garcia kicked 43- and 36-yard field goals. Batesville trailed Wynne 35-7 at halftime last week (see extended highlights HERE) before losing by 29 points. Senior QB Eli Livingston passed for 168 yards and a TD and ran for 52 yards at Wynne.
Forrest City at NETTLETON (15): Nettleton had the ball but failed to score in the final minute of last week's 28-21 loss at Greene County Tech. Sophomore QB Cameron Scarlett ran for 149 yards and two TDs, and passed for 58 yards and a TD, while junior lineman Javontae Wallace paced the D with 13 tackles. Forrest City has dropped four straight conference games by an average of 40-7.
GREENE CO. TECH (1) at Valley View: Valley View has won all six of its games over GCT by an average of 45-21. But this one should be much closer. Valley View must regroup after last week's five-point setback at Brookland, its first 5A East loss since Week 7, 2018. Upstart Greene County Tech has three conference wins this fall, its most since 2010. Senior David Williams tallied three TDs and the defense made a key stop late to preserve last week's 28-21 win over Nettleton. Watch extended highlights of Greene County Tech's 1-point loss earlier this season at Vilonia HERE.
WYNNE (21) at Paragould: Wynne owns an 11-2 record over Paragould the past 13 seasons. Yellowjacket senior QB Marterious Ross ran for more than 100 yards and a TD and threw a TD pass in last week's 49-20 triumph over Batesville, while junior Carl Washington ran for more than 100 yards and a TD. Senior Devin Holmes intercepted two passes, returning one 40 yards for a TD. Watch extended highlights of Wynne's victory over Batesville HERE, its 20-19 victory over Morrilton HERE and its 42-17 win at Brookland HERE. Paragould beat Forrest City 35-0 last week, its first sportsmanship rule victory since Week 10, 2018.
5A SOUTH
Hope at CAMDEN FAIRVIEW (28): Junior Ja'coriae Brown ran for a pair of TDs in Camden Fairview's 57-0 blowout over De Queen last week. Sophomore QB Martavious Thomas sparks the offense with four TD passes, and averages 7.5 yards per carry. Watch extended highlights of Fairview's 28-21 loss at Texarkana HERE and its 22-17 loss to Watson Chapel HERE. Hope trailed HS Lakeside 35-3 at halftime a week ago.
De Queen at HS LAKESIDE (35): HS Lakeside has eight straight victories over De Queen, including the past two by a combined 83-7. Ram senior QB Will Ross has passed for 1,268 yards and 13 TDs this season, while senior Isaac Echols has 81 carries for 485 yards and six receptions for 121 yards. Watch extended highlights of Lakeside's 21-14 loss to Texarkana HERE and its loss to rival Lake Hamilton HERE.
Hot Springs at TEXARKANA (8): CANCELED. Hot Springs led Magnolia 21-17 in the third quarter a week ago before collapsing in a 51-33 setback. The Trojans gave up 537 yards. Watch extended highlights and postgame reaction from that game HERE. Texarkana didn't play last week (scheduled open date) and two week's ago rallied past HS Lakeside 21-14, holding the Rams to 168 yards and forcing three turnovers (recovered a fumble with less than two minutes left to preserve win). Senior Torie Blair ran 25 times for 205 yards and a TD. Watch extended highlights of Texarkana's win at HS Lakeside HERE and its win earlier this season over Camden Fairview HERE.
MAGNOLIA is open. Watch extended highlights and postgame reaction of the Panthers win at LR Chrsitian HERE and their win last week at Hot Springs HERE.
5A WEST
GREENBRIER (4) at Farmington: Greenbrier junior Nick Huett ran for 229 yards and four TDs in last week's one-point win at Morrilton. Farmington junior Caden Elsik ran for 144 yards and three TDs, caught a 67-yard TD pass and ran for a two-point conversion in a 29-21 win over Clarksville.
HARRISON (3) at Morrilton: Harrison trailed Vilonia early last week before easing to a 48-16 decision. In just three quarters, senior QB Cole Keylon completed 19 of 24 passes for 362 yards and four TDs, and ran for another TD. The Goblins are using empty sets (no running back) more the past two weeks after senior tight end Breckin Duck tore his ACL. Morrilton's game with Alma was canceled last Wednesday. Senior Jackson Moll has emerged as Morrilton's workhorse, running for almost 500 yards in the past two games. Sophomore Demarius Martin takes over at QB for the Devil Dogs.
VILONIA (10) at Alma: Alma canceled its game last week with Morrilton but the Airedales expect to have enough players this week. Vilonia led Harrison 10-7 in the first quarter a week ago, but lost by 32 points. Vilonia junior Seth Kirk ran 19 times for 96 yards. Alma senior Logan Chronister ran for 130 yards and a TD two weeks ago at Clarksville.
Pea Ridge at Clarksville: Canceled