Class 7A Week 8 Rankings, Notes & Picks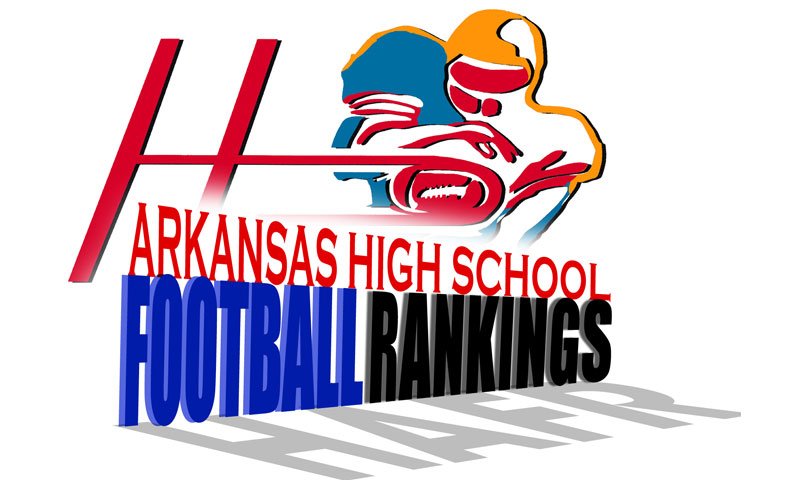 Hooten's Arkansas Football Rankings
Class 7A, Week 8, 2020
Copyright Hooten Publishing, Inc.
1. Bryant (6-0)
2. Bentonville (7-0)
3. North Little Rock (6-0)
4. Conway (4-2)
5. Cabot (5-1)
6. Har-Ber (3-4)
7. Bentonville West (4-3)
8. FS Northside (4-2)
9. LR Catholic (2-5)
10. Rogers (4-1)
11. LR Central (1-3)
12. Fayetteville (1-5)
13. Springdale (2-5)
14. FS Southside (2-5)
15. LR Southwest (0-4)
16. Heritage (1-6) 
HOOTENS.COM 7A GAME OF THE WEEK
(Memphis) Christian Brothers at No. 4 Conway.
Conway secured this matchup Sunday after LR Central canceled due to Covid 19 protocols. Christian Brothers does't pass as well as other teams Conway has played, but Purple Wave OT Patrick Kutas (6-5, 272) has an offer from Mississippi State and running back Dallan Hayden, brother of former Razorback Chase Hayden, owns multiple SEC scholarship offers.
Conway scores 46 PPG in league play under new OC Mark Kelley, who as head coach led Searcy to the 6A state title last December. Intelligent Conway senior quarterback Ben Weese (5-8, 150) has accounted for more than 2,000 yards in just six games. Conway uses a trio of talented tailbacks and dynamic receiving corps led by electrifying senior Bryce Bohanan (5-10, 175).
Both are good teams. Christian Brothers has a formidable defensive front to stop straight-ahead runs, but Conway creates match-up problems for the Purple Wave with its speed, especially on the perimeter. Expect a lot of points in a good warm-up game for the Wampus Cats, who get their shot at No. 1 Bryant Week 10. 
LAST WEEK
hootens.com correctly predicted all seven winners in games involving Class 7A teams. For the season, hootens.com is 56-11 (84 percent) in Class 7A. 
WEEK 8 PREDICTIONS (favored team in CAPS)
7A CENTRAL
(Memphis) Christian Brothers at CONWAY (1): Game of the Week.
Cabot at BRYANT (28): Cabot, last seen two weeks ago rallying but only to lose a wild game to Conway (52-49), gets 14 days prep for two-time defending state champ Bryant. Offensively, Cabot QB Tyler Gee is making more plays with less turnovers and tailbacks Mason Bell and Jacob Parks are improving. Gee passed for six TDs in the second half vs. Conway. Bryant needed just 23 snaps to score on all six of its first-half possessions (less than four plays per drive) last week and covered hootens.com 50-point spread with a 70-0 shellacking of LR Southwest. The Hornets will ride a 24-game win streak into next week's showdown with North LR. "Bryant plays at speed," Cabot coach Scott Reed says. "They play with fanatical effort and tremendous confidence."
NORTH LR (18) at FS Northside: Undefeated North LR scores 41 points weekly and has been challenged just once, winning 39-37 at Conway three weeks ago. Northside has allowed 48 points in both its losses, Sept. 25 at Bryant (48-7) and last week at Conway (48-12).
LR Southwest at LR CATHOLIC (16): LR Southwest, coming off a 70-0 loss to Bryant, could keep it close this week with its speed. LR Catholic, winless in conference play, lost last Friday to North LR 49-10.
LR CENTRAL is open, hasn't played due to Covid 19 protocols since losing Sept. 25 at North LR 48-7.

7A WEST
Rogers at BENTONVILLE (35): Bentonville led Fayetteville 28-0 in the first quarter and 49-7 by halftime last Friday. The Tigers tossed five TD passes in the first half and finished with 308 yards passing (mostly in the first half). Rogers led Springdale by 20 points in the third quarter of last week's 44-34 win.
FS Southside at HAR-BER (17): Har-Ber headed for a 6-1 league record and No. 2 finish in the West after belting Bentonville West 33-17 last Friday. Har-Ber kicker Ramirez nailed a 44-yard field goal to end the first half and the Wildcats shut out West in the second half, including a fourth-and-goal stop at the 1-yard line. FS Southside has won twice, topping Class 6A Russellville 21-17 on Sept. 11 and Rogers Heritage 26-7 last Friday. Southside shut out Heritage in the second half and has held three of its six opponents to 21 points or less.
Springdale at FAYETTEVILLE (1): Battle of the Bulldogs. Fayetteville trailed at Bentonville 49-7 at halftime last Friday but has whipped rival Springdale the past four years by an average score of 50-14. Springdale junior QB Landon Phipps (5-10, 175) completes 61 percent of his passes and has nine rushing TDs as one of the state's better straight-ahead runners. Springdale has lost three in a row and host not defeated a conference opponent other than Heritage since Nov. 2, 2018.
BENTONVILLE WEST (31) at Heritage: West was scoring 31 PPG game before losing last week at Har-Ber 33-17. Heritage has lost its four conference games by average of score of 39-3.