HOGS: Homecoming 2 in LR; Notes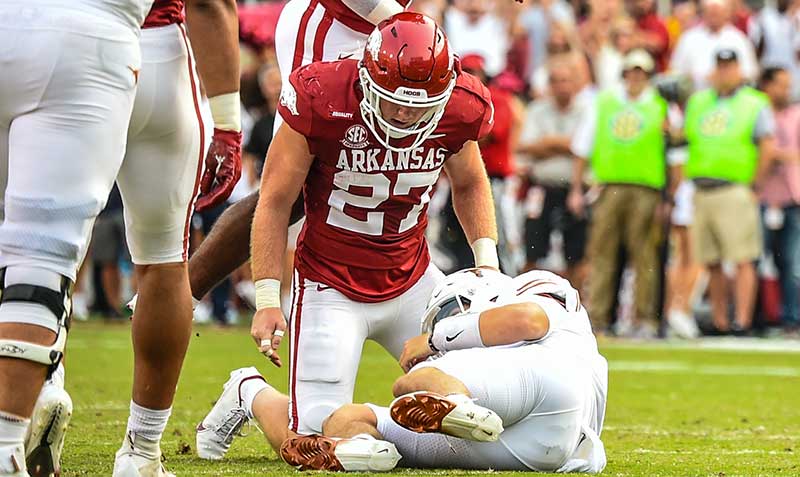 FAYETTEVILLE - The University of Arkansas celebrated homecoming last week, but for Razorbacks Simeon Blair and brothers Hayden and Hudson Henry, the coming-home homecoming takes place Saturday in Little Rock.
The Razorbacks (4-3 overall) play an Arkansas-based school for the first time since 1944 at 11 a.m. Saturday at War Memorial Stadium where they battle the Arkansas-Pine Bluff Golden Lion of the Southwestern Athletic Conference. 
UAPB RECRUITED BLAIR
For junior safety Blair of Pine Bluff High, Saturday marks a day of playing old friends and acquaintances from his hometown university that offered him a scholarship before he opted to walk on and earn a scholarship at the UA.
HENRY BROTHERS
The Henry brothers, Little Rock natives and Pulaski Academy grads, return to their hometown and a stadium they know so well. UA senior Hayden Henry (in Craven Whitlow photo above) stars as a linebacker, and third-year sophomore Hudson shines at tight end as oldest brother Hunter, the Mackey Award winner and current New England Patriots tight end, did before him.
"Hayden and I have played a lot of games there," Hudson Henry said Tuesday evening after practice. "We had the opportunity to go to a lot of state championships when we played under Coach (Kevin) Kelley at PA. I think going back there is special even though we have a different jersey on and are playing for a different team."
And where Hunter played and their father, (Mark Henry) played as a Little Rock Central grad lettering as Razorbacks offensive lineman from 1988-91.
"It's special that way and special because we're playing in our  backyard," Hudson said. "We're getting to play in a place where we grew up watching (former Razorbacks two-time Doak Walker Award winner and Heisman Trophy runner-up) Darren McFadden run the ball. We grew up watching (former UA quarterback) Matt Jones sling it, too, you know. He was the one who had the Miracle on Markham (beating LSU). I mean, places like that, it's pretty fun."
Blair considered UAPB before walking on in 2018 for then new Arkansas coach Chad Morris, who was fired with two games remaining in 2019.
"I gave it a little thought," Blair said. "Arkansas ended up telling me how I could work for a scholarship, and I felt that would be a great choice for me. I felt like it's a real honor to go back home and be playing my hometown team that I've seen since I've really grown up."
INSPIRED UAPB
Though UAPB (1-5) plays from the lower FCS (Football Championship Subdivision)  instead of the FBS (Football Bowl Subdivision) that includes Arkansas, Blair expects the Golden Lions to come out roaring in Little Rock.
"I think they will be very excited," Blair said. "They get to play a bigger school."
Blair will be personally excited.
"I'll get to see a lot old school friends I went to junior high with and high school and elementary school and stuff like that," Blair said. "I know quite a few, probably about 10 or 15 players on that team that I played with when I was young."
Coming off a three-game SEC losing skid vs. No. 1 Georgia, No. 12 Ole Miss and No. 22 Auburn, Blair and the Henry brothers assert the Hogs won't overlook UAPB as they seek to regain their footing.
"They're a very athletic group," Blair said. "They have great speed with their receivers. They play both quarterbacks (Skyler Perry and Xzavier Vaughn). They have great arms. They can hit you with the read-option game. We must make sure we do our job."
ON THE MEND
Hayden Henry (59 tackles with a team-high 7.5 TFL and four QBH) said an Arkansas defense that Coach Sam Pittman describes as "banged up" and in need of next week's open date, is regrouped.
"We're fine," Hayden Henry said. "We had our second good practice in a row today."
About as touted out of PA as older brother All-America tight end Hunter Henry, Hudson Henry has been dogged by injuries and illness since his 2019 arrival.
Last Saturday vs. Auburn was his first healthy game this season. He caught his first two passes of the year.
"This past week it felt really good to get some confidence back and be able to get back in there and help the team," Hudson Henry said.