RECRUITING: Mills' on-field success fueled by talent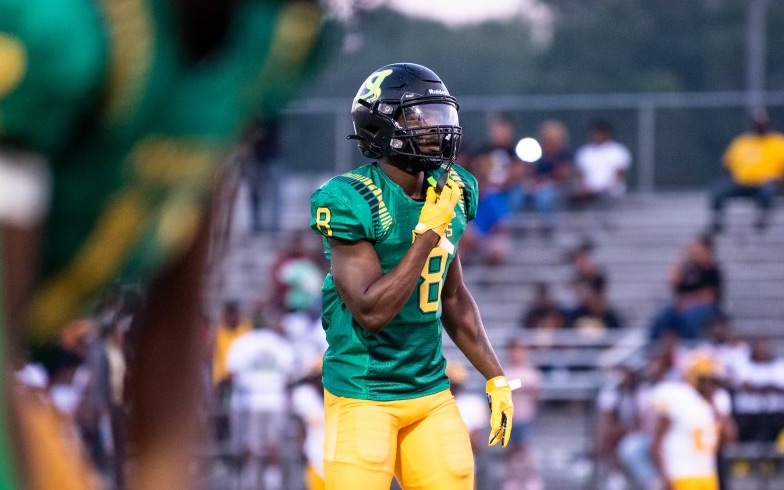 Mills is 7-0 on the football field for the second time since the school opened in 1969.

A school-record 8-0 start hinges on taking down Joe T. Robinson Friday. The winner will earn the 5A Central championship and the conference's top seed in the playoffs.

The No. 1 seed from the league has home-field advantage throughout the playoffs. Joe T. Robinson has knocked Mills from the playoffs the past 2 seasons.

Mills is looking for its first outright conference title.

"This is what we've been shooting for since I got here (in 2019)," fourth-year coach Cortez Lee says. "My first day here, we had 6 guys show up to play. By the end of the year we were up to 32 players. We built it the right way."

Lee has stressed discipline and mental toughness in the offseason, and that's paid dividends. Mills rallied past Beebe in early September, and its season gained traction in Week 4 with a 2-point win over White Hall. Two weeks later, the Comets beat Pine Bluff 19-18.

The hot start to the season coincides with the Comets' influx of talent.

Senior running back/safety Jabrae Shaw (5-10, 200; pictured above) concentrated on offense last season (1,592 yards, 19 touchdowns) but Lee says Shaw's contributions on the defensive side has made a difference.

"He has been a game-changer," Lee says.

Shaw, who committed to UCA in the summer, has pulled down a state-best 9 interceptions this season. He's collected 49 tackles and 3 fumble recoveries and is responsible for creating at least 1 turnover in every game.

Shaw shifted from the backfield to slot receiver in the offseason, because coaches projected his bigger role on defense.

"He doesn't take a pounding every play on offense, and it's helped his overall game," Lee says.

Shaw (25 catches, 440 yards, 3 TDs) also lines up at running back and Wildcat QB, averaging 7.1 yards per carry with 6 rushing TDs. Against White Hall, he caught 8 passes for 130 yards and a TD, made 9 tackles and 1 interception.

Memphis, Louisiana-Monroe, Middle Tennessee and UAPB are among the schools to offer Shaw a scholarship.

"He's the best player in the state," Lee says. "I don't understand why every school isn't knocking down his door. He excels at a top level anywhere we put him."

Another senior with Division I offers, senior receiver Anton Pierce (6-2, 195), made huge plays against White Hall (7 catches, 93 yards and 3 TDs). At cornerback, he made 4 tackles and pulled down a critical interception. Pierce owns offers from Army and UAPB.

"He has a big catch radius," Lee says.

Versatile senior Q.J. King (5-7 180) started at QB two years ago as a sophomore, but has thrived at receiver the past two years. The Comets like to move King around during games to create mismatches. King (37-683 receiving, 12 TDs) averages almost 13 yards per carry. Southern, UABP, UCA and Lincoln (Mo.) are recruiting King.

Junior Charleston Collins (6-4, 255) could be a coveted defensive line recruits next season. Collins has a team-best 72 tackles this fall, including 30 tackles for loss and 5 sacks. He also has 5 fumble recoveries. Collins owns offers from most Power 5 schools in the South, including Arkansas, Alabama, Georgia, LSU and Texas A&M.

Junior quarterback Achilles Ringo (6-3, 215) has developed into a star. Ringo completed 64.9% of his passes for 1,954 yards and 16 TDs with 3 interceptions so far this season. UAPB offered Ringo a scholarship, and Arkansas State continues evaluating. "He's a pure passer, has a college arm and makes good reads," Lee says. "He'll get a lot more offers."

Junior end Caleb Sain (6-3, 230) owns offers from Arkansas Tech and UAPB, while most in-state DII schools have evaluated him. Sain has 68 tackles this fall, including 27 TFL and 3 sacks.

Junior receiver/safety Jaylon Ento (6-3, 180) possesses a 47-inch vertical leap, along with good flexibility and talent.

"He should be our most recruited player," Lee says of Jaylon, who has 37 tackles, 3 sacks and 2 interceptions.

Lee coached Jaylon's cousin, Kabion, who plays for the Green Bay Packers.

Junior Ryan White (5-10, 190) shifted from outside linebacker to inside linebacker this fall, and Lee says White has shown as much improvement as any of the Comets. White (63 tackles) visited University of Arkansas-Monticello last week and plans to visit Henderson State.

White and junior Derrick Murdock (6-0, 195) are part of Class 5A's more productive linebacker units. Murdock has a state-best 10 sacks this fall, along with 59 tackles (29 TFL). Murdock should get DII recruiting interest as the season progresses.