Class 2A Week 8 Rankings, Notes & Picks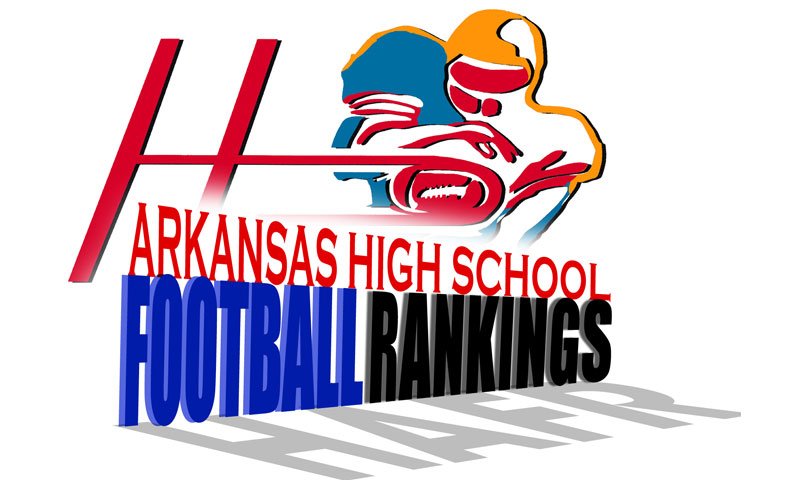 hootens.com Rankings
Class 2A, Week 8, 2019
Copyright Hooten Publishing, Inc.

1. Junction City (6-1)
2. Fordyce (7-0)
3. Foreman (7-0)
4. Earle (5-1)
5. McCrory (6-1)
6. Des Arc (5-2)
7. Gurdon (5-2)
8. Magnet Cove (6-1)
9. E. Poinsett County (5-2)
10. Hazen (5-1)
11. Parkers Chapel (5-2)
12. Salem (5-1)
13. Magazine (5-1)
14. Poyen (6-1)
15. Carlisle (5-3)
16. Mountainburg (4-3)
17. Dierks (4-3)
18. Clarendon (2-4)
19. Hackett (5-2)
20. Cutter M Star (4-3)
21. Hampton (2-5)
22. Hector (2-4)
23. England (3-4)
24. Murfreesboro (3-3)
25. Rector (4-3)
26. Mountain Pine (3-4)
27. Mineral Springs (2-4)
28. Conway Christian (2-5)
29. Quitman (4-3)
30. Marked Tree (1-6)
31. Bearden (1-6)
32. Lavaca (1-5)
33. Marvell (2-4)
34. Mount Ida (1-6)
35. Strong (1-6)
36. Bigelow (0-7)
37. Cross County (0-6)
38. Marianna (0-7)
39. JC Westside (1-7)
40. Lafayette County (1-6)
41. Midland (0-6)
42. Spring Hill (0-7)

GAME OF THE WEEK
No. 2 Fordyce at No. 1 Junction City
Quite possibly a preview of the state championship game scheduled for noon Saturday, Dec. 14 at War Memorial Stadium. Fordyce owns victories this fall over Class 3A No. 1 Camden Harmony Grove (46-22) and No. 2 Rison (14-8). Junction City lost the season opener to Camden Harmony Grove (30-26). Fordyce leads this overall series 13-5, but Junction City has won the past two, including 7-6 last year. Junction City has not lost a home game (19 straight wins) since 2016, a 26-13 loss to Fordyce. KEY MATCHUP appears to be JC's high-IQ, fast-playing defense vs. Fordyce's heavily armed-and-dangerous offense. JC started five new defenders early this season but only three Dragons play both offense and defense. JC head coach Brad Smith, who has coordinated the defense for 11 years, lists seven defenders who share the tackles and make plays. Fordyce counters with six playmakers who can score on any snap. Fordyce junior quarterback Jaheim Brown has completed 65 percent of his passes for 995 yards and 13 TDs with two interceptions. Junior Ja'quez Cross leads Fordyce in receiving (537 yards, eight TDs) and all-purpose yards (128 yards per game). Seven speedy Redbugs have posted more than 20 tackles, including junior Josh Harrington with a team-high 52 stops. JC will test that defense with senior QB Brady Hutcheson (907 passing yards, 11 TDs, two INTs), senior RB Jakiron Cook (9 yards per carry, 13 TDs) and senior Harlandus Frazier (31 yards per reception, 10 receiving TDs, four special teams TDs). Battle up front likely results in a stalemate on most snaps.

LAST WEEK
Hootens.com correctly picked 17 of 20 (85 percent) games involving Class 2A teams. Hootens.com has picked 155 of 186 (83 percent) this season.

WEEK 8 PREDICTIONS (favored team in CAPS followed by point spread)
3-2A
MCCRORY (2) at Salem: No. 5 McCrory likely secures the 3-2A top playoff seed with a win. No. 12 Salem, which received a forfeit last week from Marked Tree, travels Week 9 to EPC. Last week, McCrory jumped EPC and led 36-8 at halftime. McCrory eventually won 48-34 (EPC game highlights HERE) with sophomore weakside end Lathan Briley and OLB Reid Kennon combining for 14 tackles, including four TFL and three sacks. Senior DT Travon DeWitt stripped the EPC QB and sophomore Buck Neal recovered at the McCrory 45 with EPC trailing by eight points and driving for the potential tying score. McCrory recorded 11 TFL and nine sacks as a team. Salem counters with efficient junior QB Gavin Guiltner and senior FB Peyton Barker working behind a stout O line. Senior ends Craig Kemp and Gabe Miller and tackle leader Levi Decker at DT anchor one of the better D lines in 2A football.
RECTOR (35) at Midland: Rector in good position to claim the fourth playoff seed by playing some of the better defense in the league. The Cougars give up 16 ppg. Rector senior Max Ford ran for 133 yards and a TD and caught a 44-yard TD pass last week in a 34-6 win at Cross County (Highlights HERE). Senior Parker Bucy has intercepted four passes in two weeks, returning one theft 78 yards for a TD at Cross County. 
Cross County at E. POINSETT COUNTY (28): No. 9 EPC piled up 402 mostly passing yards last week at McCrory but lost 48-34 with four turnovers, including a fumble and muffed punt in the final four minutes that thwarted a furious second-half rally. EPC trailed 36-8 at halftime. EPC junior QB Preston Rains completed 12 of 20 passes for 257 yards and two TDs despite being sacked nine times. Rains also caught a reverse pass for a 70-yard TD. Watch highlights of Cross County's homecoming loss last week to Rector HERE.
MARKED TREE is open.

4-2A
MAGAZINE (32) at J.C. Westside: No. 13 Magazine rushed for 340 yards last week on Lavaca in a 44-13 win with senior FB Caleb Hyatt carrying for a game-high 85 yards and two TDs. JC senior QB Tanner Bryant completed 10 of 20 passes for 222 yards and five TD with six INTs in an 84-34 non-conference loss to Strong.
Hackett at MOUNTAINBURG (6): Mountainburg idle last week, has had two weeks to prepare for Hackett, which ran past Hector last Friday  with 268 rushing yards (just 45 passing yards). Hackett junior Weston Winters continued to emerge with 31 carries for 179 yards. Hackett tries to slow Mountainburg senior RB Malachi West (6-3, 236), who has trucked for 913 yards and 11 TDs this fall, topping 100 rushing yards five times. West averages 9 yards per carry.
HECTOR (13) at Lavaca: Hector senior WR Caleb Profitt carried seven times last week for 126 yards and two TDs in a 20-17 loss to Hackett. Junior QB Gunner Garrison completed 17 of 22 passes for 219 yards and two TDs with two INTs. Ty Day caught 10 of those passes for 93 yards. Lavaca dressed 16 player in a 44-13 loss to Magazine.  

5-2A
POYEN (22) at Quitman: No. 14 Poyen ran away from Bigelow 34-0 a week ago with junior Brandon Sanchez carrying for three TDs and 360 of Poyen's 491 rushing yards. Multiple injuries have wrecked a promising season for Quitman, which just lost to Conway Christian 36-20.
Bigelow at MAGNET COVE (35): No. 8 Magnet Cove sits alone atop the league standings after taking down Mountain Pine 35-26 a week ago. MC junior RB Landon Stone has rushed for 1,438 yards (11 ypc) and 15 TDs behind a line that should be healthy again this week. Senior QB Tyler Hodges has rushed for 783 yards (12.6 ypc) and 19 TDs. Stone (59 tackles), senior Logan Walker (68 tackles) and sophomore Jacob Hawthorn (50 stops) pace the MC defense. Bigelow sophomore QB Keithlin Brown runs well for the winless Panthers. 
England at MOUNTAIN PINE (16): England committed four turnovers last week and stalled in the red zone multiple times in a 36-0 loss to surging Cutter Morning Star. Mountain Pine senior QB Collin Smith continues to deliver despite defenses keying on him. Smith ran for 183 yards, passed for 91 yards and scored all four TDs in a 35-26 loss to Magnet Cove. Junior Josiah Walpole (team-leading 62 tackles) collected a team-high nine tackles at Magnet Cove. 
CUTTER M STAR (6) at Conway Christian: Conway Christian crowded the line of scrimmage last week on receiver-deficient Quitman and pulled off a double pass early to notch its first conference win (36-20) of 2019. CMS bounced back from its double-OT loss to Poyen to conquer England 36-6. CMS senior Matthew Cook has intercepted six passes the fall and returned them for 345 yards and two TDs, including two last week vs. England. CMS junior QB Sam Moore (944 passing yards, 10 TDs, 10 INTs) completed six of 11 passes last week for 176 yards and two TDs.

6-2A
CARLISLE (2) at Clarendon: Carlisle has rebounded well from its 50-14 loss to Des Arc by whipping Marvell and Marianna the past two weeks by a combined 122-22. Clarendon mauled Marianna 52-14 last week when sophomore Quincey McAdoo amassed 131 all-purpose yards, a TD and nine tackles. Dual-threat sophomore QB Kaleb Williams ran for 67 yards and passed for 47 yards. Junior LB Edgar Herrera logged a team-high 10 tackles.
EARLE (12) at Hazen: It's homecoming at No. 10 Hazen, where two seniors were dismissed from the team over the past two weeks. Hazen trailed Clarendon 14-12 in the third quarter last Friday but rallied for a 26-14 road win. Hazen freshman QB Luke King completed six timely passes out of 10 attempts for 64 yards. The Hornets rushed for 281 yards on 40 carries. No. 4 Earle counters with senior LB Steve Smith (tackle leader), who returned an interception and a fumble for TDs last week in a 76-6 win over Marvell. Earle senior RB Carim Washington and junior RB Devin Johnson rushed for more than 100 yards.
Marianna at DES ARC (42): Heavily favored Des Arc, idle last week, looks to avoid the sluggish start it experienced Week 3 vs. underdog Marvell. To date, No. 6 Des Arc has outscored 6-2A opponents 132-22. Two weeks ago, Des Arc ran roughshod over Hazen for 353 yards in a 38-8 win. 
MARVELL is open.

7-2A
Mount Ida at DIERKS (28): Six different Outlaws combined to rush for 504 yards last week in Dierks' 49-0 win over Lafayette County. Dierks held LC to 37 yards with junior Austin Hanson registering a team-high 12 tackles.
Mineral Springs at FOREMAN (12): Mineral Springs played hard last week for HC David Bennett and scored two TDs late in the fourth quarter but lost 42-41 to visiting Murfreesboro. No. 3 Foreman blanked Mount Ida 40-0 for its fifth shutout of 2019. The Gators allow just 4.9 ppg. A year ago, Mineral Springs stunned Foreman 14-13 with the  Gators losing five fumbles, and Mineral Springs then-sophomore end Jackson McCauley blocking a Foreman field goal attempt with 28 seconds left.
GURDON (34) at Lafayette County: No. 7 Gurdon has deployed its trademark defense since giving up 41 points to Class 3A Fouke in the opener. Gurdon has since allowed 9 ppg with junior Armando Harper recording a team-high 49 tackles. Five other Go-Devils have topped 20 stops. Week 10 showdown vs. Foreman could decide the league title.
MURFREESBORO (13) at Spring Hill: Murfreesboro receives a forfeit from Spring Hill, which forfeited last week to Gurdon and will forfeit the remainder of its games.

8-2A
Fordyce at JUNCTION CITY (2): See Game of the Week.
Bearden at HAMPTON (15): A Hampton victory likely secures the fourth playoff seed for the Bulldogs. Hampton already owns a 38-22 win over Strong, which like Bearden, is winless in league play. Hampton junior Jamarion Strong provided Hampton's highlights last week in a 48-13 loss to Class 3A No. 2 Rison with four kickoff returns for 122 yards, including an 82-yard TD.
DOLLARWAY (9) at Parkers Chapel: Class 3A No. 21 Dollarway visits PC on homecoming night. PC eyes a Top 3 finish in the 8-2A and a first-round playoff game at home. PC senior QB Caleb Jacobs (304 yards per game) ran for two TDs and passed for 247 yards and two TDs last week in a 72-29 loss to No. 2 Fordyce. PC junior Trace Shoup amassed 142 receiving yards and caught both TDs.
STRONG (13) at Beekman (LA) Charter: Strong senior Derrion Davis rushed for 208 of his 254 yards in the first half of a 84-34 win at J.C. Westside. Strong led 40-26 at halftime. Strong junior Caleb Chambers intercepted three passes, returning one 40 yards for a TD. Junior QB Emauri Newton completed four of seven passes for 31 yards, including a 14-yard TD toss to Chambers.