Class 4A Week 8 Rankings, Notes & Picks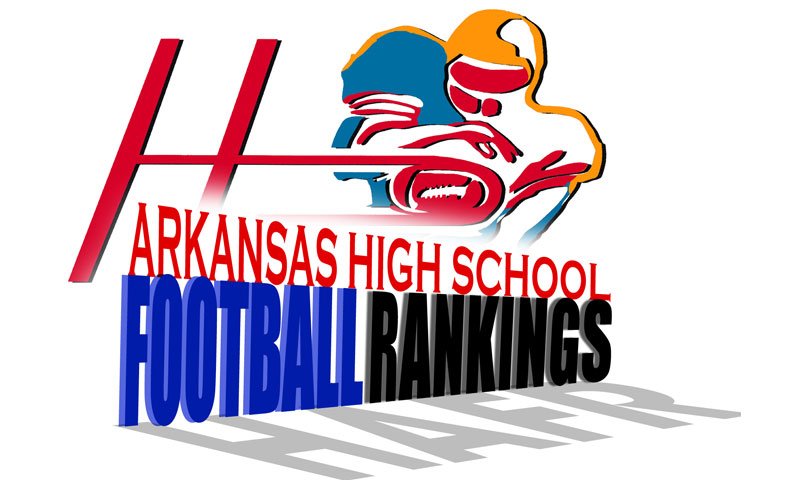 Hootens.com Rankings
Class 4A, Week 8, 2019
Copyright Hooten Publishing, Inc. 

1. Arkadelphia (6-1)
2. Shiloh Christian (7-0)
3. Joe T. Robinson (6-1)
4. Nashville (6-1)
5. Ozark (6-1)
6. Warren (6-1)
7. Crossett (4-3)
8. Dardanelle (6-1)
9. Pea Ridge (4-3)
10. Bauxite (6-1)
11. Riverview (6-1)
12. Mena (5-2)
13. Southside Batesville (5-2)
14. Hamburg (5-2)
15. Helena (5-2)
16. DeWitt (4-3)
17. Star City (4-3)
18. Gosnell (4-3)
19. Rivercrest (5-2)
20. Jonesboro Westside (5-2)
21. Elkins (5-2)
22. Pocahontas (4-3)
23. Mills (3-4)
24. Lonoke (3-4)
25. Prairie Grove (2-5)
26. Pottsville (4-3)
27. Gentry (4-3)
28. Malvern (3-4)
29. CAC (3-4)
30. H. Grove Haskell (3-4)
31. Trumann (3-4)
32. Gravette (3-4)
33. Heber Springs (2-5)
34. Lincoln (5-2)
35. Brookland (2-5)
36. Bald Knob (2-5)
37. Ashdown (2-5)
38. Monticello (1-6)
39. Stuttgart (0-7)
40. Waldron (1-6)
41. Berryville (2-5)
42. Dumas (1-6)
43. Highland (1-6)
44. Fountain Lake (1-6)
45. Subiaco Academy (2-5)
46. Green Forest (2-5)
47. Cave City (0-7)
48. Dover (0-7)

HOOTENS.COM GAME OF THE WEEK
No. 10 Bauxite at No. 3 Joe T. Robinson
Bauxite beat Joe T. Robinson 41-35 last year in a driving rainstorm, handing the Senators their first 7-4A loss in more than two years. "I'm sure they are talking about it all week," Miner coach Daryl Patton says, "I know I would."
Joe T. Robinson rebounded last year to secure the No. 1 playoff seed and could get that privilege again this fall. They manhandled Malvern 46-7 a week ago, when the Senators tallied almost 500 yards. Junior quarterback Buddy Gaston completed 10 of 14 passes for 191 yards and a pair of touchdowns at Malvern and he ran for two scores. Gaston has passed for 1,412 yards and 18 TDs this year, while junior Hunter Smith has rushed for 1,018 yards and 10 TDs. "We haven't seen anything like Smith this year," Patton says. "He's elusive." Senior P.J. Hall has 26 receptions for 527 yards and nine TDs this year. Senior linebacker J.T. Towers has 48 tackles this year, including 38 in the past three games. 
Bauxite runs the ball well this year behind senior linemen Jackson Shelton (6-3, 300) and Nate Sky-Eagle (6-1, 305) and junior Gavin Roe (6-3, 310). Junior QB Conner Stacy has completed 65 of 116 passes for 882 yards and five TDs, and he's the top rusher with 76 carries for 552 yards and 10 TDs. The youthful Miners start seven juniors on defense and three sophomores play on each side of the ball.

LAST WEEK
Hootens.com correctly predicted 22 of 24 games last week (92 percent), nailing the point spread of Warren by six over DeWitt. Hootens.com has picked 182 of 226 games (81 percent) this season.

WEEK 8 PREDICTIONS (favored team in ALL CAPS)
1-4A
PEA RIDGE (26) at Berryville: Pea Ridge has beaten Berryville nine of the past 15 years. Pea Ridge running roughshod over the 1-4A this fall. The Blackhawks tallied 424 yards on the ground in last week's 57-28 win over Prairie Grove, rolling up 306 yards in the first half. Senior QB Tate Busey has passed for 663 yards and seven TDs this year, and has 111 carries for 891 yards and 13 TDs. Berryville led Gravette 7-0 in the first quarter a week ago when Tristan Updegraff sprinted 55 yards for a TD, but the Bobcats failed to score against in a 22-point setback.
Gentry at PRAIRIE GROVE (8): Gentry trailed Shiloh Christian by three points at halftime last week, but in the second half failed to convert on fourth down inside the 20-yard line and lost a fumble near the goal line. Senior QB Brandon Atwood passed for 315 yards against Shiloh, connecting with senior receiver Beau Tomblin for 157 yards. Prairie Grove trailed Pea Ridge 35-14 at halftime last week before losing by 29 points. Senior Keiandre Hobbs caught a 33-yard TD pass and ran 9 yards for another score against Pea Ridge.
Lincoln at SHILOH CHRISTIAN (28): Shiloh Christian has won 11 straight over Lincoln, including 38-13 a year ago. Shiloh Christian led Gentry 21-18 at halftime last week before pulling away 49-18. The Saints forced five turnovers and ran for more than 300 yards. Lincoln held Green Forest to 31 yards rushing in last week's 41-14 victory.
GRAVETTE (12) at Green Forest: Gravette (1-9 in 2018) likely qualifies for the playoffs with two more wins. The Lions held Berryville scoreless in the final three quarters last week for a 29-7 triumph. Junior Jimmy Duncan tallied a season-high 14 tackles, while linebacker Trenton Durham had 12 tackles and 2.5 sacks. Green Forest junior Reiley Gordon caught four passes for 63 yards and a TD last week against Lincoln.  Gordon averages 13 yards per catch this year and paces the Tiger rushing attack with 52 carries for 216 yards and four TDs.

2-4A
SOUTHSIDE BATESVILLE (2) at Heber Springs: Heber Springs has won 12 of its 13 meetings over Southside Batesville, including 21-0 a year ago and 17-14 in 2017 that prevented the Southerners from an outright league title. Southside Batesville headed to the playoffs for the fourth straight year after last week's 21-19 win at CAC. The Southerners stuffed CAC's two-point attempt in the final minute. Senior QB Braden Jones has passed for 496 yards and three TDs this year, and rushed for 537 yards and eight TDs. Heber Springs still has a shot at the playoffs after last week's 20-point win at Bald knob. Senior Landon Johnson tallied two TDs (one receiving, one rushing) at Bald Knob, while senior QB Adam Martin passed for 185 yards and two TDs and ran eight times for 63 yards. The D gave up 278 yards.
CAC at LONOKE (3): Both teams had championship aspirations earlier this season, but the loser might struggle to make the playoffs. CAC has won eight of the past 11 in the series. Lonoke passed for just 26 yards in last week's five-point loss at Mills. CAC led Southside Batesville 13-7 at halftime last week, scored a late TD but failed on a two-point conversion in the final minute for a 21-19 setback. 
Stuttgart at MILLS (1): Winless Stuttgart, with five losses this year by three points or less, will make the playoffs if it wins out. The Ricebirds gave up 447 yards (443 rushing) in last week's three-point loss to league-leading Riverview. Senior safety and team leader Mitchell Stovesand missed the game with a concussion. Mills thinking playoffs under first-year coach Cortez Lee wins over CAC and Lonoke. The Comets led Lonoke 14-3 at halftime last week and held on for a 14-9 decision. The balanced Comets ran for 165 yards and passed for 105 yards.
Bald Knob at RIVERVIEW (9): A rivalry game which Bald Knob has won four of the past seven years. Bulldog senior QB Johnson Capps completed seven of 13 passes for 40 yards last week against Heber Pprings, and he ran eight times for 70 yards. Riverview just two wins away from at least sharing its first conference title in school history. The Raiders ran for 434 yards in last week's 41-38 win over Stuttgart. With the Ricebirds keying on QB Logan Miller (ran for 117 yards and two TDs) and slotback Ashton Williams (117 yards, two TDs), senior Drake Ivy had a career high 19 carries for 153 yards and two TDs and caught two passes.

3-4A
Cave City at BROOKLAND (7): Cave City has beaten Brookland five of the past seven years (Brookland won 12-6 last season). Cave City is winless this fall but the Cavemen led Jonesboro Westside 19-7 at halftime last week before losing 43-26. Sophomore Eli Taylor ran 10 times for 120 yards and a TD. Brookland has dropped three straight games since upending Pocahontas Week 4. Senior end Brayden Haff had eight tackles in last week's 13-point loss at Gosnell, while junior end Bentley Hart racked up seven stops, including three TFL.
POCAHONTAS (5) at Trumann: Pocahontas led Rivercrest 14-0 in the first half last week against Rivercrest, but lost 21-14 in overtime. Senior Derrick Kimble has 87 carries for 440 yards and eight TDs this year, while junior QB Dawson Chester has rushed for 525 yards and passed for 1,318 yards. Trumann beat Highland 20-12 a week ago, stopping the Rebels inside the 10 yard line in the final two minutes. The Wildcats ran for 213 yards.
Highland at GOSNELL (15): League-leading Gosnell needs two more wins for its fifth conference title in seven years. Improved Highland trailed Trumann by eight points late in the fourth quarter last week but could score in the final minute. Sophomore QB Wyatt Goodman passed for 83 yards against Trumann, hitting senior David Jones on a 15-yard TD pass. Goodman has passed for 653 yards and nine TDs with two interceptions this year.
Jonesboro Westside at RIVERCREST (8): Rivercrest remembers last year's 20-13 setback at Jonesboro Westside, its first ever loss to the Warriors. The winner this year is likely the No. 2 playoff seed. Rivercrest riding high after last week's 21-14 overtime win over Pocahontas when junior QB Kam Turner ran for the winning TD. Turner threw a pair of TD passes, including one to it with six minutes left. Jonesboro Westside rushes for 287 yards weekly. Junior Tyler Ray has 11 TDs, while senior Logan McPherson has 99 carries for 904 yards and eight TDs.

4-4A
MENA (18) at Waldron: Mena has beaten Waldron 17 of the past 18 years. Mena mauled Elkins 42-6 last week after jumping to a 14-0 halftime. Senior QB Zane Stephens passed for 143 yards and three TDs and ran for another TD. Senior safety Marc Wilson has a team-high 63 tackles this year, including six stops and a fumble recovery at Elkins. Waldron stomped Subiaco Academy last week 42-18 for its first win over the year. Junior QB Braden Williams passed for 244 yards and three TDs and ran for another TD.
Elkins at POTTSVILLE (10): Key game for playoff positioning. Elkins failed to score in the first half of last week's 36-point setback to Mena, and Pottsville pounded Mena 34-22 in Week 5. The Apaches trailed Ozark 21-14 at halftime last week but failed to score in the second half of the 21-point setback. Elkins junior QB Kain Johnson has passed for 1,340 yards and 17 TDs this year, and rushed for 332 yards and 10 TDs.
DARDANELLE (28) at Subiaco Academy: Dardanelle dumped Dover 58-0 a week ago and the Sand Lizards host Mena Week 10 for a home playoff game. Senior Blake Chambers ran seven times for 153 yards and four TDs against Dover, and the D held Dover to minus-14 yards. Chambers has 1,026 yards this fall. Subiaco Academy senior QB Hayden Frederick passed for 135 yards and a pair of TDs last week against Waldron. 
OZARK (42) at Dover: Ozark battling injuries (five of them season ending) but still winning. Junior QB Harper Faulkenberry ran for a pair of TDs in last week's 35-14 win over Pottsville. Faulkenberry has rushed for 895 yards and 15 TDs this year. Dover had minus-14 yards in last week's 58-0 loss to Dardanelle. 

7-4A
Bauxite at JOE T. ROBINSON (11): Hootens.com Class 4A Game of the Week.
MALVERN (10) at Fountain Lake: Malvern coach J.D. Plumlee returns to Fountain Lake, where he led posted a 10-11 record the past two years, taking the 2018 Cobras to the playoffs. His Leopards are poised for the playoffs this year after going winless in 2018. Freshman QB Cedric Simmons has rushed for 597 yards and 10 TDs this year, while junior Keith Caradine has 502 yards and three TDs.
Ashdown at ARKADELPHIA (21): Arkadelphia's first-team D hasn't allowed a point the past two weeks. Senior QB/safety Cannon Turner has missed the past two games while rehabbing a shoulder injury. The Badgers led H.G. Haskell 6-0 at halftime last week before easing to a 19-0 win (highlights HERE) while holding the Cardinals to 156 yards. Junior QB Braeden Thomas completed six of eight passes for 42 yards and ran 20 times for 170 yards and a TD at Haskell. Ashdown has lost the past two weeks to Malvern and Nashville by a combined 100-34. 
Harmony Grove Haskell at NASHVILLE (14): H.G. Haskell upset Nashville 26-21 last year in a monsoon. But Nashville seems focused after last week's mercy-rule win over Ashdown, when the Scrappers led 34-7 at halftime and won 55-20. Senior receiver Ty Basiliere has 18 catches for a team-best 411 yards and five TDs this fall. H.G. Haskell tries to keep the ball away from opponents (rush for 188 yards weekly).

8-4A
STAR CITY (8) at Helena: Star City senior Adam Fonville ran for three TDs in last week's 41-0 win over Dumas, the Bulldogs' first shutout in 103 weeks (shutout Dollarway Week 8, 2017). Helena has lost two straight games after a 5-0 start. Senior John Oliver has rushed for more than 400 yards and eight TDs this year.
Hamburg at CROSSETT (4): The Ashley County Bowl means a conference title this year. Hamburg has won 12 of the past 18 over Crossett, but the Lions have six starters out with season ending injuries. Hamburg senior QB Brett Rice has passed for more than 900 yards and nine TDs this fall. He threw an 87-yard TD pass to Nick Bridges in last week's 24-6 win over Helena. The Lions have held three opponents to a TD or less. Crossett has won four straight games, including 40-6 at Monticello last week. Senior running back Willie Taylor has emerged during the streak. He ran 12 times for 142 yards and three TDs at Monticello. "It's their strength and size against our speed," Crossett coach Sonny Nason says.
Dumas at DEWITT (7): Dumas has won 12 of the past 13 in the series. DeWitt coach Mark Courtney coached at Dumas for nine years, going 49-51-1. Dumas has lost its four league games this year by a combined 138-42. DeWitt senior QB Seth Courtney passed for 344 yards in last week's 36-30 loss at Warren, with senior Johnta Wright catching 20 passes for 223 yards. DeWitt sophomore Dax Cortney will likely misses the rest of the year with a quad injury. 
Monticello at WARREN (15): The teams play for bragging rights a 146-pound Saline River Shootout trophy. Warren coach Bo Hembree has a record of 17-1-1 against Monticello. Warren gave up 481 yards and 30 points in last week's six-point triumph over DeWitt, when Vincent Steppes sprinted 45 yards for the winning TD in the fourth quarter. Steppes had 27 carries for 278 yards and three TDs and caught a TD pass.