Class 5A Week 8 Rankings, Notes & Picks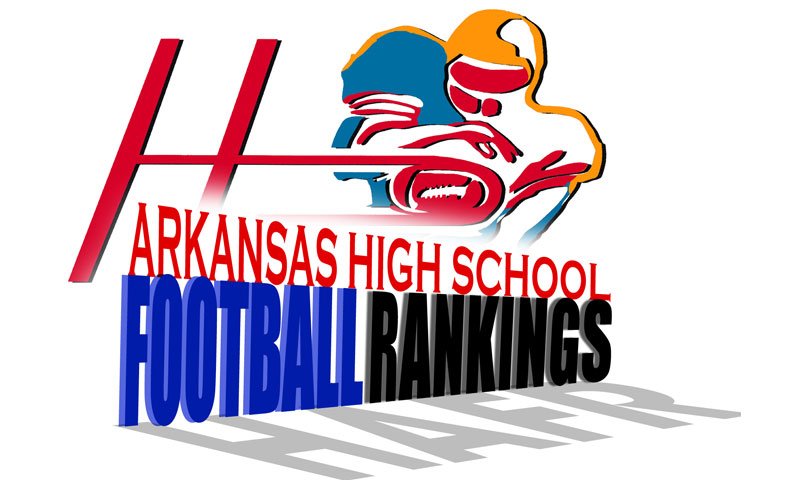 Hootens.com Rankings
Class 5A, Week 8, 2019
Copyright Hooten Publishing, Inc. 

1. LR Christian (7-0)
2. Harrison (7-0)
3. Pulaski Academy (5-2)
4. Valley View (7-0)
5. Wynne (5-2)
6. Maumelle (6-1)
7. HS Lakeside (5-2)
8. Morrilton (4-3)
9. Greenbrier (4-3)
10. Texarkana (4-2)
11. White Hall (5-2)
12. Hot Springs (4-3)
13. Vilonia (4-3)
14. Watson Chapel (4-3)
15. LR Parkview (3-4)
16. LR McClellan (4-3)
17. Magnolia (4-3)
18. Camden Fairview (3-4)
19. Farmington (5-2)
20. Blytheville (2-5)
21. Batesville (2-5)
22. Nettleton (5-2)
23. Forrest City (5-2)
24. Alma (2-6)
25. Clarksville (4-3)
26. Greene County Tech (1-6)
27. Beebe (1-6)
28. Hope (1-6)
29. Paragould (0-7)
30. Huntsville (1-6)
31. De Queen (0-7)
32. LR Fair (0-7)

HOOTENS.COM GAME OF THE WEEK
No. 10 Texarkana at No. 12 Hot Springs
Texarkana likely earns at least a share of the league title with a win. The Razorbacks play Hope and De Queen in the final two games, and those teams are a combined 1-13 record. They won at LR McClellan 30-28 a week ago, throwing the winning TD with 45.6 seconds left. Senior quarterback Braylon Bishop and running back Torie Blair "are as good as anyone," Hot Springs coach Darrell Burnett says. Bishop threw a pair of TD passes while Blair ran for 120 yards and a pair of TDs. Trailing 20-9 in the fourth quarter, Bishop threw a sneaky 62-yard TD pass to sophomore speedster Daequan Williams, it was Williams' first and only varsity play of the year.
Hot Springs rides a strong defense. The Trojans have allowed less than 200 yards in five games this year, and surrendered just 220 yards in last week's 21-18 setback at Magnolia. Senior Malik Brewer has scored seven TDs the past four games. Sophomore QB Isaac Shelor passed fore more than 300 yards at Magnolia, but threw two interceptions. "We've got to match Texarkana's intensity," Burnett says. "We still control our destiny. We can win the conference title or get left out of the playoffs."

LAST WEEK
Hootens.com correctly predicted 13 of 16 games (81 percent) last week. Hootens.com has picked 122 of 150 games (81 percent) this season.

WEEK 8 PREDICTIONS (favored team in ALL CAPS)
5A CENTRAL
PULASKI ACADEMY (21) at LR Parkview: PA has won all three of its meetings with LR Parkview, including 43-14 last year and 43-40 in 2017. Fourteen Bruins ran the ball and four threw passes in last week's 67-7 win over Beebe, when PA pulled all of its starters by the second quarter. LR Parkview likely misses the playoffs after consecutive losses. Junior QB Landon Rogers passed for 218 yards and three TDs and 12 times for 63 yards and a TD in last week's 56-28 loss to LR Christian.
WATSON CHAPEL (45) at LR Fair: Watson Chapel led White Hall 19-7 at halftime and 19-14 in the fourth quarter last week, but didn't score again in 28-19 setback. LR Fair has lost 16 straight games. Watson Chapel QB Devin Curry has passed for 700 yards and eight TDs this year and rushed for 601 yards and 11 TDs.
White Hall at LR CHRISTIAN (25): White Hall has won three straight conference games by a combined 133-36, including last week's come-from-behind 28-19 victory at Watson Chapel (trailed by 12 points at halftime). LR Christian had 414 yards in last week's 56-28 win over LR Parkview, and the Warriors led at halftime 49-14. Senior QB Akeem Gilmore passed for 298 yards and six TDs, ran eight times for 74 yards and caught a 34-yard TD pass against Parkview.
MAUMELLE (24) at Beebe: Maumelle will make the playoffs with two wins in the next three games. Hornet junior QB Jonathan Reyes threw six TD passes in last week's 56-0 win over LR Fair, with senior Zyon Slade tallying 156 yards and three TDs. Beebe QB Chad Longing threw a 25-yard TD pass last week at PA.

5A EAST
BATESVILLE (1) at Blytheville: Batesville has won three of the past four over Blytheville, including 41-6 a year ago. Converted DT Ethan Ridgel (6-0, 195) paces the Pioneer rushing attack with more than 900 yards this fall. The Pioneers have three sets of twins on the team. Blytheville senior Jermel Woods has 178 carries for 1,140 yards and 10 TDs.
Paragould at WYNNE (20): Paragould usually plays tough against the Yellowjackets, winning twice in the past 12 years. Paragould junior Nick Ashby has 119 carries this year for 737 yards and seven TDs. Wynne beat Batesville 21-7 last week, racking up 349 yards, including 260 on the ground. 
Nettleton at FORREST CITY (2): Nettleton still regrouping from injuries and suspensions. The depleted Raiders held off GCT by three points a week ago when sophomore Cameron Scarlett ran 20 times for 103 yards and two TDs.
VALLEY VIEW (17) at Greene County Tech: This one is usually a shootout, but both teams are relying on defense this fall. Valley View has won all five of its games over GCT by an average of 46-25. GCT forced three turnovers in last week's 16-13 loss at Nettleton. Valley View junior QB Zak Stracener threw three TD passes in last wee's 21-point win over Blytheville.

5A SOUTH
TEXARKANA (4) at Hot Springs: Hootens.com Class 5A Game of the Week.
Magnolia at LR MCCLELLAN (2): LR McClellan likely needs to win two games (maybe all three) to reach the playoffs. The Lions led Texarkana 20-9 at halftime last week and 28-24 in the final minutes last week before allowing a late TD. Magnolia has consecutive wins over Camden Fairview and Hot Springs by a combined four points. Senior QB Braeylen Beasley has thrown four TD passes and averages 4.8 yards per carry. Magnolia may make the playoffs and will be favored in its final two games against De Queen and Hope.
HS LAKESIDE (31) at De Queen: HS Lakeside has won seven straight over De Queen, including 42-7 a year ago. The Rams get big plays from junior Isaac Echols (77 carries, 432 yards and six TDs and senior Dealond Lewis (99 carries, 497 yards and five TDs). De Queen has lost 13 straight games since beating Hope 21-14 in overtime Week 4, 2018. 
CAMDEN FAIRVIEW (28) at Hope: Camden Fairview's two league losses by one point each (27-26 to Texarkana and 7-6 to Magnolia) may keep the Cardinals for the league championship. Senior Erik Hall has rushed for 977 yards and four TDs this fall. Hope has lost 36 of its past 38 games.

5A WEST
Huntsville at FARMINGTON (24): Farmington's playoff chances were dashed the past two weeks with losses to Greenbrier (24-17) and Vilonia (49-21). Senior QB Marqwaveon Watson has passed for 618 yards and eight TDs and rushed for 271 yards and a pair of TDs this year. Huntsville has lost 11 straight conference games since beating Berryville 26-7 Week 10, 2017 when the Eagles were in Class 4A.
Alma at HARRISON (17): Alma has won 14 of the 20 in the series, but Harrison hammered the Airedales 31-0 a year ago. Alma has won consecutive games this year after starting the season 0-5. Senior QB Landon Blair ran 15 times for 71 yards and a pair of TDs in last week's 21-14 win at Clarksville. Undefeated Harrison has won 13 straight league games since losing to Alma 35-34 in 2017. The Goblin D held Greenbrier to 179 yards and one TD a week ago. Senior Gabe Huskey has rushed for 912 yards and 17 TDs.
MORRILTON (3) at Vilonia: This is for playoff positioning. Vilonia gets big plays from senior RB Draven Smith and QB Austin Meyers. Smith has rushed for 1,383 yards and 19 TDs this year, while Smith has passed for 947 yards and seven TDs. Morrilton mercy-ruled Huntsville 45-6 last week. Senior QB Jacolby Criswell completed 21 of 31 passes for 308 yards and five TDs in the first half. Criswell has passed for 1,486 yards and 12 TDs and rushed for 550 yards and eight TDs this year. 
Clarksville at GREENBRIER (14): The battle of the Panthers. Clarksville beat Greenbrier in 2013 but has just two league wins since, both over Huntsville. Clarksville, which has two conference losses by a TD or less, managed 220 yards in last week's seven-point loss to Alma. Greenbrier failed to score in the first half of last week's 24-7 setback at Harrison. Greenbrier gave up 243 yards rushing last week at Harrison.