HOGS bask in national limelight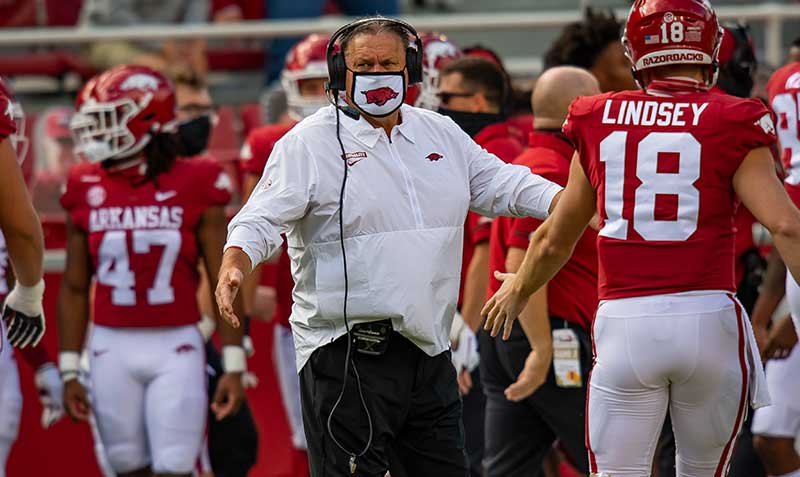 FAYETTEVILLE - The Arkansas Razorbacks, who appeared on ESPN Sports Center in recent years as Washington Generals-type stooges, suddenly are national darlings.
Sports Center's No. 1 highlight Saturday night was Arkansas sophomore receiver Treylon Burks' one-handed stay-in-bounds touchdown catch during the 33-21 victory over Ole Miss. First-year Arkansas head coach Sam Pittman appeared Tuesday night on Sports Center hosted by ESPN'S Scott Van Pelt. 
On Monday, Arkansas senior middle linebacker Grant Morgan was named Player of the Week by two national postseason award groups, and three freshmen Hogs were named to a Freshman All-American Watch Lists.
WONDERING WHY?
Asked on Wednesday's SEC teleconference his thoughts when told Van Pelt wanted to interview him, Arkansas' homespun head coach replied, "Well, the first thing I thought was, 'Why?' Then the next thing I thought was the guy is such a good interviewer, and he made me very comfortable. I was honored to be on there and represent the Razorbacks."
THE WHY EXPLAINED
The "why?" is no mystery. Arkansas, under two fired coaches and one two-games interim coach, had gone 1-23 in the SEC since 2017 at 1-7, 0-8, 0-8.
This year, in an entirely SEC schedule, they are 2-2 after beating then 16th-ranked Mississippi State and Ole Miss las week by intercepting six passes.
As Van Pelt implied, the Hogs should be 3-1 given the egregiously bad officiating call depriving Arkansas recovery of an Auburn fumble that enabled Auburn to kick a game-winning field goal.
PUBLICITY PLUSSES
With another victory following that nationally perceived unjust loss, Van Pelt and other national sportscasters and sportswriters are talking and writing about the Hogs.
"I just think that it's good for the program," Pittman said Wednesday. "Obviously you have to watch it because if you start believing what everybody says about you that's good, then you can lose your focus. But I think it's great for recruiting, and we're proud to be able to use it toward recruiting."
HOME TO STAY
During the Van Pelt interview, Pittman, who grew up a Hog fan in nearby Grove, Okla. and coached the Razorbacks offensive line from 2013-2015, reiterated what he said upon being hired in December of 2019.
"You know this statement's probably gonna cost me a little bit money one of these days," Pittman told Van Pelt. "but this is it for me. I'm not interested in any other program. Arkansas is truly the greatest program in America to me. I grew up 75 miles from here. I have a lake home on Lake Hamilton in Hot Springs. My wife's from (relatively nearby) Pittsburg, Kansas, and we're home and this is where we want to be and this will be my last job."
NEED TO HEAL
The Razorbacks' momentum may seem interrupted by this week's open date before the Oct. 31 game at nationally No. 7 Texas A&M. Pittman disagrees. With several Razorbacks either out with injuries or playing despite injuries, this marks a time to heal, he said.
"Well, we certainly needed this open date," Pittman said. "Our team's pretty banged up, pretty beat up, so we're trying to get some of our young kids some reps. However, a lot of our young kids are playing for us. We have to get healthy because we have six games left, and Texas A&M is an outstanding football team."
Pittman said the Hogs' resilience has not surprised him despite their past three years nor have the injuries given the general size of his team vs. its SEC opposition.
"I thought we had a good group of kids," Pittman said. "And I thought that they would jell together as a family. I did believe that. You know we're not a big team, so I knew that we could have problems injury-wise because we're not near as big as some of the other teams we're playing. But I liked the attitude of our kids, the work ethic of our kids since Day 1 when we came in here."
The Razorbacks practice through Thursday this week then take their last weekend off before playing six consecutive SEC games,  starting Halloween with the Aggies in College Station, Texas.