Class 3A Week 9 Rankings, Notes & Picks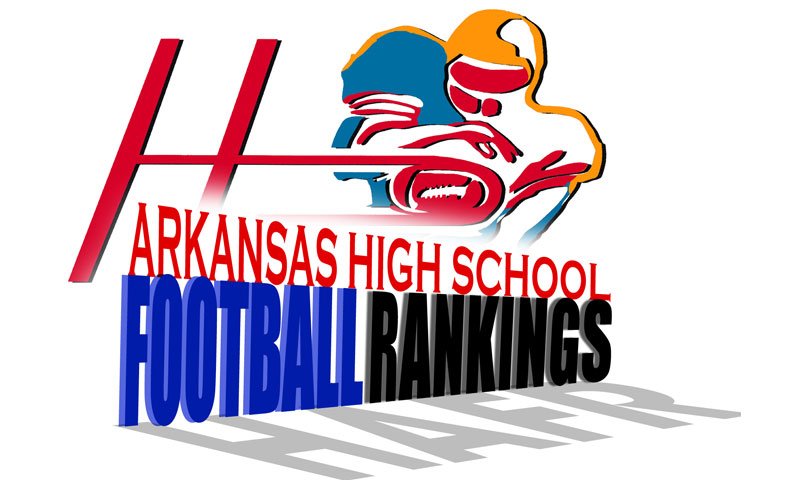 Hootens.com Rankings
Class 3A, Week 9, 2018
Copyright Hooten Publishing, Inc.
1. Booneville (8-0)
2. Smackover (7-1)
3. Clinton (8-0)
4. Newport (7-1)
5. Prescott (7-1)
6. Glen Rose (7-1)
7. Osceola (7-1)
8. Mayflower (7-1)
9. Rison (8-0)
10. C. Harmony Grove (7-1)
11. Harding Academy (6-2)
12. Lamar (8-0)
13. Danville (5-3)
14. Walnut Ridge (6-2)
15. McGehee (5-3)
16. Atkins (6-2)
17. Mansfield (6-2) 
18. Melbourne (5-3) 
19. Piggott (5-3)
20. Hoxie (4-4)
21. Greenland (4-4)
22. Barton (4-3)
23. Centerpoint (5-3)
24. Charleston (4-4)
25. Harrisburg (3-5)
26. Baptist Prep (3-4-1)
27. Dollarway (3-5)
28. Jessieville (4-4) 
29. Lake Village (4-4)
30. Cedarville (3-5)
31. Horatio (3-5)
32. Fouke (2-6)
33. Palestine-Wheatley (3-4) 
34. Mountain View (2-5) 
35. Perryville (2-6)
36. Manila (2-6)
37. Yellville-Summit (2-6) 
38. West Fork (1-7)
39. Bismarck (1-7)
40. Drew Central (0-7)
41. Marshall (1-7)
42. Genoa Central (1-7)
43. Corning (0-8)
44. Paris (0-8)
45. Two Rivers (0-8)
46. Cedar Ridge (1-4)
47. Rose Bud (0-3)

HOOTENS.COM GAME OF THE WEEK
No. 1 Booneville at No. 12 Lamar
8-0 teams settle the 1-3A league title and home-field advantage to the quarterfinals.
Lamar is 8-0 for the first time under Coach Josh Jones and the Warriors have not won a league title since 2008. Lamar led Mansfield 7-0 last week at halftime in a 15-8 victory, when the Warriors rushed for 254 yards and two TDs. Junior quarterback Ike Pelts runs the offense efficiently, completing 57 percent of his passes for 669 yards and nine touchdowns with just three interceptions. Pelts has rushed for 325 yards and eight scores. Junior running back Jacob Parmenter darted for 135 yards last week, highlighted by a 74-yard rush. Senior fullback Jonathan Mayes gets the tough yards. Senior linebacker Bryr Bruton (44 tackles) chases down ball-carriers.
Booneville allowed rival Charleston just 61 total yards last week in a 42-3 victory, including minus-9 yards rushing. Senior linemen Noah Reyes and Marcus Nichols anchor a defense that allows 12.8 points per game. Senior QB Brandon Ulmer hurt his knee in Booneville's Week 0 victory over Class 5A Clarksville and has not played since. Junior QB Evan Schlinker triggers the offense and distributes the football. Senior fullback Carson Ray punishes would-be tacklers with bruising runs. Speed senior slotback Andrew Robertson ran for 129 yards and two TDs and forced a fumble against Charleston.

TV LAND
Hooten's Arkansas Football airs 10:30 a.m. Saturdays on KATV (ABC Little Rock) Channel 7, previewing the Razorbacks and their opponent. Baptist Prep senior Joseph Young will be featured as the Arkansas Air Guard Scholar Athlete of the Week.

MISSING IN ACTION
6-3A member Episcopal plays 8-man club football this fall, while 2-3A schools Cedar Ridge and Rose Bud finish 2018 playing junior varsity schedules.

LAST WEEK
Hootens.com correctly predicted 22 of 23 winners (96 percent) of games involving Class 3A schools. Hootens.com has correctly picked 200 of 230 winners (87 percent) of games involving Class 3A schools for the season.

WEEK 9 PREDICTIONS (favored team in CAPS followed by point spread)
1-3A
BOONEVILLE (6) at Lamar: See Hootens.com Game of the Week. 
MANSFIELD (10) at Cedarville: Cedarville, in a three-way tie (with Greenland and Charleston) for fourth place in the 1-3A, likely needs to win out to make the playoffs. Greenland and Charleston own the tiebreaker over Cedarville. Mansfield must respond after consecutive losses, including a eight-point defeat last week at home. The Red Tigers have totaled 13 points over the past two weeks and last Friday rushed for just 55 yards (2.8 YPC) against Lamar. 
West Fork at CHARLESTON (16): West Fork snapped a 23-game losing streak with last week's 14-13 victory over Paris. It was the first win for first-year coach Justin Smith. Charleston has alternated wins and losses this season, losing last week lost by 39 points at Booneville. Charleston forced five Booneville fumbles but recovered only two. 
GREENLAND (19) at Paris: Paris looking to avoid its first winless season since 2003. Greenland, one of three teams tied for the final two playoff spots, owns the tiebreaker over Charleston and Cedarville. Greenland goes behind exciting junior Zaylen Bryant and senior Hayden Stout (158 rushing yards and two TDs vs. Cedarville). Sophomore Gabe Wilson paces Greenland's defense with 61 tackles. 

2-3A
Marshall at CLINTON (38): Clinton clinches no worse than a share of its third straight league title, and the No. 1 playoff seed with a win. The Yellow Jackets stung Class 2A Strong 36-0 last week, allowing just 97 yards. Marshall surrendered 378 yards and nine tackles for loss in last week's 41-8 defeat to Harding Academy. Marshall, playing hard under first-year coach Joseph Morse, can still qualify for the playoffs for the first time since 2010.
MOUNTAIN VIEW (7) at Yellville-Summit: Mountain View lost last week at Melbourne but currently holds a No. 4 playoff seed. Senior QB Gunner Willis and tight end Sam Treat pace a Mountain View offense scoring 30 points per game in league play. Yellville likely needs to win its final two games to make a second straight playoff appearance. Yellville plays next week at Marshall. 
HARDING ACADEMY and MELBOURNE are open.

3-3A
Corning at OSCEOLA (42): Corning rides the state's longest losing streak (40 games) and the Bobcats have not scored in eight consecutive quarters. Osceola pounded Piggott 49-14 last week, and it may have been worse if not for 14 penalties for 114 yards. Five Seminoles scored TDs.
Harrisburg at HOXIE (7): Harrisburg needs a win to make the playoffs for the first time since 2011. The Hornets surrendered 302 rushing yards (5.5 yards per carry) last week in a 28-15 loss to Walnut Ridge. Hoxie clinches a playoff berth with a win. Hoxie mauled Manila 50-12 last week. Hoxie's offense is sparked by senior lefty QB Chandler Spradlin, a three-year starter. 
WALNUT RIDGE (17) at Manila: Walnut Ridge surges towards the No. 3 seed and a first-round home playoff game. The Bobcat defense recorded four sacks and forced two turnovers in last week's 13-point win at Harrisburg. Manila will miss the playoffs for the second straight season. The Lions score just 13.4 points per game in league play. 
NEWPORT (10) at Piggott: Piggott is in the playoffs for the third straight season, and it can finish anywhere from the No. 3 to the No. 5 playoff seed. Piggott led Osceola 14-13 at halftime last week but lost 49-14 defeat. Newport senior QB Cash Forrester has fired at least one TD pass in 14 straight games and multiple scoring strikes seven times over the past two seasons. Senior all-conference running back Joe Broadus played for the first time this season last week following an off-season knee injury. Newport has won seven straight games this year, but Piggott plays the Greyhounds well. Newport escaped Piggott 7-6 in 2016 and the Mohawks gutted the Greyhounds 51-12 a year ago. 

4-3A
Atkins at GLEN ROSE (14): Atkins has lost two straight by a combined 78-13 to Danville and Mayflower. The Red Devils committed four turnovers in last week's 52-6 loss to Mayflower. Glen Rose can clinch a share of the league title with a win and the championship outright with two more victories. Glen Rose rolled up a season high 416 yards in last week's 40-point win against Perryville.
BAPTIST PREP (24) at Two Rivers: Baptist Prep clinches its first playoff berth since 2015 with a win. Danville downed Baptist Prep 41-14 last week when four Baptist Prep starters missed the game. Senior Robert Lewis rushed for 43 yards and a TD against Danville. Baptist Prep lineman and senior class president Joseph Young will be featured as the Arkansas AIR Guard Scholar Athlete of the Week on Hooten's Arkansas Football TV show, 10:30 a.m. Saturday on KATV Channel 7. Two Rivers has not scored the past six games and misses the playoffs for the fifth straight season. The Gators have lost 34 straight games, the second-longest active streak in the state.
Jessieville at DANVILLE (10): Jessieville is tied with Baptist Prep for the conference's playoff spot, but Baptist Prep owns the tiebreaker and Jessieville must play No. 8-ranked Mayflower next week. Jessieville rolled up 301 yards in last weeks' 60-0 win over Two Rivers, its second-highest yardage production this year. The Lions also made 13 tackles for loss. Danville remains alive for the No. 2 playoff seed but the No. 3 seed seems more likely. The Little Johns allowed Baptist Prep just 150 yards and intercepted a pass. Senior running back Quentin Tolbert ran for three TDs and senior QB Preston Donnell fired three TD passes. 
Perryville at MAYFLOWER (27): Perryville misses the playoffs for the first time since 2015 but expects to return its leading passer (junior Reid Standridge), top four rushers and top four pass-catchers in 2019. Five of Perryville's top six tacklers are also juniors. Mayflower outscoring competition 135-6 during its three-game winning streak. Dynamic senior twins Keon and Deon Simmons make plays on offense and defense. Mayflower has improved drastically in the offensive line and defensively the past month. The Eagles could make another deep playoff run. 

5-3A
PRESCOTT (3) at C. Harmony Grove: Winner remains in the hunt for a share of the league title and moves into position for the No. 2 playoff seed. Harmony Grove, winners of seven straight games, downed Fouke 32-0 last week. Junior playmaker Xaylon Falls scored two TDs and Jeremie Edwards also scored. The Hornets allow just 6.8 points per week in conference action. Prescott (10 PPG against 5-3A) recorded its second shutout last week in a 49-point win at Horatio. Senior QB Ryan Johnson fired two TD passes and sophomore running back Alex George darted for three scores. Prescott has won two straight in the series, including 41-20 in 2017. 
Horatio at CENTERPOINT (4): Big game for playoff positioning. Horatio, which currently owns the No. 5 playoff seed, likely needs one more win to clinch a second straight playoff berth. Horatio's best wins came at Genoa Central (27-17) and at Bismarck (18-13). Centerpoint also owns wins over Genoa (14-0) and Bismarck (36-0) and the Knights own more team speed than Horatio.
Bismarck at SMACKOVER (29): Smackover forfeited its season-opening victory over Class 2A No. 1 Foreman, but has not lost a game on the field since the second round of last year's playoffs at Mayflower. Smackover clinches at least a share of the league title with a win this week or next week. The Buckaroos can win it outright if they win both. Smackover goes behind senior QB Roshard Boone and the devastating rushing attack of senior Greg Turner and junior Dettravon Crockett. Senior Max Gathright anchors the offensive and defensive lines and rarely comes off the field. Bismarck misses the playoffs for the fourth straight year. The Lions, who have lost 29 straight conference games, likely returns their leading passer and rusher (junior James Kegley), receiver (junior Collier Roberson) and second-leading tackler (junior Kadin Walker) in 2019.
Genoa Central at FOUKE (3): Genoa misses the playoffs, but Fouke maintains an outside shot at the postseason. Fouke makes the playoffs for a school-record sixth straight year if it wins out. Fouke rushed for 41 yards (2.0 YPC) in last week's 49-point loss to Smackover. If Genoa does not win again this year, it will be the schools' fewest wins (one) since 2013. Genoa likely returns promising sophomore QB Drew Mason, junior playmakers Dalton Savell, Zion Van Deusen and freshman Ethan Cowart in 2019.

6-3A
RISON (15) at Barton: Teams are a combined 7-1 in league play. Barton could earn a share of the conference title with a win, but the Bears likely play this game without all-league fullback Kavein Davis. Davis left the McGehee game two weeks ago with a knee injury. Rison clinches a share of the 6-3A title (first league title since 2015) and the No. 1 playoff seed with a victory. Sophomore running back Jamarion Frye has emerged as one of the top playmakers in Class 3A. The all-time Rison vs. Barton series is tied 3-3 with the teams splitting a pair of Class A state finals. Rison's 27-20 win over Barton in 1990 snapped the Bears' 63-game wining streak. Barton held Rison to 175 yards in a 28-21 conquest for the 1994 state crown. 
Drew Central at MCGEHEE (24): McGehee has not won a league championship since 2012 but the Owls can clinch the No. 2 playoff seed if they win out. The No. 2 seed hosts a first-round playoff game. Junior Caleb Woodson paces the powerful McGehee running attack. Drew Central can not qualify for the playoffs and could finish winless for the sixth time in eight years.
DOLLARWAY (10) at Palestine-Wheatley: Winner remains in the playoff hunt. Palestine-Wheatley, 0-4 in conference play, travels next week to winless Drew Central. The Patriots score 5 points per week in league play. Dollarway clinches its first playoff spot since 2015 with a win before playing host to Rison next week.
BEARDEN (10) at Lake Village: Class 3A Lake Village picked up two first downs, lost two fumbles and had two punts blocked last week in a 51-0 loss to Rison. Rison led 41-0 at halftime. Bearden managed just 77 yards in last week's 40-0 loss to Hampton.