Class 4A Week 9 Rankings, Notes & Picks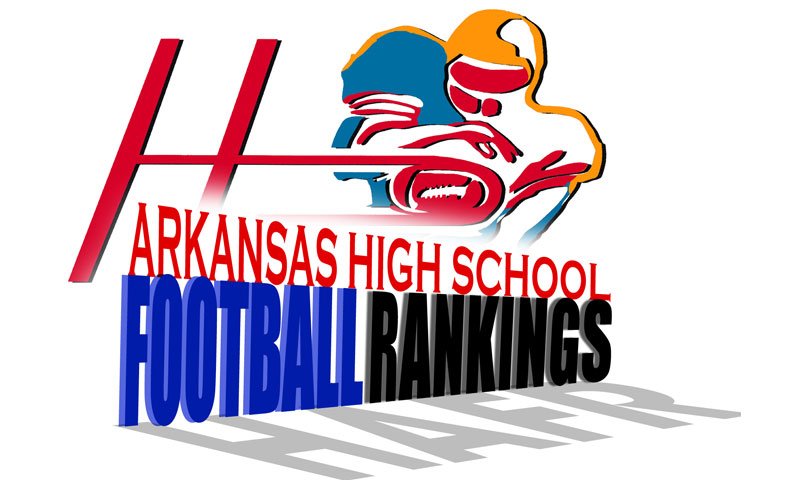 Hootens.com Rankings
Class 4A, Week 9, 2018
Copyright Hooten Publishing, Inc. 
1. Warren (7-0)
2. Shiloh Christian (7-1)
3. Bauxite (8-0)
4. Joe T. Robinson (6-2)
5. Ozark (6-2)
6. Hamburg (7-1)
7. Dardanelle (7-1)
8. Dumas (7-1)
9. Jonesboro Westside (7-1)
10. Arkadelphia (3-5)
11. Stuttgart (6-1)
12. Nashville (6-2)
13. Rivercrest (7-1)
14. Pea Ridge (6-2)
15. Heber Springs (4-4)
16. Helena (6-2)
17. Lincoln (6-2)
18. Mena (5-3)
19. Elkins (7-1)
20. Trumann (5-3)
21. Harmony Grove Haskell (5-3)
22. Prairie Grove (4-4)
23. CAC (4-4)
24. Lonoke (4-4)
25. Southside Batesville (4-4)
26. Pottsville (3-5)
27. Gosnell (4-4)
28. Bald Knob (4-4)
29. Pocahontas (3-5)
30. Ashdown (3-5)
31. Fountain Lake (4-4)
32. Star City (2-6)
33. Crossett (2-5)
34. DeWitt (3-5)
35. Gentry (2-6)
36. Riverview (2-6)
37. Berryville (3-5)
38. Waldron (2-6)
39. Brookland (1-7)
40. Gravette (1-7)
41. Cave City (1-7)
42. Highland (1-7)
43. Monticello (0-8)
44. Mills (0-8)
45. Malvern (0-8)
46. Dover (1-7)
47. Subiaco Academy (1-7)
48. Green Forest (1-7)

HOOTENS.COM GAME OF THE WEEK
No. 6 Hamburg at No. 1 Warren
Undefeated Warren can secure its sixth straight conference championship with a victory, and it has won 14 conference titles since Bo Hembree took over as coach in 2000. The undefeated Lumberjacks were without four starters in last week's mercy-rule win over rival Monticello. Senior playmaker and University of Arkansas commit Treylon Burks is out for the season with a knee injury, but his presence at punter and punt returner may be missed as much as his versatility on offense and defense. Senior Keemontrae McKnight stepped up at receiver the past two weeks with four touchdown catches, while junior Vincent Steppes has rushed for almost 1,000 yards this year. Senior quarterback Jmalachi Kinnard continues improving and emerging as the team leader, Coach Bo Hembree says. Senior defensive tackles Marcus Miller and Donovan Ross anchor a fundamentally-sound unit that has allowed only one first half touchdown in the past six games.
Hamburg hasn't won a conference championship in 20 years, when its coach Cecil Ray Cossey played for the Lions. Hamburg's only loss this year by six points in overtime Week 2 against Camden Fairview. The Lion defense, led by senior tackle Gage Price, has controlled the past three games with the offense sputtering, Cossey says. Price has 42 tackles this season, including 14.5 tackles for loss, while sophomore linebacker Gavin Harrod has 37 tackles. Senior quarterback Jonathan Kelley has passed for 1,481 yards and 16 TDs this year, while senior Derrick Webb has rushed for 441 yards and nine TDs. Senior Jaylen Wilson, who didn't play football the past two years, paces the Lions with 35 catches for 684 yards and 12 TDs. 

TV SHOW
Hooten's Arkansas Football airs 10:30 a.m. Saturdays on KATV (ABC Little Rock) Channel 7, covering the Razorbacks, high school teams and players to watch.

LAST WEEK
Hootens.com correctly predicted 19 of 24 games last week (79 percent). Hootens.com has predicted 175 of 204 games this year (86 percent).

WEEK 9 PREDICTIONS (favored team in ALL CAPS)
1-4A
Gravette at SHILOH CHRISTIAN (30): Shiloh Christian's five-point loss at Gravette last year kept the Saints from an outright league title. Saint junior QB Eli Reece completed 19 of 26 passes for 290 yards and two TDs in the first half of last week's mercy-rule win over Lincoln. Gravette's Keegan Addison ran for a pair of TDs in last week's 31-0 win over Green Forest, the Lions' first of the year.
LINCOLN (7) at Gentry: Both teams are in the playoffs and finish anywhere between the No. 3 and No. 5 seed. Lincoln puts up 341 yards weekly. Wolf junior RB Christian Sellers has almost 400 yards and four TDs this year. Gentry gains 244 yards weekly. Junior Brandon Atwood has passed for 1,172 yards and nine TDs in 2018, including 171 yards last week against Prairie Grove.
Berryville at PRAIRIE GROVE (21): Prairie Grove shutout Gentry in the second half of last week's 33-14 win, and the Tigers likely play Lincoln next week for the No. 3 seed. Berryville won't make the playoffs this year, but the Bobcats host Green Forest in the finale for Carroll County bragging rights.
PEA RIDGE (35) at Green Forest: Pea Ridge hosts Shiloh Christian next week for the conference title. Blackhawk junior Sam Beard ran for 109 yards and a pair of TDs in last week's 29-point win over Berryville. Pea Ridge averages 350 yards per games, including 217 yards rushing. Athletic senior Carson Rhine has played QB the past two weeks, throwing two TD passes and running for three TDs.

2-4A 
SOUTHSIDE BATESVILLE (21) at Mills: This is the first meeting between these teams. Southside Batesville likely needs to beat Bald Knob next week to make the playoffs. The Southerners failed to score in last week's 21-point loss to Heber Springs. Mills averages 11 ppg.
Lonoke at STUTTGART (8): Lonoke always plays well against Stuttgart, winning seven of the past 11 in the series, including four of the past six. The Jackrabbits jumped Stuttgart 28-7 in 2012, Stuttgart's only loss during its state title run. Stuttgart led Mills 43-0 in the first quarter a week ago. Senior linebacker Arion White paces Stuttgart in tackles this year, and the Ricebirds shift talented senior David Walker between linebacker and end. Walker made a one-handed interception, hurdled a tackler and went 99 yards for a TD (negated by penalty) last week at Riverview, while senior QB Tim Johnson passed for 283 yards and four TDs. Lonoke missed its extra-point attempt last week in a one-point setback at CAC. Senior Braidon Bryant has rushed for nine TDs this year, while junior Davonta Adams averages 5.9 yards per carry.
CAC (3) at Bald Knob: Coaches picked these teams to finish seventh and eighth in the preseason, but both could make the playoffs. CAC probably needs one more win to qualify for the playoffs (host Stuttgart next week) after last week's one-point win over Lonoke. Mustang junior QB Eli Garrison flipped the field with three punts of more than 50 yards and one that went 46 yards. Bald Knob senior Blaine Willard ran 23 times for 116 yards and a pair of TDs and completed five of eight passes in last week's 21-point win over Riverview.
HEBER SPRINGS (21) at Riverview: Heber Springs has won all four meetings against Riverview, including last year by nine points. The Panthers lock up at least the No. 2 playoff seed with one more win. Senior Blaze Nelson ran for a TD and threw another on a halfback pass in last week's 21-0 win at Southside Batesville. Riverview has surrendered at least five TDs in each of its four conference losses.

3-4A
GOSNELL (4) at Pocahontas: Gosnell's seven-point win over Pocahontas last year gave it the league title. This year, the winner probably gets the No. 4 seed, the loser the fifth seed. The Pirates rush for 272 yards per game. Senior CaDarius Young and his brother, junior JyDarian Young, have combined for 1,074 yards and 13 TDs this year. Pocahontas allows 29 ppg. Redskin senior Devon Adams lined up at QB last week, sprinting for two TDs.
JONESBORO WESTSIDE (1) at Trumann: Jonesboro Westside must avoid a letdown after last week's seven-point win over previously unbeaten Rivercrest. The Warriors must win one more game to secure at least a share of the first conference title in school history. Sophomore QB River Engle threw a 39-yard TD pass and ran 2 yards for the winning score in the fourth quarter a week ago. Trumann has won four straight and could get at least a share of the league title with two more wins. The Wildcats have allowed just 24 points the past four games.
BROOKLAND (2) at Highland: Brookland is playing its best football of the season, losing to Gosnell in overtime two weeks ago and beating Cave City by six points last week, its first victory of the year. Highland has dropped five straight games, and scored just one TD in the past two games.
RIVERCREST (31) at Cave City: Rivercrest must rebound from last week's 20-13 loss at Jonesboro Westside. Ironically, the Colts lost Week 8 last year before winning seven straight games and the Class 3A state championship. The Colts rush for 320 yards weekly. Senior Kentavious Robinson has 132 carries this year for 1,311 yards and 14 TDs, while QB Demilon Brown has 737 yards and 13 TDs. Cave City rushes for 231 yards a game.

4-4A
MENA (21) at Subiaco Academy: Mena has won three straight games, and its Week 6 four-point win over Elkins looks better each week. Mena sophomore Max Montgomery has passed for 1,312 yards and 14 TDs this fall, while Subiaco Academy senior QB Luke Hertlein has passed for 639 yards and eight TDs.
POTTSVILLE (17) at Dover: Pottsville must cut down on turnovers. The Apaches lost five fumbles (one returned for a TD) and threw an interception that Elkins returned for a TD last week (lost to Elkins 78-41). Senior running back Curtis Kemp had a pair of TD runs at Elkins. The Apaches make the playoffs with wins the next two weeks against opponents with a combined 2-14 record.
Elkins at DARDANELLE (6): Dardanelle gets the No. 2 playoff seed with wins the next two weeks over Elkins and Mena. Elkins junior QB Quinn McClain completed 15 of 24 passes for 273 yards and three TDs in last week's 78-41 triumph over Pottsville. McClain has 22 TD passes this year. Elkins senior Chad Graham caught four passes for 144 yards and two TDs and returned a fumble for a TD against Pottsville. 
OZARK (27) at Waldron: Ozark goes for its sixth straight win. The Hillbillies get at least a share of the league title with one more win. Ozark junior tight end Bryant Burns caught three passes for 141 yards in last week's 55-0 win over Dover. Waldron only gets to the playoffs by winning its final two game and Pottsville losing out.

7-4A
BAUXITE (1) at Arkadelphia: Bauxite must avoid a letdown after last week's emotional seven-point come-from-behind win over previously No. 2 Joe T. Robinson. Senior running back Dawson Dabbs ran 30 times for 265 yards and a pair of TDs last week, and his most crucial play was falling down at the 1-yard line with 1:30 left, forcing the Senators to burn timeouts. Defending state champion Arkadelphia has won three straight games while giving up 18 points, and the Badgers and can finish as high as the No. 2 seed with some help.
Ashdown at JOE T. ROBINSON (26): Look for Joe T. Robinson to play with vengeance following last week's disappointing loss at Bauxite. Senior Mekel Kentel ran 16 times for 147 yards and four TDs at Bauxite. Ashdown trailed Arkadelphia 18-12 at halftime last week but failed to score in the second half.
HARMONY GROVE HASKELL (3) at Fountain Lake: The winner likely gets a playoff spot. Haskell ran for 250 yards and senior QB Lance Whitley completed all eight pass attempts, two of them for TDs, in last week's five-point win over heavily-favored Nashville. Fountain Lake senior Andrew Roberson averages 5.9 yard per carry.
Malvern at NASHVILLE (35): Nashville had more than 250 yards of penalties in last week's 26-21 setback at Haskell. Scrapper sophomore Keyshawn Stewart ran for 123 yards last week and has 807 yards and eight TDs this year. Malvern endured multiple off-season defections and averages six ppg.

8-4A
Hamburg at WARREN (14): Hootens.com Class 5A Game of the Week.
HELENA (6) at Crossett: A key game in the playoff chase. Helena likely finishes as the No. 4 of No. 5 seed after last week's 11-point win at Star City. The Cougars trailed 13-10 in the fourth quarter before rallying with a pair of late TDs, including the game-winner from senior Armonie Calhoun (22 carries for 190 yards and two TDs). Calhound has rushed for 1,098 yard and 13 TDs this fall. Crossett lost last week at Ashley County rival Hamburg and probably needs another win to get in the playoffs (travels to Star City Week 10). 
DUMAS (24) at Monticello: These teams have split the past eight meetings. But Monticello is winless this season and averages nine ppg. Dumas junior QB Chris Harris has passed for 802 yards and six TDs and rushed for 1,018 yards and 16 TDs this year.
STAR CITY (7) at DeWitt: Star City turned the ball over three times in the fourth quarter and gave up a lead in an 11-point loss to Helena. Sophomore Rashard Leland ran 30 yards for a TD a week ago. DeWitt has lost five straight games after starting the season 3-0. The Dragons have dropped 10 straight conference games.