Class 5A Week 9 Rankings, Notes & Picks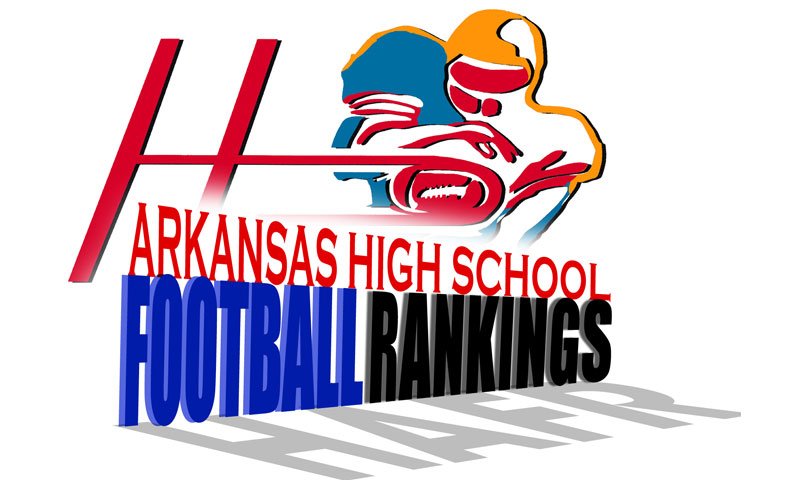 Hootens.com Rankings
Class 5A, Week 9, 2018
Copyright Hooten Publishing, Inc. 
1. Pulaski Academy (7-1)
2. LR Christian (7-1)
3. Texarkana (7-1)
4. Harrison (8-0)
5. LR McClellan (7-1)
6. Nettleton (7-1)
7. Blytheville (3-5)
8. Alma (4-4)
9. Morrilton (4-4)
10. White Hall (5-2)
11. Greenbrier (5-3)
12. Camden Fairview (5-3)
13. Batesville (3-5)
14. HS Lakeside (4-4)
15. LR Parkview (3-5)
16. Forrest City (4-4)
17. Wynne (4-4)
18. Valley View (5-3)
19. Beebe (3-5)
20. Vilonia (2-5)
21. Farmington (4-4)
22. Maumelle (4-4)
23. Magnolia (4-4)
24. Watson Chapel (2-5-1)
25. Greene County Tech (2-6)
26. Clarksville (2-6)
27. Huntsville (2-6)
28. Hot Springs (1-7)
29. De Queen (1-7)
30. Hope (1-7)
31. Paragould (0-8)
32. LR Fair (1-7)

HOOTENS.COM GAME OF THE WEEK
No. 10 White Hall at No. 15 LR Parkview
The winner likely gets the No. 3 playoff seed. LR Parkview's losses this year are to Class 7A Springdale and Rogers, Class 6A Marion and the top two 5A teams, Little Rock Christian and Pulaski Academy. The Patriots failed to score in the first half the past two weeks, trailing LR Christian and Pulaski Academy by a combined 62-0 at intermission. They had three first half red zone trips at Pulaski Academy but didn't score any points. "Our record doesn't indicate how good we are," Coach Brad Bolding says. Both PA and LR Christian keyed on stopping Parkview senior Geary Allmon (more than 900 yards this year), allowing junior fullback Thomas McCauley running room (19 carries, 137 yards and a pair of TDs at LR Parkview). Senior cornerback Keshun Carroll returns this week from a knee injury (missed past three games).
White Hall trailed LR Christian 14-0 at halftime last week before losing 49-20. Senior receiver Baylor Owen has more than 600 yards and eight TDs this year, while junior Donte Buckner has more than 1,000 yards and 11 TDs, including two scores a week ago. "White Hall is smash mouth, but they like to catch you off balance and hit you with a big pass," Bolding says.

TV SHOW
Hooten's Arkansas Football airs 10:30 a.m. Saturdays on KATV (ABC Little Rock) Channel 7, covering the Razorbacks, high school teams and players to watch.

LAST WEEK
Hootens.com correctly predicted 14 of 16 games (88 percent) last week. For the season, Hootens.com has correctly predicted 134 of 164 games (82 percent).

WEEK 9 PREDICTIONS (favored team in ALL CAPS)
5A CENTRAL
WHITE HALL (2) at LR Parkview: Hootens.com Class 5A Game of the Week.
Watson Chapel at PULASKI ACADEMY (28): Pulaski Academy gets its 61st straight conference victory. The Bruins led LR Parkview 22-0 at halftime last week, despite the Patriots getting inside the 20-yard line three times before intermission. Bruin senior John David White caught six passes for 195 yards and four TDs a week ago. Watson Chapel led LR Fair 62-0 at halftime last week when the game was called. 
LR Fair at BEEBE (35): Beebe likely misses the playoffs despite beating Watson Chapel and Maumelle this year. Badger senior Taylor Boyce has 210 carries for 1,138 yards (5.4 yards per carry) and 10 TDs this fall. LR Fair has scored 25 points in five conference games.
Maumelle at LR CHRISTIAN (24): LR Christian puts up 43 points and almost 400 yards per game. The Warriors haven't allowed a first half point the past four weeks. Junior Kendel Giveins ran for three TDs in last week's 29-point win at White Hall. Maumelle trailed Beebe 20-14 at halftime last week and lost by 10 points. 

5A EAST
Paragould at BLYTHEVILLE (11): Blytheville self-reported an ineligible player and forfieted two wins on Monday, including a Week 5 triumph over Nettleton. The Chickasaws had more than 200 yards in penalties and multiple players were ejected during last week's 35-point loss at Batesville. Paragould usually plays hard against Blytheville, with the 2014 contest being called by officials in the fourth quarter, resulting in player ejections for both teams, and ultimately costing Blytheville a playoff spot. 
NETTLETON (6) at Valley View: Nettleton sits alone at the league standings after receiving a forfeit from Blytheville and clinches the outright title with one more win. This is the ninth regular season meeting between these programs, with Nettleton holding a 4-3-1 advantage. Nettleton trailed Forrest City 18-0 last week before rallying. Raider senior cornerback Antonio McBroom returned a fumble TD in the second half. Valley View can qualify for the playoffs with one more win. Junior Conner Watson caught a TD pass and ran for another in last week's 26-point win over Greene County Tech.
BATESVILLE (17) at Greene Co. Tech: Batesville has won 16 of the past 17 over GCT. The Pioneers, who were 1-5 just two weeks ago, could finish as high as the No. 2 playoff seed with some help. Senior QB Hayden Childers and running back Kadar Floyd pace an offense that has scored 86 points in the past two games, after scoring just 97 points in the opening six games. Senior cornerbacks K.J. Frierson and Jackson Beck have developed into defensive leaders. "We are capable of beating anyone in the conference, or losing to anyone," Coach Dave King says.
Forrest City at WYNNE (4): Wynne has won 11 of the past 14 in the series, including the past three by a combined 154-54. Wynne senior Jay Nelson has rushed for more than 600 yards this year. Forrest City may need another win to lock up a playoff spot. The Mustangs led Nettleton 18-0 in the second half last week but lost by four points. 

5A SOUTH
CAMDEN FAIRVIEW (17) at Hot Springs: Camden Fairview has won 10 of the past 12 over Hot Springs. The Cardinals led Hope 56-0 in the first half last week before winning by 54 points. QB Keith Johnson threw four TD passes, while Jarred Lockhart returned a blocked punt for another score. Hot Springs trailed Texarkana 37-0 in the second quarter last week, before Santair Thomas ran for three TDs in the second half.
HS Lakeside at LR MCCLELLAN (10): LR McClellan has won both of its playoff meetings over HS Lakeside (32-16 in 2016 and 50-37 in the 2015 quarterfinals). The Crimson Lions likely finish as the No. 2 playoff seed with another win over HS Lakeside or Camden Fairview, and would travel to Pulaski Academy in the quarterfinals. Senior Jaylon Williams ran for a pair of TDs in last week's 26-point win at Magnolia. HS Lakeside likely secures a playoff spot with another win (hosts Hot Springs next week). The Rams have beaten De Queen and Hope the past two weeks by a combined 91-35, and they hung 71 points on Magnolia Week 5. Sophomore Isaac Echols ran for three TDs in last week's 42-7 victory over De Queen.
MAGNOLIA (13) at De Queen: De Queen has won four of the past six over Magnolia since joining the conference in 2012. Magnolia's Garrett Clark returned a fumble for a TD last week against LR McClellan and later ran 75 yards for a TD. De Queen has lost four straight games. 
TEXARKANA (24) at Hope: Texarkana needs one more win to lock up its first conference title since 2006. Senior Cameron Collier ran five times for 101 yards and a TD last week against Hot Springs. Hope has been outscored in the first half 138-26 the past three weeks.

5A WEST
ALMA (7) at Greenbrier: Alma probably finishes as the No. 2 seed with two more wins following last week's 31-0 loss to Harrison. The Airedales dropped a potential TD pass in the second half last week. Greenbrier senior QB Andrew Johnson has passed for 1,400 yards and eight TDs this year, while senior Seth Howard has rushed for 613 yards and eight TDs.
Huntsville at HARRISON (35): Harrison is cruising to its first conference title since 2003. Junior Gabe Huskey ran 30 times for 269 yards last week, a 31-0 win at Alma. Harrison's vaunted D gives up 7.1 ppg and hasn't allowed two meaningful TDs in a game this year (gave up two late TDs in mercy-rule win over Pea Ridge Week 0). Goblin junior QB Ben Johnson has passed for 1,014 yards and 14 TDs this year and rushed for 279 yards and a pair of TDs, while classmate Gabe Huskey has 1,327 yards and 19 TDs.
Clarksville at VILONIA (14): Improving Vilonia took Morrilton to overtime last week and beat Farmington Week 7. Eagle QB Jordan Britton has passed for 1,658 yards and 13 TDs this year. Clarksville promoted freshman Bryce Buckner to the varsity three weeks ago, and he's rushed 47 times for 312 yards (6.6 ypc) and a pair of TDs. 
MORRILTON (13) at Farmington: Morrilton has never lost to Farmington. The Devil Dogs went to overtime last week with Vilonia and probably finishes as the No. 3 seed. Senior QB Dylan White threw two TDs to Reggie Toney (five catches for 156 yards) a week ago. Farmington senior QB Eric Hill threw three TD passes and ran for another in last week's 41-point win over Huntsville.