Class 7A Week 9 Rankings, Notes & Picks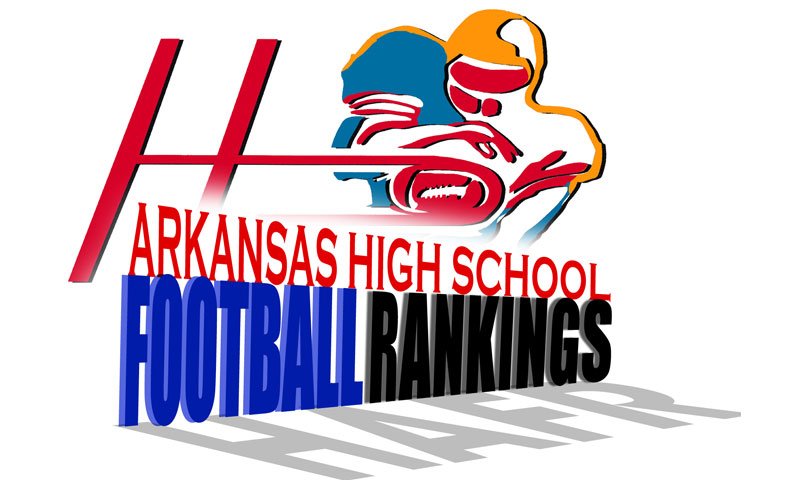 Hootens.com Rankings
Class 7A, Week 9, 2018
Copyright Hooten Publishing, Inc.
1. North LR (8-0)
2. Bryant (7-1)
3. Conway (7-1)
4. Bentonville (5-3)
5. Bentonville West (5-3)
6. Fayetteville (6-2)
7. FS Northside (5-3)
8. Springdale (6-2)
9. FS Southside (4-4)
10. LR Catholic (4-4)
11. Cabot (2-6)
12. Springdale Har-Ber (4-4)
13. Van Buren (3-5)
14. LR Central (1-6)
15. Rogers (1-6)
16. Rogers Heritage (0-8)

HOOTENS.COM GAME OF THE WEEK
No. 2 Bryant at No. 1 North LR
Undefeated North LR has won 40 of its past 42 games and likely made its final road trip of 2018 last Friday with a 40-8 win at FS Northside. North LR rushed for 300 yards to build a 40-0 halftime lead, albeit several Northside defensive starters were suspended. North LR running backs Oscar Adaway (1,009 all-purpose yards), Tyler Day (97 rushes, 792 yards, 8.2 ypr) and Brandon Thomas (110 rushes for 919 yards, 8.4 ypr) are "all Division I recruits," says Coach Jamie Mitchell. Multiple opposing coaches say North LR's defensive front is the state's best. Mitchell says his defending state champs played their "best defense of the season" last week at Northside. North LR sophomore quarterback Kareame Cotton completes 57 percent of his passes with 811 yards, 10 TDs and five interceptions this season. "We don't allow him to be a leader," Mitchell says. "We just ask him to manage the game." North LR needs just one more win to secure at least a share of the league title and homefield advantage through the postseason. "This is a huge game," Mitchell says. "It's not the state championship or Super Bowl, but its a big game."
Bryant lost to North LR twice in 2016, 38-7 during the regular season and 46-13 in the playoff semifinals. Bryant seemed to narrow the gap a year ago, losing to North LR 25-14. Bryant's only loss this fall was Week 2 to Fayetteville 36-35. Bryant QB Ren Hefley, RB Latavion Scott and noseguard Kajuan Robinson are on the Farm Bureau Insurance Awards watch list for player of the year honors.
"We played three really good teams early this year, but Bryant is the most complete team we've faced," Mitchell says. "They've made outstanding strides the past two seasons."
Look for North LR's quick slanting defensive front to dominate, but if Bryant can protect Hefley long enough, the Hornets might make big plays against North LR's man-coverage secondary. On defense, Bryant likely crowds the line of scrimmage, daring North LR to pass. Bryant's linebackers, including the return of all-state performer Jakob Neel from injury, must tackle well against North LR's thick-thighed RBs. Neel played 35 snaps, making 11 tackles in last week's 27-0 homecoming win over Cabot.
"We will have to be creative in the ways we get our running backs the ball," Mitchell says.

LAST WEEK
Hootens.com correctly predicted the winner in 7 of 8 Class 7A games. For the season, hootens.com is 58-20 (74 percent) predicting 7A games.

WEEK 9 PREDICTIONS (favored team in ALL CAPS followed by points spread)
7A CENTRAL
Bryant at NORTH LR (15): Game of the Week.
LR Central at FS SOUTHSIDE (21): Southside can earn a home playoff game by winning this week and next Friday at rival FS Northside. Southside standout linebacker Darin Davenport leads an improved defense. The Mavericks tackle better than a year ago. Southside starts five sophomores, including both guards and two linebackers. LR Central OL coach Austin Morton played at FS Southside.
FS NORTHSIDE (7) at Cabot: Northside suspended several defensive starters and gave up 300 yards rushing to trail North LR 40-0 at halftime last week. Northside can still earn a first-round playoff game at home by winning its final two games. Cabot's 27-0 loss at Bryant last week all but ended the Panthers' playoff hopes. Cabot plays at No. 1 North LR next week.
LR Catholic at CONWAY (21): Conway can earn homefield advantage in the first round of the playoffs by winning its final two games. Conway plays at No. 2 Bryant next week. Catholic started 4-0 but has lost its past four, including 28-20 to FS Southside last week. The Rockets score 18.8 ppg vs league opponents.

7A WEST
Van Buren at BENTONVILLE WEST (35): Van Buren committed three turnovers and punted five times in last week's 45-14 loss at Springdale Har-Ber. Bentonville West, voted by conference coaches to win the West this season, plays Bentonville for the league title next week.
SPRINGDALE HAR-BER (7) at Rogers. Har-Ber led Van Buren 31-0 by halftime and totaled more than 600 yards with no punts in last Friday's 45-14 win over Van Buren. Rogers never punted but gave up 425 yards (270 in the first half) in last week's 35-14 loss to rival Bentonville.
BENTONVILLE (16) at Springdale: Bentonville's defensive front continues to play well, holding Rogers to 82 yards on 32 rushes (2.5 yards per carry) last week. Springdale standout quarterback Grant Allen is out for the season with a broken ankle.
Rogers Heritage at FAYETTEVILLE (42): Fayetteville totals 491 yards weekly, passing for 330. Heritage has lost 36 of its past 38 games.