HOGS vs UAPB preview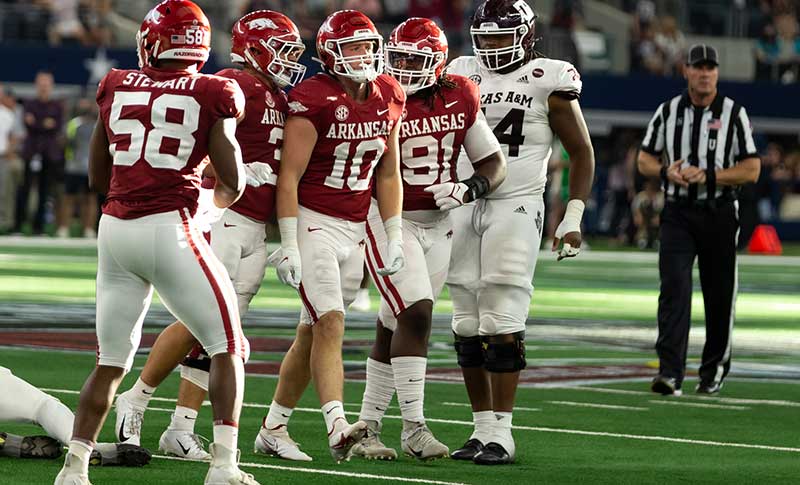 FAYETTEVILLE - The Razorbacks' bye week starts after Saturday's game with the UAPB Golden Lions and not before it,  Arkansas head coach Sam Pittman stresses.
Pittman's 4-3 Hogs, representing the UA System's flagship university and powerful SEC, are prohibitive favorites over fellow UA System member University of Arkansas-Pine Bluff.
Saturday's 11 a.m. non-conference game (on the SEC Network) at War Memorial Stadium renews the Razorbacks' presence in Little Rock. The 1948-2019 string of playing home games both in Fayetteville and Little Rock was snapped in 2020 with the covid-revamped SEC schedule limiting home games to Fayetteville.
UAPB, of the SWAC (Southwest Athletic Conference), hails from the lower FCS division (instead of FBS of college football's power conferences) and is just 1-5.
So for his "beat-up" Razorbacks, Pittman freely admits, from the rigors of seven games in seven weeks, he'd like to rest his regulars and play younger players Saturday in Little Rock. Arkansas is open next week before November's final four SEC games.
"Lord willing, we will," Pittman said of playing young substitutes against UAPB. "That's not the plan. The plan is go play as good as we can. Certainly if something happened it would be good for the guys who haven't had opportunities, but we're going in like it's going to be a barn-burner. We're going in like it's really going to be a competitive game."
Coach Doc Gamble's Golden Lions should be juiced for UAPB's  first meeting against the Razorbacks.
In fact, it's the first time any Arkansas-based school has played football against the Hogs since they routed the University of Arkansas-Monticello in 1944.
"Doc will have them ready," Pittman said. "I think they'll be jacked up and ready to go. I'm positive they will be."
Simeon Blair believes so, too.
The Arkansas safety from Pine Bluff, who turned down a UAPB scholarship offer to walk on with the Razorbacks and earn a scholarship, says he knows "about 10 to 15" Golden Lions from his elementary through high school days in Pine Bluff.
"I think they will be very excited," Blair said.
Just last spring, the SWAC postponed 2020 fall athletics because of covid. UAPB went 4-1 and didn't lose until the SWAC Championship game in Jackson, Miss., against Alabama A&M.
"They've had some injuries that have hurt them," Pittman said. "They had a really nice right tackle who got hurt.  They've lost some games here this year but they have some speed and they play really hard."
UAPB leads the FCS in blocking punts, four in six games.
Arkansas has suffered two blocked punts, first while trailing early in the season-opener vs. Rice (38-17 win) and one that Georgia not only blocked but recovered for a TD during the No. 1 Bulldogs' 37-0 rout of the Razorbacks in Athens, Ga.
"They try to block every single punt, which as you guys know, is scary," Pittman told media.
Pittman and special teams coach Scott Fountain have stressed  all the mental aspects this week. Physically, the practices have been shorter and more limited.
Not because of the opponent, but for being "beat-up," Pittman said.
In last week's 38-23 loss to Auburn, the Razorbacks were  without injured starters Jalen Catalon, the preseason All-America safety, cornerback LaDarrius Bishop, defensive tackle Markell Utsey, and right offensive tackle Dalton Wagner. Some reserves, like tight end Trey Knox, just spot-played nursing injuries.
Catalon is out for the season following Monday's shoulder surgery. Wagner and Utsey, harboring hopes to heal by November, remain sidelined. Bishop returns, but Knox likely is iffy.
Many others, including starting quarterback KJ Jefferson, play through ailments that Pittman has deferred to lightening this week's practice load.
"We would do it whether we were playing Auburn or playing Arkansas-Pine Bluff," Pittman said. "We don't really have a choice. We've got to be smart with our team. That's certainly not being soft; that's being smart. The only thing really that we changed this week is our good on good (the portion pitting the No. 1 and No. 2 offenses and defenses against each other rather than against the scout teams emulating UAPB). We did not do as many reps good on good as what we had in fall camp and the first seven weeks."