Class 3A Week 9 Rankings, Notes & Picks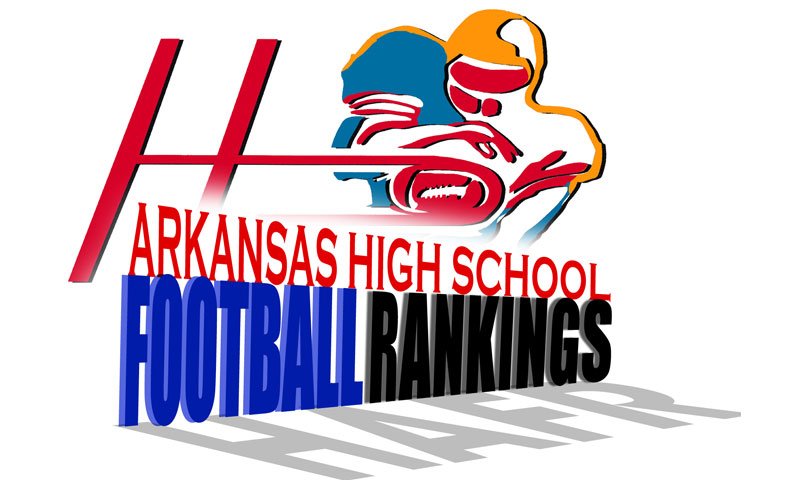 Hootens.com Rankings
Class 3A, Week 9, 2017
Copyright Hooten Publishing, Inc.

1. Junction City (8-0)
2. Charleston (8-0)
3. Prescott (7-1)
4. Glen Rose (7-1)
5. Mayflower (8-0)
6. Clinton (8-0)
7. Osceola (7-1)
8. Rivercrest (6-2)
9. Barton (7-1)
10. Perryville (7-1)
11. McGehee (6-2)
12. Smackover (5-3)
13. Elkins (6-2)
14. Melbourne (6-2)
15. H. Grove Haskell (5-3)
16. Hoxie (4-4)
17. Fordyce (5-3)
18. Atkins (6-2)
19. Piggott (6-2)
20. Newport (6-2)
21. Bald Knob (4-4)
22. Harding Academy (4-4)
23. Horatio (5-3)
24. Fouke (4-4)
25. Centerpoint (4-4)
26. Greenland (5-3)
27. Lamar (3-5)
28. Jessieville (4-4)
29. Cedar Ridge (4-4)
30. Paris (3-5)
31. Mansfield (2-6)
32. Gurdon (4-4)
33. Walnut Ridge (2-6)
34. Rose Bud (4-4)
35. Manila (2-6)
36. Cedarville (3-5)
37. Lake Village (2-6)
38. Mountain View (2-6)
39. Yellville-Summit (3-5)
40. Episcopal (1-7)
41. Genoa Central (2-6)
42. Drew Central (2-6)
43. Bismarck (2-6)
44. Green Forest (2-6)
45. Marshall (0-8)
46. Marianna (1-7)
47. Corning (0-8)
48. Two Rivers (0-8)

HOOTENS.COM GAME OF THE WEEK
No. 2 Charleston at No. 10 Perryville
Winner clinches at least a share of the conference title and likely No. 1 playoff seed. Perryville is the highest-scoring offense (37 ppg) and stingiest defense (19.75 ppg allowed) in the league. The Mustangs' only loss came Week 2 to undefeated Mayflower 48-18. Senior Hunter Lawrence averages 7.6 yards per carry for 90 yards per game. Classmate Chris Hoyt has racked up 71 tackles, 5.5 for loss. Charleston downed Atkins 42-20 last week in a clash of unbeaten league teams. "It was our best all-around performance this year, by far," Charleston coach Greg Kendrick says. Senior Mason Wisdom has caught 34 passes for 517 yards and eight touchdowns this year, all team-highs. Sophomore Brayden Ross leads Charleston with 61 tackles, four for loss.
Perryville is suspect against the pass, and Charleston averages 208 yards through the air. Charleston struggles against better running games, and Perryville runs for 311 weekly. Charleston, with its fewest injuries since Week 2, survives on the road.

LAST WEEK
Hootens.com correctly picked 21 of 24 games (88 percent) involving Class 3A teams. For the season, hootens.com has correctly predicted 199 of 250 games (80 percent).

TV LAND
Hooten's Arkansas Football airs 10:30 a.m. Saturdays on KATV (ABC Little Rock) Ch. 7, covering the Razorbacks, high school teams and players to watch.

WEEK 8 PREDICTIONS (favored team in CAPS followed by point spread)
1-3A
CLINTON (21) at Yellville-Summit: Yellville-Summit is tied for third in the league and hunts its first playoff appearance since 2012. Yellville got TDs from Tyler Ramey, Payson Jones and Brock Vigna in last week's 32-24 win at Mountain View. No. 6 Clinton clinches at least a share of the league title and the top playoff seed with a win. Clinton leads the league in scoring defense (9.75 ppg).
Greenland at ELKINS (17): Greenland likely needs to win out to make the playoffs and finishes at Elkins (6-2 overall) and home vs. Melbourne (6-2). Greenland has won two straight following a three-game losing skid. Elkins (39 ppg) is the highest-scoring team in the league and clinches the No. 2 seed in the conference with one win in its final two games. Elkins' diverse attack (243 yards passing and 153 yards rushing per game) keeps Greenland guessing.
MOUNTAIN VIEW (7) at Marshall: Marshall allows 44 ppg and is eliminated from playoff contention. Mountain View holds the league's last playoff spot because it owns the tiebreaker over Greenland.
MELBOURNE (24) at Green Forest: Green Forest is eliminated from playoff contention with a loss. Melbourne earns the No. 2 seed if it wins out and Elkins loses its last two games. Melbourne is tied with Yellville-Summit for third place, but Melbourne earned the tiebreaker in a 48-14 Week 7 victory. Melbourne's overall team speed outpaces Green Forest.

2-3A
HARDING ACADEMY (24) at Marianna: Marianna needs a win to remain in playoff contention. Harding Academy is tied for fifth but finishes with games at Marianna and against Episcopal (combined record 2-14). Harding Academy QB Davis Morgan completed 13 of 17 passes for 221 yards and four TDs in the first half of last week's 44-8 win at Rose Bud. Receiver Jimmy Citty caught two TDs, while Stone Sheffield and Peydon Harlow collected one each. Harding owns a distinct advantage on both lines.
Rose Bud at BALD KNOB (21): Rose Bud is tied with Harding Academy for the final playoff spot from the league and plays host to Barton Week 10. The Ramblers committed three turnovers in last week's 44-8 loss at Harding Academy. Bald Knob is tied with Cedar Ridge for third place with identical 3-2 league marks. Bald Knob has alternated wins and losses the past six weeks, but its aggressive defense is the difference here.
Cedar Ridge at BARTON (24): Cedar Ridge is tied with Bald Knob for third place in the league. Cedar Ridge surrendered 528 yards to undefeated Mayflower last week, the second-most Mayflower has posted this year. Barton can share the conference title if it wins out and Mayflower loses one of its two remaining games. Barton's senior-laden offense (seven senior starters) scores 39 ppg. The Bears have won five of their past six home games.
MAYFLOWER (34) at Episcopal: Episcopal misses the playoffs for the second straight year. The Wildcats have lost their past 12 conference games on the field. Mayflower clinches at least a share of the conference title and a No. 1 seed with a win in either of its last two games. Mayflower tied its season-high point total last week in a 60-15 win over Cedar Ridge. Junior twins Deon and Keon Simmons totaled 393 yards and six TDs last week.

3-3A
OSCEOLA (14) at Newport: Newport led Rivercrest 28-0 at halftime last week and won 28-14. Junior QB Cash Forrester connected with Shawn Alcorn twice for TDs and Tyler Johnson added a pair of scores. "Our guys really understood the importance of that game," Newport coach Mark Hindsley says. "They were as focused as I've seen them." Osceola has won seven straight games and clinches at least a share of the conference title with a win this week. The Seminoles are the highest-scoring team (37 ppg) and second-best scoring defense (15 ppg) in the 3-3A.
Manila at RIVERCREST (17): Manila needs a win to remain in playoff contention. Rivercrest clinches the No. 2 seed with a win and sets up a Week 10 showdown for the conference title with Osceola. Rivercrest surrendered 187 passing yards to Newport last week (the Greyhounds' season high). That could be trouble against the pass-happy Manila Spread, but Rivercrest's physicality gives it an edge.
HOXIE (3) at Piggott: These teams and Newport are tied for third in the league and each boasts 39 tiebreaker points. Piggott has allowed just 12 points during its three-game winning streak, as the Mohawks preach better tackling. Hoxie's line play has improved every week and should be the difference in this crucial game.
WALNUT RIDGE (10) at Corning: Best chance for either school to win a conference game. Corning averages 11 ppg, and Walnut Ridge scores 14 weekly. Walnut Ridge owns an advantage in overall numbers and skill players.

4-3A
CHARLESTON (7) at Perryville: See Hootens.com Game of the Week.
PARIS (2) at Cedarville: Teams need a win to remain in playoff contention. Cedarville absorbed its second shutout of the year last week against Lamar. Paris blanked Two Rivers 55-0 for its most points since Week 4 2016. Paris' team speed pushes it past Cedarville.
ATKINS (17) at Mansfield: Mansfield needs a win to remain in playoff contention. Mansfield committed three turnovers in last week's 60-20 loss to Perryville. Atkins absorbed its first league loss at Charleston last week, but the Red Devils can salvage a share of the conference title by winning out and getting some help. Look for the Red Devils' potent offense to bounce back.
Two Rivers at LAMAR (24): Two Rivers has been eliminated from playoff contention. Lamar is tied for fourth place with Paris and those teams play Week 10. Lamar's running offense averages more than 6 ypc with 20 TDs this year.

5-3A
Bismarck at PRESCOTT (31): Bismarck has lost six straight games and is not in playoff contention. Sophomore QB James Kegley connected with junior Dylan Clayton for a TD in last week's 42-6 loss to Gurdon. Prescott remains in the hunt for a conference title and clinches the No. 2 seed in the playoffs with a win.
H. GROVE HASKELL (3) at Gurdon: Gurdon needs to win to remain in playoff contention. Gurdon held Bismarck to 126 yards last week in a 42-6 conquest. Haskell needs a win to remain in third place. The Cardinals forced three turnovers in last week's 48-10 loss to Prescott. Haskell has 19 takeaways this year. That ball-hawking defense should be the difference against Gurdon.
GLEN ROSE (21) at Horatio: Horatio needs a win to remain in third place. Horatio forced four turnovers in last week's 39-32 win at Jessieville. Glen Rose clinches at least a share of the conference title and the No. 1 playoff seed with a win. Glen Rose rolled up a season-high 656 yards last week in its 54-19 win over Centerpoint.
JESSIEVILLE (3) at Centerpoint: A key game for playoff positioning. The Knights committed three turnovers in last week's 54-19 loss at Glen Rose. Jessieville has lost three of four games and plays host to Prescott Week 10. Jessieville rushed for 118 yards in last week's 39-32 loss to Horatio but averaged just 3.3 ypc.

6-3A
JUNCTION CITY (14) at Fordyce: A Fordyce win keeps it in the conference title chase. Fordyce recorded a season-best 424 yards in last week's 48-16 win over Drew Central. Freshman QB Quartey Shelton accounted for three TDs and classmate Gary Lewis rushed for a pair of scores. Sophomores Sam Allen and Kalob Jones recorded TD passes. Senior Jaylen Harper closed out the scoring with a TD. Junction City clinches the conference title and the No. 1 playoff seed with a win. Junction City is the top scoring offense (49 ppg) and defense (17 ppg), but the Dragons have scored a season-low 36 points each of the past two weeks. Junction City likely wears down a Fordyce team lower on numbers.
FOUKE (10) at Drew Central: Drew Central is eliminated from playoff contention. Fouke is tied with Lake Village and Genoa Central for the fifth and final playoff spot. Fouke rolled up 350 rushing yards and five TDs last week in a 38-27 win at Genoa Central. Look for Fouke's punishing running game to keep up the pace.
Genoa Central at LAKE VILLAGE (3): Loser is eliminated from playoff contention. Genoa Central senior QB Bo Jewell passed for a season-best 158 yards in last week's 38-27 loss to Fouke. Sophomore receiver Patrick Markham collected four passes for 37 yards. Lake Village has lost four straight games by a combined 74 points.
MCGEHEE (1) at Smackover: Winner remains in contention for a conference title. Teams are tied for second in the 6-3A. Smackover led Junction City 14-0 at halftime last week but lost 36-14. McGehee has won four straight games by a combined 141 points. McGehee has 52 tiebreaker points, while Smackover has 43. In what could be a lower-scoring game, McGehee's big-play ability on offense proves the difference.