Class 5A Week 9 Rankings, Notes & Picks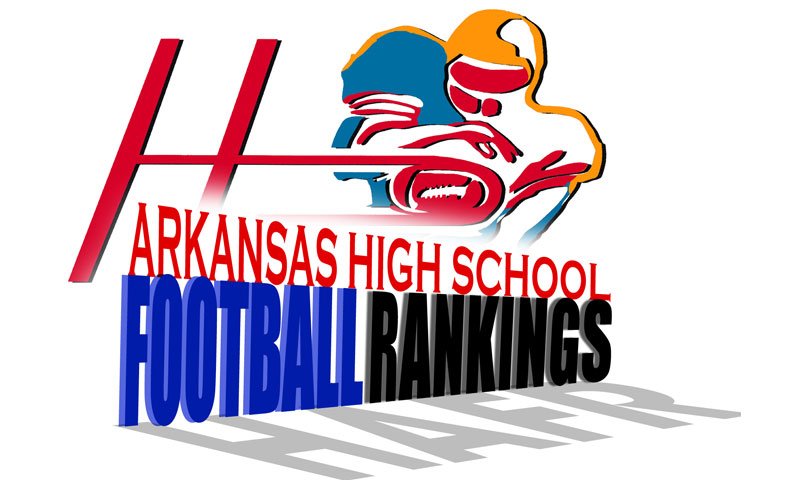 Hootens.com Rankings
Class 5A, Week 9, 2017
Copyright Hooten Publishing, Inc.

1. Pulaski Academy (8-0)
2. LR Christian (7-1)
3. Nettleton (8-0)
4. LR McClellan (6-2)
5. Alma (5-3)
6. Greenbrier (6-2)
7. Batesville (5-3)
8. Wynne (6-2)
9. Harrison (5-3)
10. Morrilton (5-3)
11. Watson Chapel (5-3)
12. LR Parkview (4-4)
13. Valley View (6-2)
14. HS Lakeside (5-3)
15. White Hall (5-3)
16. Sylvan Hills (4-4)
17. Camden Fairview (3-5)
18. Farmington (4-4)
19. Maumelle (4-4)
20. De Queen (4-4)
21. Beebe (3-5)
22. Blytheville (2-6)
23. Forrest City (3-5)
24. Magnolia (2-6)
25. Hot Springs (1-7)
26. Mills (2-6)
27. Vilonia (0-8)
28. Clarksville (1-7)
29. Greene Co. Tech (2-6)
30. Hope (0-8)
31. Paragould (0-8)
32. LR Fair (0-8)

GAME OF THE WEEK
No. 11 Watson Chapel at No. 14 HS Lakeside
The winner gets the 5A South title and top playoff seed. HS Lakeside has won consecutive league championships. The Rams began 2017 with an 0-3 record, but have won five straight by an average of 38-23. "We've gained confidence, and now we know how to make things happen," HS Lakeside coach Jared McBride says. The Rams run for almost 260 yards weekly. Senior running back Dupree Swanson has 196 carries this season for 1,440 yards and 24 touchdowns, while classmate Michael James has 90 carries for 691 yards and six TDs. Senior cornerback Brandon Chambers has emerged as a leader on defense, averaging seven tackles per game. He also has an interception and defended on eight other pass attempts. Senior outside linebacker Alex Stewart averages almost seven tackles per game and has a team-best eight tackles for loss.  Watson Chapel was in command of the league last season (haven't won a conference title since 2009) before losing two of the final three conference games. The Wildcats haven't cracked this fall though, winning five straight games by an average of 42-14. Sophomore quarterback Devin Curry has passed for almost 500 yards and six TDs this season, while senior Omar Allen has 119 carries for 1,133 yards and 23 TDs. Allen ran 12 times for 264 yards and six TDs in the first half last week against Magnolia. Watson Chapel's improved defensive line "is our strong point," Coach Jared Dutton says. "They keep us in games." Senior tackle Collin Branch (6-2, 250) has 28 tackles this year, including a six tackles for loss. Junior tackle Adereus Lewis (5-9, 225) and junior ends Terrick Urquhart (6-4, 230) and Malik Neal (6-3, 225) are improving. The trio has combined for more than 70 stops this season. Watson Chapel's team speed could cause matchup problems for the physical Rams.

TV SHOW
Hooten's Arkansas Football airs 10:30 a.m. Saturday's on KATV (ABC Little Rock) Channel 7, featuring the Razorbacks, high school teams and players to watch. Searcy's Ty Haralson will be featured as the Arkansas Air Guard Scholar Athlete of the Week.

LAST WEEK
Hootens.com correctly predicted 13 of 16 games (81 percent), nailing the spread of Sylvan Hills by 35 over LR Fair. Hootens.com has correctly predicted 141 of 170 games (83 percent) for the season.

WEEK 9 PREDICTIONS
5A CENTRAL
LR McClellan at PULASKI ACADEMY (16): Pulaski Academy escaped LR McClellan last season with a four-point win. The Bruins closest game since came in last week's three-point win over LR Parkview. Senior QB Layne Hatcher completed 37 of 60 passes for 465 yards and five TDs a week ago, and he kicked the winning 20-yard field goal as time expired. LR McClellan QB Bennie Kemp ran for 173 yards and passed for 78 yards in last week's three-point loss to LR Christian.
Mills at LR CHRISTIAN (28): The Warriors finish the season as heavy favorites in their final two games and should get the No. 2 playoff seed. Senior cornerback David Lee intercepted a pass with 11 seconds last week to secure a three-point win over LR McClellan. Senior Ladarius Burnes ran 17 times for 100 yards and a TD at LR McClellan, while senior QB Jackson Bowersock passed for 239 yards and two TDs. Mills gave up more than 400 yards rushing in last week's 27-point loss to Beebe.
Sylvan Hills at LR PARKVIEW (6) (Thurs.): The winner makes the playoffs and the loser likely needs help to get in. LR Parkview must quickly move past last week's heart-breaking three-point loss to Pulaski Academy, when the Bruins scored on the final play. The Patriots did everything right in the setback, forcing five turnovers and recovering every onside kick attempt. Junior QB Geary Allmon shortened the game with big runs, including four TDs. Sylvan Hills' D scored two TDs in last week's mercy-rule win over LR Fair.
LR Fair at BEEBE (35): Neither team makes the playoffs, but Beebe could win its final three games. The Badgers grounded 415 yards a week ago against Mills. Senior Kahlil Anthony ran for two TDs and returned a kickoff 70 yards for another TD.

5A EAST
WYNNE (17) at Forrest City: Wynne has won 10 of the past 13 in the series, including the past two by a combined 99-34. The Yellowjacket offense rolled up 48 points last week against winless Paragould with defensive stalwart Logan Jessup changing jersey numbers and dominating at guard. Senior Ta'Von Hicks has rushed for almost 1,200 yards this season. Forrest City led Nettleton by one point at halftime last week before getting outscored 34-0 in the second half.
Greene Co. Tech at BATESVILLE (28): Batesville has won 15 of the past 16 over Greene County Tech. With its top running back sideline, Greene Co. Tech senior QB Garrett Stovall threw four TD passes in last week's 29-point loss to Valley View. Batesville forced three turnovers in last week's 30-point win at Blytheville.
BLYTHEVILLE (13) at Paragould: Neither team makes the playoffs this fall. But there are tense feelings between these programs, with the 2014 game getting called by officials in the fourth quarter after a brawl, which resulted in multiple player ejections. Blytheville junior QB Jaheim Reese missed most of the second half of last week's 30-point loss to Batesville with an ankle injury. Two key Blytheville linemen were ejected late in the fourth quarter a week ago.
Valley View at NETTLETON (3): This is the eighth regular-season meeting between these programs, with the series tied 3-3-1. Both are in the playoffs this season, and each can finish anywhere between the No. 1 and the No. 4 seed. Valley View's only conference loss was Week 6 at Wynne by three points. Senior QB Joseph Walezonia ran for six TDs and threw a TD last week against Greene County Tech. Undefeated Nettleton can lock up at least a share of the league title with a victory. The Raiders scored 34 unanswered points in the second half of last week's win at Forrest City.

5A SOUTH
WATSON CHAPEL (2) at HS Lakeside: Hootens.com Class 5A Game of the Week.
Hope at WHITE HALL (25): White Hall needs to win its final two games (and might need some help) to squeeze into the playoffs after starting the season 3-0. Bulldog senior QB Ollie Reddick has more than 2,200 yards this season. Hope has lost 19 straight games.
Hot Springs at CAMDEN FAIRVIEW (10): Camden Fairview has won nine of the past 11 in the series, but these teams split the past two meetings in close games (Hot Springs won by three last year, and Fairview by one in 2015). Camden Fairview led Hope by 27 points at halftime last week, but couldn't force the 35-point sportsmanship rule until the fourth quarter.
De Queen at MAGNOLIA (3): De Queen has won three of the past five over Magnolia since joining the conference in 2012. Magnolia trailed Watson Chapel 52-14 last week in the second quarter, giving up eight rushing TDs. De Queen turned the ball over four times and gave up more than 300 yards rushing in last week's 35-point loss to HS Lakeside.

5A WEST
Greenbrier at ALMA (2): The winner takes a big step toward the conference title. Both are tied atop the 5A West with identical conference records. Alma has intercepted passes in the end zone the past two weeks to preserve victories. Two weeks ago, senior QB turned defender Garrison Jensen returned an interception 99 yards with no time left in a 13-point decision over Clarksville, and last week junior Austin Fraley intercepted a two-point conversion attempt in the final seconds of a one-point triumph at Harrison. Junior linebacker Coltin Bowerman paces the Airedales with 100 tackles. Greenbrier junior QB Andrew Johnson completed 16 of 19 passes last week for a 279 yards and four TDs in a 21-point win over Clarksville. Senior Reese Hammontree caught four passes for 117 yards and a TD, while Spencer Sutterfield ran for 176 yards and two TDs.
Farmington at MORRILTON (17): Morrilton has never lost to improving Farmington. The Devil Dog offense has stabilized since sophomore Jacolby Criswell took over as the starting QB three weeks ago. Criswell ran for two TDs and threw for another in the first half of last week's 32-point triumph at Vilonia. Farmington contends for a playoff spot after rallying from a 20-0 second quarter deficit last week for a one-point overtime triumph over Maumelle. Senior Caleb Williams ran 36 times for 177 yards and caught four passes for 98 yards against Maumelle.
HARRISON (7) at Maumelle: Harrison has won two straight over the Hornets by a combined 11 points. Both teams were involved in one-point games a week ago. The Goblins led Alma by two TDs, but threw an interception on a two-point attempt in the final seconds of last week's one-point loss. Maumelle blew a three-TD led a week ago at Farmington, losing by one point in overtime.
Vilonia at CLARKSVILLE (3): These teams are a combined 1-15, although Vilonia forfeited a Week 1 victory over Greene County Tech. Clarksville has played well the past month, almost beating Alma two weeks ago and coming within two TDs last week at Greenbrier. The Panthers rush for 360 yards weekly.