Class 6A Week 9 Rankings, Notes & Picks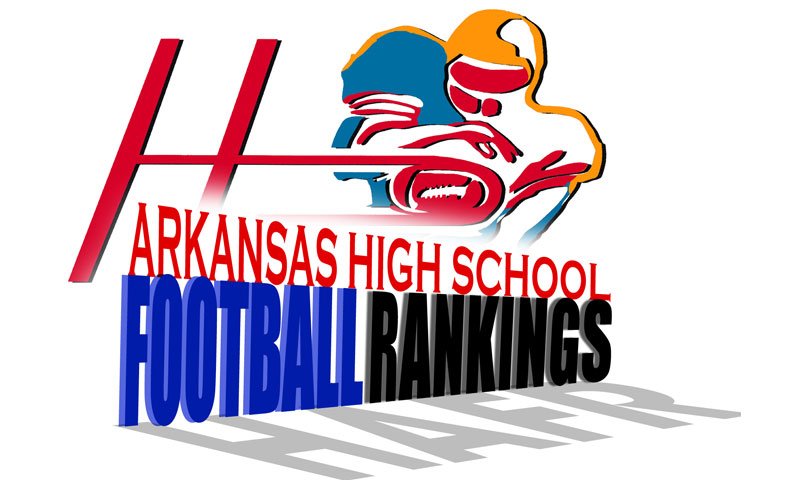 Hootens.com Rankings
Class 6A, Week 9, 2017
Copyright Hooten Publishing, Inc.

1. Greenwood (8-0)
2. El Dorado (7-1)
3. Pine Bluff (7-1)
4. West Memphis (8-0)
5. Benton (5-3)
6. Searcy (6-2)
7. Russellville (4-4)
8. Jonesboro (4-4)
9. Texarkana (4-4)
10. Lake Hamilton (4-4)
11. Marion (3-5)
12. Siloam Springs (2-6)
13. Jacksonville (3-5)
14. Mountain Home (1-7)
15. Sheridan (0-8)
16. LR Hall (1-7)

GAME OF THE WEEK
No. 4 West Memphis at No. 3 Pine Bluff
Winner earns No. 1 seed in the playoffs and at least a share of the conference title. Pine Bluff, winner of seven straight games, scores 39 points per week and allows 16.7 per game. Pine Bluff has won or shared a conference title each of the past two years with state championships in 2014 and 2015. Pine Bluff defensive lineman Kavon Goins has been a consistent performer and a defense that has scored four straight weeks. Rod Stinson Jr. and Martavis Thompson returned interceptions for touchdowns in last week's 41-12 win at Marion.  West Memphis is 8-0 for the first time since 2009 when the Blue Devils finished 10-0 but lost to Pine Bluff in the quarterfinals. The Blue Devils have not won a conference title since 2011, the last of eight straight league crowns under former coach Lanny Dauksch. West Memphis has been tested twice this year, downing league foes Marion and Jacksonville at home by 10 points apiece. West Memphis senior quarterback Michael Troxler passed for 156 yards last week with a TD pass to receiver Amarius Stinnett. Senior running back Guren Holmes leads West Memphis in rushing, but he left the Jacksonville game with an injury and did not return. This game comes down to Pine Bluff's veteran offensive line (four seniors) against West Memphis' talented defensive line, led by Verndarious Hodges (15 sacks).

LAST WEEK
Hootens.com correctly predicted the winners in seven of eight games (86 percent) last week involving 6A teams. For the season, hootens.com has correctly picked 62 of 72 games (86 percent).

TV SHOW
Hooten's Arkansas Football airs 10:30 a.m. Saturdays on KATV (ABC Little Rock) Ch. 7, covering the Razorbacks, high school teams and players to watch. Searcy defensive lineman Ty Haralson is this week's Arkansas Air Guard Scholar Athlete of the Week.

WEEK 9 PREDICTIONS (favored team in CAPS followed by point spread)
6A EAST
WEST MEMPHIS (1) at Pine Bluff: See Hootens.com Game of the Week.
MARION (2) at Jacksonville: Teams are tied for fourth place. Jacksonville lost at West Memphis 24-14 last week after trailing 24-7 at halftime. Junior Shavarris Curley passed for 155 yards and a TD to Debious Cobbs, while H.D. Martin set sail for a 69-yard scoring jaunt in the fourth quarter. Tamad Tyler recovered a fumble for Jacksonville. Marion earns a home playoff game for the second straight year, if it beats Jacksonville and Jonesboro Week 10. Pine Bluff ripped off 41 unanswered points last week, aided by three Marion turnovers, to pull away 41-12. Marion is 2-1 in league road games this year. If the Patriots take care of the ball, they improve to 3-1.
Hall at JONESBORO (24): Hall has been eliminated from playoff contention. The Warriors got a TD from Jaylen Sims in last week's 49-6 loss to Mountain Home. Jonesboro is tied with Jacksonville and Marion for fourth place and earns a first-round home playoff game, if it wins out. Jonesboro trailed Searcy 49-7 at halftime in a 49-21 road loss last week. The Hurricane committed three turnovers and surrendered 449 yards.
SEARCY (14) at Mountain Home: Mountain Home snapped its eight-game losing streak in a 49-6 win at Hall last week, but a loss this week eliminates the Bombers from playoff contention. Searcy ambushed Jonesboro in a 49-21 win last week, putting the Lions in good position for a first-round home playoff game. "I feel like it's gotten better for us every year," third-year Searcy coach Mark Kelley says. "Playing at home in the playoffs would mean so much to our kids and the community, but we know we have to earn it."

6A WEST
Sheridan at GREENWOOD (31): Sheridan is eliminated from playoff contention. Against Lake Hamilton last week, Sheridan sophomore QB Brayden Sites passed for 240 yards and a TD, but 39 Yellowjacket rushing attempts netted 96 yards (2.5 YPC). Greenwood clinches the No. 1 playoff seed and at least a share of the 6A West with a win. Greenwood recorded an impressive 33-17 road victory last week at Benton. Benton had been averaging 39 ppg. The Bulldogs have won 31 consecutive regular-season games, dating to Week 7 2014.
BENTON (3) at Lake Hamilton: Lake Hamilton is tied with Texarkana for fifth place. LH's Jacob Nichols rushed for 236 yards and five TDs in last week's 40-13 win at Sheridan. Jackson Johnson added a 75-yard TD run. Benton needs help to earn a first-round playoff bye, but a win clinches a first-round home playoff game. Benton limited Greenwood to its season-low point total and nine points below Greenwood's average (42 PPG) in last week's 33-17 loss. Benton sophomore QBs Gavin Wells and Peyton Hudgins connected on scoring passes to Bradyn Hendrix and Michael Allison, respectively. Lake Hamilton won at Benton last year (36-33), but the Panthers' big-play offense is enough here.
EL DORADO (14) at Russellville: Russellville remains in contention for a first-round playoff bye with a win. The Cyclones won 23-20 in overtime last week at Texarkana when Landers Auto Group Super Teamer Ryan Talley connected with Rhett Adkins for a 10-yard TD in the extra period. El Dorado remains in contention for a share of the conference title and clinches a first-round home playoff game with a win. El Dorado claimed a 34-0 halftime lead over Siloam Springs last week before settling for a 37-7 victory. El Dorado senior QB Darius Holly completed all seven pass attempts for 235 yards and hit Shun Levingston twice and Taliq Ellis once for TDs. Jarius Curry scored on a 1-yard run.
TEXARKANA (13) at Siloam Springs: Siloam Springs needs to win out and get some help to make the playoffs. The Panthers have lost four straight games by a combined 110 points. Kaiden Thrailkill scored a 7-yard TD in last week's 37-7 loss at El Dorado, but the Panthers managed only 198 yards. Texarkana clinches a playoff berth with a win, and the Hogs could still host a first-round playoff game if they win out and get some help. Texarkana tied Russellville when Jordan Hall scored from 2 yards out with 2:35 left in regulation to knot the score at 17-17. The Hogs took the lead in overtime on Patrick Cook's 20-yard field goal but lost 23-20.