HOGS rout UAPB 45-3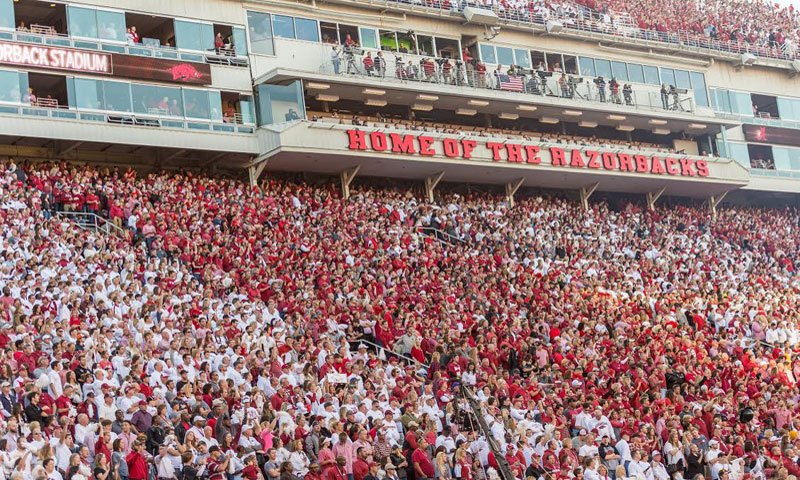 LITTLE ROCK - For a team mired in a three-game losing streak, the University of Arkansas Razorbacks weren't half bad Saturday.
In fact, they rated first-half excellent.
Coach Sam Pittman's Razorbacks rolled to a 45-0 first-half lead before turning it over to their second-team and third-team reserves in a 45-3 non-conference victory over University of Arkansas-Pine Bluff in front of 42,576 at War Memorial Stadium.
It marked the first UA vs. UAPB football game and the Razorbacks' first game against an Arkansas-based school since they defeated Arkansas A&M (UA-Monticello since 1971) in 1944.
Arkansas, open next week, improved to 5-3 overall with a bye week before starting the SEC season-closing November stretch by hosting Mississippi State Nov. 6 at Reynolds Razorback Stadium in Fayetteville.
Coach Doc Gamble's overmatched Golden Lions fell to 1-6 going into next week's SWAC game in Houston against Texas Southern. The Razorbacks were deemed a 50-point favorite. They played beyond it in that 45-0 first half.
The first half included an Arkansas defensive shutout, with safety Myles Slusher's interception in the end zone blunting UAPB's most serious touchdown threat. Arkansas offensive fireworks were orchestrated by junior receiver Treylon Burks and third-year sophomore quarterback KJ Jefferson.
Burks logged two TDs, one for 18 yards and one for 39, among his four catches for 89 yards, and a 49-yard end-around TD run on the first of his two carries netting 56 yards.
Jefferson threw four TDs. Senior tight end Blake Kern caught the first for 18 yards, and freshman receiver Ketron Jackson caught the other for 29 yards.
Cam Little kicked seven of seven PAT's and a 31-yard field goal but was surpassed fellow specialist Nathan Parodi's many happy returns.
Usually forced to fair catch or limited to short returns against the especially fast, special teams in the SEC, walk-on Parodi returned four punts for a net 114 yards, including an 80-yard TD prompting the biggest smiles of the Razorbacks' joyous first half.
"Wasn't that cool that Parodi got a punt return for a touchdown?" Pittman said gleefully on postgame radio. "That was really neat to see. It was priceless to see his face when he scored."
Senior linebacker Bumper Pool, a team-leading eight tackles all in the first half, and Burks agreed.
"I'm not going to lie," former punt returner Burks said, smiling.  "I was really pumped and kind of jealous at the same time. But I was really pumped for Parodi, because he's put in the work every week. He got his opportunity, and he made something happen."
And the Hogs relished it.
"For him to get a touchdown, I think the whole sideline was rowdy," Pool said, "and it was awesome for him."
And awesome, Pool said, for young defensive backs Slusher, in his second start replacing injured safety Jalen Catalon, and Malik Chavis netting interceptions.
"Those are two guys who are going to be studs for the University of Arkansas," Pool said.
Burks not only is a stud for the UA but will be NFL-bound whether turning pro after this year or off a 2022 senior year, Pittman presumes.
"He was the best guy out there," Pittman said. "He's a great player, and he's not done yet. He's still got the rest of this year, and the bottom line is we'll look at where the NFL tells us he's going to be drafted. Then he'll sit down and I'll sit down with him and his family and we'll all figure it out. But he still has at least four or five, hopefully five games left for us before that decision ever has to be made."
Burks of Warren just wanted to see friends and family Saturday and now get ready for Mississippi State.
"I want to play for Arkansas, and that's who I'm playing for right now," Burks said. "The NFL will come later, and I'll worry about that when that time comes."
Other than a few big plays, which they did pop, the Golden Lions might have thought Arkansas' defense was NFL-caliber.
The Golden Lions only score, Zack Piwniczka's 32-yard field goal with 5:19 left in the game, was nearly blocked by Khari Johnson, Pittman said.
Piwniczka missed wide on a 37-yarder during the first half.
Arkansas' defensive backups in the second half nearly rivaled what Arkansas' defensive starters accomplished in the first half.
Not so for Arkansas' offensive backups given their second half chance.
The bulk of Arkansas, led by running back Dominique Johnson's 91 yards on six carries, out-rushed UAPB 291-111, and out-passed the Golden Lions 213-112 passing.
Arkansas' backup offensive line didn't much protect or establish much for backup QB Malik Hornsby. Coming closest to scoring until fourth down overthrowing wide open running back Raheim "Rocket" Sanders on what seemed a sure TD, Hornsby never got in rhythm.
Credit UAPB for some of that and recovering one fumble each by Jefferson and reserve running back T.J. Hammonds and causing two other Arkansas fumbles the Hogs recovered.
"We couldn't move the ball with our twos," Pittman said. "Our pass protection wasn't very good and their linebackers ran through. I'll give Pine Bluff credit. Their team fought all the way to the end."
Pittman credited his Hogs, coming off three consecutive SEC losses to Georgia, Ole Miss and Auburn ranked No. 1, 12 and 19 by AP going into their games Saturday, for their fast start and not taking UAPB lightly.
"To me it was important to get our confidence back," Pittman said.  "Not just winning the football game but doing it the way we wanted to do it.  We got a big lead in the first half."