Class 3A Week 9 Rankings, Notes & Picks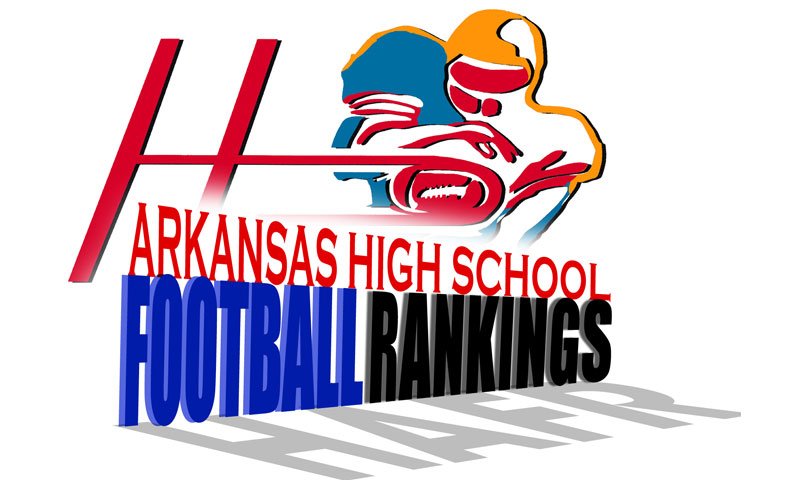 Hootens.com Class 3A Rankings
Week 9, 2022
Copyright Seventy Seven's Publishing
1.    Prescott (8-0)
2.    Charleston (7-1)
3.    Rison (7-0)
4.    Melbourne (8-0)
5.    Hoxie (6-2)
6.    Centerpoint (8-0)
7.    Booneville (6-2)
8.    Glen Rose (6-2)
9.    Camden Harmony Grove (5-3)
10. Newport (5-3)
11. Osceola (4-3)
12. Quitman (5-2-1)
13. Greenland (5-3)
14. Lavaca (6-2)
15. Bismarck (4-3)
16. Fordyce (5-4)
17. Walnut Ridge (6-2)
18. Gurdon (4-2)
19. Mansfield (5-3)
20. Smackover (5-3)
21. Salem (5-3)
22. West Fork (5-3)
23. Fouke (5-3)
24. Magnet Cove (4-4)
25. Barton (4-4)
26. Perryville (4-4)
27. Junction City (2-5)
28. Manila (3-5)
29. Yellville Summit (5-4)
30. Lake Village (3-3)
31. Drew Central (3-5)
32. Jessieville (2-6)
33. Hackett (1-7)
34. Cedarville (2-6)
35. Two Rivers (2-5)
36. Paris (1-7)
37. Dollarway (0-7)
38. Horatio (1-6)
39. Atkins (0-9)
40. Corning (2-7)
41. Piggott (0-8)
42. Palestine-Wheatley (0-8)
LAST WEEK
Hootens.com correctly predicted 16 of 19 games (84 percent) involving 3A teams and is 153 of 204 (75 percent) for the season.
WEEK 8 PREDICTIONS (Favored team highlighted in yellow and ALL CAPS)
HOOTENS.COM GAME OF THE WEEK
HOXIE (6-2, 4-0) at Osceola (4-3, 4-0)
Torian Bell leads a resurgent Osceola offense against a stingy Hoxie defense. Bell threw 2 TD passes in the fourth quarter of a 34-22 win over Walnut Ridge. Osceola trailed 14-12 at halftime. Hoxie QB Sage Treadwell has been a pleasant surprise for Coach Tom Sears this fall, throwing 19 TDs with 3 interceptions. Hoxie's defense will be bolstered with the return of senior linebacker Mario Armstrong, who posted 3 sacks and 6 TFL's before suffering an injury. This game's winner controls the No. 1 seed going into the playoffs. 
1-3A
Hackett (1-7, 0-5) at GREENLAND (5-3, 3-2) Tucker Meadors and the Greenland Pirates have their sights set on the No. 3 seed. Meadors is averaging 86 rushing yards during conference play. Greenland has produced 13 sacks, 5 fumble recoveries, and 9 interceptions in conference play. 
BOONEVILLE (6-2, 4-1) at Lavaca (6-3, 3-2) Booneville must win its final two games to clinch the 2 seed after last Friday's 42-14 setback to Charleston. Trace Hall and Cody Elliott combined for 222 rushing yards in the loss. Lavaca lost 21-20 to Mansfield, with the 20 points a season-low total.
MANSFIELD (5-3, 3-2) at Cedarville (2-6, 1-4) Cedarville's upset hopes ride on the legs of Colton Arnold and Jace Baker, who have combined for 1,472 yards and 12 TDs this season. A Mansfield win puts the Tigers on the right track for a playoff berth. The Mansfield defense held Lavaca to 197 yards, forcing a fumble and an interception in its 21-20 win Friday night. 
West Fork (5-3, 2-3) at CHARLESTON (7-1, 5-0) Charleston QB Brandon Scott completed 17 of 19 passes for 291 yards and accounted for 4 total touchdowns against Booneville in Week 8. Charleston is allowing 7 points per game in conference play. West Fork rushed for 313 yards in its 42-0 win over Hackett. 
2-3A
MELBOURNE (8-0, 4-0) at Quitman (5-2-1, 4-1) Quitman QB Nassir Donohoo totaled 529 yards and 5 TDs in a 48-34 win over Perryville. Trevor Hensley rushed for 101 yards and a TD. Melbourne enters the game focused on securing the conference's No. 1 seed after defeating Newport in Week 8. Carter Bray caught 11 passes for 181 yards and a TD in last Friday's win.
Yellville-Summit (5-4, 1-4) at NEWPORT (5-3, 3-1) Yellville-Summit notched its first 5-win season since 2012 with 44-20 win over Atkins. The Panthers rushed for 250 yards and led 28-6 at the half. Newport looks to bounce back from a frustrating road loss to Melbourne. Kylan Crite returned a punt 59 yards for a TD when the Greyhounds tried to rally in the second half.
SALEM (5-3, 2-2) at Perryville (4-4, 2-2) Salem spent its bye week preparing to stop Perryville QB Tyler Givens, whole threw for 255 yards and 3 TDs in a 49-34 loss to Quitman last week. Perryville's defense is on alert for Elijah Romine, who has rushed for 918 yards and 12 TDs this season for Salem. 
OPEN Atkins
3-3A
Piggott (0-8, 0-4) at PALESTINE WHEATLEY (0-8, 0-5) One of these teams will earn its first win. Piggott tries to increase an offensive output that has averaged 82 yards per game. Palestine Wheatley scored 30 points two weeks ago in a loss to Manila but lost 57-0 to Corning last week.
Manila (3-5, 3-1) at WALNUT RIDGE (6-2, 3-1) Walnut Ridge let a 22-14 fourth-quarter lead slip away in loss to Osceola. The Bobcats rushed for 376 yards, but untimely turnovers and failed fourth-down conversions proved costly. Manila currently holds the No. 4 seed and could battle for the 3rd with a win here.
OPEN Corning
4-3A
Two Rivers (2-5, 0-4) at BISMARCK (4-3, 3-1) Bismarck spent the bye week developing a plan to contain the potent rushing attack of Two Rivers, which is searching for their first conference win.
Centerpoint (7-0, 4-0) at GLEN ROSE (5-2, 4-0) Centerpoint's Jace Clark has done it all for the Knights — rushing for 1,261 yards and 19 TDs while totaling 48 tackles, 13 TFL, 6 sacks, and an interception on defense. Clark will lead the Knights charge against a solid Glen Rose defense, which has limited conference foes to 8 points per game.
MAGNET COVE (4-4, 2-2) at Paris (1-7, 1-4) Magnet Cove's Julius McClellan had 20 tackles in last week's 36-7 win over Jessieville. This will be Paris' final regular-season game because its Week 10 matchup with Danville will not be played because the Little Johns have already canceled their season.
OPEN Jessieville
5-3A
SMACKOVER (5-3, 2-1) at Gurdon (5-2, 1-2) Smackover racked up 295 yards in 47-20 loss to Prescott in Week 8. Smackover CB Dayvon Curley returned an interception for a TD. Gurdon rebounded for a narrow loss to Fouke to rush for 355 yards in 35-7 win over Horatio. 
JUNCTION CITY (2-5, 0-3) at Horatio (1-6, 0-3) Junction City beat Hampton 63-22 last week. Horatio's offense has struggled in October. Winner of this game locks up No. 5 seed for the playoffs.
OPEN Prescott, Fouke
6-3A
CAMDEN HARMONY GROVE (5-3, 3-1) at Lake Village (2-4, 2-2)
Coach Ernie Horstkamp's Harmony Grove team spent the bye week after losing to Rison working on all phases of the game and it showed in their 60-14 win over Fordyce. The Hornets scored three touchdowns through the air, three by ground and three on defense. The Lake Village Beavers  started a shootout with Rison but couldn't slow the Wildcat rushing attack, falling 49-34.
RISON (7-0, 4-0) at Barton (4-4, 2-2)
Rison beat an athletic Lake Village team 49-34. Barton averages 38 points per game in conference play. The Bears scored 30 in the first quarter of a 46-10 win over Dollarway, with Jay Porter scoring 4 TDs. 
DREW CENTRAL (4-4, 1-3) at Dollarway (0-8, 0-5)
Drew Central (4-4, 1-3) moves one step closer to the playoffs with a victory over winless Dollarway.
OPEN Fordyce