Class 3A Week 9 Rankings, Notes & Picks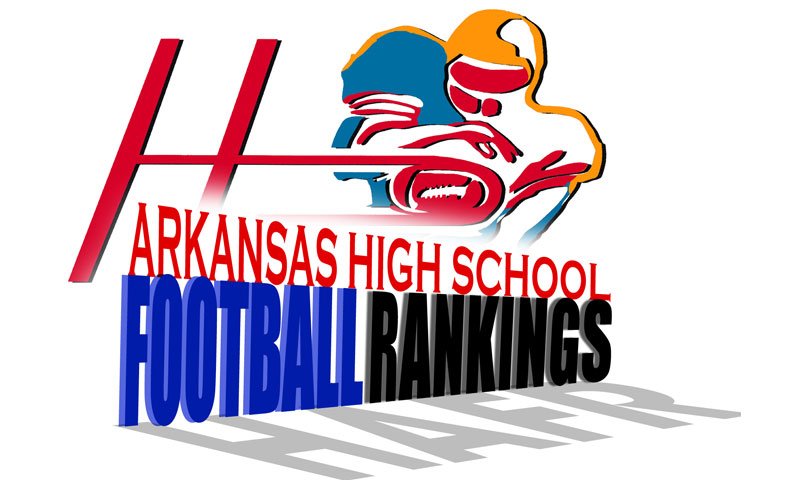 HOOTENS.COM WEEK 9, 2021
Class 3A, Week 9, 2021
Copyright Hooten Publishing, Inc.
1. Prescott (8-0)
2. McGehee (8-0)
3. Booneville (8-1)
4. Harding Academy (6-2)
5. Osceola (6-1)
6. Charleston (8-0)
7. Paris (8-0)
8. Hoxie (8-0)
9. Glen Rose (6-1)
10. C. Harmony Grove (5-3)
11. Centerpoint (5-3)
12. Mountain View (5-3)
13. Newport (4-3)
14. Jessieville (5-2)
15. Rison (6-2)
16. Hackett (6-2)
17. Perryville (6-2)
18. Melbourne (4-3)
19. Riverview (4-5)
20. Cedarville (6-2)
21. Bismarck (5-3)
22. Salem (5-3)
23. Atkins (4-4)
24. Manila (6-2)
25. Lavaca (5-3)
26. Walnut Ridge (4-4)
27. Dollarway (4-3)
28. Baptist Prep (4-4)
29. Genoa Central (3-5)
30. West Fork (2-6)
31. Harrisburg (3-5)
32. Smackover (3-5)
33. Lincoln (2-6)
34. Greenland (2-5)
35. Fouke (2-6)
36. Mansfield (2-5)
37. Horatio (3-5)
38. Barton (1-6)
39. Lake Village (2-5)
40. Piggott (0-8)
41. Corning (2-6)
42. Mayflower (1-6)
43. Danville (2-6)
44. Drew Central (0-8)
45. Palestine-Wheatley (0-7)
46. Two Rivers (0-8)
GAME OF THE WEEK
No. 7 Paris at No. 3 Booneville
Paris can earn the top seed in 4-3A with a win this week after handing Perryville its first league setback last Friday, 31-6. For consecutive seasons, Paris enters this game unbeaten. Paris lost at home last season 28-20. Paris' senior QB Chase Watts rushed for 62 yards and three TDs last week, while senior TB Duke Walker led Paris running game with 128 yards on 17 carries. Senior MLB Nate Henderson led Paris with 11 tackles, three TFL. Paris last defeated Booneville in 2015, 28-21. Booneville captures at least a share of the 4-3A title with a win Friday night, but the race could still end up in a three-way tie if Perryville wins its final two games over Baptist Prep and Booneville, which routed Atkins last week 49-0. Booneville senior QB Randon Ray scored twice on runs of 70 and 67 yards. Senior RB Rocky Ross also scored twice, while junior RB Brooks Herrera, sophomore RB Rylan Ray and junior RB Trace Hall scored once. Booneville rushed for more than 400 yards against Atkins. The Bearcats have limited opponents to a 23 percent conversion rate (21 of 91 attempts) on third down. It hasn't given up a third down conversion in past two games against Baptist Prep and Atkins (combined 0-24).Watch extended highlights of Booneville's 49-14 win over Mayflower earlier this year.
LAST WEEK
Hootens.com correctly picked 21 of 23 games (91 percent) involving Class 3A teams. It is 195 of 241 for the season (81 percent).
1-3A
CHARLESTON (28) at West Fork: Unbeaten Charleston (8-0, 5-0) wraps up the 1-3A championship Friday with a win after routing Lincoln last week 51-14. Defensive standouts for Charleston last week included sophomore CB Brycen Kindrix with two interceptions, two pass breakups and four tackles. Senior LB Ransom Merechka led the team with nine tackles. Junior WR/OLB/K Bryton Ketter logged three receptions for 54 yards, an interception, five of five extra points and three touchback kickoffs. West Fork's postseason hopes survive despite losing last week to Hackett 36-13.
CEDARVILLE (14) at Mansfield: Cedarville scored its first win over Greenland (48-12) since 2009 a week ago. Senior RB Darryl Kattich ran for 217 yards and two TDs on 19 carries. Kattich also caught four passes for 113 yards and three TDs. Senior FB Hayden Partain rushed for 118 yards and a TD on 16 carries. Senior QB Cody Dickens completed five of nine passes for 121 yards. West Fork lost a physical contest to Hackett 36-13. Mansfield junior QB Fisher Willsey scored three TDs, rushing for 170 yards on 23 carries. Cedarville likely clinches a playoff berth with a split in its final two games. Watch extended highlights of Cedarville's 42-14 win over Mansfield earlier this year.
LAVACA (3) at Lincoln: It was Senior Night last week at Lavaca, and all eight seniors were recognized for their leadership in a 28-21 win over Mansfield. Junior RB Dakota Hartsfield and junior QB Maddox Noel led the Lavaca offense. Lavaca is in a three-way tie for second in 1-3A at 3-2. A win this week would be big since Lavaca's final regular-season game is against No. 6 Charleston. Lincoln needs a win even more after losing last week to Charleston 51-14. Lincoln is 2-3 in conference play and ends regular season play against Cedarville.
HACKETT (14) at Greenland: Hackett enhanced its playoff hopes last week by defeating West Fork 36-13. Sophomore QB Cole Ketchum, making his first start, completed 18 of 29 passes for 316 yards and six TDs. Senior WR Ethan Slavens made his starting debut at WR and caught three passes for 117 yards and two TDs. Greenland coach Lee Larkan was disappointed with a 48-12 loss to Cedarville, win which Cedarville dominated the line of scrimmage. A fifth seed is a long shot for Greenland, even with wins the final two weeks of the regular season.
2-3A
HARDING ACADEMY (21) at Newport: The winner is the top seed in 2-3A. Harding wins the league title with a win after beating Melbourne 40-16 last week. HA junior QB Kade Smith completed 22 of 29 passes for 329 yards and four TDs last week. Senior TB Andrew Miller scored twice, while running for 148 yards on 18 carries. Newport was open last week. An upset over Harding gives Newport the top seed and at least a share of the championship. Watch extended highlights of Harding Academy's 42-27 loss to Briarcrest Christian (Tennessee) earlier this year. Watch extended highlights of Newport's 56-6 loss to Prescott earlier this year. Watch extended highlights of Harding Academy's 40-16 win over Melbourne earlier this year.
Class 2A Cross County at SALEM (27): This week's non-conference game with Salem changes nothing in the standings, but Class 2A Cross County is still playoff bound. Salem faces Harding Academy in its regular-season finale next week, and its playoff hopes are slim despite last week's 21-12 victory over Mountain View. Salem overcame five turnovers, passed for 288 yards and rushed for 138 yards. Sophomore MLB Elijah Romine logged seven tackles with two sacks. Senior DB Trevor Leisenring intercepted two passes. Junior QB Dakota Jackson completed 17 of 23 passes for 288 yards and a TD. Romine rushed for 111 yards and two TDs.
Riverview at MOUNTAIN VIEW (2): The winner is in the playoffs, while the loser needs help. Riverview is 1-3 in conference play after losing last week's non-conference encounter to Class 4A Lamar 44-12. Riverview ran 13 plays in the first half compared to Lamar's 55. Riverview senior QB Israel Cameros rushed for 153 yards and two TDs. Mountain View needs a split in its final two games after losing to Salem 21-12. Senior QB Elijah Carlton led Mountain View's ground game with 185 yards and two TDs on 21 totes. Carlton contributed nine tackles on defense.
MELBOURNE is open.
3-3A
Osceola at HOXIE (2): Both Osceola and Hoxie could make long runs in the postseason. Osceola (6-1, 5-0) kept pace with Hoxie in the league standings by routing Walnut Ridge 50-6 last week. Hoxie (8-0, 5-0), with excellent play on the defensive front, dealt Manila its first league setback 49-6. Hoxie senior QB Cade Forrester completed six of six passes for 106 yards and two TDs. He also rushed for 123 yards on seven carries. Senior RB Seth Brooks rushed for 81 yards and four TDs. Hoxie beat Osceola last season 55-21.Watch extended highlights of Hoxie's 46-28 win over Cave City earlier this year.
Walnut Ridge at MANILA (1): A Walnut Ridge win this week leaves it tied with Manila for third place after losing to Osceola 50-6. Walnut Ridge is healthy and looking forward to getting better. Manila lost 49-6 loss to Hoxie. Senior RB Dustin Clark gained 101 yards on 10 carries, and senior CB Billy Morris is working at running back. Manila can earn its first home playoff game in school history.
Corning at HARRISBURG (13): Corning eyes a playoff berth after rolling over Palestine-Wheatley 49-7 last week with solid O line play. Senior RB Rhett Eddington ran for six points and returned a fumble for a TD. Junior RB Landon Lucas rushed for 112 yards and two TDs, while junior QB John Swint ran for two TDs and passed for another. Senior kicker Jesus Ambrocio kicked five of six PATs.
Palestine-Wheatley at PIGGOTT (20): Palestine-Wheatley (0-7, 0-5) still looking for first win in 2021, but so is Piggott (0-8, 0-5). Piggott discovered its offense in last week's 53-38 loss to Harrisburg. P-W was blown out by Corning 49-7. Piggott and Harrisburg combined for five touchdowns in 87 seconds at one point. Piggott senior WR Hayden Emerson caught five passes for 94 yards and a TD. Emerson also returned an interception 60 yards for a TD. Junior WR Joe Carpenter caught a 35-yard TD pass, and returned a kick for six points.
4-3A
Paris at BOONEVILLE (8): See Game of the Week.
Mayflower at DANVILLE (7): Mayflower might slip into the playoffs with two wins to end the regular season. Mayflower scored its first win last week over Two Rivers 49-6. Junior QB Noah Gailey passed for 232 yards and rushed for 67. Senior WR Khalil Bryant caught passes for a game-high 111 receiving yards. Danville climbed into the postseason picture by defeating Baptist Prep 22-13. Danville dressed 16 last week, but lost another player for the season. Senior QB Lawson Wilkins ran for 133 yards, while passing for 177 and two TDs. Wilkins intercepted a pass in fourth quarter, and Mayflower ran out the clock for the win. Senior WR Solomon Gilkey finished with 116 receiving yards and a TD. He also rushed for 50 yards and a TD. Senior WR Ayden Hilton scored a TD and blocked a punt for a safety. Watch extended highlights of Mayflower's 49-14 loss to Booneville earlier this year.
PERRYVILLE (3) at Baptist Prep: Perryville had five athletes miss last week's 31-6 loss to Paris because of injuries. Junior QB Tyler Givens and a two-way starter in the lines were injured last week, leaving Perryville with 22 players available. Senior WR Mason Roland caught nine passes for 97 yards, and junior LB Easton Waller paced the defense with 17 tackles. Senior QB Brandon Hoyd finished seven of 13 passing in his first extended action at quarterback. Baptist Prep senior WR Caden Jennings caught three passes for 70 yards and two TDs in the loss. He also intercepted a pass. Senior LB Cooper O'Briant and senior CB Isaac Devine led the BP defense with 11 tackles each. Watch extended highlights of Baptist Prep's 31-24 OT win over McCrory earlier this year.
ATKINS (14) at Two Rivers: Atkins (4-4, 2-3), with 10 seniors,  must rebound from last week's 49-0 loss to Booneville in order to claim the league's fourth playoff seed. Two Rivers' losing streak is 17 games after 48-6 setback to Mayflower. Atkins whipped Two Rivers last season 48-14.
5-3A
PRESCOTT (18) at Jessieville: Prescott nursed a 26-14 lead in the fourth quarter last week but pulled away from Bismarck, 52-14. Junior QB Carston Poole completed 15 of 23 passes for 390 yards and five TDs against Bismarck. Senior WR/FS Jacaylon Zachery caught five passes for 167 yards and three TDs. Junior HB/LB Eric Grigsby caught five passes for 152 yards and two TDs. Senior HB Jaylen Hopson rushed for 180 yards and two TDs on 14 carries. The Prescott defense held Bismarck to a minus-63 rushing yards. Jessieville QB Carson Hair enjoyed another monster game in beating Fouke 49-21. The senior completed eight of 11 passes for 207 yards and three TDs. He rushed for 129 yards on eight carries. Senior TB Matthew Huff rushed for 214 yards and two TDs. Junior TE Carson Freeland scored three TDs with 139 receiving yards.
CENTERPOINT (14) at Genoa Central: Centerpoint was whipped up front for the second straight week in its 35-21 loss to Glen Rose. Once a title contender, Centerpoint is fighting for the fourth or fifth seed with Bismarck. Junior RB/DE Jace Clark led Centerpoint last week with 60 yards rushing, a TD and three sacks. Senior QB Josh Lawson completed 17 of 31 passes for 194 yards and two TDs. Genoa Central won its first conference game of the year, doubling  Horatio 28-14. Senior QB Trent Bearden rushed for 143 yards and two TDs. Junior WR/DB Connor Reed broke up three passes and intercepted another. Reed rushed for 48 yards and a TD, with two receptions. Watch extended highlights of Centerpoint's 50-41 loss to Prescott earlier this year.
Fouke at BISMARCK (14): Like Centerpoint the previous week, Fouke could not slow down Jessieville senior QB Carson Hair and senior RB Matthew Huff in Fouke's 49-21 setback. Fouke senior QB Kye Monroe passed for 256 yards and ran for 60 and a TD. Freshman RB Dylan Sprayberry rushed for 40 yards and two TDs. Senior LB Jayden Pittman led Fouke with 14 tackles. Top-ranked Prescott overwhelmed Bismarck with speed and depth for a 52-14 victory. Bismarck had no run game, but junior QB Ian Smith threw for 223 yards and two TDs. Senior Braden Efird finished with 85 receiving yards, while sophomore WR/CB Tony Weeks scored on a 54-yard pass from Smith. Junior WR/FS Bo Bates caught the other TD pass from 46 yards.
Horatio at GLEN ROSE (28): Horatio got physical last week with Genoa Central but lost 28-14. Five turnovers proved to be Horatio's undoing. Senior WR Alexis Ramirez caught five passes for 57 yards and a TD. He also recorded four tackles, while forcing a fumble on defense. Senior RB Anthony Ramirez rushed for 86 yards. Glen Rose beat Centerpoint (13-3 all-time vs. Centerpoint) without four starters, including senior RB Dalton Taylor. Senior RB Connor Taylor rushed for 117 yards and five TDs. Sophomore RB Heath Balance contributed 95 yards on 17 totes. Centerpoint coach Cary Rogers said the Glen Rose defense was the best his team has faced in 2021.
6-3A
Rison at C. HARMONY GROVE (6): Rison coach Clay Totty was pleased to see his team bounce back with a 49-19 win over Lake Village after what he called an embarrassing loss to McGehee. Totty promoted four freshmen to the varsity last week and all four contributed. Sophomore WR/DB ZaKyler Walker intercepted two passes for Rison. Junior RB Isaac Gray rushed for 205 yards and three TDs on 23 carries. Junior CB Blaine Dixon contributed eight tackles and blocked a field goal attempt for Rison. Sophomore RB Landon Garrett led Harmony Grove's running game with 104 yards and a TD in 36-20 win over Drew Central. Garrett contributed two interceptions on defense, returning one for a TD. Sophomore QB Caleb Johnson completed  eight of 13 passes for 119 yards and a TD. Sophomore LB Cannon Booker led CHG defense with 13 tackles.Watch extended highlights of Rison's 20-16 loss to Fordyce earlier this year. Watch extended highlights of Rison's 42-3 win over Hamburg earlier this year. Watch extended highlights of Camden Harmony Grove's 22-20 loss to Fordyce earlier this year.Watch extended highlights of Camden Harmony Grove's 36-12 loss to McGehee earlier this year. Dollarway at MCGEHEE (24): Dollarway coach Martese Henry said his team played well in spurts during last week's 50-14 win over Smackover. Ten McGehee running backs carried at least once in a 50-13 win over Barton. Senior RB Jody Easter led McGehee's offense with 187 yards and four TDs on nine carries. McGehee yielded 395 yards, all on the ground. Watch extended highlights of McGehee's 47-22 win over Dewitt earlier this year. Watch extended highlights of McGehee's 36-12 win over Camden Harmony Grove earlier this year. SMACKOVER (1) at Drew Central: The playoff scenario in 6-3A is looking more set with both Smackover and Drew Central out of the picture. Smackover still has McGehee on its schedule after losing to Dollarway last week 50-14. Drew Central is 0-5 in conference after losing to C. Harmony Grove 36-20. Harmony Grove outscored Drew Central 20-0 in the fourth quarter. Drew Central junior QB Kade Bodiford threw for 183 yards and a TD, while running for 80 yards and a TD. Senior LB Parker Cruce contributed seven tackles and an interception. Cruce played 59 snaps on offense with a rushing TD.
Barton at LAKE VILLAGE (13): Barton coach Spencer Adams labeled McGehee the best team he has seen this season after losing to the Owls 50-13. Barton junior lineman Dustin Long played well as did junior WR A.J. Vaughn with several receptions, including a 54-yard TD catch. Lake Village was flagged 13 times in its 49-19 loss to Rison. Senior RB Aquavious Dunbar rushed for 76 yards on five carries, including a 56-yard TD dash. Senior QB Malik Holland rushed for 56 yards on three carries, and he completed two passes for 56 yards to junior WR Emarian McAdoo. Barton has never beaten Lake Village.