Class 6A Week 9 Rankings, Notes & Picks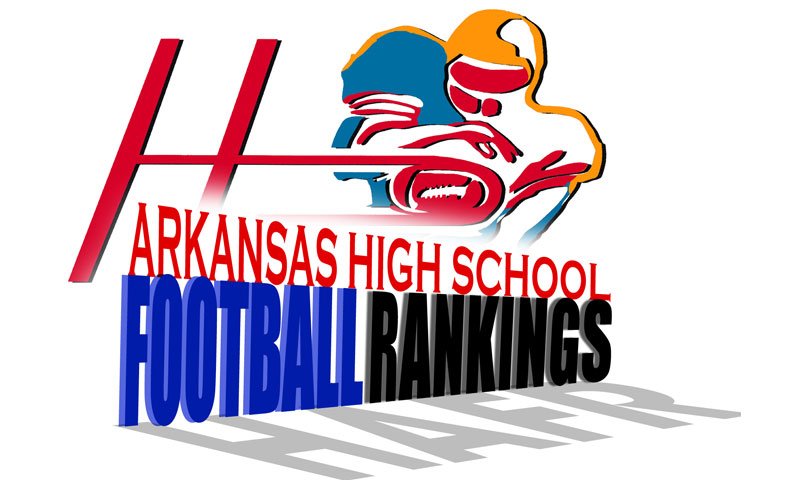 Hooten's Arkansas Football Rankings
Class 6A, Week 9, 2021
Copyright Hooten Publishing, Inc.

1. Lake Hamilton (8-0)
2. Benton (7-1)
3. Jonesboro (6-2)
4. LR Parkview (5-3)
5. Greenwood (5-3)
6. El Dorado (6-2)
7. Sylvan Hills (6-2)
8. Russellville (3-5)
9. Marion (3-5)
10. Mountain Home (3-5)
11. Searcy (4-4)
12. Van Buren (4-4)
13. Siloam Springs (1-7)
14. Pine Bluff (1-6)
15. West Memphis (3-5)
16. Sheridan (2-6)

GAME OF THE WEEK
No. 2 Benton at No. 1 Lake Hamilton.
Expect a high-scoring shootout to likely decide the 6A West title. Both are undefeated in conference play. Benton will be favored at home next week over Van Buren while Lake Hamilton travels Week 10 to No. 5 Greenwood. Benton rallied past Greenwood 41-40 last week to set up this showdown while Lake Hamilton cruised by Van Buren 63-33.
Benton, voted by conference coaches to finish third in the league, eyes its second league title in three years and its third trip to the state finals in four seasons (Covid quarantine knocked the Panthers out of the playoffs last Nov.). Benton expects all its starters back this week after two starting linemen were suspended last Thursday. Benton was balanced, passing for 226 yards and rushing for 218 yards, in its come-from-behind win (trailed by 14 in the first quarter) over Greenwood. Sophomore lineman Peyton McNeely (6-0, 225; 4.0 GPA) was Benton's defensive MVP vs. Greenwood. Panther three-year starting safety Cain Simmons (4.59 speed), an all-conference performer a year ago with 102 tackles, has totaled 92 stops this fall, including 50 solos and five TFLs.
Lake Hamilton lost to Greenwood 49-24 in last year's state title game but hasn't won a conference championship since 2011. Lake Hamilton dwarfs most opponents with five offensive linemen averaging 279 pounds and rushes for 83 percent of its offense, completing just 42 percent of its passes for 64 yards per game. Lake Hamilton scores 41 PPG. Bullish senior Tevin Woodley (5-9, 210) leads Lake Hamilton rushers with 976 yards (122 yards per game) and 14 TDs while speedy junior Justin Crutchmer has 711 yards and 12 TDs.
KEY MATCHUP: Both teams are better on offense, but Benton's gifted and physical WRs face their toughest test yet against a strong and talented Lake Hamilton secondary. Benton's WRs are not only playmakers but block well and often throw around opponent DBs.
"Offensively, Benton is as good as its been in a long time," says Lake Hamilton alumni and fifth-year head coach Tommy Gilleran. "They've got three good receivers, two good running backs and their QB can run and throw. On defense, Benton is fast but small. Sometimes its hard to block smaller guys."
Lake Hamilton won at Benton 51-34 last season. Benton won at Lake Hamilton 31-20 two years ago. Watch extended highlights of Lake Hamilton's 35-12 win over Malvern earlier this year. Watch extended highlights of Benton's 66-29 win over Siloam Springs earlier this year.

LAST WEEK
hootens.com correctly predicted all 8 winners in games involving Class 6A teams, nailing the 1-point spread in West Memphis' 21-20 win over Sheridan. For the season, hootens.com is 73-13 (85 percent) in Class 6A. 



WEEK 8 PREDICTIONS (favored team in ALL CAPS)
6A EAST
Sylvan Hills at JONESBORO (16): Jonesboro senior QB Ryker Acebo continues to wow, completing 69 percent of his passes for 248 yards weekly. Acebo, who tossed for 2,320 yards and 20 TDs last season, has 1,983 yards passing this fall with 25 TDs and four INTs. Defending conference champ Sylvan Hills forced three first half turnovers and trailed El Dorado just 23-15 at the break last week. Watch extended highlights of Sylvan Hills' 31-21 loss to Maumelle earlier this year. Watch extended highlights of Jonesboro's 47-27 loss to Cabot earlier this year. Watch extended highlights of Jonesboro's 35-13 win over Searcy earlier this year. West Memphis at PINE BLUFF (7): Pine Bluff scored on two of its first three possessions in last week's 38-24 loss at Marion. Zebra RB X'Zavieon Barnett carried 12 times for 121 yards and two TDs, including an 80-yarder. West Memphis rallied past Sheridan and then stopped the Yellowjackets inside the 10-yard line in the final seconds to win 21-20 last week.
Searcy at EL DORADO (25): El Dorado committed three first-half turnovers and led just 23-15 at the break last Friday but totaled 486 yards (339 passing) in last week's 51-23 win at defending conference champ Sylvan Hills. El Dorado senior QB Sharmon Rester has completed 65 percent of his passes for 2,212 yards with 29 TDs and just four INTs this fall. Rester also has 578 yards rushing (8.4 YPC), including five TDs. Searcy fumbled on its first play and failed to score inside the 20-yard line in the first quarter in last week's 35-13 loss to Jonesboro. Watch extended highlights of El Dorado's 40-36 win over Camden Fairview earlier this year. Watch extended highlights of Searcys 38-20 loss to LR Christian earlier this year. Watch extended highlights of Searcy's 35-13 loss to Jonesboro earlier this year.
MARION (14) at Sheridan: Marion sophomore QB Ashton Gray (6-1, 170) completed 11 of 17 passes for 113 yards in his first varsity start last week, including a 41-yard TD to Zion Burnside. Gray also carried 13 times for 102 yards. Patriot senior RB Cam Anderson carried 30 times for 145 yards and three TDs. Marion forfeited its Sept. 24 win over West Memphis earlier this week for using an ineligible player in that game. Sheridan led early and had a chance to win late last Friday but lost at West Memphis 21-20. Sheridan failed on two pass attempts inside the 10-yard line in the final seconds.

6A WEST
Benton at LAKE HAMILTON (2): Game of the Week.
Van Buren at GREENWOOD (18): Greenwood led by two TDs in the first quarter but was outscored 20-12 in the fourth quarter of last week's 41-40 loss at Benton. Greenwood forced three turnovers and totaled 443 yards offense but allowed five QB sacks. Benton finished with 444 yards. Greenwood outscores opponents by an average of 41-27. Van Buren finishes 4-6, misses the playoffs with losses this week at Greenwood and next Friday at Benton. Watch extended highlights of Greenwood's 48-28 loss to LR Parkview earlier this year.    
LR PARKVIEW (20) at Siloam Springs: Siloam Springs was tied 14-14 at halftime last week at Mountain Home but remains winless in league after a 42-21 loss. LR Parkview likely finishes as No. 3 playoff seed with win this Friday and next week at Mountain Home. Watch extended highlights of LR Parkview's 47-0 win over LR Southwest earlier this year. Watch extended highlights of LR Parkview's 48-28 win over Greenwood earlier this year. Watch extended highlights of Siloam Springs' 66-29 loss to Benton earlier this year. Watch extended highlights of LR Parkview's 48-7 win over Russellville earlier this year. Mountain Home at RUSSELLVILLE (1): Mountain Home has won two of its past four since having its QB and safety swap spots after a 36-7 loss to Lake Hamilton in the conference opener. Junior Brady Barnett (543 yards rushing and 622 yards passing) now provides the Bombers a dual-threat at QB while sophomore Cade Yates, more of a passing QB, plays well in the secondary, Bomber coach Steve Ary says. Mountain Home starts seniors at just six positions. Its junior high team is 8-0 and its seventh-graders are 6-2. Russellville, more physical this season, allows 41 points per conference game with losses the past two weeks to Greenwood and Lake Hamilton. Russellville coach Dave Wheeler was a candidate for the head coaching job at Mountain Home before Ary was hired. Watch extended highlights of Russellville's 48-7 loss to LR Parkview earlier this year.