Class 3A Week 9 Rankings, Notes & Picks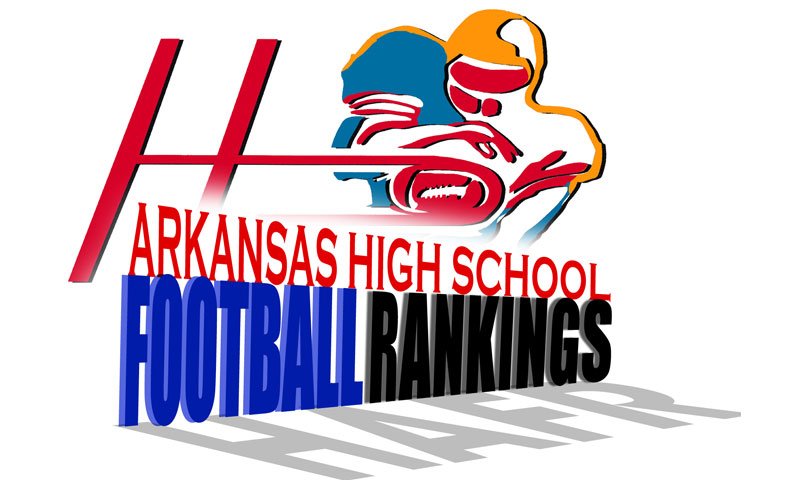 Hootens.com Rankings
Class 3A, Week 9, 2020
Copyright Hooten Publishing, Inc.

1. Harding Academy (5-1)
2. Prescott (6-0)
3. Hoxie (8-0)
4. McGehee (6-0)
5. Rison (4-1)
6. Booneville (6-2)
7. Newport (8-0)
8. Glen Rose (7-1)
9. Charleston (6-2)
10. Paris (8-0)
11. C. Harmony Grove (4-3)
12. Osceola (3-3)
13. Melbourne (5-2)
14. Centerpoint (5-3)
15. Greenland (6-2)
16. Cedarville (6-2)
17. Harrisburg (3-2)
18. Piggott (5-3)
19. Salem (5-3)
20. Atkins (5-3)
21. Perryville (5-3)
22. Dollarway (3-4)
23. Lincoln (4-4)
24. Jessieville (5-3)
25. West Fork (5-3)
26. Corning (5-2)
27. Mountain View (4-4)
28. Hackett (3-3)
29. Genoa Central (3-4)
30. Palestine-Wheatley (3-4)
31. Mayflower (1-6)
32. Walnut Ridge (1-6)
33. Drew Central (1-4)
34. Bismarck (2-6)
35. Baptist Prep (3-5)
36. Lake Village (1-4)
37. Danville (1-5)
38. Fouke (1-4)
39. Smackover (1-5)
40. Lavaca (1-5)
41. Riverview (0-7)
42. Barton (0-8)
43. Mansfield (1-7)
44. Manila (1-6)
45. Two Rivers (0-6)
46. Horatio (0-7)

HOOTENS.COM GAME OF THE WEEK
No. 6 Booneville at No. 10 Paris
Winner earns at least a share of the 4-3A conference title and the No. 1 playoff seed. Booneville leads the all-time series 47-36-6. Booneville has won the last two meetings in this series since Paris earned a 28-21 victory in 2015.
Paris is 8-0 for the first time since 1956, when the Eagles finished 10-0-1 with a tie against Booneville in the season finale. Paris finished that season as the only undefeated team in Class A. Seniors Adam Chandler and Jimmy Dikeman and juniors Mequill Ellingberg and and Ryan Post anchor the Paris lines and each could develop into college prospects. Paris scores 45 points per game, sparked by junior quarterback Chase Watts, who's completed 56 of 103 passes this fall for 896 yards and 15 touchdowns. The dual-threat signal-caller has run for 345 yards and 10 scores. Four running backs have topped 265 yards this season, paced by junior Duke Walker (751 yards and 10 scores) and Ely Fore (588 yards and four TDs). Three receivers have caught 10 passes or more, with Cooper Haley logging 18 receptions for 327 yards and seven TDs. The Paris defense forced 26 turnovers this season and has scored in six of the last seven games. Senior all-league linebacker Nate Henderson's 65 tackles paces the unit.
Booneville has won 26 consecutive conference games since Dardanelle bashed Booneville 17-7 Week 8, 2016. Booneville's two losses this season were at Class 4A Warren (42-35) and at mighty Stigler, Oklahoma (56-14). Booneville junior QB Randon Ray has emerged this season as one of the top playmakers in the state, operating first-year coach Doc Crowley's Flexbone attack. Booneville rolled up 364 first-half yards and led 43-8 at the break in last week's 43-14 win over Atkins. Ray ran for 153 yards and three TDs in the first half against Atkins. It was the 20th meeting between Booneville and Atkins and first since 1999 and it was the Red Devils' first visit to Bearcat Stadium since 1984.

LAST WEEK
Hootens.com correctly predicted 17 of 20 games (85 percent) of games involving Class 3A schools. For the season, hootens.com correctly predicted 183 of 221 games (83 percent) of games involving Class 3A schools.

WEEK 9 PREDICTIONS (favored team in CAPS followed by point spread)
1-3A
Mansfield at CEDARVILLE (27): Mansfield drags a seven-game losing streak into this game. Should Mansfield lose out, one win would be the Tigers' fewest victories since finishing 1-9 in 2005. Mansfield led Lavaca 12-6 last week at halftime but lost 20-12. Greenland nipped Cedarville 28-26 last week despite rushing for almost 300 yards. Cedarville junior running back Darryl Kattich ran for 128 yards and a TD and he caught two passes for 43 yards. Kattich has rushed for 1,582 yards and 21 scores in 2020 and in his career, he's run for 3,093 yards and 41 TDs, per George Mitchell. Hayden Morton ran five times for 113 yards and three scores at Greenland.
GREENLAND (17) at Hackett: Hackett drags a three-game losing streak into this game after a 28-12 defeat last week at West Fork. Winners of four straight, Greenland's two-point victory last week over Cedarville gave the Pirates the inside track on the No. 2 playoff seed. Greenland outgained Cedarville 487-365 behind senior QB Gabe Wilson's 359 total yards and two TDs. Senior tailback Jett Dennis bolted for 127 yards and a score. Six Greenland receivers caught passes, paced by senior Ethan Gilbert's six receptions for 129 yards and a TD.
West Fork at CHARLESTON (17): West Fork should avoid the play-in round of the state tournament after earning its third conference win (28-20) a week ago against Hackett. The Tigers own key tiebreakers over Hackett, Lavaca and Mansfield. League coaches picked West Fork eighth in last summer's Hooten's Arkansas Football magazine, but the Tigers' five wins are their most since 2015. Charleston outlasted Lincoln last week in a 49-33 victory. CHS led by 22 points in the fourth quarter. Sophomore QB Brandon Scott completed 12 of 14 passes at Lincoln for 148 yards and two TDs and he ran for 147 yards and two scores. Watch highlights of Charleston vs. Cedarville and vs. Ozark HERE.
LINCOLN (28) at Lavaca: Lavaca earned its first win last week by outscoring Mansfield 12-0 after halftime. Lincoln outgained Charleston 405-392 in last week's 49-33 defeat. Lincoln senior QB Tyler Brewer proved elusive in the running game, running for 135 yards and he passed for 195 yards and two scores. Senior Daytin Davis caught six passes for 115 yards, including a 70-yard TD catch.

2-3A
Newport at HARDING ACADEMY (7): Teams have split the past two meetings (both in the playoffs). Harding eliminated Newport 58-24 last season in the second round while Newport nipped Harding 13-9 in 2016 in the second round. Newport is 8-0 this season for the first time since 2007 behind an aggressive, stingy defense. The Greyhounds have limited five opponents to two touchdowns or less, including a pair of shutouts. Newport (allows just 12 points per game) was open last week, but when last seen two weeks ago it mercy ruled Salem 51-14. The Greyhounds rolled up 356 yards (212 rushing and 144 passing) against Salem and they forced three turnovers. The Newport defense gets consistent play from senior ends Tyler Johnson and Colin Hill, linebackers Jadarius Reed, Jacob Gosner and Antwan Hardaway and Tharon Davis and Eli Alcorn in the secondary. Davis doubles as the team's leading rusher with more than 1,000 yards and 12 TDs this season. Sophomore quarterback Dejai Marshall completes almost 60 percent of his passes for more than 800 yards this season, throwing to emerging sophomore receiver Isiah Kendall and senior Chris Reynolds. Harding Academy has won 20 straight vs. in-state schools since losing to Lamar in the second round of the 2018 playoffs. Harding scores 41 PPG in 2020 behind top skill players, senior QB Caden Sipe (1,390 yards passing with 14 TDs and three interceptions), receiver Ty Dugger (43 receptions for 578 yards and seven scores) and tailback Andrew Miller (656 yards rushing with 12 TDs). Four starters return in the offensive line from last season's state champion, including Chase Brown, Adam Fager, Elijah Swindle and Jacob Breezel. Senior Jeffery Mercer (43 tackles), junior Eli Wallis (42 stops) and sophomore Peyton Cole (29 tackles) pace the Harding defense.
Riverview at MOUNTAIN VIEW (27): Riverview is two losses away from its first winless season in program history (started varsity football in 2008). Class 4A Lamar ripped Riverview 59-14 a week ago, outgaining Riverview 565-118. Mountain View sophomore QB Elijah Carlton totaled 162 yards with a TD in last week's 47-22 loss at Salem.
Melbourne at C. HARMONY GROVE (2): This game was scheduled on Sunday. Melbourne travels almost 450 miles roundtrip. Harding Academy beat Harmony Grove 38-7 Week 4 and Harding mauled Melbourne 35-12 a week ago. Melbourne trailed Harding 14-0 at halftime and 28-0 early in the third quarter. Harding rolled up 343 yards against Melbourne. Harmony Grove ripped Horatio 69-20 last week behind senior Mecca Arnold's 160 rushing yards and five TDs. Sophomore Selwyn Martinez topped the tackle chart with eight stops.
SALEM is open.

3-3A
HOXIE (10) at Osceola: Winner earns tiebreaker that could decide the league championship and top playoff seed. Osceola has won four of the last six in this series, including three straight. 
Osceola junior QB Don Littleton amassed more than 1,500 yards this season with 17 TDs. Sophomore Skyler Young tops the tackle chart with more than 40 stops. Hoxie is 7-0 for the first time since 2013, when the Mustangs won the 3-3A title and advanced to the quarterfinals. Hoxie senior center Zayne Alls (6-4, 282) committed last week to Lyon College. Hoxie led 42-0 in the third quarter at Manila a week ago, when the Mustangs rolled up 313 balanced (160 rushing and 153 passing) yards. Senior QB Daylon Powell completed all four pass attempts for 127 yards and a TD. The North Alabama commit ran for 78 yards and three scores. Senior tailback ShunDerrick Powell, brother to Daylon, ran six times for 56 yards and a score. Senior wideout Stefan Coleman snagged three passes for 105 yards and a score. Senior inside linebackers Jace Benesch and Sam Turner spearhead a defense that surrenders just 13 points per league game.
Harrisburg at CORNING (1): Crucial game for playoff positioning. Harrisburg's game two weeks ago against Osceola was canceled due to covid-19 protocols. Harrisburg hopes either senior Drew Wright or junior Samuel Moore can return this week at QB after each missed a 17-2 victory two weeks ago at Manila. Corning's five victories this season are its most since the 2007 Bobcats won nine times and the school's last league championship. Corning did not allow a defensive TD in last week's 36-10 victory at Palestine-Wheatley and the Bobcats rushed 36 times for 371 yards (10.3 yards per carry) and four scores.
Manila at WALNUT RIDGE (7): Each school likely participates in the play-in round of the playoffs. Manila has lost five straight games entering this contest and the Lions score just 8.4 points per game. Walnut Ridge has lost six straight, including crucial head-to-head losses to Palestine-Wheatley and Corning. The Bobcats score just 13 points per conference game.
PIGGOTT (28) at Palestine-Wheatley: Palestine-Wheatley managed just 109 yards in last week's 36-10 loss to Corning. Piggott rolled up 342 yards two weeks ago in a 54-28 loss to Hoxie. The Mohawks trailed 22-8 at halftime and got within 42-22 in the third quarter. Piggott forced a pair of Hoxie turnovers and ran 22 more plays. Piggott senior QB Tanner Dixon broke the single-season school record with 1,109 yards passing and 13 TD passes against Piggott while senior receiver Logan Ralph shattered the single-season mark with 574 yards receiving and eight scores.

4-3A
BOONEVILLE (1) at Paris: See Hootens.com Game of the Week.
Two Rivers at ATKINS (29): Opponents outscore Two Rivers by a combined 274-20 this season. Two Rivers has lost 51 of its last 52 games. Atkins allowed TDs on all six Booneville first-half possessions in last week's 43-14 defeat. Senior Kreed Stubbs returned a kickoff 91 yards for a TD and junior Zach Berkemeyer fired a TD pass to Michael Dunagan in the fourth quarter.
Danville at MAYFLOWER (8): These schools likely participate in the play-in round of the playoffs, unless they opt out. Danville amassed 348 yards (247 rushing) in last week's 42-36 loss against Baptist Prep. The Little Johns led by 14 at halftime but committed two costly second-half turnovers to aid BP's rally. Mayflower's game last week with Two Rivers was canceled. Danville's one win this season was against Two Rivers, while Mayflower beat Baptist Prep by eight points on October 2.
Baptist Prep at PERRYVILLE (16): Perryville will be without at least six senior starters this week to Covid-19 protocol. Perryville led Paris 7-0 in the second quarter last week but surrendered 56 unanswered points in a 49-point defeat. Sophomore QB Tyler Givens totaled 94 yards and a TD against Paris. Baptist Prep snapped a four-game losing streak with last week's dramatic 42-36 victory. BP trailed Danville by 15 points in the third quarter, but scored the final 22 points to rally for a six-point victory. The Eagles intercepted a late pass to set up the game-winning TD.

5-3A
BISMARCK (1) at Fouke: Fouke can avoid the play-in round of the playoffs should it beat Bismarck this week and Genoa Central Week 10. Fouke trailed Jessieville by seven points last week in the second quarter, but the Panthers surrendered 35 unanswered points in a 41-13 defeat. Fouke scores just 10.4 points per game. Bismarck surrendered four TDs of 44 yards or more in last week's 63-6 loss to Prescott.
GLEN ROSE (35) at Horatio: Winless Horatio scored a season-high 20 points in last week's 49-point non-conference loss to Camden Harmony Grove. Senior Carson McKiever fired two TD passes against Harmony Grove. Junior Nick Marsden caught seven passes for 45 yards and he threw a 31-yard TD pass. The Lions have lost 13 straight conference games. Glen Rose outlasted Centerpoint 7-6 last week, when it outgained the Knights 362-163. Senior QB Wesley Launius completed 15 of 29 passes for 260 yards and the game-winning TD toss to Colton Hixon in the second half. The Glen Rose defense forced four turnovers, including three interceptions.
Jessieville at PRESCOTT (30): Jessieville owns valuable head-to-head tiebreakers against Bismarck, Genoa Central and Fouke and the Lions play Horatio next week. Jessieville rolled up 457 yards (257 rushing and 200 passing) in last week's 41-13 victory at Fouke. Junior QB Preston Rains completed six of nine passes for 200 yards and three TDs against Fouke. Prescott senior QB Jacobi Nolen completed six of 12 passes last week for 177 yards and four TDs in a 63-6 rout at Bismarck. Junior Jacaylon Zachary caught two TD passes (44 and 47 yards) and senior Jeff Williams snagged a 50-yard TD pass. Caleb Harris covered 53 yards with a TD reception. Watch extended highlights of Prescott wins over Centerpoint HERE and over Gurdon HERE.
Genoa Central at Centerpoint: CANCELED.

6-3A
Lake Village at BARTON (1): Lake Village beat Smackover 24-8 Week 4 while Smackover beat Barton 14-12 two weeks ago. Lake Village has not played the past two weeks with players in quarantine. Barton failed to score for the first time this season in last week's 47-point loss at McGehee. Barton likely fields 16 players this week and moves up a talented group of freshmen Week 10. 
MCGEHEE (28) at Dollarway: Dollarway rushed for 471 yards and eight TDs in last week's 60-0 victory at Smackover. Senior Cameron Henderson and junior Kenyon Carr each topped 100 yards rushing. McGehee recorded its second shutout of the season in last week's 47-point victory over Barton. Juniors Andreas Jordan and Jody Easter deliver big plays both ways for McGehee.
DREW CENTRAL (14) at Smackover: Each team's victory this season was over Barton (Smackover 14-12, Drew Central 60-18). Smackover committed eight turnovers in last week's 60-0 loss to Dollarway. It was Smackover's first scoreless game since 2016 (26-0 loss to Fordyce). Drew Central had to cancel its game last week against C. Harmony Grove due to covid-19 protocols.
Melbourne at C. HARMONY GROVE (2): This game was scheduled on Sunday. Melbourne travels almost 450 miles roundtrip. Harding Academy beat Harmony Grove 38-7 Week 4 and Harding mauled Melbourne 35-12 a week ago. Melbourne trailed Harding 14-0 at halftime and 28-0 early in the third quarter. Harding rolled up 343 yards against Melbourne. Harmony Grove ripped Horatio 69-20 last week behind senior Mecca Arnold's 160 rushing yards and five TDs. Sophomore Selwyn Martinez topped the tackle chart with eight stops.
C. Harmony Grove at Rison: CANCELED.