Class 4A Week 9 Rankings, Notes & Picks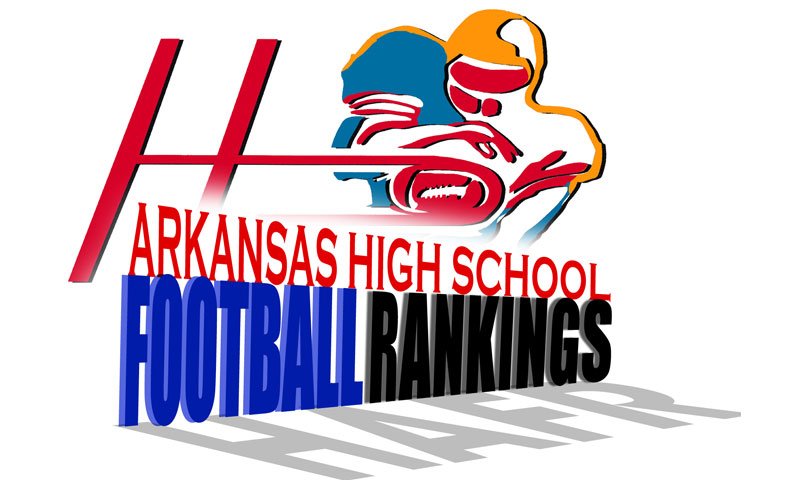 Hootens.com Rankings
Class 4A, Week 9, 2020
Copyright Hooten Publishing, Inc. 

1. Shiloh Christian (7-1)
2. Joe T. Robinson (5-3)
3. Stuttgart (7-0)
4. Nashville (5-2)
5. Rivercrest (7-0)
6. Arkadelphia  (5-0)
7. Pocahontas (7-1)
8. Prairie Grove (7-1)
9. CAC (8-0)
10. Mena (5-3)
11. Elkins (6-1)
12. Ozark (5-3)
13. Monticello (5-3)
14. Lonoke (6-2)
15. Warren (3-4)
16. Hamburg (4-3)
17. Malvern (4-4)
18. Dardanelle (3-3)
19. Ashdown (6-2)
20. Crossett (2-1)
21. Dumas (5-3)
22. Lamar (5-2)
23. Waldron (4-3)
24. Gosnell (2-3)
25. Trumann (4-4)
26. Pottsville (3-5)
27. Fountain Lake (3-3)
28. Blytheville (3-3)
29. Bauxite (3-5)
30. Bald Knob (4-4) 
31. Star City (3-3)
32. Gentry (4-4)
33. Highland (2-4)
34. Heber Springs (2-6)
35. Highland (2-4)
36. Jonesboro Westside (2-5)
37. Southside Batesville (3-4)
38. Clinton (1-7)
39. Gravette (2-5)
40. Cave City (2-5)
41. DeWitt (2-4)
42. Mills (2-6)
43. H. Grove Haskell (0-8)
44. Helena (0-7)
45. Berryville (0-6)
46. Green Forest (0-8)
47. Dover (0-6)

HOOTENS.COM GAME OF THE WEEK
No. 14 Lonoke at No. 3 Stuttgart
Lonoke always gets ready to play rival Stuttgart. Lonoke has won seven of the past 13 in the series and four of the past eight. The Jackrabbits lost to CAC last week 49-34, after pulling within seven points in the fourth quarter. Freshman quarterback Bradon Allen, who took over full time two weeks ago for injured QB Spencer Pepper, completed 11 of 13 passes at CAC for 176 yards and a pair of TDs. He also ran for 106 yards and a TD. Senior Jacoree Womack sprinted 48 yards for another TD.  Undefeated Stuttgart gives up a Class 4A-best 5.5 points per game. The Ricebirds jumped on Mills 14-0 in the first quarter last week, cruising to a 28-0 win in a rain and wind storm. Junior QB Pate Kleinbeck threw a TD pass and ran for another. Junior Arlie Lee caught a 32-yard TD pass while sophomore Cedric Hawkins went 48 yards for a TD.

LAST WEEK
Hootens.com correctly predicted 17 of 22 games (77 percent) last week. For the season, hootens.com has correctly predicted 189 of 230 games (82 percent).


WEEK 9 PREDICTIONS (favored team in CAPS)
1-4A
Berryville at PRAIRIE GROVE (36): Prairie Grove tallied almost 500 yards in last week's 33-point win at Gentry. Senior QB Knox Laird completed 11 of 15 passes for 152 yards, including five for 88 yards to Landon Semrad. Laird also ran for a pair of TDs. Berryville, playing last week in its first game since Week 5, tallied 168 yards in a 34-point loss to Huntsville. Berryville QB J.D. Smith threw a 28-yard TD pass to Dominic Henry.
ELKINS (16) at Gentry: Gentry has lost consecutive games to Shiloh Christian and Prairie Grove by a combined 104-34. Elkins must erase last week's loss to Shiloh Christian (led 21-0 in the second quarter). Senior QB Kain Johnson ran 13 times for 81 yards and three TDs, and passed for 149 yards and a TD against Shiloh Christian. 
HUNTSVILLE (25) at Green Forest: Huntsville battling for the No. 4 playoff seed. The Eagles ran for 316 yards (had 408 total yards) in last week's 34-point win at Berryville, paced by senior Justin Reynolds' two-TD effort. Winless Green Forest trailed Gravette last week at halftime 36-0. 
Gravette at SHILOH CHRISTIAN (28): Gravette beat Shiloh Christian by five points in 2017, fencing the Saints from a league title. Shiloh sews up at least a share of its third straight 1-4A title this fall with one more victory. The Saints rallied past Elkins 49-28 last week, outscoring the Elkins 42-7 in the second half. Shiloh sophomore QB Eli Wisdom tallied almost 350 yards, and sparked the rally with a TD pass to Cooper Hutchinson with five seconds left before halftime to pull within 21-7. Senior Cam Wiedemann ran for more than 150 yards and three TDs. Gravette senior QB Cy Hilger threw a 40-yard TD pass to Nick Pilkington and ran for another TD in last week's 36-point win over Green Forest. Senior Keegan Addison blocked a punt and returned it for a TD.

2-4A
Lonoke at STUTTGART (17): Hootens.com Class 4A Game of the Week.
CAC (12) at Bald Knob: CAC hosts Stuttgart for the league title Week 10 after the undefeated Mustangs beat Lonoke 49-34 a week ago. CAC senior QB Palmer Gilbrech passed for 235 yards and four TDs against Lonoke, while junior Tyler Williams ran 25 times for 165 yards and three TDs. Williams also caught a TD. Bald Knob has lost three of its past four games, including 21-15 last week to previously winless Clinton. The Bulldogs held Clinton to 272 yards, but turned the ball over three times. 
HEBER SPRINGS (2) at Clinton: This is a big rivalry, and Clinton leads the overall series 40-38-5. Clinton notched its first victory of 2020 last week when sophomore QB Harley Tobin threw three first-half TD pass in in a six-point decision at Bald Knob. Clinton's D forced three turnovers. Heber Springs won its second game of the season last week, downing Southside Batesville 22-17. Heber Springs senior Matthew Cook played well at QB. 
Southside Batesville at MILLS (3): Southside Batesville has dropped three straight games, including the past two against CAC and Heber Springs by a combined 12 points. Mills lost at undefeated Stuttgart last week 28-0, but its other three league losses were by 11 points or less. 

3-4A
Blytheville at POCAHONTAS (11): Blytheville surrendered the winning TD with 75 seconds left last week at Trumann (lost 13-12). Junior QB Jeremiah Northern and senior Kylen Wells each ran for Chickasaw TDs. Pocahontas has won four straight since losing a shootout to Rivercrest, including an eight-point decision last week at Jonesboro Westside. Sophomore Conner Baker ran for three TDs, while senior Dawson Chester threw a TD pass.
GOSNELL (7) at Cave City: Gosnell hasn't played in two weeks (games canceled with Blytheville and Rivercrest). The Pirates get 14 players out of quarantine Friday. When last seen on the field Week 6, Gosnell senior QB Cooper Pieri passed for 223 yards and two TDs in a 10-point win over Trumann. Cave City beat Jonesboro Westside by three points two weeks ago, but lost at Highland last week 22-6. Two Cavemen drives stalled inside the 5-yard line.
Highland at JONESBORO WESTSIDE (8): Jonesboro Westside scored two second-half TDs last week but lost to Pocahontas 28-20, its fourth straight loss. Warrior noseguard Kade Carter, and offensive linemen Robert Taylor, Kaleb Porter, Jake Jones and Spencer Long have played well this fall. Highland, playing its first game since Week 5 last week, beat Cave City 22-6. The Rebel D forced two turnovers, while senior Brayden Figgins ran 39 times for 153 yards and two TDs and caught a TD pass.
Trumann at RIVERCREST (16): Rivercrest's game with Gosnell was canceled last week, and the Colts haven't played a league game since beating Jonesboro Westside 55-19 Week 6. Senior QB Kam Turner has passed for 1,724 yards and 21 TDs this season, and rushed for 974 yards and 14 TDs. Trumann junior Rian King scored the winning TD with 1:15 left last week against Blytheville. King ran 24 times for 118 yards and a pair of TDs, while Milton Lewis logged 17 carries for 119 yards.

4-4A
Waldron at DARDANELLE (7): Waldron sophomore Trevor Hunt returned the opening onside kick for a TD in last week's 21-point win over Dover. Hunt also caught a 14-yard TD pass, while his twin Trenton Hunt ran for another score. Dardanelle has lost consecutive games to Ozark and Mena by a combined 84-26. The Sand Lizards led Mena 13-7 in the second quarter last week, but failed to score again. Sophomore Drake Boatright paced the Sand Lizards in tackles against Mena, and has 50 stops this fall. Sophomore Drew Vega ran 15 times for 103 yards and two TDs, completed four of six passes for 49 yards and tallied 10 tackles on D.

POTTSVILLE (24) at Dover: CANCELED Dover has been outscored by a combined 126-48 in its three conference games. Pottsville trailed Ozark 33-0 in the first quarter last week before losing 47-14. Apache junior Trey Cobb ran for a TD and caught a TD pass.
OZARK (10) at Lamar: This could decide the No. 2 playoff seed. Ozark jumped on Pottsville 33-0 in the first quarter last week, cruising to a 46-0 triumph. Sophomore Eli Massingale ran for 70 yards and a pair of first quarter TDs, while senior QB Harper Faulkenberry completed six of seven passes for 87 yards and a TD. Lamar senior Brady James ran 15 times for 269 yards and five TDs in last week's 45-point win over Riverview, while QB Landon Harrison completed 17 of 27 passes for 221 yards and a pair of TDs.
MENA is open.

7-4A
Ashdown at JOE T. ROBINSON (18): Ashdown trailed Arkadelphia last week 21-20 in the third quarter a week ago, but lost 47-20. Down to their third team running back, the Panthers struggled to move the ball on the ground in the second half. Joe T. Robinson scored on seven of eight possessions in last week's 49-point win at Bauxite. Senior Hunter Smith ran for a pair of TDs and senior QB Buddy Gaston threw three TD passes.
Bauxite at ARKADELPHIA (26): Arkadelphia junior RB Jaishon Davis tallied 235 yards and five TDs (three rushing, two receiving) in last week's 27-point win at Ashdown. Senior QB Buster Thomas tallied three TD passes while routinely spinning out of potential negative yardage plays. Bauxite trailed Joe T. Robinson 38-3 at halftime last week, but the Miners failed to score on two red zone possessions.
H.G. Haskell at FOUNTAIN LAKE (14): Fountain Lake outscored Malvern 9-0 in the second half last week to notch an 18-14 decision. Junior Steven Dearmon ran 25 times for 181 yards and a pair of TDs, and on defense registered four tackles and knocked down two passes. Junior Gavin Nguyen paced the D with 13 stops, while senior Seth Hughes added 11 tackles. Winless Haskell has lost its five conference games by an average of 41-12.
Malvern at NASHVILLE (9): Nashville returned two punts for TDs in last week's 41-7 win over Haskell. Senior QB Ty Gordon completed all six pass attempts for 123 yards and three TDs, and he ran three times for 32 yards. Malvern senior Jacobe Hart ran for a season-high 103 yards and a TD in last week's four-point loss to Fountain Lake. Malvern expects 15 quarantined players, including four starting offensive linemen, to return this week.

8-4A
Helena at CROSSETT (16): Crossett hope to return to the field this week for the first time since Week 5 and for only the second time since Sept. 2. The Eagles were slated to play DeWitt on Thurs., Oct. 8, but the game was canceled at 6 p.m. In three games, junior QB Tyrique Jones has passed for 500 yards and rushed for 192 yards and four TDs. Winless Helena averages 13 ppg.
STAR CITY (8) at DeWitt: DeWitt tallied just 165 yards (138 rushing by Deontaye Starks) in last week's 28-0 loss at Dumas. Star City stomped Helena 35-0 a week ago. Senior QB Noah Noble ran for a TD and threw a TD pass, while Javeon Turner ran for a pair of TDs.
Dumas at MONTICELLO (4): These teams have split the past 10 meetings, with Monticello winning last season 30-6. Monticello must quickly return to orbit after last week's overtime win over Warren, its first in a decade only second in 20 years. Junior QB Stran Smith ran for 90 yards and a TD and completed five of 13 passes for 69 yards against Warren, while Keon Smith ran for two TDs, including the game winning in overtime. Stran Smith has 12 TD passes this fall. Watch extended highlights of Monticello's win earlier this season over Bauxite HERE and its 1-point loss at Class 2A Fordyce HERE. Dumas' Kylin James ran for four TDs, including a 65-yarder, in last week's 28-0 win over DeWitt.
Hamburg at WARREN (1): Warren has beaten Hamburg 18 of the past 19 seasons since Bo Hembree took over as head coach in 2000. Warren has won six of the past seven conference titles (and 15 since Hembree took over), but needs help this fall after losing last week in overtime at Monticello. Sophomore QB Maddox Lassiter threw a pair of TD passes, but the Lumberjacks failed on two PAT's. Hamburg's game last week with Crossett was canceled. Two weeks ago, senior Brett Rice completed 15 of 19 passes for 384 yards and five TDs at Helena, while senior Nick McNeil caught 10 passes for 323 yards and five TDs.