Class 5A Week 9 Rankings, Notes & Picks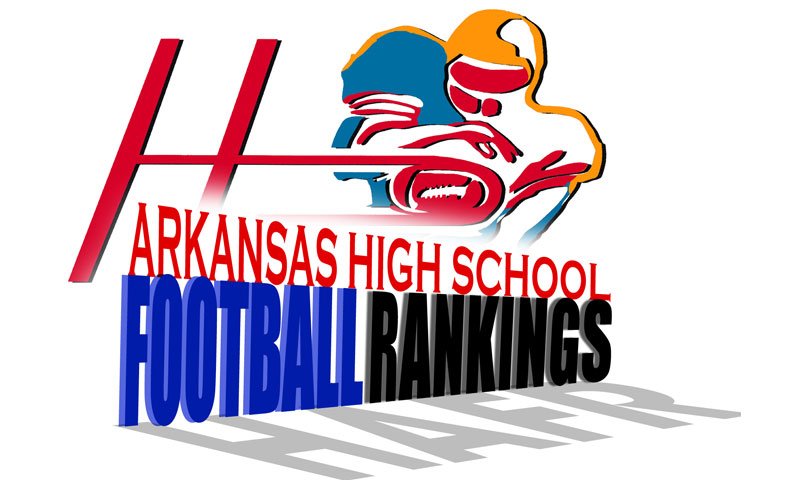 Hootens.com Rankings
Class 5A, Week 9, 2020
Copyright Hooten Publishing, Inc.

1. Pulaski Academy (8-0)
2. Wynne (8-0)
3. Texarkana (4-0)
4. LR Christian (5-2)
5. Maumelle (3-2)
6. Harrison (7-1)
7. Morrilton (4-3)
8. White Hall (4-4)
9. Magnolia (4-2)
10. Watson Chapel (5-2)
11. HS Lakeside (5-3)
12. Camden Fairview (5-4)
13. Vilonia (5-2)
14. Batesville (5-3)
15. Greenbrier (4-4)
16. Valley View (5-3)
17. Greene County Tech (5-3)
18. Farmington (3-4)
19. Hot Springs (3-3)
20. Nettleton (3-4)
21. Brookland (2-6)
22. Clarksville (2-5)
23. Beebe (2-4)
24. Jacksonville (2-6)
25. Pea Ridge (1-4)
26. Paragould (1-7)
27. Alma (1-6)
28. Forrest City (1-5)
29. LR Hall (2-6)
30. Hope (1-6)
31. De Queen (0-7)

HOOTENS.COM GAME OF THE WEEK
No. 7 Morrilton at No. 13 Vilonia
This likely decides the No. 2 playoff seed. Morrilton has won 12 of the 19 meetings since the teams moved into the same conference in 1998 (Vilonia was a member of the 5A East from 2002-2003).
Vilonia led Alma 14-0 in the third quarter last week, but won 35-8. Junior workhorse Seth Kirk sparked the victory with 30 carries for 172 yards and three touchdowns, and caught two passes for 21 yards. Sophomore quarterback Austin McKissack completed 20 of 28 passes for 237 yards and a pair of TDs, while junior Jamison Hinsley snagged seven passes for 148 yards and both TDs. Hinsley collected eight tackles and intercepted a pass at safety.
Morrilton lost to Harrison last week 35-34 in double overtime when the Devil Dogs missed an extra point. Senior Jackson Moll has evolved Morrilton's top offensive threat. Moll ran 44 times last week for 248 yards and four TDs against Harrison, and he has almost 750 yards the past three games.
A year ago, Vilonia led Morrilton 27-0 in the first quarter then scored twice in the final five minutes to secure a 47-33 decision and a league runner-up finish.

LAST WEEK
Hootens.com correctly predicted 11 of 13 games (85 percent) last week. For the season, Hootens.com has predicted 125 of 147 games (85 percent).

WEEK 9 PREDICTIONS (favored team in ALL CAPS)
5A CENTRAL
PULASKI ACADEMY (36) at Beebe: Beebe trailed Watson Chapel 29-0 in the first quarter last week before losing 64-20. Pulaski Academy led previously No. 2 ranked LR Christian 32-0 early in the second quarter a week ago, and won 60-28. Junior running back Joe Himon ran for 162 yards and two TDs and tallied 164 yards receiving with a TD, and both QBs (senior Nolen Bruffett and junior Charlie Fiser) passed for more than 200 yards.
LR CHRISTIAN (18) at Jacksonville: CANCELED. LR Christian gets the No. 2 playoff seed if it wins out. The Warriors trailed Pulaski Academy 32-0 in the second quarter last week, but closed within 17 points before halftime. Senior Corey Platt, Jr., caught five passes for 78 yards and three TDs. Watch extended highlights of LR Christian vs. Pulaski Academy HERE, vs. Maumelle HERE, vs. LR Central HERE and vs. Magnolia HERE. Jacksonville lost to LR Hall 18-12 Monday night before canceling Tuesday afternoon with LR Christian.
LR Hall at WHITE HALL (24): LR Hall's beat Jacksonville 18-12 Monday night. White Hall was tied with Maumelle 14-14 a week ago before giving up the winning score on a trick play. Senior Kam Robinson ran for a TD and returned an interception for another score. Watch extended highlights of White Hall vs. Warren HERE, vs. LR Parkview HERE, vs. Sheridan HERE.
MAUMELLE (1) at Watson Chapel: This may determine the No. 3 playoff seed. Maumelle senior Dashaire Ford-Burton ran for a TD and threw the winning TD pass on a trick play in last week's 21-14 triumph over White Hall. Senior Keyonte Sykes caught the winning TD pass, then sealed the win with a interception in the final minutes. Watson Chapel led Beebe 29-0 in the first quarter a week ago. Sophomore QB Jabrae Shaw ran for three TDs and threw a pair of TD passes.

5A EAST
Paragould at BROOKLAND (3): Brookland trailed Batesville 10-0 at halftime and 20-7 in the fourth quarter last week before losing 34-7. The Bearcats generated just 111 yards total offense and turned the ball over twice. Paragould lost last week to Wynne 48-0, generating just 165 yards. The Rams forced two turnovers.
BATESVILLE (2) at Greene Co. Tech: Batesville has won 18 of the past 19 over GCT, including the past two by a combined 74-20. Senior Taylor Daugherty returned the second half kickoff 90 yards for a TD and ran for another score in last week's 27-point win at Brookland. Jace Daugherty, Taylor's twin, hauled in two passes for 72 yards. GCT senior David Williams has 170 carries this fall for 1,023 yards and 11 TDs, and 10 catches for 71 yards. Senior linebacker Nate Foster paces the Eagles with 81 tackles. Foster racked up a season-best 14 stops in last week's 16-14 loss to Valley View.
Forrest City at WYNNE (25): Wynne has won 12 of the past 16 in the series, but Forrest City shocked the Yellowjackets 33-16 a year ago). The Yellowjackets generated more than 400 yards in last week's blowout over Paragould, including 296 yards rushing. Watch extended highlights of Wynne earlier this season vs. Batesville HERE, vs. Morrilton HERE and at Brookland HERE. Forrest City's game last week with Nettleton was canceled, and two weeks ago the Mustangs lost to Paragould 35-0.
Nettleton at Valley View: canceled

5A SOUTH
MAGNOLIA (42) at De Queen: Magnolia likely wins out and finishes anywhere between the No. 2 seed and the No. 4 seed. The Panthers were off last week and two weeks ago rallied past Hot Springs 52-33, outscoring the Trojans 35-12 in the second half. The Panthers generated 537 yards (348 yards rushing) at Hot Springs. Watch extended highlights of Magnolia wins at Hot Springs HERE and at LR Christian HERE. De Queen has been outscored this year 377-53.
TEXARKANA (25) at Hope: This is Texarkana's fifth game of the season and first since Week 6. In a 21-14 win at HS Lakeside three weeks ago, Texarkana senior RB Torie Blair ran 25 times for 205 yards and a TD, while senior QB Braylon Bishop ran 15 times for 94 yards and two TDs. Watch extended highlights of Texarkana's win over Camden Fairview HERE and over HS Lakeside HERE. Hope tallied just 174 yards in last week's 42-point loss to Camden Fairview.
Camden Fairview at Hot Springs: canceled
HS Lakeside is open. Watch extended highlights of HS Lakeside's losses to Lake Hamilton HERE and to Texarkana HERE.

5A WEST
MORRILTON (4) at Vilonia: Hootens.com Class 5A Game of the Week.
Alma at GREENBRIER (17): Alma trailed Vilonia 21-0 in the third quarter last week before losing 35-8. Hunter McAllister threw a 43-yard TD pass to Conner Stacy for the Airedales' only TD. Greenbrier senior Trey Havens has rushed for 766 yards and 10 TDs this fall, while junior LB Dawson Spencer tops the tackle chart with 53 stops.
Clarksville at HARRISON (14): The Goblins wrap up their fourth straight league title the day before Halloween. Harrison senior QB Cole Keylon injured his knee in the third quarter of last week's 35-34 double overtime win at Morrilton. The injury isn't season-ending and he could return this week. Junior QB Logan Plumlee sparked the win at Morrilton with a pair of TD passes. Clarksville has conference losses this year to Vilonia in overtime and at Farmington by eight points. "We are getting closer," Coach Khris Buckner says. Clarksville's game last week with Pea Ridge was canceled and the Panthers lost to Calvary Baptist (Shreveport, La.) 42-21. Sophomore Arthur Alvarez ran 21 times for 149 yards and two TDs, caught a 15-yard pass and completed a pass for a first down. Senior Miles Castleman ran 12 times for 72 yards and topped the tackle chart with eight stops.
FARMINGTON (10) at Pea Ridge: Pea Ridge hasn't played since losing to Morrilton by 35 points Week 5. Farmington was tied with Greenbrier 7-7 in the third quarter last week before losing 28-15. Junior Caden Elsik ran 39 times for 138 yards and two TDs, while defensive end Braden Bullington racked up nine tackles.