HOGS: Auburn (3-4) still a tough test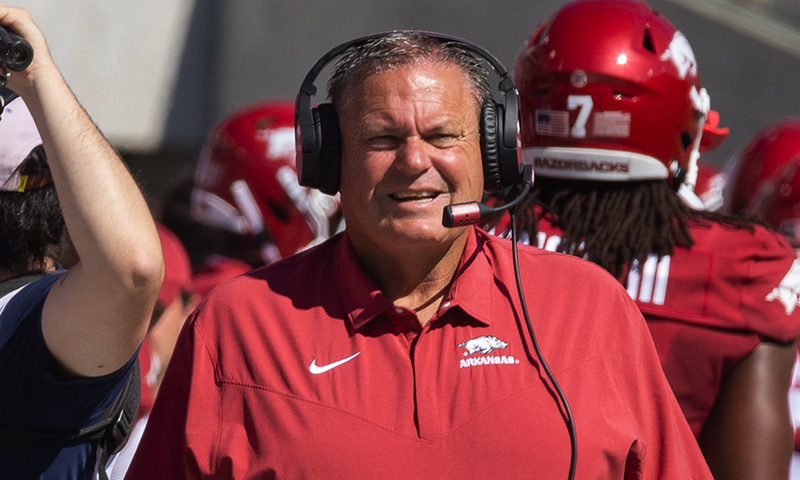 FAYETTEVILLE - The state of Alabama has been quite an obstacle for the Arkansas Razorbacks over the past number of seasons.
It's an obstacle the Razorbacks get another chance to clear on Saturday when they take on the Auburn Tigers

Arkansas (4-3, 3-1) has not defeated Alabama since 2006 — losing again this year 49-26 — and the Razorbacks have not defeated Auburn (3-4, 1-3) since a 54-46 win in 4 overtimes in 2015.

No member of the Razorbacks roster knows what it's like to earn a victory over the Tigers.

"It bugs me, you know, having not beaten them," offensive lineman Dalton Wagner said. "This weekend there's a tremendous opportunity for us to change that and get a win. We're playing for all the seniors and the guys that may not come back. We want to get a win under our belt for those guys before they leave."

The Razorbacks have been outscored by a combined 261-87 in the previous six matchups. The closest the Razorbacks came to victory over the Tigers was in 2020, when the Razorbacks lost 30-28.

A disputed call on an attempted spike by quarterback Bo Nix in the closing seconds led to a 39-yard game-winning field goal for the Tigers at Jordan-Hare Stadium, the site of Saturday's game. 

"We know what happened when we went down there [in 2020]," said quarterback KJ Jefferson, who was a redshirt freshman at the time. "Everyone still has that memory in the back of their head so this week it's more personal than anything. We can't leave the game into the ref's hands so we're going to go out there and play our brand of football."

PLAYERS THANKFUL FOR BYE WEEK

Razorbacks players say last week's scaled-back practice helped heal the bumps and bruises during the first seven weeks.

"This coaching staff made a big emphasis on taking care of our bodies," defensive lineman Isiah Nichols said. "We got some work in, but just being able to get some days off to reset physically and mentally is going to be really good for us."

One player especially thankful for the bye is Jefferson, who suffered a stinger injury in the final minutes of the 52-35 win over the BYU Cougars on Oct. 15.

"For me it was great just being able to have some time off to be able to rest my body and recover," Jefferson said. "Being able to just lay back and get our bodies right again will help us prepare for our big time [Saturday]."

Arkansas Coach Sam Pittman said he was especially cautious with his star quarterback during the bye week by not allowing Jefferson to throw a ball in order to heal his shoulder.

Jefferson (1,463 passing, 14 TDs; 91-344 rushing, 4 TDs) returned to regular practice this past Monday.

"The first day, my arm kind of tightened up on me since I hadn't been throwing," Jefferson said. "But the recovery has really helped me out, so it'll feel good to be fresh and be able to throw the ball around."

LIMMER LEADS BY EXAMPLE
The Razorbacks offensive line has not only led the way for the team to average 240 rushing yards per game, but it has yielded 11 sacks in 7 games, and has been named to the Joe Moore Award Midseason Honor Roll, one of 18 lines selected.

Starting right guard Beaux Limmer (6-5, 302; Tyler, TX) is one of the key components, ranking as one of the top three guards in the entire country according to Pro Football Focus. D

Pittman, not the biggest fan of Pro Football Focus, said there is no doubt Limmer's play has improved from last season.

"I think he [Limmer] is the most improved lineman we have this year," Pittman said. "He played really well last week and is playing with a lot of confidence. I think he's an NFL player and I think he will be in the future."

Jefferson praised Limmer.

 "He has a great IQ for the game and loves to take every game as a challenge in what he can do better," Jefferson said. "He wants to know how he can make the team more successful at running the ball and pass protection."