HOGS matchup with Tigers pits strength vs. weakness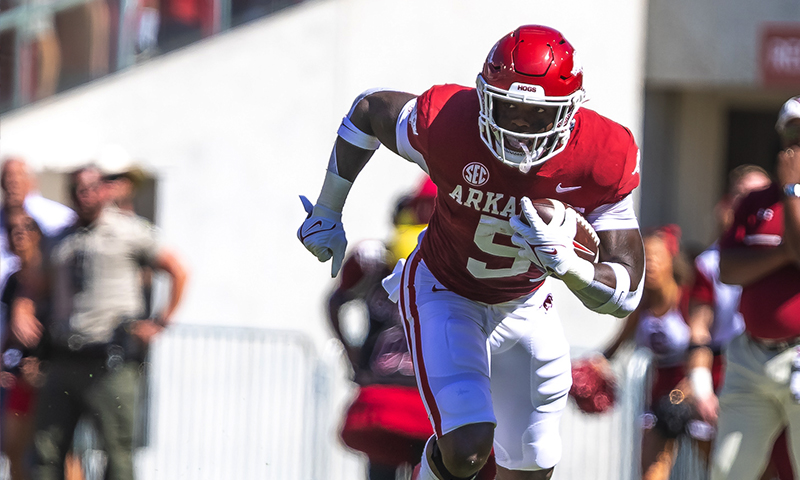 FAYETTEVILLE — The Arkansas Razorbacks are hoping to add to Auburn's problems on Saturday at Jordan-Hare Stadium.
Arkansas (4-3, 1-3) takes on an Auburn team (3-4, 1-3) that has lost three consecutive SEC games and has a second-year Coach, Bryan Harsin, who is embattled after going 9-11 in his first 20 games.

But Auburn's biggest problem Saturday will be stopping Arkansas' 240-yards-per-game rushing attack with a defense that yields 204 rushing yards per game and ranks 11th in the SEC and 119th in the FBS.

Foremost on Auburn's agenda, Harsin said, will be trying to stop the SEC's leader rusher, Razorbacks RB Raheim "Rocket" Sanders (870 rushing, 6.0 ypc, 7 TDs),
"He's one of those guys that usually doesn't go down after the first tackle, so in order to slow him down, you have to get multiple guys to the ball," Harsin said.
Auburn will also have to contend with Arkansas QB KJ Jefferson, who has thrown for 1,463 yards and 14 TDs and is the Razorbacks' second-leading rusher with 344 yards and 4 TDs.

"He's different," Harsin said. "He's really strong, really physical, and plays with a lot of poise. If he's running the ball, you've got to tackle him."

Jefferson is a dual threat.

"Overall, you've got to be ready for some of the things they do with him," Harsin said. "He's not always going to run the ball. He may show that, and he may throw it. They do a great job with him."

Kickoff in Auburn, Ala., is scheduled for 11 a.m., and the game will be televised by the SEC Network.

NO KNOCKING KNOX

Trey Knox (20-141 receiving, 1 TD in 2021) has grown into role at tight end after gaining 30 pounds in the offseason and improving as a blocker.

Knox (6-5, 245; Murfreesboro, Tenn.) has played an integral role in the Razorbacks offense this season with 16 catches, 220 yards and 3 TDs.
"He's a student of the game," quarterback KJ Jefferson said of Knox. "Ever since he transitioned from receiver to tight end, he's embraced each and every moment of it. Being able to have a guy like that who embraces each practice and is a leader shows the value he has to this team."

Tight ends are responsible for blocking in the running game as well as catching passes.

"I've been getting better every week just working on my hand placement and my steps," said Knox, who credited Coach Dowell Loggains with helping in his transition. "He's done a great job with helping me out by doing things that force me to do better with my hands and my feet."

Knox's improvement as a blocker has not gone unnoticed.

"I've always known he can catch the ball and get yards, but what has impressed me the most is his ability to block in between the tackles and on the edge," offensive lineman Dalton Wagner said. "When he is in the game, you can always count on him to get the blocks we need."

SECONDARY GETS REINFORCEMENTS

Defensive backs Khari Johnson (19 tackles, 1 PD), Jayden Johnson (21 tackles, 1 FF) and Myles Slusher (10 tackles, 1 FF) all returned to practice this week after missing Arkansas' last game, a 52-35 win over BYU.

Slusher, returning after a two-game absence, should be ready to go Saturday, Arkansas Coach Sam Pittman said on the weekly SEC teleconference.
"He's been healthy and working full speed," Pittman said. "Jayden  seems to be at 100 percent as well. We've had to knock a little rust off because they haven't played in a while but other than that they've had a really good week."

All three return to a defense that has struggled all season, giving up 457.7 yards of total offense per game as well as giving up 32.6 points per game.