Class 2A Week 9 Rankings, Notes & Picks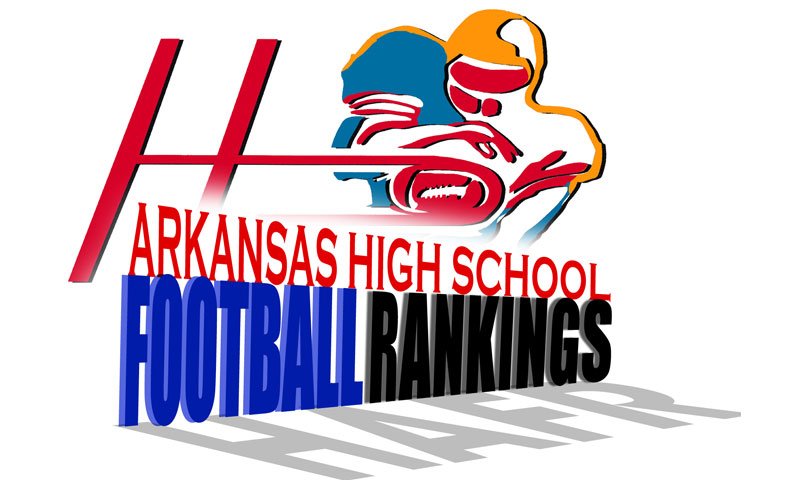 hootens.com Rankings
Class 2A, Week 9, 2019
Copyright Hooten Publishing, Inc.

1. Junction City (7-1)
2. Fordyce (7-1)
3. Foreman (8-0)
4. Des Arc (6-2)
5. Gurdon (6-2)
6. Magnet Cove (7-1)
7. Salem (6-1)
8. Hazen (6-1)
9. McCrory (6-2)
10. E. Poinsett County (6-2)
11. Earle (5-2)
12. Parkers Chapel (5-3)
13. Magazine (6-1)
14. Poyen (7-1)
15. Carlisle (6-3)
16. Hackett (6-2)
17. Dierks (5-3)
18. Mountainburg (4-3)
19. Cutter M Star (5-3)
20. Mountain Pine (4-4)
21. Hampton (3-5)
22. England (3-5)
23. Murfreesboro (5-3)
24. Rector (5-3)
25. Clarendon (2-5)
26. Hector (3-4)
27. Mineral Springs (2-5)
28. Conway Christian (2-6)
29. Quitman (4-4)
30. Marked Tree (1-6)
31. Bearden (1-7)
32. Lavaca (1-6)
33. Marvell (2-4)
34. Mount Ida (1-7)
35. Strong (1-7)
36. Bigelow (0-8)
37. Cross County (0-7)
38. Marianna (0-8)
39. JC Westside (1-8)
40. Lafayette County (1-7)
41. Midland (0-7)
42. Spring Hill (0-8)

GAME OF THE WEEK
No. 7 Salem at No. 10 E. Poinsett County
Salem can lock up the 3-2A top playoff seed with a victory. Its senior-laden defense produced three turnovers and held McCrory to 112 yards last week in a 14-8 win. Salem senior linebackers Tommy Perkins and Levi Decker collected nine tackle apiece. Salem senior running back Peyton Barker carried 27 times for 165 yards and a touchdown, bringing his season total to 1,078 yards and 11 TDs. Two weeks ago, EPC rallied from a 36-8 halftime hole at McCrory but committed four turnovers and gave up 257 yards and nine sacks in an eventual 48-34 loss. EPC junior quarterback Preston Rains, among the elite signal-callers in Class 2A, has completed 56 percent of his passes for 1,519 yards and 19 TDs with three interceptions. EPC senior RB Rayshon Gates has rushed for 941 yards (8.2 yards per carry) and 14 TDs.

LAST WEEK
Hootens.com correctly picked 17 of 21 (81 percent) games involving Class 2A teams, including nailing the two-point spread on No. 1 Junction City over No. 2 Fordyce. Hootens.com has picked 172 of 207 (83 percent) this season. 

WEEK 9 PREDICTIONS (favored team in CAPS followed by point spread)
3-2A
SALEM (12) at E. Poinsett County: See Game of the Week.
Midland at CROSS COUNTY (10): Both were shut out last week. The loser settles to the bottom the the 3-2A standings, and barring upsets, neither reaches the playoffs. Midland dresses 14 with senior FB/LB Danny May (6-4, 230) as its most consistent performer this season. 
Marked Tree at RECTOR (6): Marked Tree dresses 30 players this week after forfeiting two weeks ago to Salem with only 12 available players. MT, which was open last week, promotes 13 freshmen and a few of them could start Friday night. Rector senior RB Max Ford nearing 1,000 yards rushing this fall. A week ago, Ford and senior Jacob Carter topped 100 yards in a 32-0 win over Midland. 
MCCRORY is open.

4-2A
Lavaca at HACKETT (13): Hackett might have secured the league's second playoff seed last week by topping favored Mountainburg 46-32. Hackett big-played the Dragons with junior QB Avery Hester averaging 12 yards per rush and 30 yards per pass completion. Junior RB Weston Winters continued to emerge, carrying 37 times for 133 yards and three TDs. Hackett's defense held Moutainburg to 22 yards in the second half. Winters logged six solo stops, a sack and a key interception.
Mountainburg at MAGAZINE (5): If Mountainburg were peeking ahead last week when it lost to Hackett 46-32, it cannot afford to look back this week. League-leading Magazine, which averages 42 ppg, put up 429 yards a month ago in a 44-14 win over Hackett. A week ago, Magazine gave up 292 passing yards to JC Westside, but senior FB Caleb Hyatt topped 100 yards and the Rattlers prevailed 38-6. 
J.C. WESTSIDE is open.
HECTOR is open.

5-2A
Quitman at ENGLAND (8): England rebounded from its miserable 36-0 loss two weeks ago to Cutter Morning Star to push Mountain Pine last week, leading 14-12 at halftime and tied 20-20 going into the fourth quarter. MP won 32-28, but England fed the football to senior playmaker Tamarous Dodson who kept the Lions close.
Bigelow at CUTTER M STAR (18): CMS big-played Conway Christian a week ago with Keshawn Blevins catching three passes for 131 and a TD and Matthew Cook returning a punt 71 yards for a TD in a 21-16 win. Scrappy Bigelow shifts to the 4-2A in 2020.
Conway Christian at MAGNET COVE (12): Conway Christian has won five straight in this series and consecutive 5-2A titles, sharing the 2017 title with Magnet Cove. CC has not missed the playoffs since it started varsity football in 2008. CC senior Beau Stevenson (6-5, 265) is one of the top linemen in the state. Magnet Cove faced a Bigelow defense last week that crowded the line of scrimmage and dared the Panthers to pass. MC senior QB Tyler Hodges responded by completing six of nine passes to four different receivers for 110 yards and a TD.
Mountain Pine at POYEN (4): The winner likely secures the league's No. 2 playoff seed barring upsets in the last two weeks of the regular season. Poyen will try to run past Mountain Pine with junior QB Jaxson Carter (921 yards, 8.2 YPC) and RB Brandon Sanchez (1,538 yards, 8.5 YPC). MP counters with senior QB Collin Smith (1,748 rushing yards, 9 YPC, 26 TDs). MP junior Josiah Walpole (71 tackles) recorded eight tackles, two TFL and an interception last week in a 32-28 win over England.  

6-2A
DES ARC (9) at Earle: No. 4 Des Arc sits atop the 6-2A standings and already owns a dominating 38-8 win over Hazen, which is tied for second place with Earle. Hazen whipped Earle 40-0 last week while running for 395 yards. Des Arc, which has attempted 14 passes this year, averages 360 rushing yards per week and 8 YPC. Des Arc has outscored 6-2A opponents 196-30. 
HAZEN (42) at Marianna: No. 8 Hazen capped its first good week of practices with no dismissals in a month by dominating Earle 40-0 last week. Hazen's inexperienced offensive line has matured with sophomore left tackle Wes Lock, junior right tackle Trent Dixon and junior right guard Anthony Wilson emerging the past two weeks. Hazen led Earle 20-0 at halftime and rushed for 395 yards in front of its wet homecoming crowd.
CLARENDON (8) at Marvell: The 6-2A's fifth and final playoff berth is on the line, and Marvell has had two weeks to prepare with an open week. Clarendon sophomore ATH Quincey McAdoo produced almost all of its offense last week, scored both TDs (48-yard run, 54-yard run), recovered a fumble and made a team-high six tackles in a 40-14 loss to Carlisle.  
CARLISLE is open.

7-2A
Lafayette County at MINERAL SPRINGS (16): Mineral Springs in prime position to claim the fifth and final playoff berth with a win this week and a forfeit win next week from Spring Hill.
GURDON (34) at Mount Ida: No. 5 Gurdon quietly dispatching of the 7-2A have-nots and plays host to third-ranked Foreman next week for the 7-2A title and top playoff seed. Gurdon junior RB Jameson Threadgill has averaged 10.3 yards per carry en route to 933 rushing yards and 13 TDs this fall despite missing about eight quarters with injuries. Threadgill carried just six times last week for 76 yards and two TDs in a 41-6 blowout of Lafayette County. 
FOREMAN (28) at Murfreesboro: Foreman ranks first in the state (all classes) in scoring defense, allowing 5.9 points per game. A week ago, Foreman recorded 26 TFL, forced five turnovers, recovered three fumbles, intercepted a pass and blocked a punt it returned for a TD in a 60-13 win over Mineral Springs. Murfreesboro plays host to Dierks next week likely to determine the No. 3 playoff seed.
DIERKS (13) at Spring Hill: Dierks receives forfeit from Spring Hill, which forfeited its past two games and will again next week. 

8-2A
Hampton at FORDYCE (33): No. 2 Fordyce committed two turnovers last week, which proved one too many, fumbling at the Junction City 3-yard line late in a 14-12 loss (watch extended highlights HERE). Fordyce senior WR/S De'Arius Sledge caught two passes for 41 yards and a TD and made seven tackles. Hampton thwarted Bearden 12-0, holding the Bears to 48 yards. Hampton is in position to claim the league's No. 4 playoff seed.
Strong at PARKERS CHAPEL (16): No. 12 PC looks to wrap up the league's No. 3 playoff seed and host a first-round playoff game for the first time in its varsity football history (started in 2006). Strong destroyed 4-2A member J.C.  Westside two weeks ago but fell hard last week to Bastrop (La.) Beekman Charter 28-0.
BASTROP (LA.) BEEKMAN CHARTER (2) at Bearden: Beekman Charter defeated Strong and Class 3A Palestine-Wheatley this fall but lost to Class 3A Drew Central. Bearden managed three first downs last Friday and 18 second-half yards in a 12-0 loss to Hampton.
JUNCTION CITY is open. Watch extended highlights and postgame reaction to the Dragons 14-12 win over Fordyce last week HERE.