Class 4A Week 9 Rankings, Notes & Picks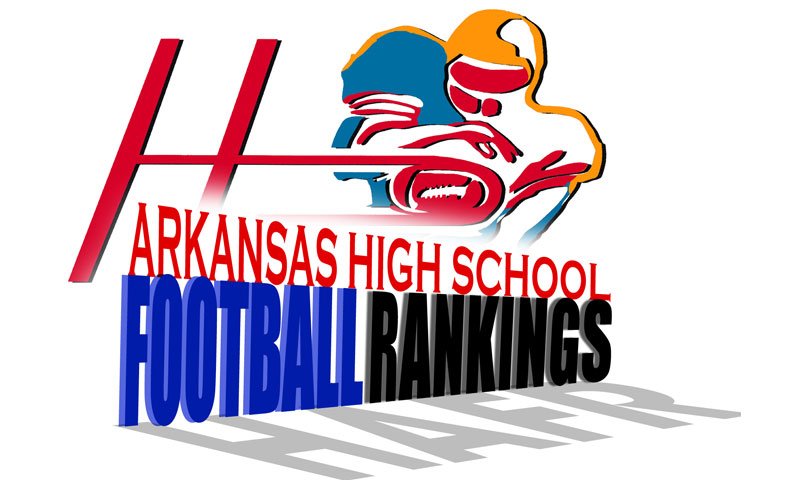 Hootens.com Rankings
Class 4A, Week 9, 2019
Copyright Hooten Publishing, Inc. 

1. Arkadelphia (7-1)
2. Shiloh Christian (8-0)
3. Joe T. Robinson (7-1)
4. Nashville (7-1)
5. Ozark (7-1)
6. Warren (7-1)
7. Crossett (5-3)
8. Dardanelle (7-1)
9. Pea Ridge (5-3)
10. Riverview (7-1)
11. Bauxite (6-2)
12. Mena (6-2)
13. Southside Batesville (6-2)
14. Hamburg (5-3)
15. Star City (5-3)
16. Gosnell (5-3)
17. DeWitt (5-3)
18. Jonesboro Westside (6-2)
19. Rivercrest (5-3)
20. Helena (5-3)
21. Pottsville (5-3)
22. Pocahontas (5-3)
23. Mills (4-4)
24. Gentry (5-3)
25. Elkins (5-3)
26. CAC (4-4)
27. Malvern (4-4)
28. Lonoke (3-5)
29. Prairie Grove (2-6)
30. H. Grove Haskell (3-5)
31. Trumann (3-5)
32. Gravette (4-4)
33. Heber Springs (2-6)
34. Lincoln (5-3)
35. Brookland (3-5)
36. Bald Knob (2-6)
37. Ashdown (2-6)
38. Monticello (1-7)
39. Stuttgart (0-8)
40. Waldron (1-7)
41. Berryville (2-6)
42. Dumas (1-7)
43. Highland (1-7)
44. Fountain Lake (1-7)
45. Subiaco Academy (2-6)
46. Green Forest (2-6)
47. Cave City (0-8)
48. Dover (0-8)

HOOTENS.COM GAME OF THE WEEK
No. 6 Warren at No. 14 Hamburg
The winner likely gets the No. 2 playoff seed and a home playoff game. Warren has beaten Hamburg in 17 of the 18 meetings since Bo Hembree took over as coach in 2000. Warren has won six straight conference titles (need help to do so this year) and 15 under Hembree.
The Lumberjack's only loss this year was Week 4 to Crossett 38-35. Since, they've won four straight games by an average of 34-16. Senior Vincent Steppes has rushed for 1,373 yards and 19 touchdowns this fall, and caught 19 passes for 477 yards and seven TDs. Steppes had 146 yards and four TDs in last week's 35-0 win over Monticello, when the Lumberjacks scored on their opening five possessions. Senior QB Riley Cornish threw a 58-yard pass to Braden Jones on the first play to set up a quick score. 
Hamburg was held to 146 yards in last week's one-point loss to rival Crossett. Senior QB Brett Rice passed for 117 yards and two TDs, but the Lions were held to 27 yards rushing. Rice has thrown for 897 yards and 11 TDs this season, while junior Nick McNeil has 15 catches for 249 yards and four TDs. The Lion D has improved since shifting back to a four-front six weeks ago. "They are the toughest defense we've faced," Hembree says. Junior linebacker Gavin Harrod has 100 tackles this year, while classmate Derrick Franklin has 57 stops. 

LAST WEEK
Hootens.com correctly predicted 21 of 24 games last week (88 percent). For the season, Hootens.com has picked 203 of 250 games (81 percent). 

WEEK 9 PREDICTIONS (favored team in ALL CAPS)
1-4A
PRAIRIE GROVE (11) at Berryville: Prairie Grove scored two TDs in the fourth quarter last week but lost to Gentry 28-21. Senior wingback/receiver Cordelle Whitsell caught a 41-yard TD pass and ran 6 yards for a TD. Berryville junior Dominic Henry ran nine times for 89 yards and a TD in last week's 55-27 setback to Pea Ridge, while sophomore Jaeden Tanksley ran for 83 yards and a TD.
SHILOH CHRISTIAN (32) at Gravette: Shiloh Christian's five-point loss to Gravette in 2017 kept the Saints from an outright conference title. The Saints host Pea Ridge next week for the league title and No. 1 playoff seed. Senior QB Eli Reece passed for 284 yards and three TDs in last week's 49-7 win over Lincoln, with senior Truitt Tollett catching all three TDs. Gravette can finish as high as the No. 3 seed after going 1-9 a year ago. Senior Chace Austin ran for three TDs in last week's 30-point win at Green Forest, while senior QB Cy Hilger threw a pair of TD passes.
GENTRY (6) at Lincoln: Gentry can finish as the No. 3 playoff seed if it wins out. The Pioneers set the tone on the first play last week against Prairie Grove when senior QB Brandon Atwood hit junior Serien Redding with a 53-yard TD to spark the 28-21 triumph. Atwood completed eight of 14 passes for 111 yards and a TD, ran for 68 yards and a TD and caught three passes for 73 yards and a TD. Lincoln is still in the playoff hunt despite last week's 42-point loss to Shiloh Christian when the Wolves were held to 135 yards.
Green Forest at PEA RIDGE (40): Pea Ridge plays at Shiloh Christian next week for the conference title and No. 1 playoff seed. Senior QB Tate Busey accounted for seven TDs in last week's 55-27 win at Berryville. The Blackhawks led 55-14 at halftime. Busey has passed for 873 yards and 11 TDs and rushed for 518 yards and eight TDs this fall. Green Forest has scored two TDs or less in seven straight games.

2-4A
Bald Knob at CAC (10): These are two of the four teams (Lonoke and Heber Springs are the others) tied for third in the league standings. Bald Knob led Riverview in the first half last week (highlights HERE) and was tied 14-14 in the third quarter, but failed to score again in a 28-point setback. CAC senior Aiden Hughes enjoyed a career game in last week's 28-21 double overtime win at Lonoke, with 114 yards and two TDs.
RIVERVIEW (8) at Heber Springs: Heber Springs has won all five of its games over Riverview, including last year by 36 points. But the Panthers have only two wins this fall over teams with a combined record of 2-14. They can still make the playoffs with two wins, possibly just one. Senior QB Adam Martin has passed for 1,149 yards and seven TDs, and rushed for 649 yards and five TDs. Riverview needs one win to lock up its first-ever conference title. Senior QB Logan Miller ran 21 times for 211 yards and a pair of TDs in last week's 42-14 win over rival Bald Knob. Watch highlights of that game HERE. Miller has 1,353 yards and 19 TDs this fall. 
Stuttgart at LONOKE (2): Lonoke gets hyped up to play Stuttgart, winning seven of the past 12 in the series and four of the past seven. But the Jackrabbits have dropped three straight games this fall since beating Bald Knob by two points Week 5. They threw an interception in the second overtime of last week's 28-21 loss to CAC. Stuttgart must win its final two games and get some help to reach the postseason (21 straight post-season appearances). The Ricebirds led Mills 14-0 in the third quarter last week but lost 21-14.
Mills at SOUTHSIDE BATESVILLE (7): The winner likely gets the No. 2 playoff seed. Mills hasn't been to the playoffs since 2013. The Comets rallied past Stuttgart 21-14 last week (trailed 14-0 in the third quarter). Junior QB Lavell Carnell ran for a pair of TDs, while senior Reggie Swinton, Jr., blasted for the clinching TD. SS Batesville has three straight wins. The Southerners led Heber Springs 20-13 at halftime last week but won 48-20. Senior Braden Jones completed five of seven passes for 145 yards and four TDs, two of them to junior Jonathan Shane.

3-4A
Highland at BROOKLAND (7): Brookland snapped a three-game losing streak with last week's 28-point victory over winless Cave City, holding the Cavemen to 145 yards. The Bearcats will make the playoffs for the first time in school history with two more wins. Highland senior Zac Scott has rushed for 483 yards and three TDs this year, while senior receivers Joel Hoppe (seven catches, 138 yards and three TDs) and David Jones (12 catches, 233 yards and three TDs) make plays.
Pocahontas at GOSNELL (2): Gosnell has five straight wins and needs only one more to win its fifth conference title in seven years. The Pirates have three straight wins over Pocahontas. Senior Jydarian Young has 92 carries for 871 yards (9.5 ypc) and 12 TDs this year. Pocahontas junior C.J. Palmer has 29 catches for 660 yards and eight TDs this fall, while junior QB Dawson Chester has passed for 1,462 yards and 18 TDs.
Trumann at JONESBORO WESTSIDE (3): Jonesboro Westside must avoid a letdown after last week's 31-point win at Rivercrest. It's a similar situation to last season when the Warriors were fresh off their first ever win over Rivercrest, then lost their final three games (including 49-33 at Trumann). 
Cave City at RIVERCREST (25): Rivercrest must recover from last week's blowout loss to Jonesboro Westside. The Colts have lost in Week 8 three straight years (won the 2017 3A title after the loss and last year went to quarterfinals). Cave City ran for 148 yards (passed for none) in last week's mercy-rule setback to Brookland.

4-4A
DARDANELLE (10) at Elkins: Dardanelle hosts Mena next week possibly for the No. 2 playoff seed. Seven different Sand Lizards scored TDs in last week's 63-0 win over Subiaco Academy. The D intercepted five passes, returning three for TDs. Senior Blake Chambers (98 carries, 1,106 yards and 16 TDs) and QB Jordan Metcalf (65 carries, 514 yards and nine TDs; 794 yards passing and five TDs) fuel the Sand Lizard attack. Elkins finishes between the No. 3 and No. 5 playoff seed after last week's 11-point loss to Pottsville. 
Subiaco Academy at MENA (30): Mena has won three straight games and finishes anywhere between the No. 2 and No. 4 seed. Mena mauled Waldron 35-6 a week ago, when junior Jake Wiles went wild with 15 carries for 238 yards and three TDs. The D surrendered just 229 yards and forced three turnovers. Subiaco Academy has scored a TD or less in its five losses and had 102 yards in last week's 63-0 loss to Dardanelle.
Waldron at OZARK (28): Ozark sews up the league title and No. 1 seed with one more win. The Hillbillies surrender 7.7 ppg, second best in the state behind Class 2A Foreman. They led Dover 42-0 at halftime a week ago. Junior linebacker Keystan Dunning paces the D with 85 stops, while junior lineman Levi Jackson has 50 tackles and two sacks. Waldron's improved offense (scored TD or less in five games last year) puts up 19 points weekly. Junior Caden Fuller has 39 catches for 545 yards and four TDs. 
Dover at POTTSVILLE (41): Pottsville finishes anywhere between the No. 2 and No. 4 seed after rallying past Elkins a week ago (trailed 22-14 in fourth quarter, won 33-22). Senior Drew Rust led the charge with three fourth-quarter TDs. Rust has more than 800 yards and 11 TDs this fall. Winless Dover gets outscored 48-8 weekly.

7-4A
JOE T. ROBINSON (33) at Ashdown: Joe T. Robinson gets the No. 1 playoff seed if it wins out. Junior QB Buddy Gaston passed for 264 yards and three TDs in last week's come-from-behind 35-14 win over Bauxite. Ashdown trailed Arkadelphia 49-7 at halftime a week ago, and the Panthers were held to 101 yards.
ARKADELPHIA (10) at Bauxite: Bauxite's ball-control offense held explosive Joe T. Robinson to 17 plays, 101 yards and zero points in the first half last week. The Miners tied the game at 14 early in the fourth quarter but gave up three unanswered TDs in the final seven minutes. Arkadelphia beat Ashdown 49-7 a week ago, limiting the Panthers to 90 total yards. Junior QB Braeden "Buster" Thomas completed all six of his pass attempts for 153 yards and three TDs, while senior Kyren Harrison ran 11 times for 118 yards and four TDs.
Fountain Lake at H.G. HASKELL (12): A one-point loss to Fountain Lake last season prevented Haskell from the playoffs. Neither team makes the post-season this year. Haskell has dropped four straight games since beating Ashdown Week 4, while Fountain Lake its five conference games by an average of 43-8.
NASHVILLE (17) at Malvern: Nashville could finish as the No. 2 seed with two more victories. The Scrappers led H.G. Haskell at halftime last week 28-0. Junior Keyshawn Stewart ran six times for 55 yards and three TDs against Haskell, while the D limited the Cardinals to 159 yards. Senior Carmillias Morrison paces the Scrappers with 65 carries for 685 yards and seven TDs. Malvern went winless last season but likely qualifies for the playoffs this year. Junior end Tre'sean Morman paces Malvern's D with 69 tackles and one interception. He wrapped up nine tackles last week against Fountain Lake.

8-4A
WARREN (7) at Hamburg: Hootens.com Class 4A Game of the Week.
MONTICELLO (1) at Dumas: Dumas has won five of the past nine in the series. But Dumas has lost its five league games this year by an average of 32-11 and will miss the playoffs after advancing to the semifinals a year ago. Monticello's only win the past two years came two weeks ago at Helena, 28-22. But the Billies have been outscored 75-6 since.
CROSSETT (10) at Helena: Crossett needs one more win to earn at least a share of its first conference title since 2003. The Eagles rallied past rival Hamburg 21-20 a week ago after trailing 13-0 in the second quarter. They outgained Hamburg 305-146 yards. Crossett senior QB Justin Stokes has passed for 1,486 yards and 16 TDs this year. Helena has dropped three straight games since starting 5-0. 
DeWitt at STAR CITY (3): DeWitt going for its first playoff berth since 2000. Senior QB Seth Courtney threw a pair of TD passes and Josh Dabner ran for 86 yards and two TDs in last week's 22-14 win over Dumas. Star City in line for a No. 3 playoff seed after consecutive wins over Dumas and Helena by a combined 79-0. Star City has beaten DeWitt 15 of the past 16 years.